This website uses cookies to ensure you get the best experience while browsing it. By clicking 'Got It' you're accepting these terms.
Pope Francis to Escalate Demand for Climate Action in 2015
Dec. 30, 2014 10:41AM EST
Climate
This past year, Pope Francis has spoken out powerfully numerous times about the urgent need to address climate change and the morality of doing so.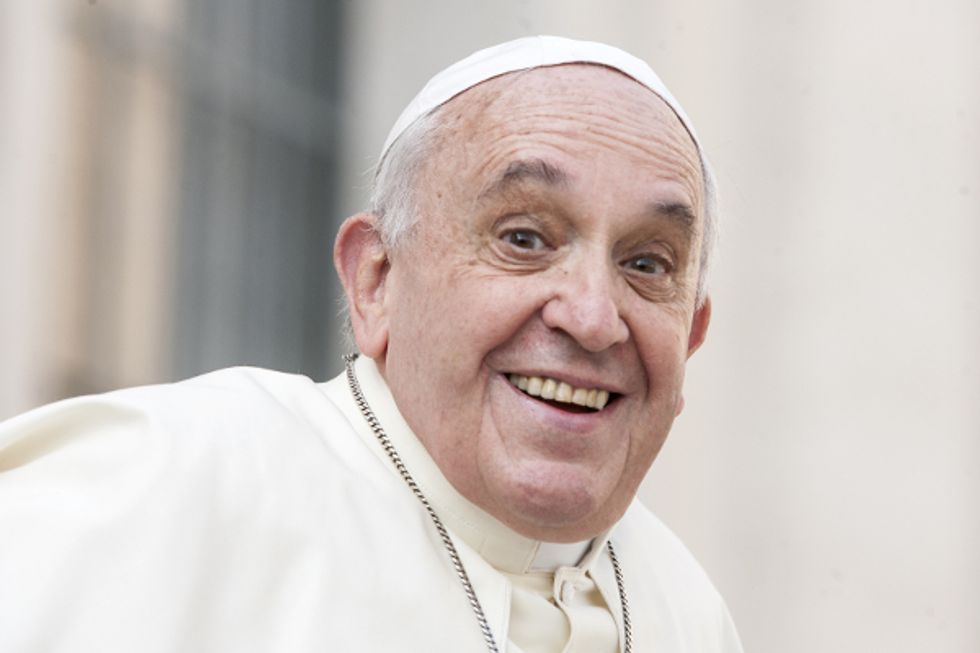 Photo credit: Shutterstock
Now, ahead of next year's critical UN climate summit meeting in Paris, he's expected to ratchet up his advocacy. The Guardian of London is reporting that in the coming year, he is planning to release a message for Catholics, call a summit of the world's major religions to jointly address climate change and give a speech to the UN general assembly. Bishop Marcelo Sorondo, chancellor of the Vatican's Pontifical Academy of Sciences, said the Pope hopes influence the Paris climate summit participants to take decisive action.
"Our academics supported the pope's initiative to influence next year's crucial decisions," Sorondo told London-based Catholic development agency Cafod. "The idea is to convene a meeting with leaders of the main religions to make all people aware of the state of our climate and the tragedy of social exclusion."
He'll apparently meet with other faith leaders to lobby government officials at the UN general assembly meeting in New York in September at which countries will be announcing new anti-poverty and environmental goals. The Pope has been regularly connecting the two, saying things like "An economic system centered on the god of money needs to plunder nature to sustain the frenetic rhythm of consumption that is inherent to it" and "The monopolizing of lands, deforestation, the appropriation of water, inadequate agro-toxics are some of the evils that tear man from the land of his birth. Climate change, the loss of biodiversity and deforestation are already showing their devastating effects in the great cataclysms we witness."
Neil Thorns, head of advocacy at Cafod, expressed support for the Pope's moves, telling The Guardian, "The anticipation around Pope Francis's forthcoming encyclical is unprecedented. We have seen thousands of our supporters commit to making sure their MPs [members of Parliament] know climate change is affecting the poorest communities."
On the other hand, Calvin Beisner of the conservative Cornwall Alliance for the Stewardship of Creation, which has called the U.S. environmental movement "un-biblical" and a false religion, said "The pope should back off. The Catholic church is correct on the ethical principles but has been misled on the science. It follows that the policies the Vatican is promoting are incorrect. Our position reflects the views of millions of evangelical Christians in the U.S."
It's unclear why the opinions of U.S. evangelical Christians, who have often branded Catholicism itself as "a false religion," should matter to Pope Francis or the world's 1.2 billion Catholics.
Dan Misleh, director of the Catholic climate covenant, responded, "There will always be 5-10 percent of people who will take offense. They are very vocal and have political clout. This encyclical will threaten some people and bring joy to others. The arguments are around economics and science rather than morality. A papal encyclical is rare. It is among the highest levels of a pope's authority. It will be 50 to 60 pages long; it's a big deal. But there is a contingent of Catholics here who say he should not be getting involved in political issues, that he is outside his expertise."
YOU MIGHT ALSO LIKE
Pope Francis: 'Unbridled Consumerism' Is Destroying Our Planet
Desmond Tutu: It's Time to 'Move Beyond the Fossil Fuel Era'
Christian Group Gives Coal-Loving Australian Prime Minister 'Clean Energy 4 Christmas'
EcoWatch Daily Newsletter
chuchart duangdaw / Moment / Getty Images
By Tim Radford
The year is less than four weeks old, but scientists already know that carbon dioxide emissions will continue to head upwards — as they have every year since measurements began — leading to a continuation of the Earth's rising heat.
Lucy Lambriex / DigitalVision / Getty Images
By Katey Davidson
Each year, an estimated 600 million people worldwide experience a foodborne illness.
While there are many causes, a major and preventable one is cross-contamination.
picture alliance / dpa / F. Rumpenhorst
By Arthur Sullivan
When was the last time you traveled by plane? Various researchers say as little as between 5 and 10 percent of the global population fly in a given year.
A Starbucks barista prepares a drink at a Starbucks Coffee Shop location in New York. Ramin Talaie / Corbis via Getty Images
By Cathy Cassata
Are you getting your fill of Starbucks' new Almondmilk Honey Flat White, Oatmilk Honey Latte, and Coconutmilk Latte, but wondering just how healthy they are?
By Sharon Kelly
Back in April last year, the Trump administration's Environmental Protection Agency decided it was "not necessary" to update the rules for toxic waste from oil and gas wells. Torrents of wastewater flow daily from the nation's 1.5 million active oil and gas wells and the agency's own research has warned it may pose risks to the country's drinking water supplies.