This website uses cookies to ensure you get the best experience while browsing it. By clicking 'Got It' you're accepting these terms.
Pope Francis to Escalate Demand for Climate Action in 2015
Dec. 30, 2014 10:41AM EST
Climate
This past year, Pope Francis has spoken out powerfully numerous times about the urgent need to address climate change and the morality of doing so.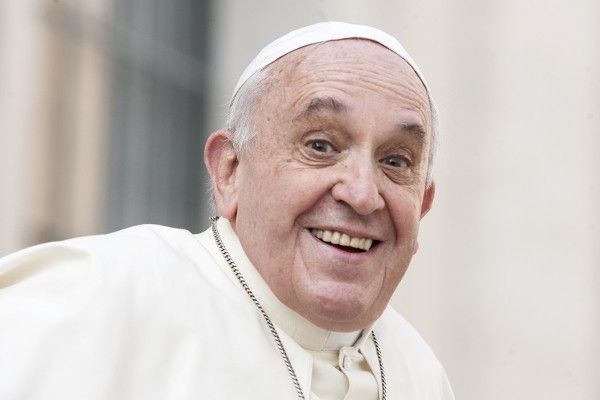 Photo credit: Shutterstock
Now, ahead of next year's critical UN climate summit meeting in Paris, he's expected to ratchet up his advocacy. The Guardian of London is reporting that in the coming year, he is planning to release a message for Catholics, call a summit of the world's major religions to jointly address climate change and give a speech to the UN general assembly. Bishop Marcelo Sorondo, chancellor of the Vatican's Pontifical Academy of Sciences, said the Pope hopes influence the Paris climate summit participants to take decisive action.
"Our academics supported the pope's initiative to influence next year's crucial decisions," Sorondo told London-based Catholic development agency Cafod. "The idea is to convene a meeting with leaders of the main religions to make all people aware of the state of our climate and the tragedy of social exclusion."
He'll apparently meet with other faith leaders to lobby government officials at the UN general assembly meeting in New York in September at which countries will be announcing new anti-poverty and environmental goals. The Pope has been regularly connecting the two, saying things like "An economic system centered on the god of money needs to plunder nature to sustain the frenetic rhythm of consumption that is inherent to it" and "The monopolizing of lands, deforestation, the appropriation of water, inadequate agro-toxics are some of the evils that tear man from the land of his birth. Climate change, the loss of biodiversity and deforestation are already showing their devastating effects in the great cataclysms we witness."
Neil Thorns, head of advocacy at Cafod, expressed support for the Pope's moves, telling The Guardian, "The anticipation around Pope Francis's forthcoming encyclical is unprecedented. We have seen thousands of our supporters commit to making sure their MPs [members of Parliament] know climate change is affecting the poorest communities."
On the other hand, Calvin Beisner of the conservative Cornwall Alliance for the Stewardship of Creation, which has called the U.S. environmental movement "un-biblical" and a false religion, said "The pope should back off. The Catholic church is correct on the ethical principles but has been misled on the science. It follows that the policies the Vatican is promoting are incorrect. Our position reflects the views of millions of evangelical Christians in the U.S."
It's unclear why the opinions of U.S. evangelical Christians, who have often branded Catholicism itself as "a false religion," should matter to Pope Francis or the world's 1.2 billion Catholics.
Dan Misleh, director of the Catholic climate covenant, responded, "There will always be 5-10 percent of people who will take offense. They are very vocal and have political clout. This encyclical will threaten some people and bring joy to others. The arguments are around economics and science rather than morality. A papal encyclical is rare. It is among the highest levels of a pope's authority. It will be 50 to 60 pages long; it's a big deal. But there is a contingent of Catholics here who say he should not be getting involved in political issues, that he is outside his expertise."
YOU MIGHT ALSO LIKE
Pope Francis: 'Unbridled Consumerism' Is Destroying Our Planet
Desmond Tutu: It's Time to 'Move Beyond the Fossil Fuel Era'
Christian Group Gives Coal-Loving Australian Prime Minister 'Clean Energy 4 Christmas'
EcoWatch Daily Newsletter
By Adam Vaughan
Two-thirds of people in the UK think the amount people fly should be reined in to tackle climate change, polling has found.
Climate Week NYC
On Monday, Sept. 23, the Climate Group will kick off its 11th annual Climate Week NYC, a chance for governments, non-profits, businesses, communities and individuals to share possible solutions to the climate crisis while world leaders gather in the city for the UN Climate Action Summit.
By Pam Radtke Russell in New Orleans
Local TV weather forecasters have become foot soldiers in the war against climate misinformation. Over the past decade, a growing number of meteorologists and weathercasters have begun addressing the climate crisis either as part of their weather forecasts, or in separate, independent news reports to help their viewers understand what is happening and why it is important.

While airlines only serve bottled drinking water directly to customers, they use the plane's water for coffee and tea, and passengers can drink the tap water. Aitor Diago / Getty Images
You might want to think twice before washing your hands in an airplane bathroom.
By Allegra Kirkland, Jeremy Deaton, Molly Taft, Mina Lee and Josh Landis
Climate change is already here. It's not something that can simply be ignored by cable news or dismissed by sitting U.S. senators in a Twitter joke. Nor is it a fantastical scenario like The Day After Tomorrow or 2012 that starts with a single crack in the Arctic ice shelf or earthquake tearing through Los Angeles, and results, a few weeks or years later, in the end of life on Earth as we know it.
A pregnant woman works out in front of the skyline of London. SHansche / iStock / Getty Images Plus
Air pollution particles that a pregnant woman inhales have the potential to travel through the lungs and breach the fetal side of the placenta, indicating that unborn babies are exposed to black carbon from motor vehicles and fuel burning, according to a study published in the journal Nature Communications.
Teen activist Greta Thunberg delivered a talking-to to members of Congress Tuesday during a meeting of the Senate Climate Change Task Force after politicians praised her and other youth activists for their efforts and asked their advice on how to fight climate change.
Ten feet of water flooded 20 percent of this Minot, North Dakota neighborhood in June 2011.
DVIDSHUB
/
CC BY 2.0