This website uses cookies to ensure you get the best experience while browsing it. By clicking 'Got It' you're accepting these terms.
Pope Francis Condemns Multinational Corporations for Choosing Profit Over People
Jun. 12, 2015 09:46AM EST
Food
Ever the planetary steward, Pope Francis stressed the importance of food security, good nutrition and reducing food waste at the 39th United Nations Food and Agriculture Organization (FAO) conference at the Vatican yesterday.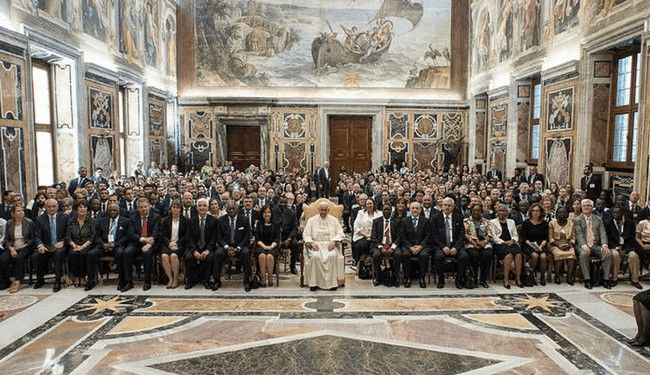 "Statistics on waste are very concerning: a third of food products end up under this heading," the Pope said in front of representatives from more than 120 countries, citing FAO data showing the magnitude of edible food produced on the planet that is lost or wasted.
The Pontiff also voiced concerns over large-scale acquisitions of agricultural land by multinational companies and governments.
"Climate change rightly worries us, but we cannot forget financial speculation," he continued, explaining how both global warming drives world hunger, as well as speculators who drive up market prices of basic foods such as grains, rice and soybeans purely for their own economic gain.
"It is unsettling to know that a good portion of agricultural products end up used for other purposes, maybe good, but that are not immediate needs of the hungry," he said.
He emphasized that access to basic foods as "a right of all people."
Food "must be valued as the fruit of the daily toil of individuals, families, communities, farmers," Francis said.
Where there is no work, there is no dignity.

— Pope Francis (@Pontifex) June 11, 2015
According to a FAO press release, Pope Francis held a separate meeting with the organization's Director-General José Graziano da Silva, where the Pontiff stressed the importance of FAO's ongoing efforts to decentralize. He asked that FAO member nations work together to protect land and water resources, especially from multinational companies.
"If all Member states work for one another, consensus for action by FAO will not be late in arriving, and moreover, FAO's original role will be rediscovered—fiat panis, 'let there be bread,'" he said, in reference to the Latin phrase that appears on the FAO's logo.
He also urged that all consumers should "decisively commit" to modifying our lifestyles and using natural resources more sustainably.
"We must begin with our daily lives if we want to change lifestyles, aware that our small gestures can guarantee sustainability and the future of the human family," he said.
He concluded, "The Church with its institutions and its initiatives, walks with you, knowing that the Earth's resources are limited and their sustainable use is an urgent need for agricultural development and food security."
YOU MIGHT ALSO LIKE
How This 6-Year-Old Fed His Community With $15k and a Big Heart
How Monsanto Gained Huge Control of the World's Food Supply
7 Ways Your Grocery List Can Be a Ballot for Positive Change
EcoWatch Daily Newsletter
Environmental Investigation Agency
Last week, the Peruvian Palm Oil Producers' Association (JUNPALMA) promised to enter into an agreement for sustainable and deforestation-free palm oil production. The promise was secured by the U.S. based National Wildlife Federation (NWF) in collaboration with the local government, growers and the independent conservation organization Sociedad Peruana de Ecodesarrollo.
Pixabay
Leaked documents show that Jair Bolsonaro's government intends to use the Brazilian president's hate speech to isolate minorities living in the Amazon region. The PowerPoint slides, which democraciaAbierta has seen, also reveal plans to implement predatory projects that could have a devastating environmental impact.
XL CATLIN SEAVIEW SURVEY / THE OCEAN AGENCY
Hope may be on the horizon for the world's depleted coral reefs thanks to scientists who successfully reproduced endangered corals in a laboratory setting for the first time, according to Reuters.
Last week we received positive news on the border wall's imminent construction in an Arizona wildlife refuge. The Trump administration delayed construction of the wall through about 60 miles of federal wildlife preserves.
PhotoAlto / Frederic Cirou / Getty Images
Drinking water treated with fluoride during pregnancy may lead to lower IQs in children, a controversial new study has found.
National Institude of Allergy and Infectious Disease
A Greenpeace rally calls for a presidential campaign climate debate on June 12 in Washington, DC. Sarah Silbiger / Getty Images