This website uses cookies to ensure you get the best experience while browsing it. By clicking 'Got It' you're accepting these terms.
Pope Francis Condemns Multinational Corporations for Choosing Profit Over People
Jun. 12, 2015 09:46AM EST
Ever the planetary steward, Pope Francis stressed the importance of food security, good nutrition and reducing food waste at the 39th United Nations Food and Agriculture Organization (FAO) conference at the Vatican yesterday.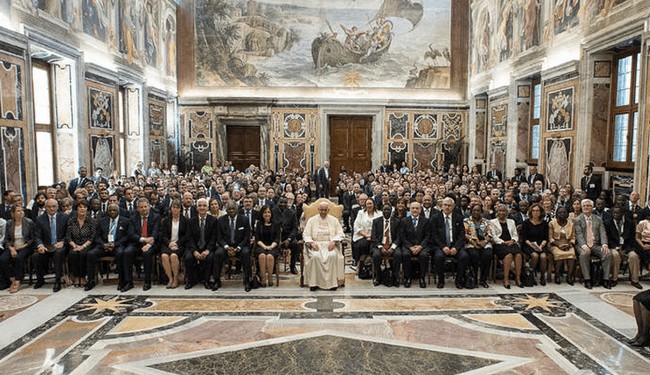 "Statistics on waste are very concerning: a third of food products end up under this heading," the Pope said in front of representatives from more than 120 countries, citing FAO data showing the magnitude of edible food produced on the planet that is lost or wasted.
The Pontiff also voiced concerns over large-scale acquisitions of agricultural land by multinational companies and governments.
"Climate change rightly worries us, but we cannot forget financial speculation," he continued, explaining how both global warming drives world hunger, as well as speculators who drive up market prices of basic foods such as grains, rice and soybeans purely for their own economic gain.
"It is unsettling to know that a good portion of agricultural products end up used for other purposes, maybe good, but that are not immediate needs of the hungry," he said.
He emphasized that access to basic foods as "a right of all people."
Food "must be valued as the fruit of the daily toil of individuals, families, communities, farmers," Francis said.
Where there is no work, there is no dignity.

— Pope Francis (@Pontifex) June 11, 2015
According to a FAO press release, Pope Francis held a separate meeting with the organization's Director-General José Graziano da Silva, where the Pontiff stressed the importance of FAO's ongoing efforts to decentralize. He asked that FAO member nations work together to protect land and water resources, especially from multinational companies.
"If all Member states work for one another, consensus for action by FAO will not be late in arriving, and moreover, FAO's original role will be rediscovered—fiat panis, 'let there be bread,'" he said, in reference to the Latin phrase that appears on the FAO's logo.
He also urged that all consumers should "decisively commit" to modifying our lifestyles and using natural resources more sustainably.
"We must begin with our daily lives if we want to change lifestyles, aware that our small gestures can guarantee sustainability and the future of the human family," he said.
He concluded, "The Church with its institutions and its initiatives, walks with you, knowing that the Earth's resources are limited and their sustainable use is an urgent need for agricultural development and food security."
YOU MIGHT ALSO LIKE
How This 6-Year-Old Fed His Community With $15k and a Big Heart
How Monsanto Gained Huge Control of the World's Food Supply
7 Ways Your Grocery List Can Be a Ballot for Positive Change
Three scissor-tailed flycatcher fledglings in a mesquite tree in Texas. Texas Eagle / CC BY-NC 2.0
By Gary Paul Nabhan
President Trump has declared a national emergency to fund a wall along our nation's southern border. The border wall issue has bitterly divided people across the U.S., becoming a vivid symbol of political deadlock.
PeopleImages / E+ / Getty Images
By Daniel Ross
Hurricane Florence, which battered the U.S. East Coast last September, left a trail of ruin and destruction estimated to cost between $17 billion and $22 billion. Some of the damage was all too visible—smashed homes and livelihoods. But other damage was less so, like the long-term environmental impacts in North Carolina from hog waste that spilled out over large open-air lagoons saturated in the rains.
Hog waste can contain potentially dangerous pathogens, pharmaceuticals and chemicals. According to the state's Department of Environmental Quality, as of early October nearly 100 such lagoons were damaged, breached or were very close to being so, the effluent from which can seep into waterways and drinking water supplies.
This picture taken on May 21, 2018 shows discarded climbing equipment and rubbish scattered around Camp 4 of Mount Everest. Decades of commercial mountaineering have turned Mount Everest into the world's highest rubbish dump as an increasing number of big-spending climbers pay little attention to the ugly footprint they leave behind. DOMA SHERPA / AFP / Getty Images
China has closed its Everest base camp to tourists because of a buildup of trash on the world's tallest mountain.
Researchers tested the eggs of Arctic northern fulmers like these in Nunavut, Canada.
Fiona Paton / Flickr
By Madison Dapcevich
Plastics have been recorded in every corner of the world, from the remote icy waters of Antarctica to the bellies of deep-sea fishes. Now, preliminary findings presented at this year's American Association for the Advancement of Science (AAAS) annual meeting in Washington, DC suggest that bird eggs from the high Arctic—one of the most remote wildernesses on the planet—show evidence of contamination from chemicals used in plastics.