Pope Francis: 'Catastrophic' Climate if Paris Talks Fail
Pope Francis warned on Wednesday that the world is facing a "grave environmental crisis" and spoke of the intersection between social justice and the protection of nature.
The pontiff's comments, made in the Kenyan capital at the start of his first visit to the continent, come just days ahead of the UN climate summit in Paris, where global delegates will hammer out an agreement to curb climate change.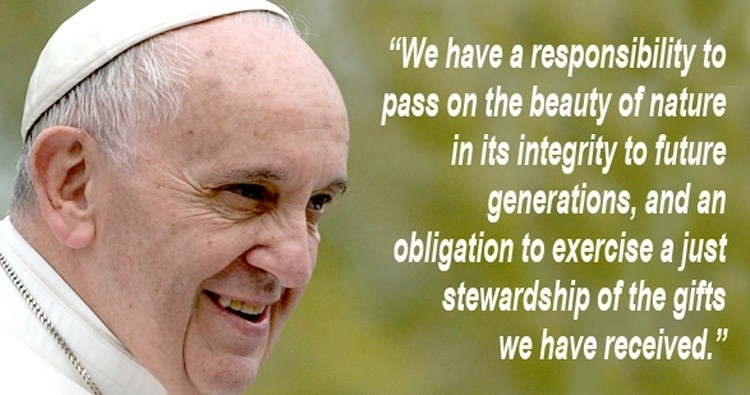 "The grave environmental crisis facing our world demands an ever greater sensitivity to the relationship between human beings and nature," Pope Francis said at the State House in Nairobi, where he spoke to President Uhuru Kenyatta and political leaders.
He continued:
"We have a responsibility to pass on the beauty of nature in its integrity to future generations, and an obligation to exercise a just stewardship of the gifts we have received.
"In effect, there is a clear link between the protection of nature and the building of a just and equitable social order. There can be no renewal of our relationship with nature, without a renewal of humanity itself," he said, referencing his widely heralded encyclical.
"To the extent that our societies experience divisions, whether ethnic, religious or economic, all men and women of good will are called to work for reconciliation and peace, forgiveness and healing. In the work of building a sound democratic order, strengthening cohesion and integration, tolerance and respect for others, the pursuit of the common good must be a primary goal."
In addition to his stop in Kenya, Pope Francis' African trip will also include a stop in Uganda, but, the Washington Post reports, the focal point of his Africa trip appears to be the Central African Republic, where a war between Christians and Muslims has claimed more than 5,000 lives since 2013. The fighting there remains intense, and some security experts are surprised that Francis's visit has not been canceled. It is the first time a pope has traveled to an active conflict zone.
There, Pope Francis is scheduled to meet with Muslims at the central Koudougou mosque in Bangui, the capital. Driving through the city, he is likely to see some of the thousands who have been displaced by the most recent spasm of violence.
Underscoring Francis' statement in his encyclical that there is "an urgent need to develop policies" to slash carbon emissions, the UN weather agency on Wednesday delivered "bad news for the planet"—2015 is on track to be the hottest year on record, and 2011-2015 has been the warmest five-year period on record.
Also on Wednesday, international aid group Oxfam expressed the inverse of the Pope's remarks, warning in a report that "Left unchecked, climate change could reverse decades of development in the world's poorest countries."
YOU MIGHT ALSO LIKE
Viral Video: Watch Your Favorite YouTube Stars Demand Climate Action
World Begins to Turn Its Back on Carbon
The World Takes to the Streets Ahead of Paris Climate Talks
www.facebook.com
Keep reading...
Show less
Scott Pruitt testifies during his Senate confirmation hearing for EPA administrator, January 2017.
The U.S. Environmental Protection Agency's (EPA) chief of staff pressured the leader of its Board of Scientific Counselors to change her congressional testimony to downplay the impact of the agency's mass dismissal of scientists from the board, the New York Times reports.
Keep reading...
Show less
By Jason Mark
Sequoiadendron giganteum. That's the scientific name for the giant sequoia: the mammoth trees found in California's Sierra Nevada that are the largest organisms on Earth, and among the longest-lived. Biologists estimate that about half of all sequoias live in Giant Sequoia National Monument, a 328,000-acre preserve in the Southern Sierra Nevada established by President Clinton in 2000.
Now that national monument is in jeopardy.
Keep reading...
Show less
By Andy Rowell
Donald Trump this week is launching an "energy week," pushing the argument that the U.S. will become a net exporter of oil and gas.
The president and his cronies are talking about a new era of "U.S. energy dominance," which could stretch for decades to come. However, no one believes the president anymore.
Keep reading...
Show less
UN
By Colleen Curry
The United Nations has designated 23 new sites around the world to its World Network of Biosphere reserves—stunning natural landscapes that balance environmental and human concerns and strive for sustainability.
The forests, beaches and waterways were added to the list this year at the International Coordinating Council of the Man and the Biosphere Programme meeting in Paris earlier this month.
Keep reading...
Show less
Jun. 26, 2017 01:48PM EST
www.elysee.fr
By Andy Rowell
There is a growing feeling within European capitals that a quiet, but deeply positive, revolution is happening under Emmanuel Macron in France.
Macron's opinion poll rating is high, especially boosted in how the young French president has reacted to Donald Trump on the international stage.
Keep reading...
Show less
Jun. 26, 2017 12:32PM EST
www.facebook.com
Keep reading...
Show less
Jun. 26, 2017 02:46PM EST
Keep reading...
Show less
Jun. 26, 2017 03:34PM EST
www.youtube.com
According to Bloomberg, "SeaWorld Entertainment Inc. received a subpoena earlier this month from regulators investigating disclosures and public statements by executives, including comments about the Blackfish documentary that caused a public backlash against the confinement of orcas.
Keep reading...
Show less


Get EcoWatch in your inbox