This website uses cookies to ensure you get the best experience while browsing it. By clicking 'Got It' you're accepting these terms.
Pollution in People: Cancer-Causing Chemicals in Americans' Bodies
Jun. 14, 2016 10:27AM EST
Health + Wellness
Hundreds of cancer-causing chemicals are building up in the bodies of Americans, according to the first comprehensive The Pollution in People inventory of carcinogens that have been measured in people, which was released Tuesday by the Environmental Working Group (EWG).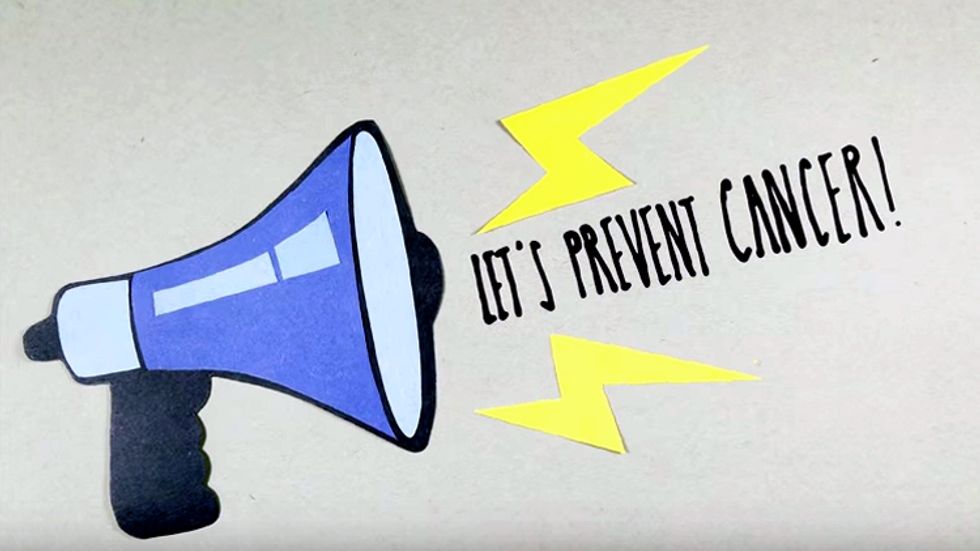 EWG spent almost a year reviewing more than 1,000 biomonitoring studies and other research by leading government agencies and independent scientists in the U.S. and around the world. The nonprofit research group found that up to 420 chemicals known or likely to cause cancer have been detected in blood, urine, hair and other human samples.
Studies of the causes of cancer often focus on tobacco, alcohol and over-exposure to the sun. But the World Health Organization and many other scientists believe nearly 1 in 5 cancers are caused by chemicals and other environmental exposures—not only in the workplaces, but in consumer products, food, water and air.
EWG's review bolsters the findings and ongoing research of the Halifax Project, a collaboration of more than 300 scientists from around the world who are investigating new ways in which combinations of toxic chemicals in our environment may cause cancer. While most cancer research focuses on treatment, the Halifax Project and EWG's Rethinking Cancer initiative are looking at prevention by reducing people's contact with cancer-causing chemicals.
"The presence of a toxic chemical in our bodies does not necessarily mean it will cause harm, but this report details the astounding number of carcinogens we are exposed to in almost every part of life that are building up in our systems," Curt DellaValle, author of the report and a senior scientist at EWG, said. "At any given time some people may harbor dozens or hundreds of cancer-causing chemicals. This troubling truth underscores the need for greater awareness of our everyday exposure to chemicals and how to avoid them."
EWG estimated that a small subset of the chemicals inventoried in the report were measured at levels high enough to pose significant cancer risks in most Americans—risks that generally exceed U.S. Environmental Protection Agency (EPA) safety standards. But those estimates are only for individual chemicals and do not account for a question scientists and doctors are increasingly concerned about—how combined exposures to multiple chemicals may increase risk?
EWG's inventory comes at an auspicious moment for the issue of cancer and chemicals. Last week Congress passed the first reform in 40 years of the nation's woefully weak toxic chemical regulations, which President Obama is expected to sign soon. In January, the president announced the establishment of the National Cancer Moonshot Initiative, a $1 billion program led by Vice President Joe Biden, "to eliminate cancer as we know it."
But the law to overhaul the Toxic Substances Control Act falls far short of giving the EPA the resources and authority to quickly restrict or ban chemicals known to cause cancer. And the only concrete agenda related to prevention in the Moonshot Initiative is for screening and vaccination. As demonstrated by the success of antismoking efforts, which have cut the rate of lung cancer by more than 25 percent in the last 25 years, to prevent and defeat cancer it is necessary to understand the environmental causes.
It is not clear how or if, the new chemicals law will protect Americans from the hundreds of industrial chemicals that cause cancer.
"Many of the carcinogens this study documents in people find their way into our bodies through food, air, water and consumer products every day. Dozens of them show up in human umbilical cord blood—which means Americans are exposed to carcinogens before they've left the womb," EWG president Ken Cook said. "We should focus on preventing cancer by preventing human exposure to these chemicals."
Cook said the report should trigger outrage among Americans and urgent action by public health and elected officials. EWG called for the cancer "Moonshot Initiative" announced by President Obama in his state of the union address in January to include federal funding for investigation of the environmental causes of cancer and the development of prevention initiatives.
For more information on the report, watch here:
YOU MIGHT ALSO LIKE
In 17 Days Vermont's Historic GMO Labeling Law Goes Into Effect: Is Big Food Ready?
Atrazine and Glyphosate More Harmful Than Scientists Once Thought
EPA Proposal Allows Radiation Exposure in Drinking Water Equivalent to 250 Chest X-Rays a Year
First Commercial Crop of GMO Arctic Apples About to Hit Market
EcoWatch Daily Newsletter
Aerial view of Ruropolis, Para state, northen Brazil, on Sept. 6, 2019. Tthe world's biggest rainforest is under threat from wildfires and rampant deforestation. JOHANNES MYBURGH / AFP via Getty Images
By Kate Martyr
Deforestation in Brazil's Amazon rainforest last month jumped to the highest level since records began in 2015, according to government data.
A total of 563 square kilometers (217.38 square miles) of the world's largest rainforest was destroyed in November, 103% more than in the same month last year, according to Brazil's space research agency.
From January to November this year an area almost the size of the Caribbean island of Puerto Rico was destroyed — an 83% overall increase in destruction when compared with the same period last year.
The figures were released on Friday by the National Institute for Space Research (INPE), and collected through the DETER database, which uses satellite images to monitor forest fires, forest destruction and other developments affecting the rainforest.
What's Behind the Rise?
Overall, deforestation in 2019 has jumped 30% compared to last year — 9,762 square kilometers (approximately 3769 square miles) have been destroyed, despite deforestation usually slowing during November and December.
Environmental groups, researchers and activists blamed the policies of Brazil's president Jair Bolsonaro for the increase.
They say that Bolosonaro's calls for the Amazon to be developed and his weakening support for Ibama, the government's environmental agency, have led to loggers and ranchers feeling safer and braver in destroying the expansive rainforest.
His government hit back at these claims, pointing out that previous governments also cut budgets to environment agencies such as Ibama.
The report comes as Brazil came to loggerheads with the Association of Small Island States (AOSIS) over climate goals during the UN climate conference in Madrid.
AOSIS blasted Brazil, among other nations, for "a lack of ambition that also undermines ours."
Last month, a group of Brazilian lawyers called for Bolsonaro to be investigated by the International Criminal Court over his environmental policies.
Reposted with permission from DW.
The Carolina parakeet went extinct in 1918. James St. John /
CC BY 2.0
The Carolina parakeet, the only parrot species native to the U.S., went extinct in 1918 when the last bird died at the Cincinnati Zoo. Now, a little more than 100 years later, researchers have determined that humans were entirely to blame.
Pexels
Vitamin C is a very important nutrient that's abundant in many fruits and vegetables.
BLM drill seeders work to restore native grasses after wildfire on the Bowden Hills Wilderness Study Area in southeast Oregon, Dec. 14, 2018. Marcus Johnson / BLM / CC BY 2.0
By Tara Lohan
In 2017 the Thomas fire raged through 281,893 acres in Ventura and Santa Barbara counties, California, leaving in its wake a blackened expanse of land, burned vegetation, and more than 1,000 destroyed buildings.