This website uses cookies to ensure you get the best experience while browsing it. By clicking 'Got It' you're accepting these terms.
Polluting Industries Say Sky Is Falling as EPA Proposes Stronger Ozone Standards
Nov. 26, 2014 10:28AM EST
Climate
These days we hear a lot about greenhouse gases—carbon and methane—and not so much about ozone. But that doesn't mean that the smog-causing pollutant is no longer a problem. And this morning U.S. Environmental Protection Agency (EPA) administrator Gina McCarthy announced new standards for reducing ozone in the atmosphere.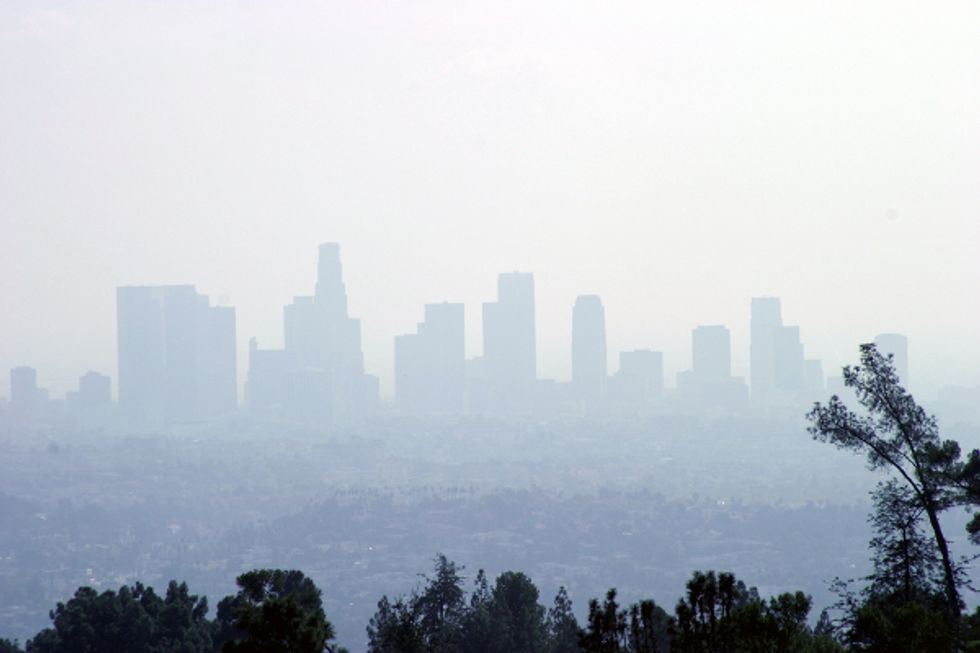 Photo credit: Shutterstock
In an editorial We need tougher ozone standards, published in CNN Money, McCarthy said that the EPA will propose lowering the current air concentration of 75 parts per billion, set by the Bush administration but never enforced, to 65-70 parts per billion, and will take public comments on setting a standard as low as 60. She said that states will have until 2020-2037 to meet the new standards, depending on the level of each state's ozone issues. She said, "The federal government will back up state actions with programs in place or in development, such as the Mercury and Air Toxics Standards and our proposed Clean Power Plan. For a state like California with its unique geology and meteorology, even meeting the standard by 2037 could be a daunting task, so we have to work together to bring new technologies and solutions to the table."
Thanks to government regulations, ozone, produced by vehicles, industry and fossil fuel-burning power plants, has been steeply reduced already. According to McCarthy, ozone pollution has decreased 33 per cent nationwide since 1980. But the health impacts of smog are still there, especially in respiratory diseases and the dramatic increases in the number of asthma cases. China, battling a much worse smog problem, has 74 cities with worse smog than Los Angeles, the U.S.'s smoggiest city, and has become notorious for the health problems it's caused. It's been estimated that two million people around the world die each year as a result of air pollution from ozone and particulates. McCarthy said that for each dollar invested in meeting the new standards, $3 would be saved in health-care costs.
"We applaud the EPA proposal to lower the existing standard, and strongly encourage the agency to limit this pollution to 60 ppb when they finalize the exact standard in October of 2015. A 60 ppb standard will be a breath of fresh air for thousands of Americans who suffer needlessly with asthma attacks, nervous system disorders and heart ailments when exposed to smog pollution," said Mary Anne Hitt, Sierra Club's Beyond Coal campaign director.
Lisa Garcia, Earthjustice vice president of  healthy communities, agrees. "Thousands of people are dying every year, according to the EPA's own analysis, because of smog," said Garcia. "As a nation we must do all we can to save lives and reduce the incidence of respiratory illnesses, particularly for the most vulnerable, including children, the elderly, people who work outdoors and people with asthma, especially African American and Latino children, all of which are disproportionately affected by smog."
McCarthy pointed out that we will hear the usual chorus of voices claiming the new standards are job-killing and will hurt the economy—the sort of people whose case against the Obama administration's 2012 limits on mercury and other pollutants from coal-fired plants that U.S. Supreme Court has agreed to hear. Republican legislators and industry groups such as the American Petroleum Institute have already said they will fight the new standards. The National Association of Manufacturers melodramatically called it "the most expensive regulation ever imposed on the American public."
But McCarthy anticipated the chorus of nay-sayers, pointing out, "Special-interest critics will try to convince you that pollution standards chase away local jobs and businesses, but, in fact, healthy communities attract new businesses, new investment and new jobs. Critics often attempt to deny and discredit the science and exaggerate the costs of dealing with pollution. When EPA revised ozone standards in 1997, critics claimed 'new air quality regulations... will destroy jobs, hike business costs, and exact painful lifestyle changes while doing little to improve health...' None of that ever came true."
In the '70s, McCarthy said, critics said removing lead from gas would destroy the auto industry. It didn't. In the '90s, they said fighting acid rain would make electricity prices go up and cause blackouts. It didn't. She doesn't expect the sky to fall this time either.
"Time after time, when science pointed to health risks, special interests cried the sky was falling," she said. "And time after time, EPA obeyed the law, followed the science, protected public health, and fortified a strong American economy. Over four decades, we've cut air pollution by nearly 70%, while our economy has tripled in size. The sky never fell. Today's action follows that proven path."
And Clean Air Watch's Frank O'Donnell said, "I would urge you to read not only EPA's proposal but the summary of projected economic impacts. It gives a lie to the flatulent industry claims that this would be the most expensive rule ever. We do not need to choose between public health protection and a sound economy. History has demonstrated that we can—and must—have both."
"Obviously, this action is long overdue," he said. "Like the agency's science advisers, EPA recognizes that keeping the current outdated standard would be irresponsible."
YOU MIGHT ALSO LIKE
China's Biggest 74 Cities All Dirtier Than L.A.
Asthma Cases Increase as Cities Continue to Ignore Federal Ozone Standards
EcoWatch Daily Newsletter
The CDC has emphasized that washing hands with soap and water is one of the most effective ways to prevent the spread of COVID-19. Guido Mieth / Moment / Getty Images
The Centers for Disease Control has emphasized that washing hands with soap and water is one of the most effective measures we can take in preventing the spread of COVID-19. However, millions of Americans in some of the most vulnerable communities face the prospect of having their water shut off during the lockdowns, according to The Guardian.
A California newt (Taricha torosa) from Napa County, California, USA. Connor Long /
CC BY-SA 3.0
Aerial photos of the Sierra Nevada — the long mountain range stretching down the spine of California — showed rust-colored swathes following the state's record-breaking five-year drought that ended in 2016. The 100 million dead trees were one of the most visible examples of the ecological toll the drought had wrought.
Now, a few years later, we're starting to learn about how smaller, less noticeable species were affected.
Disinfectants and cleaners claiming to sanitize against the novel coronavirus have started to flood the market.
Natthawat / Moment / Getty Images
Disinfectants and cleaners claiming to sanitize against the novel coronavirus have started to flood the market, raising concerns for the U.S. Environmental Protection Agency (EPA), which threatened legal recourse against retailers selling unregistered products, according to The New York Times.
A customer packs groceries in reusable bags at a NYC supermarket on March 1, 2020. Eduardo Munoz Alvarez/Getty Images
The global coronavirus pandemic has thrown our daily routine into disarray. Billions are housebound, social contact is off-limits and an invisible virus makes up look at the outside world with suspicion. No surprise, then, that sustainability and the climate movement aren't exactly a priority for many these days.
Ingredients are displayed for the Old School Pinto Beans from the Decolonize Your Diet cookbook by Luz Calvo and Catriona Rueda Esquibel. Melissa Renwick / Toronto Star via Getty Images
By Molly Matthews Multedo
Livestock farming contributes to global warming, so eating less meat can be better for the climate.