This website uses cookies to ensure you get the best experience while browsing it. By clicking 'Got It' you're accepting these terms.
Poaching to Palm Oil: Tigers at Risk of Extinction
Jul. 29, 2014 07:49AM EST
Actor Leonard DiCaprio made news last fall for his conservation work when his foundation awarded $3 million to the World Wildlife Fund for an initiative to help Nepal double its population of wild tigers by 2022, the next Chinese Year of the Tiger.
As DiCaprio explained, "Time is running out for the world's remaining 3,200 tigers, largely the result of habitat destruction and escalating illegal poaching."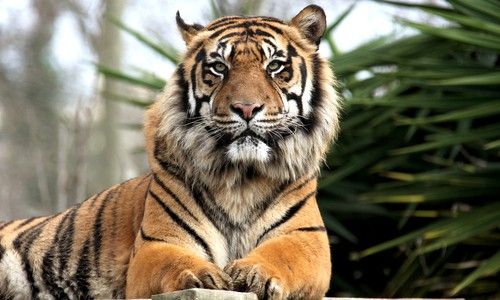 International Tiger Day is celebrated annually on July 29. Photo courtesy of Shutterstock
While conservation groups and foundations have for years been doing important work to save these animals in the wild, tigers remain an endangered species.
Threats faced by these cats include poaching for their pelts, illegal rainforest destruction for palm oil production and habitat loss due to climate change, such as coastal erosion due to sea level rise.
International Tiger Day is celebrated annually on July 29 to bring attention to the perils faced by these fascinating animals.
According to Defenders of Wildlife, there were an estimated 100,000 tigers living in the wild in the early 1900s. The range of these animals has also diminished and they are now only found in Southeast and South Asia, China and the Russian Far East. The following is a breakdown of tiger numbers by subspecies:
Bengal tiger: Less than 2,000
Indochinese tiger: 750-1,300
Siberian tiger: Around 450
Sumatran tiger: 400-500
Malayan tiger: 600-800
South Chinese tiger: Extinct in the wild
Caspian tiger: Extinct
Javan tiger: Extinct
Bali tiger: Extinct
This short video offers some facts about tigers:
And here are some, perhaps surprising, bonus facts from OneKind:
Like its ancestor, the sabre-tooth cat, the tiger relies heavily on its powerful teeth for survival. If it loses its canines (tearing teeth) through injury or old age, it can no longer kill and is likely to starve to death.

The roar of a Bengal tiger can carry for over 2km at night.

Tigers use their distinctive coats as camouflage (no two have exactly the same stripes).

Like domestic cats, all tigers can purr. Unlike their tame relatives, however, which can purr as they breathe both in and out, tigers purr only as they breathe out.

Unlike other cats, tigers are good swimmers and often cool off in lakes and streams during the heat of the day.
How can you help these endangered animals? Consider symbolically adopting a tiger to help save animals in the wild or take action by sending a message to government leaders.
You Might Also Like
Small Wild Cats Face Big Threats Including Lack of Conservation Funds
10 Reasons Why We Must Save the Indonesian Peatlands
EcoWatch Daily Newsletter
Smog over Los Angeles. Westend61 / Getty Images
After four decades of improving air quality, the U.S. has started to take a step backwards, as the number of polluted days has ticked upwards over the last two years, the Associated Press reported.
Photobos / iStock / Getty Images
Governors in Vermont and Maine signed bills on Monday that will ban plastic bags in their states next year, The Hill reported.
The Maine ban will go into effect next Earth Day, April 22, 2020. The Vermont ban, which extends beyond plastic bags and is the most comprehensive plastics ban so far, will go into effect in July 2020. The wait time is designed to give businesses time to adjust to the ban.
picture-alliance / AP Images / D. Goldman
By Daniel Moattar
Eastern Kentucky's hills are interrupted by jarring flats of bare rock: the aftermath of mountaintop removal mining, which uses explosives to destroy and harvest coal-rich peaks.
By Molly Taft
Lisa Marshall isn't your typical activist. For one thing, she's not into crowds. "I don't really like rallies," Marshall, a mom of three from upstate New York, said. "They're a little stressful — not my favorite thing."

An oil drilling site in a residential area of Los Angeles, California on July 16, 2014.
Faces of Fracking / Flickr
By Jake Johnson
A comprehensive analysis of nearly 1,500 scientific studies, government reports, and media stories on the consequences of fracking released Wednesday found that the evidence overwhelmingly shows the drilling method poses a profound threat to public health and the climate.

sonsam / iStock / Getty Images
By Grace Francese
A new Environmental Working Group (EWG) study published in Environmental Research found that nitrate, one of the most common contaminants of drinking water, may cause up to 12,594 cases of cancer per year, but that's not its only danger: It can pose unique health risks to children.
Melt water from Everest's Khumbu glacier. Ed Giles / Getty Images
EPA Administrator Andrew Wheeler signs his replacement for the Clean Power Plan. Win McNamee / Getty Images