PNC Bank Loses Customers over Mountaintop Removal Coal Mining
Jun. 01, 2012 10:00PM EST
Energy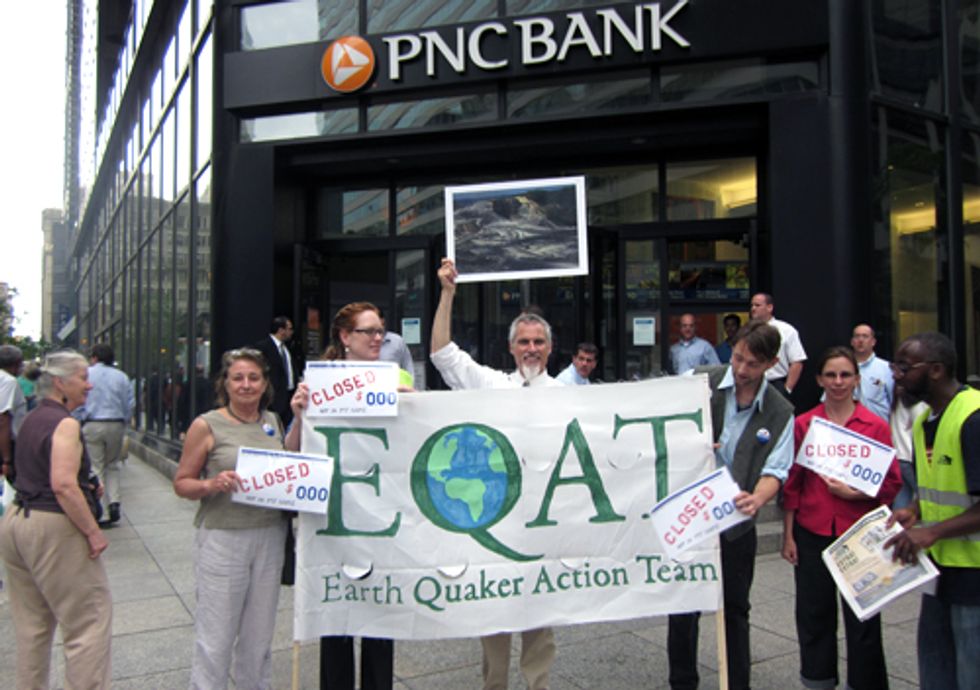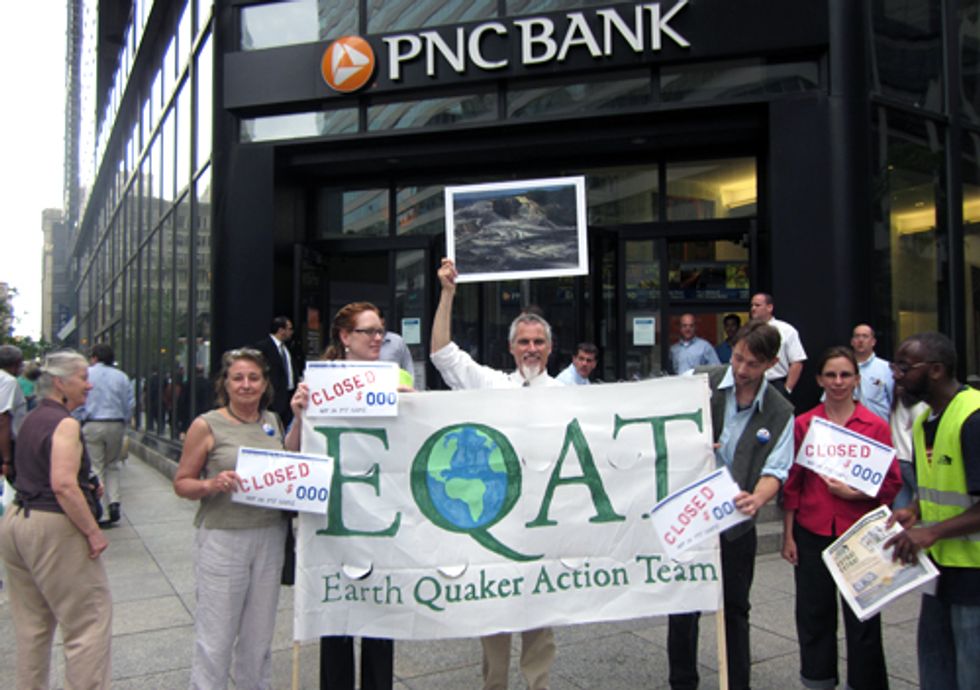 Members of Earth Quaker Action Team (EQAT) started withdrawing their money from PNC Bank this morning in an organized effort to pressure the bank to end all financing for companies that practice a controversial form of surface coal mining known as mountaintop removal.
Thirty people gathered at PNC Regional Headquarters at 1600 Market Street in downtown Philadelphia on the first day of EQAT's "Green Your Money" initiative. "I opened my account at PNC in the early 1990's because I liked what I saw and heard about PNC's stated commitment for 'community and quality of life,'" said Merion resident Laura Jackson. "But, with great regret, I must close my PNC account because a bank which disrespects the community and quality of life in Appalachia has too small a vision to truly respect community and quality of life anywhere."
At least five other groups gathered in communities across the state, from Lower Bucks County to Pittsburgh, Pa.
Five members of the Delaware Chapter of the the Sierra Club gathered at 9 a.m. in front of the PNC Bank in downtown Wilmington, De., to applaud their board which announced support for the EQAT initiative, closed its corporate PNC bank accounts, and publicly encouraged its members to do the same.  "Mountaintop removal destroys communities and devastates the environment, so we join other environmental organizations, including the Philadelphia-based Earth Quaker Action Team and the Pennsylvania Chapter of the Sierra Club, that have also made the pledge to close their accounts with PNC Bank," said Amy Roe, conservation chair for the Delaware Chapter.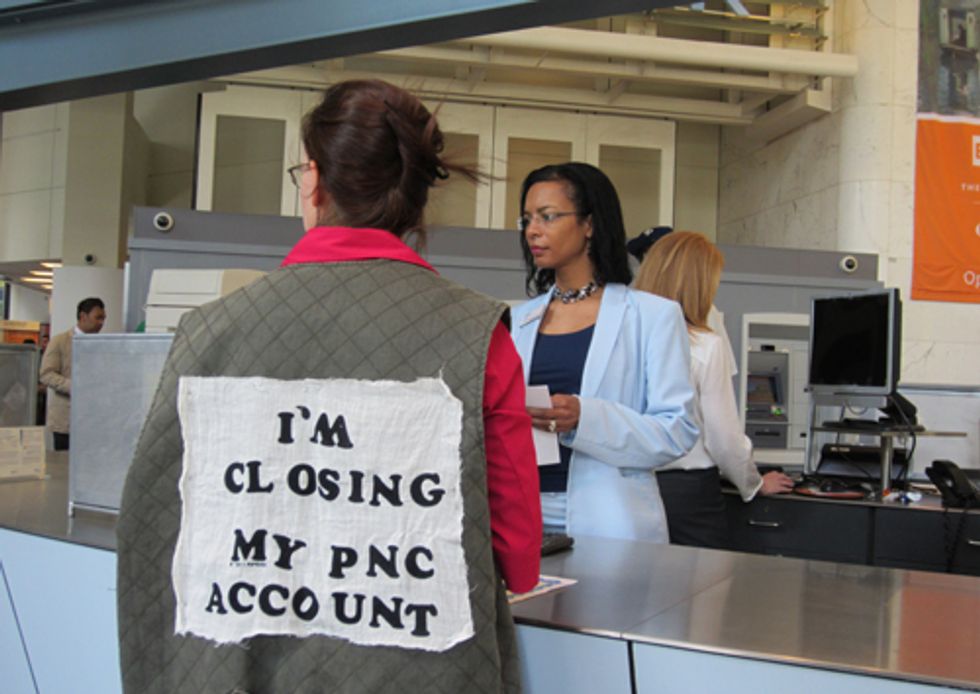 "This is just the first day of an ongoing initiative. Until PNC Bank stops all involvement in mountaintop removal, we will continue to recruit PNC customers to close their bank accounts," said Walter Hjelt Sullivan, EQAT program director. "As the merger of a Pittsburgh bank and a Philadelphia Quaker bank, PNC is uniquely positioned to lead the financial services industry into a sustainable energy economy for the future. Instead, they prefer to pose as a green bank while quietly squeezing the last dirty profits out of a dying Appalachian coal industry."
"By the end of this first phase, over $2 million will have been withdrawn from various PNC branches," said Sullivan. "The next round of account holders is ready to go."
Earth Quaker Action Team announced this initiative at a press conference on Feb. 29, giving PNC Bank 90 days to announce a new strict policy. The small Philadelphia-based organization completed a 17-day, 200-mile walk to PNC national headquarters in Pittsburgh to publicize the program, network with sympathetic organizations, and educate the public.
"We arrived on May 16, having done actions at over a dozen PNC branches along the way. More than 250 people participated in the Walk for some period of time; two of us walked every day," said Swarthmore professor George Lakey, who closed his own PNC account today at the branch around the corner from the college. "The mass media gave us great coverage, and PNC looks worse and worse as it rigidly sticks to its 'no comment' strategy. Their silence is deafening."
Visit EcoWatch's MOUNTAINTOP REMOVAL page for more related news on this topic.
EcoWatch Daily Newsletter
Related Articles from EcoWatch