This website uses cookies to ensure you get the best experience while browsing it. By clicking 'Got It' you're accepting these terms.
Plunging Oil Prices Trigger Economic Downturn in Fracking Boom Town
Jan. 03, 2015 10:21AM EST
When fracking and horizontal drilling made the oil embedded in North Dakota's underground Bakken shale formation accessible for extraction, it touched off something akin to a gold rush in the state.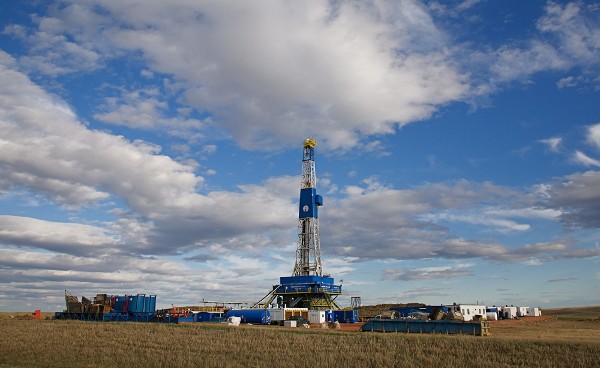 Photo credit: Shutterstock
Oil production has grown 600 percent in the last decade. Small towns, called "man camps," have sprouted with growing populations of oil field workers, bringing both increased economic activity and employment and increased crime and social problems such as sexual assaults. But plummeting oil prices have the potential to upend all that in ways that are hard to predict.
Williston, North Dakota, which is in the heart of the boom, grew from 13,000 to more than double today, which meant major invests in housing and infrastructure. The city is currently $300 million in debt and four years behind in paying off that debt, and plunging oil prices could impact its ability to do so. Williston Mayor Howard Krug talked to Peter O'Dowd of NPR's Here and Now about the challenges his town faces.
"We got real big real quick," admitted Krug, saying that Williston's population could actually be as high as 37,000 and eventually grow to 60,000. He said that the city's housing stock has grown from 5,000 to 10,000 units since 2006 and that another 5,000 units are needed.
Asked how Williston would cope if oil prices continue to stay low or even decline, he said, "Oil prices can go even lower and we'll still be OK here. It will just take us longer to pay for our infrastructure needs. I am optimistic that oil prices are going to go back up. As long as it doesn't stay down for a long period of time, we should be just fine here in western North Dakota."
"Let's say prices do stay lower?" O'Dowd asked. "What sort of tough decisions will you have to make as mayor?"
"The state of North Dakota has enough money to make Williston whole right now," said Krug, referring to its billion-dollar surplus thanks to the shale oil boom. "Also we're doing things internally to watch where that oil price goes so if we need to collect some more taxes on user fees and those kind of things that's the things we'll do. If we have to make the hard choices of cutting back on personnel or projects that would benefit Williston, then we'll just spread them out."
But just in case that fracking thing doesn't pan out, Krug touted the area's agriculture.
"We have some of the most fertile farm land in the entire world. We're number one in lentils. We're number one in durum."
YOU MIGHT ALSO LIKE
Founding Father of Fracking Boom Is Crying the Blues
Film Exposes Harsh Reality of Living Amid North Dakota's Oil Boom
PeopleImages / E+ / Getty Images
By Daniel Ross
Hurricane Florence, which battered the U.S. East Coast last September, left a trail of ruin and destruction estimated to cost between $17 billion and $22 billion. Some of the damage was all too visible—smashed homes and livelihoods. But other damage was less so, like the long-term environmental impacts in North Carolina from hog waste that spilled out over large open-air lagoons saturated in the rains.
Hog waste can contain potentially dangerous pathogens, pharmaceuticals and chemicals. According to the state's Department of Environmental Quality, as of early October nearly 100 such lagoons were damaged, breached or were very close to being so, the effluent from which can seep into waterways and drinking water supplies.
This picture taken on May 21, 2018 shows discarded climbing equipment and rubbish scattered around Camp 4 of Mount Everest. Decades of commercial mountaineering have turned Mount Everest into the world's highest rubbish dump as an increasing number of big-spending climbers pay little attention to the ugly footprint they leave behind. DOMA SHERPA / AFP / Getty Images
China has closed its Everest base camp to tourists because of a buildup of trash on the world's tallest mountain.
Researchers tested the eggs of Arctic northern fulmers like these in Nunavut, Canada.
Fiona Paton / Flickr
By Madison Dapcevich
Plastics have been recorded in every corner of the world, from the remote icy waters of Antarctica to the bellies of deep-sea fishes. Now, preliminary findings presented at this year's American Association for the Advancement of Science (AAAS) annual meeting in Washington, DC suggest that bird eggs from the high Arctic—one of the most remote wildernesses on the planet—show evidence of contamination from chemicals used in plastics.

A small Australian rat that lived on a 12 acre island in the Great Barrier Reef has become the first mammal to go extinct primarily because of human-caused climate change, the Australian Government confirmed Monday.
The Bramble Cay melomys was first declared extinct after a 2014 search on Bramble Cay, its native island in the Torres Strait, between Queensland, Australia and Papua New Guinea, according to a 2016 report by the University of Queensland and the Queensland government.