This website uses cookies to ensure you get the best experience while browsing it. By clicking 'Got It' you're accepting these terms.
Plastic Trash Is Altering Ocean Habitats in Unexpected Ways
May. 10, 2012 10:05AM EST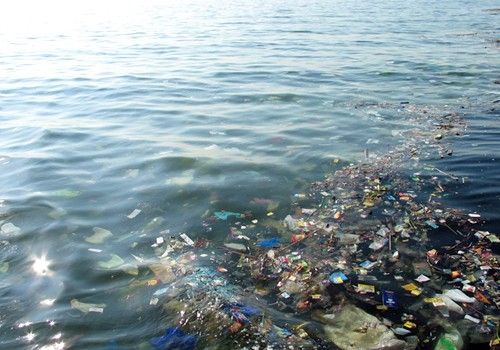 A 100-fold upsurge in human-produced plastic garbage in the ocean is altering habitats in the marine environment, according to a new study led by a graduate student researcher at Scripps Institution of Oceanography at UC San Diego.
In 2009 an ambitious group of graduate students led the Scripps Environmental Accumulation of Plastic Expedition (SEAPLEX) to the North Pacific Ocean Subtropical Gyre aboard the Scripps research vessel New Horizon. During the voyage the researchers, who concentrated their studies a thousand miles west of California, documented an alarming amount of human-generated trash, mostly broken down bits of plastic the size of a fingernail floating across thousands of miles of open ocean.
At the time the researchers didn't have a clear idea of how such trash might be impacting the ocean environment, but a new study published in the May 9 online issue of the journal Biology Letters reveals that plastic debris in the area popularly known as the "Great Pacific Garbage Patch" has increased by 100 times over in the past 40 years, leading to changes in the natural habitat of animals such as the marine insect Halobates sericeus. These "sea skaters" or "water striders"-relatives of pond water skaters-inhabit water surfaces and lay their eggs on flotsam (floating objects). Naturally existing surfaces for their eggs include, for example: seashells, seabird feathers, tar lumps and pumice. In the new study researchers found that sea skaters have exploited the influx of plastic garbage as new surfaces for their eggs. This has led to a rise in the insect's egg densities in the North Pacific Subtropical Gyre.
Such an increase, documented for the first time in a marine invertebrate (animal without a backbone) in the open ocean, may have consequences for animals across the marine food web, such as crabs that prey on sea skaters and their eggs.
"This paper shows a dramatic increase in plastic over a relatively short time period and the effect it's having on a common North Pacific Gyre invertebrate," said Scripps graduate student Miriam Goldstein, lead author of the study and chief scientist of SEAPLEX, a UC Ship Funds-supported voyage. "We're seeing changes in this marine insect that can be directly attributed to the plastic."
The new study follows a report published last year by Scripps researchers in the journal Marine Ecology Progress Series showing that nine percent of the fish collected during SEAPLEX contained plastic waste in their stomachs. That study estimated that fish in the intermediate ocean depths of the North Pacific Ocean ingest plastic at a rate of roughly 12,000 to 24,000 tons per year.
The Goldstein et al. study compared changes in small plastic abundance between 1972-1987 and 1999-2010 by using historical samples from the Scripps Pelagic Invertebrate Collection and data from SEAPLEX, a NOAA Ship Okeanos Explorer cruise in 2010, information from the Algalita Marine Research Foundation as well as various published papers.
In April, researchers with the Instituto Oceanográfico in Brazil published a report that eggs of Halobates micans, another species of sea skater, were found on many plastic bits in the South Atlantic off Brazil.
"Plastic only became widespread in late '40s and early '50s, but now everyone uses it and over a 40-year range we've seen a dramatic increase in ocean plastic," said Goldstein. "Historically we have not been very good at stopping plastic from getting into the ocean, so hopefully in the future we can do better."
Coauthors of the study include Marci Rosenberg, a student at UCLA, and Scripps Research Biologist Emeritus Lanna Cheng.
Microplastic concentrations in 1972-1987 (a and b) and 1999-2010 (c and d) based on new data (SEAPLEX, NOAA Ship Okeanos Explorer cruises), Algalita Marine Research Foundation as well as published data based on Wong et al (1974), Shaw (1977), Day & Shaw (1987), Gilfillan et al (2009) and Doyle et al (2011).
For more information, click here.
EcoWatch Daily Newsletter
Vegan rice and garbanzo beans meals.
Ella Olsson /
Pexels
One common concern about vegan diets is whether they provide your body with all the vitamins and minerals it needs.
Many claim that a whole-food, plant-based diet easily meets all the daily nutrient requirements.
The Centers for Disease Control (CDC) released new numbers that show vaping-related lung illnesses are continuing to grow across the country, as the number of fatalities has climbed to 33 and hospitalizations have reached 1,479 cases, according to a CDC update.
During the summer, the Arctic tundra is usually a thriving habitat for mammals such as the Arctic fox. Education Images / Universal Images Group via Getty Images
Reports of extreme snowfall in the Arctic might seem encouraging, given that the region is rapidly warming due to human-driven climate change. According to a new study, however, the snow could actually pose a major threat to the normal reproductive cycles of Arctic wildlife.
A fracking well looms over a residential area of Liberty, Colorado on Aug. 19.
WildEarth Guardians / Flickr
Pope Francis flanked by representatives of the Amazon Rainforest's ethnic groups and catholic prelates march in procession during the opening of the Special Assembly of the Synod of Bishops for the Pan-Amazon Region at The Vatican on Oct. 07 in Vatican City, Vatican. Alessandra Benedetti / Corbis News / Getty Images
The Catholic Church "hears the cry" of the Amazon and its peoples. That's the message Pope Francis hopes to send at the Synod of the Amazon, a three-week meeting at the Vatican that ends Oct. 27.
The crowd appears to attack a protestor in a video shared on Twitter by ITV journalist Mahatir Pasha.
VOA News /
Youtube screenshot
Some London commuters had a violent reaction Thursday morning when Extinction Rebellion protestors attempted to disrupt train service during rush hour.
Some fruit drinks may appear to be healthier, but many can have high levels of added sugars. d3sign / Moment / Getty Images
By Kristen Fischer
Though the science has shown sugary drinks are not healthy for children, fruit drinks and similar beverages accounted for more than half of all children's drink sales in 2018, according to a new report.

Donald Trump attends the opening of Red Tiger Golf Course at Trump National Doral on Jan. 12, 2015 in Doral, Florida. Johnny Louis / FilmMagic
Acting White House Chief of Staff Mick Mulvaney made two controversial announcements about the 2020 Group of Seven (G7) summit: it will be hosted at one of President Donald Trump's golf resorts in Miami and it won't feature any discussion of the climate crisis.