This website uses cookies to ensure you get the best experience while browsing it. By clicking 'Got It' you're accepting these terms.
Plastic Trash Is Altering Ocean Habitats in Unexpected Ways
May. 10, 2012 10:05AM EST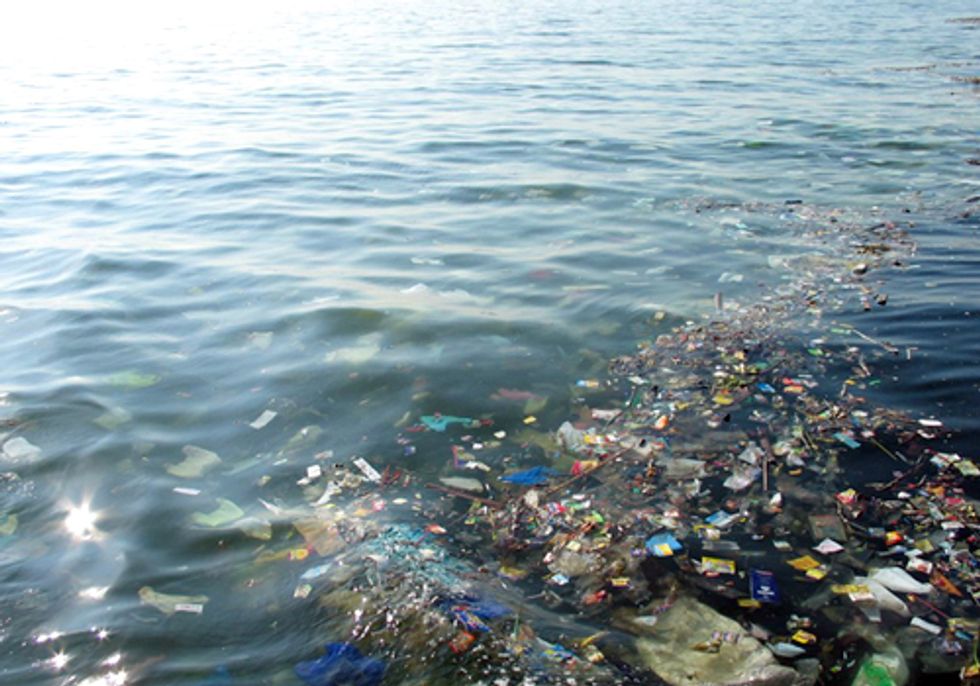 A 100-fold upsurge in human-produced plastic garbage in the ocean is altering habitats in the marine environment, according to a new study led by a graduate student researcher at Scripps Institution of Oceanography at UC San Diego.
In 2009 an ambitious group of graduate students led the Scripps Environmental Accumulation of Plastic Expedition (SEAPLEX) to the North Pacific Ocean Subtropical Gyre aboard the Scripps research vessel New Horizon. During the voyage the researchers, who concentrated their studies a thousand miles west of California, documented an alarming amount of human-generated trash, mostly broken down bits of plastic the size of a fingernail floating across thousands of miles of open ocean.
At the time the researchers didn't have a clear idea of how such trash might be impacting the ocean environment, but a new study published in the May 9 online issue of the journal Biology Letters reveals that plastic debris in the area popularly known as the "Great Pacific Garbage Patch" has increased by 100 times over in the past 40 years, leading to changes in the natural habitat of animals such as the marine insect Halobates sericeus. These "sea skaters" or "water striders"-relatives of pond water skaters-inhabit water surfaces and lay their eggs on flotsam (floating objects). Naturally existing surfaces for their eggs include, for example: seashells, seabird feathers, tar lumps and pumice. In the new study researchers found that sea skaters have exploited the influx of plastic garbage as new surfaces for their eggs. This has led to a rise in the insect's egg densities in the North Pacific Subtropical Gyre.
Such an increase, documented for the first time in a marine invertebrate (animal without a backbone) in the open ocean, may have consequences for animals across the marine food web, such as crabs that prey on sea skaters and their eggs.
"This paper shows a dramatic increase in plastic over a relatively short time period and the effect it's having on a common North Pacific Gyre invertebrate," said Scripps graduate student Miriam Goldstein, lead author of the study and chief scientist of SEAPLEX, a UC Ship Funds-supported voyage. "We're seeing changes in this marine insect that can be directly attributed to the plastic."
The new study follows a report published last year by Scripps researchers in the journal Marine Ecology Progress Series showing that nine percent of the fish collected during SEAPLEX contained plastic waste in their stomachs. That study estimated that fish in the intermediate ocean depths of the North Pacific Ocean ingest plastic at a rate of roughly 12,000 to 24,000 tons per year.
The Goldstein et al. study compared changes in small plastic abundance between 1972-1987 and 1999-2010 by using historical samples from the Scripps Pelagic Invertebrate Collection and data from SEAPLEX, a NOAA Ship Okeanos Explorer cruise in 2010, information from the Algalita Marine Research Foundation as well as various published papers.
In April, researchers with the Instituto Oceanográfico in Brazil published a report that eggs of Halobates micans, another species of sea skater, were found on many plastic bits in the South Atlantic off Brazil.
"Plastic only became widespread in late '40s and early '50s, but now everyone uses it and over a 40-year range we've seen a dramatic increase in ocean plastic," said Goldstein. "Historically we have not been very good at stopping plastic from getting into the ocean, so hopefully in the future we can do better."
Coauthors of the study include Marci Rosenberg, a student at UCLA, and Scripps Research Biologist Emeritus Lanna Cheng.
Microplastic concentrations in 1972-1987 (a and b) and 1999-2010 (c and d) based on new data (SEAPLEX, NOAA Ship Okeanos Explorer cruises), Algalita Marine Research Foundation as well as published data based on Wong et al (1974), Shaw (1977), Day & Shaw (1987), Gilfillan et al (2009) and Doyle et al (2011).
For more information, click here.
EcoWatch Daily Newsletter
No longer will the options when we die be a choice between just burial or cremation. Soon it will be possible to compost your remains and leave your loved ones with rich soil, thanks to a new funeral service opening in Seattle in 2021 that will convert humans into soil in just 30 days, as The Independent reported.
You can reduce the footprint of a medium-sized live tree by donating it to elephants at a local zoo, like this African elephant pictured above. eans / iStock / Getty Images
The holiday season is supposed to be about giving and sharing, but often it is actually about throwing away. The U.S. generates 25 percent more garbage between Thanksgiving and New Year's than it does during the rest of the year. That's around one million extra tons per week, according to National Environmental Education Foundation (NEEF) figures reported by The Associated Press.
The Opera House is seen with smoke haze which enveloped Sydney Harbor on Dec. 10 in Sydney, Australia. Smoke haze hangs over the city as the New South Wales fire danger risk is raised from 'very high' to 'severe'. James D. Morgan / Getty Images
The brushfires raging through New South Wales have shrouded Australia's largest city in a blanket of smoke that pushed the air quality index 12 times worse than the hazardous threshold, according to the Australia Broadcast Corporation (ABC).
People walk across the bridge near Little Raven Court in downtown Denver. Younger Americans increasingly prefer to live in walkable neighborhoods. Helen H. Richardson / The Denver Post via Getty Images
By David B. Goldstein
Energy efficiency is the cornerstone of any country's plan to fight the climate crisis. It is the cheapest option available, and one that as often as not comes along with other benefits, such as job creation, comfort and compatibility with other key solutions such as renewable energy. This has been recognized by the International Energy Agency (IEA) for at least a decade.
Activists from Extinction Rebellion New York City engaged in nonviolent direct action to confront climate change outside City Hall on April 17, 2019. Erik McGregor / Pacific Press / LightRocket via Getty Images
By Andrea Germanos

Over 500 groups on Monday rolled out an an action plan for the next president's first days of office to address the climate emergency and set the nation on a transformative path towards zero emissions and a just transition in their first days in office.