This website uses cookies to ensure you get the best experience while browsing it. By clicking 'Got It' you're accepting these terms.


The best of EcoWatch, right in your inbox. Sign up for our email newsletter!
Plastic Smog: Microplastics Invade Our Oceans
Feb. 27, 2015 09:02AM EST
Insights + Opinion

The idea that there are "patches" of trash in the oceans is a myth created 15 years ago that should be abandoned in favor of "plastic smog," like massive clouds of microplastics that emanate out of the five subtropical gyres. My recent publication in the journal Plos One, estimates 269,000 tons of plastic from 5.25 trillion particles, but more alarming than that is it's mostly microplastic (>92 percent in our study) and most of the plastic in the ocean is likely not on the sea surface.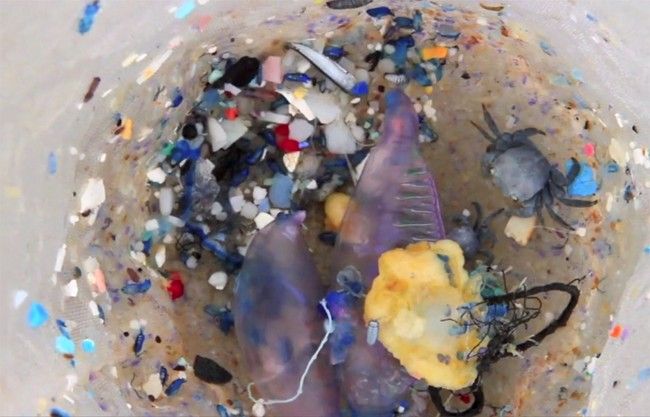 Recent research has shown microplastics in ice cores, across the seafloor, vertically throughout the ocean and on every beach worldwide.  The little stuff is everywhere.
If you follow the life of plastic in the oceans, as we have done for 50,000 miles since 2009, you find the large items leaving coastlines in droves, then it rapidly shreds as it migrates toward the calmer waters of the subtropical gyres where sunlight, waves and nibbling fish rip it to micro-size particles smaller than a grain of rice. Microplastic then flow through the bodies of billions of organisms, making their way out of the gyres to deeper currents, and ultimately the seafloor. That's the end-life of plastic.
Visualize the problem as "plastic smog" much like the way you can look up and visualize clouds of air pollution over cities. It's very similar. We solved the air pollution problem by stopping the source with better emission controls on cars and power plants. There were people that suggested sucking air pollution out of the sky, but because people could look up and see the problem they understood that only stopping the source would work. The exact same logic applies to microplastic pollution in the world's oceans. Because there are only a handful of scientists that understand ocean plastic pollution, and the public largely relies on the media for information, there's an unusual amount of attention given to ideas to suck up plastic from the sea.
What 5.25 trillion particles tells us is that emission controls are the only viable solution. And that's where we need your help. By supporting our microbead ban, which is one of many campaigns to phase out bad plastic design, you will make a long-lasting impact on fixing the problem.
Watch here as I provide an overview of our recent study:
YOU MIGHT ALSO LIKE
David Suzuki: We Have to Stop Killing Our Oceans With Plastic
Undersea Superheroes Save Imperiled Marine Life
EcoWatch Daily Newsletter
Climate change activists gather in front of the stage at the Extinction Rebellion group's environmental protest camp at Marble Arch in London on April 22, on the eighth day of the group's protest calling for political change to combat climate change. TOLGA AKMEN / AFP / Getty Images
Pexels
By Alina Petre, MS, RD (CA)
Veganism refers to a way of living that attempts to minimize animal exploitation and cruelty. For this reason, vegans aim to exclude all foods containing meat, poultry, fish, eggs, dairy and honey from their diet (1).
American farmers use chlorpyrifos, a pesticide tied to brain and nervous system issues, on crops such as apples, broccoli, corn and strawberries. Stephanie Chapman / Flickr / CC BY 2.0
By Jessica Corbett
In a ruling welcomed by public health advocates, a federal court on Friday ordered the Trump administration to stop stalling a potential ban on a pesticide linked to brain damage in children, giving regulators until mid-July to make a final decision.
fstop123 / iStock / Getty Images Plus
At EcoWatch, our team knows that changing personal habits and taking actions that contribute to a better planet is an ongoing journey. Earth Day, happening on April 22, is a great reminder for all of us to learn more about the environmental costs of our behaviors like food waste or fast fashion.
To offer readers some inspiration this Earth Day, our team rounded up their top picks for films to watch. So, sit back and take in one of these documentary films this Earth Day. Maybe it will spark a small change you can make in your own life.
NASA
By Shuchi Talati
Solar geoengineering describes a set of approaches that would reflect sunlight to cool the planet. The most prevalent of these approaches entails mimicking volcanic eruptions by releasing aerosols (tiny particles) into the upper atmosphere to reduce global temperatures — a method that comes with immense uncertainty and risk. We don't yet know how it will affect regional weather patterns, and in turn its geopolitical consequences. One way we can attempt to understand potential outcomes is through models.
Maria Gunnoe Flight, courtesy of southwings.org
By Julia Conley
Green groups on Saturday celebrated the latest federal ruling aimed at preventing President Donald Trump from rolling back environmental regulations that were put in place by his predecessor.
NASA scientists flew over the Kuskokwim river in southwest Alaska in 2017 to investigate how water levels in the Arctic landscape change as permafrost thaws. Peter Griffith, NASA
Youtube screenshot
A woman has been caught on camera dumping a bag of puppies near a dumpster in Coachella, California, CNN reported Sunday.