Plastic Pollution = Cancer of Our Oceans: What Is the Cure?
By now, many people know that the ocean is filled with plastic debris.
A recent study estimates that the amount of plastic waste that washes off land into the ocean each year is approximately 8 million metric tons. Jenna Jambeck, the study's lead author, helps us visualize the magnitude by comparing it to finding five grocery bags full of plastic on every foot of coastline in the 192 countries included in the study.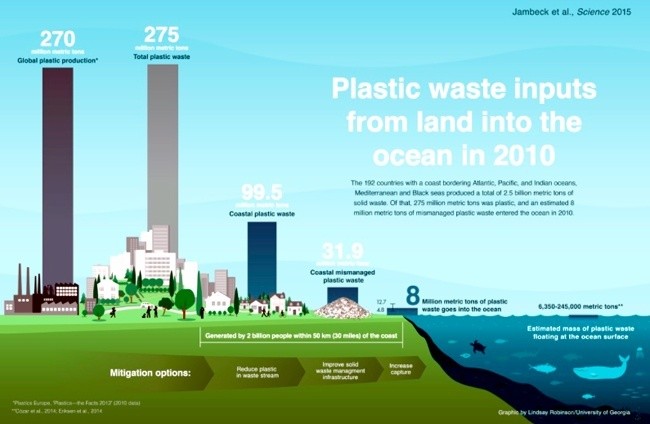 As someone who lives in a highly urbanized coastal city in California, this estimate didn't shock me. I grew up watching loads of plastic trash spew from river outlets into our ocean. Our beaches are covered with things like plastic bottles, bags, wrappers and straws—all mostly single-use "disposable" items.
For years, I've watched polluted water flow beneath the bridge at the end of the San Gabriel River, a channel that drains a 713 square mile watershed in Southern California. This bridge is special … it's where my fascination with plastic waste began—it's where our plastic trash becomes plastic marine debris.
As Algalita's education director, it's my job to help people wrap their heads around the complexities of this issue. Many times, it's the simple questions that require the most in-depth responses. For example: "Why can't we clean up the trash in the ocean?"
I won't say extracting plastic debris from our ocean is impossible; however, I will say most plastic pollution researchers agree that its output is not worth its input. They believe our cleanup efforts are best focused on land and in our rivers. Here's why:
The ocean is imperious and is constantly changing.
The ocean is complex, and is influenced by an endless list of processes. It's three-dimensional, interconnected, and unpredictable. It's massive, dynamic, and acts as one giant imperious force. The fact that the ocean is ever-changing makes it impossible to fully understand.
Our experience of the ocean is entirely defined by our interactions with it. Most researchers who have studied plastic marine debris will tell you that, logistically, working in the open ocean is arduous and unpredictable. Some days you are completely powerless against its will.
Waste management ends at the end of the river.
Humans lose the ability to manage plastic trash once it enters the ocean and becomes marine debris. Ocean cleanup is not a form of waste management. It is simply an attempt to extract plastic debris from our complex ocean.
There are different types of plastic marine debris.
Our ocean is filled with all sorts of plastic—from fully intact items like bottles and toothbrushes to plastic fragments, filaments, pellets, film and resin. Recently, a team of researchers from six countries calculated that an astounding 5.25 trillion pieces of plastic weighing 269,000 tons can be found floating in the global ocean. Most of the 5.25 trillion pieces of plastic are small, between just 1mm and 4.75mm in size.
Each piece of debris is unique, with its own shape, size, and chemical composition. Its structure and buoyancy change as communities of organisms adhere to its surface. Some pieces have been completely transformed into artificial habitats that harbor dozens of species.
Some plastics, like fishing nets, line and film have a tendency to snag and accumulate other pieces of debris. Imagine a kind of snowball effect as tangled debris rolls around in the ocean's currents. These composite mixtures come in all shapes and sizes, from massive ghost nets to tiny clusters of monofilament fibers invisible to the naked eye.
The heterogeneous nature of the debris poses critical challenges that, if not addressed properly, can have significant negative consequences and potentially jeopardize the health of the ocean.
As you can imagine, ocean cleanup is a controversial issue. Let me try to simplify things—think of ocean plastic pollution as a type of cancer. The cure for ocean plastic pollution is eliminating disposable plastics all together. I'll be the first to admit that this is never going to happen. So let's see what prevention and treatment look like.
Redesigning plastic products to be valuable and sustainable is our biggest leap toward prevention. When designed in cradle-to-cradle systems, plastic products have a much better chance of being recovered and recycled. Also, better product design may ease many of the challenges plastic recyclers face. Waste reduction also falls into the prevention category as it helps scale down the amount of waste to be managed.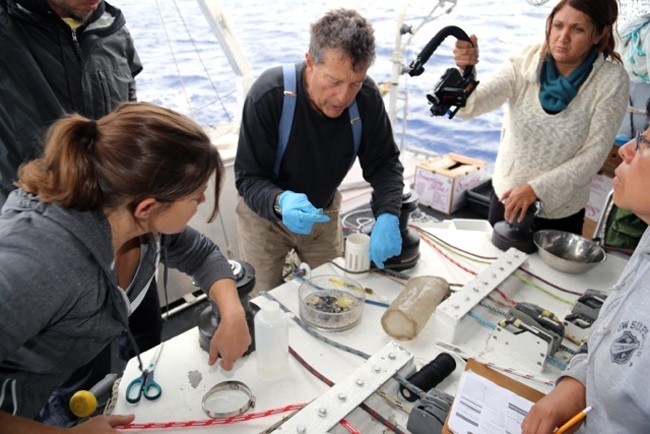 Waste management can be viewed as treatment for the disease. This is how we keep things under control.
Ocean cleanup is comparable to invasive surgery—and that's why it's so controversial.
Most plastic pollution researchers agree that ocean cleanup is a radical approach to the issue. Many will even denounce it as impractical and overly idealistic. However, this engineering challenge should not be ignored completely … just as surgery for a cancer patient is sometimes our last-ditch effort.
Surgery is most successful when done by a specialist with a great deal of experience in the particular procedure. The problem is, ocean plastic pollution is a relatively new disease and therefore, there are no specialists in this type of "procedure"—there are no textbooks, courses or degrees related to ocean cleanup. Experience starts now.
An understanding of the ocean and this "disease" is best gained through experience. If we are to attempt ocean cleanup, our best approach is to connect the proponents of clean-up schemes with people who understand the complexities of the disease—experienced plastic pollution researchers.  And if these plastic pollution experts denounce certain methods of cleanup, we should pay close attention to what they're saying. Those who propose ocean clean up schemes should embrace the critiques of these individuals, as there is immeasurable value in their scrutiny.
YOU MIGHT ALSO LIKE
Microbeads: A Sign of Our Plastic Consumer Madness
Adidas Wants to Turn Ocean Plastic Into Sportswear
UN Scientists Call for Action on Marine Microplastics as New York Assembly Passes Microbeads Ban
By Itai Vardi
A recent intensification in protests against Williams Partners' planned Atlantic Sunrise pipeline in Pennsylvania prompted a state senator to propose legislation aimed at limiting demonstrations.
Last month, Pennsylvania Sen. Scott Martin (R-Norman) announced his intention to introduce legislation that would pass the costs of law enforcement responding to protests onto the demonstrators. Martin also helped introduce a different bill that would criminalize protests at natural gas facilities.
Keep reading...
Show less
Black Shogun / iStock
The Federal Energy Regulatory Commission (FERC) released its Final Environmental Impact Statement Friday for the Mountain Valley Pipeline, a controversial 303-mile pipeline that would carry two billion cubic feet of fracked gas per day from West Virginia through Virginia.
Keep reading...
Show less
Falcon PEV
The so-called "first and last mile" problem is one of the biggest hurdles with public transportation. How do you encourage more people to take Earth-friendlier commutes when their homes are miles away from the train or bus station?
One solution, as this Estonian electric scooter company proposes, is to simply take your commute with you—literally. Tallinn-based Stigo has developed a compact e-scooter that folds to the size of a rolling suitcase in about two seconds.
Keep reading...
Show less
Connect4Climate
[Editor's note: I'm still in shock after hearing the news that Lucia Grenna passed away in her sleep last week. When we first met in April of 2014 at a Copenhagen hotel, I was immediately taken by here powerful presence. We spent the next couple days participating in a Sustainia climate change event where Lucia presented her audacious plans to connect people to the climate issue. I had the chance to partner with Lucia on several other projects throughout the years and work with her incredible Connect4Climate team. I was always in awe of her ability to "make the impossible possible." Her spirit will live on forever. — Stefanie Spear]
It is with a heavy heart that Connect4Climate announces the passing of its founder and leading light, Lucia Grenna. Lucia passed peacefully in her sleep on June 15, well before her time. We remember her for her leadership and extraordinary ability to motivate people to take on some of the greatest challenges of our time, not least climate change.
Keep reading...
Show less
Jun. 23, 2017 07:29PM EST
Wikimedia Commons
By Stacy Malkan
Neil deGrasse Tyson has inspired millions of people to care about science and imagine themselves as participants in the scientific process. What a hopeful sign it is to see young girls wearing t-shirts emblazoned with the words, "Forget princess, I want to be an astrophysicist."
Keep reading...
Show less
Jun. 23, 2017 01:57PM EST
www.youtube.com
By Andy Rowell
Any day now we will truly witness climate change in action. Within days at worst, maybe weeks at best, scientists predict that a huge section of the Larsen C ice shelf in Antarctica will break off into the ocean, in what is called a major "carving" event.
Keep reading...
Show less
Jun. 23, 2017 02:27PM EST
www.youtube.com
President Trump visited Cedar Rapids, Iowa on June 21 to speak to a large crowd in the U.S. Cellular Center at a political rally organized by his campaign.
As Trevor Noah noted during The Daily Show episode last night (starts at 2:25), the real reason Trump has these rallies is to "get back in front of his loyal crowds and feed of their energy." Noah believes that "Trump supporters are so on board with their dude he can say anything and they'll come along for the ride."
Keep reading...
Show less
Jun. 23, 2017 07:50PM EST
The Kamuthi solar plant in the southern Indian state of Tamil Nadu.
The rapid growth in renewable energy continues to put a dent in the demand for coal.
Coal India, the world's biggest coal mining company and producer of 82 percent of the country's coal, announced the closure of 37 mines that are financially "unviable."
Keep reading...
Show less
Jun. 23, 2017 06:42PM EST
www.youtube.com
By Katie O'Reilly
Two years ago—long before coal became one of the most dominant and controversial symbols of the 2016 presidential election—Bloomberg Philanthropies approached production company RadicalMedia with the idea of creating a documentary exploring the U.S. coal mining industry. Last spring, they brought on Emmy-nominated director Michael Bonfiglio, tasked with forging a compelling story out of the multitudes of facts, statistics and narratives underlying the declining industry.
Keep reading...
Show less