May. 04, 2015 08:39AM EST
Plastic Pollution = Cancer of Our Oceans: What Is the Cure?
By now, many people know that the ocean is filled with plastic debris.
A recent study estimates that the amount of plastic waste that washes off land into the ocean each year is approximately 8 million metric tons. Jenna Jambeck, the study's lead author, helps us visualize the magnitude by comparing it to finding five grocery bags full of plastic on every foot of coastline in the 192 countries included in the study.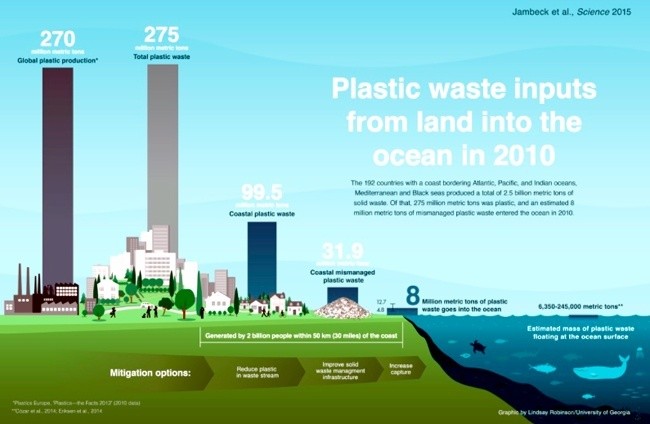 As someone who lives in a highly urbanized coastal city in California, this estimate didn't shock me. I grew up watching loads of plastic trash spew from river outlets into our ocean. Our beaches are covered with things like plastic bottles, bags, wrappers and straws—all mostly single-use "disposable" items.
For years, I've watched polluted water flow beneath the bridge at the end of the San Gabriel River, a channel that drains a 713 square mile watershed in Southern California. This bridge is special … it's where my fascination with plastic waste began—it's where our plastic trash becomes plastic marine debris.
As Algalita's education director, it's my job to help people wrap their heads around the complexities of this issue. Many times, it's the simple questions that require the most in-depth responses. For example: "Why can't we clean up the trash in the ocean?"
I won't say extracting plastic debris from our ocean is impossible; however, I will say most plastic pollution researchers agree that its output is not worth its input. They believe our cleanup efforts are best focused on land and in our rivers. Here's why:
The ocean is imperious and is constantly changing.
The ocean is complex, and is influenced by an endless list of processes. It's three-dimensional, interconnected, and unpredictable. It's massive, dynamic, and acts as one giant imperious force. The fact that the ocean is ever-changing makes it impossible to fully understand.
Our experience of the ocean is entirely defined by our interactions with it. Most researchers who have studied plastic marine debris will tell you that, logistically, working in the open ocean is arduous and unpredictable. Some days you are completely powerless against its will.
Waste management ends at the end of the river.
Humans lose the ability to manage plastic trash once it enters the ocean and becomes marine debris. Ocean cleanup is not a form of waste management. It is simply an attempt to extract plastic debris from our complex ocean.
There are different types of plastic marine debris.
Our ocean is filled with all sorts of plastic—from fully intact items like bottles and toothbrushes to plastic fragments, filaments, pellets, film and resin. Recently, a team of researchers from six countries calculated that an astounding 5.25 trillion pieces of plastic weighing 269,000 tons can be found floating in the global ocean. Most of the 5.25 trillion pieces of plastic are small, between just 1mm and 4.75mm in size.
Each piece of debris is unique, with its own shape, size, and chemical composition. Its structure and buoyancy change as communities of organisms adhere to its surface. Some pieces have been completely transformed into artificial habitats that harbor dozens of species.
Some plastics, like fishing nets, line and film have a tendency to snag and accumulate other pieces of debris. Imagine a kind of snowball effect as tangled debris rolls around in the ocean's currents. These composite mixtures come in all shapes and sizes, from massive ghost nets to tiny clusters of monofilament fibers invisible to the naked eye.
The heterogeneous nature of the debris poses critical challenges that, if not addressed properly, can have significant negative consequences and potentially jeopardize the health of the ocean.
As you can imagine, ocean cleanup is a controversial issue. Let me try to simplify things—think of ocean plastic pollution as a type of cancer. The cure for ocean plastic pollution is eliminating disposable plastics all together. I'll be the first to admit that this is never going to happen. So let's see what prevention and treatment look like.
Redesigning plastic products to be valuable and sustainable is our biggest leap toward prevention. When designed in cradle-to-cradle systems, plastic products have a much better chance of being recovered and recycled. Also, better product design may ease many of the challenges plastic recyclers face. Waste reduction also falls into the prevention category as it helps scale down the amount of waste to be managed.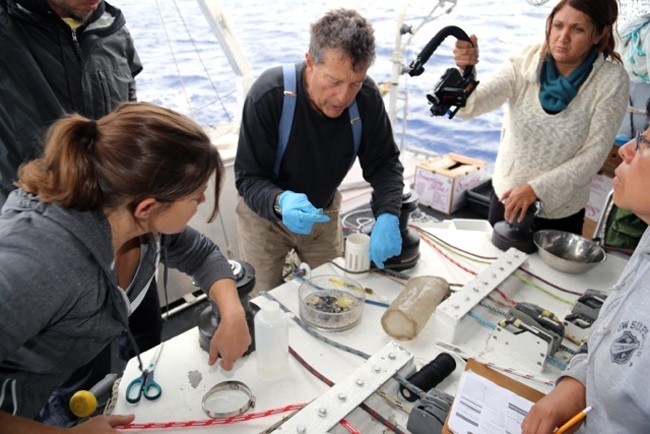 Waste management can be viewed as treatment for the disease. This is how we keep things under control.
Ocean cleanup is comparable to invasive surgery—and that's why it's so controversial.
Most plastic pollution researchers agree that ocean cleanup is a radical approach to the issue. Many will even denounce it as impractical and overly idealistic. However, this engineering challenge should not be ignored completely … just as surgery for a cancer patient is sometimes our last-ditch effort.
Surgery is most successful when done by a specialist with a great deal of experience in the particular procedure. The problem is, ocean plastic pollution is a relatively new disease and therefore, there are no specialists in this type of "procedure"—there are no textbooks, courses or degrees related to ocean cleanup. Experience starts now.
An understanding of the ocean and this "disease" is best gained through experience. If we are to attempt ocean cleanup, our best approach is to connect the proponents of clean-up schemes with people who understand the complexities of the disease—experienced plastic pollution researchers.  And if these plastic pollution experts denounce certain methods of cleanup, we should pay close attention to what they're saying. Those who propose ocean clean up schemes should embrace the critiques of these individuals, as there is immeasurable value in their scrutiny.
YOU MIGHT ALSO LIKE
Microbeads: A Sign of Our Plastic Consumer Madness
Adidas Wants to Turn Ocean Plastic Into Sportswear
UN Scientists Call for Action on Marine Microplastics as New York Assembly Passes Microbeads Ban
Ryan Zinke with Rick Perry at the Boy Scouts Jamboree. Twitter
In less than one week, Interior Sec. Ryan Zinke will submit his final recommendations to President Trump on whether 27 national monuments around the country should be downsized, eliminated, transferred to state control or left alone.
But as Aaron Weiss, the media director of the conservation group Center for Western Priorities, pointed out: "Rather than spending his final week hearing from local communities who have worked tirelessly to protect their natural and cultural heritage as national monuments, Secretary Zinke is on vacation in the Mediterranean. His wife, Lola Zinke, tweeted a picture early this morning of herself and Secretary Zinke enjoying a sunrise on the Bosphorus Strait."
Keep reading...
Show less
Richland County Wetland destroyed by spilled drilling fluids during construction of Rover Pipeline, April 14. Sierra Club

Energy Transfer Partners' controversial $4.3 billion Rover pipeline has more negative inspection reports than any other major interstate natural gas pipeline built in the last two years, according to a new Bloomberg analysis.
The 713-mile pipeline, which will carry fracked gas across Pennsylvania, West Virginia, Ohio and Michigan and Canada, has been stalled from numerous environmental violations, including a 2 million gallon drilling fluid spill into an Ohio wetland in April.
Keep reading...
Show less
Pipes for the Constitution Pipeline are stacked at a pipe yard in Altamont, New York.
The U.S. Court of Appeals for the Second Circuit upheld New York State's denial of a water quality certification for the Constitution Pipeline Friday, a critical win for the Attorney General's office and the state's authority to take necessary action to protect its waters and natural resources. The appeals court noted that the state is entitled to "conduct its own review of the Constitution Project's likely effects on New York waterbodies and whether those effects would comply with the state's water quality standards."
New York must be able to do what's necessary to protect our environment—and we're glad that the court agreed.

Keep reading...
Show less
iStock
By Anne Bolen
On Aug. 21, for the first time since 1918, a total solar eclipse will cross the U.S. from coast to coast. Along the path of totality, the moon will completely block out the sun, turning day to twilight for nearly three minutes. While a partial eclipse will be visible throughout the U.S., millions will be flocking to spots along the path of totality, which begins in Salem on Oregon's coast about 10:15 a.m. Pacific Daylight Time and exits the nation at Charleston, South Carolina, where maximum coverage will occur about 2:47 p.m. Eastern Daylight Time. Perhaps no other natural event will inspire so many people to go outdoors.
Keep reading...
Show less
The Trump administration released an environmental review Thursday of Hilcorp Alaska's Arctic offshore drilling development. Hilcorp plans to build a 9-acre artificial island and 5.6-mile pipeline in the Beaufort Sea for its offshore drilling project. The Trump administration's draft environmental impact statement proposes to greenlight the dangerous drilling plan, which would be a first for federal waters in the Arctic.
Keep reading...
Show less
Equinac
Not again! A baby dolphin died last Friday in southern Spain after beachgoers took the mammal out of the water and passed it around for photos, according to media reports.
The incident was detailed in several Facebook posts from Equinac, a Spanish marine wildlife conservation group.
Keep reading...
Show less
President Trump has made sweeping efforts to scrap Obama-era environmental protections, but the current administration's latest moves are oddly specific.
The National Park Service (NPS) announced Wednesday that it has rescinded the 2011 "Water Bottle Ban" that allowed parks to prohibit the sale of disposable plastic water bottles. That same day, news emerged that the Trump administration removed a nine-slot Capital Bikeshare station at the White House that was requested and installed during the Obama years and used by staffers.
Keep reading...
Show less
Energy
Aug. 17, 2017 11:46AM EST
In March 2013, ExxonMobil's Pegasus Pipeline sprung a leak,
spilling
210,000 gallons of tar sands crude into a neighborhood of Mayflower, Arkansas.
By Catherine Collentine
In March of 2013, ExxonMobil's Pegasus Pipeline sprung a leak, spilling an estimated 210,000 gallons of toxic tar sands crude into a residential neighborhood of Mayflower, Arkansas.
This week, a federal court ruled that the Obama administration over-penalized Exxon for dumping hundreds of thousands of gallons of a pollutant onto the streets of Mayflower and threw out a number of safety violations levied against Exxon on the basis that the company met its legal obligations to consider the risks associated with the pipeline.
Keep reading...
Show less