This website uses cookies to ensure you get the best experience while browsing it. By clicking 'Got It' you're accepting these terms.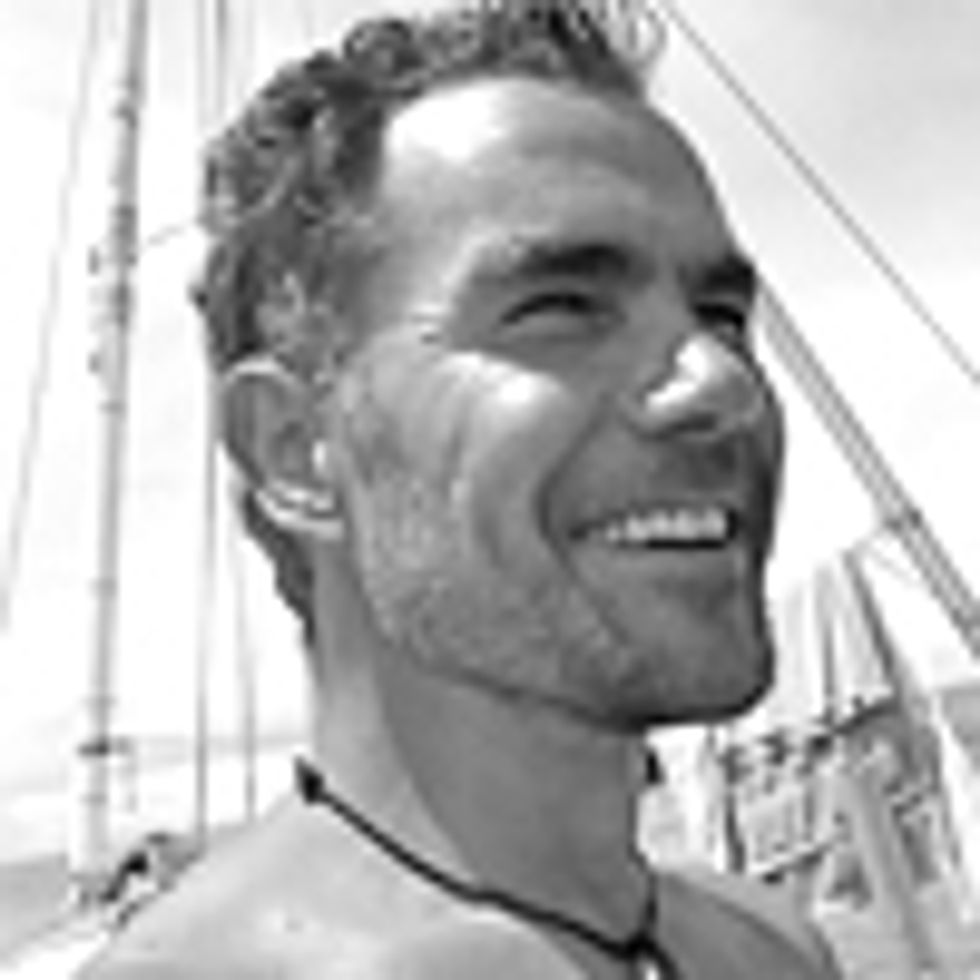 Millions of industrial plastic pellets pollute the sands beneath our feet, but you can't see them unless you look closely, and no beach cleanup will ever make it better. 
"We picked up all the bags and bottles already," said one young volunteer that collected trash on Whiskey Island at Wendy Park's Sandy Beach, along the shore of Lake Erie in Cleveland as part of the Burning River Fest. I was sitting next to her on the ground sifting through leaf litter picking up the little pieces. I yelled, "I'll give a dollar to the first person to find a pellet!" Within a few minutes a dozen volunteers were on their hand and knees picking up thousands of them. The amount of pellets on this beach is equivalent to a least one plastic bottle every three feet.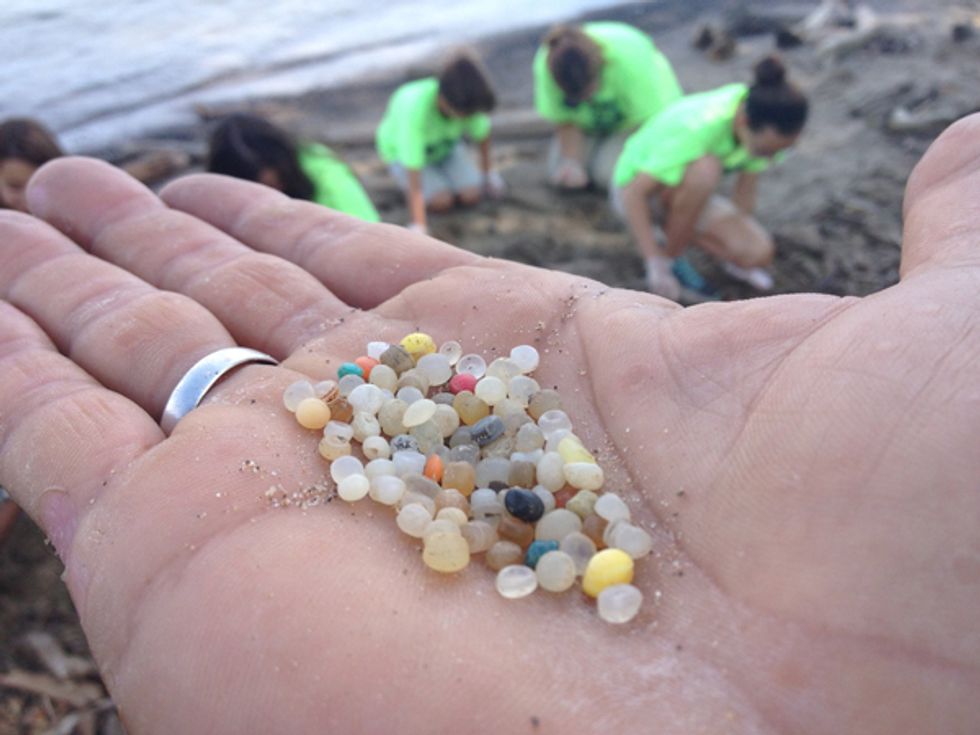 Industries that make or use preproduction plastic pellets contribute to the problem of uncontrolled pellet loss. Preproduction plastic is the raw plastic resin materials that are molded into finished plastic products, according to the California Environmental Protection Agency. Preproduction plastics are often produced in a resin pellet format, occasionally termed as "nurdles." These small, 1- to 5- mm diameter pieces are produced in various shapes, colors and plastic types. Preproduction plastics can be produced in powder, granule and flake form.
As the Research Director at the 5 Gyres Institute, I've collected pellets on dozens of beaches around the world to support the work of the International Pellet Watch in Tokyo. If you send IPW a hundred pellets, they will tell you what chemicals are absorb into them from the environment. When pellets from this beach were sent to them three years ago, we were appalled to find that the concentrations of DDT on these pellets were the highest in the U.S.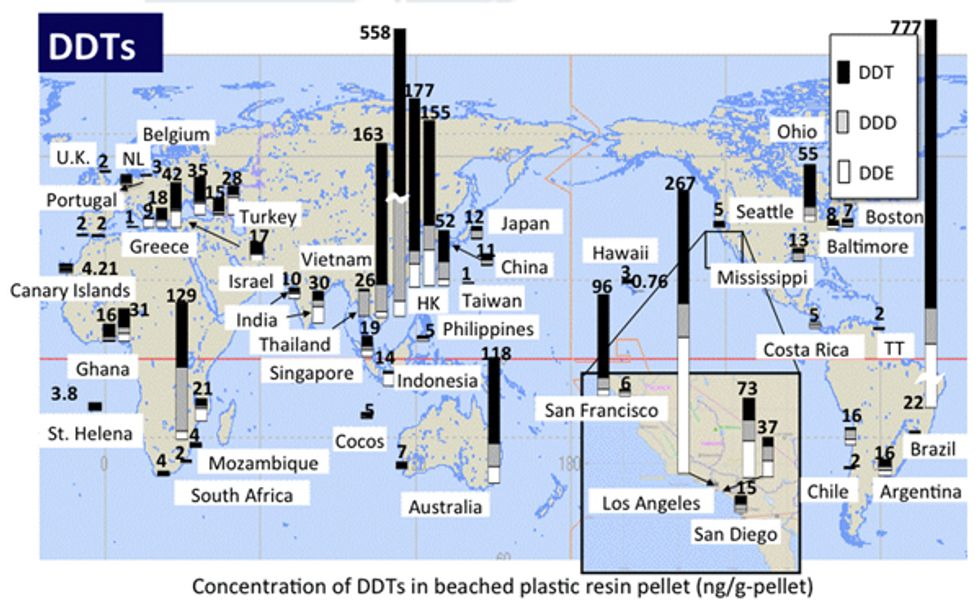 Why does this matter? We know than marine organisms mistake pellets for food. In 2008, I caught a Rainbow Runner with 17 particles of plastic in its gut, including a little black pellet. We also know that changes in PH, temperature and surfactants in the stomachs of marine organisms can desorb chemicals from microplastics. By a few logical steps, we are eating our own trash.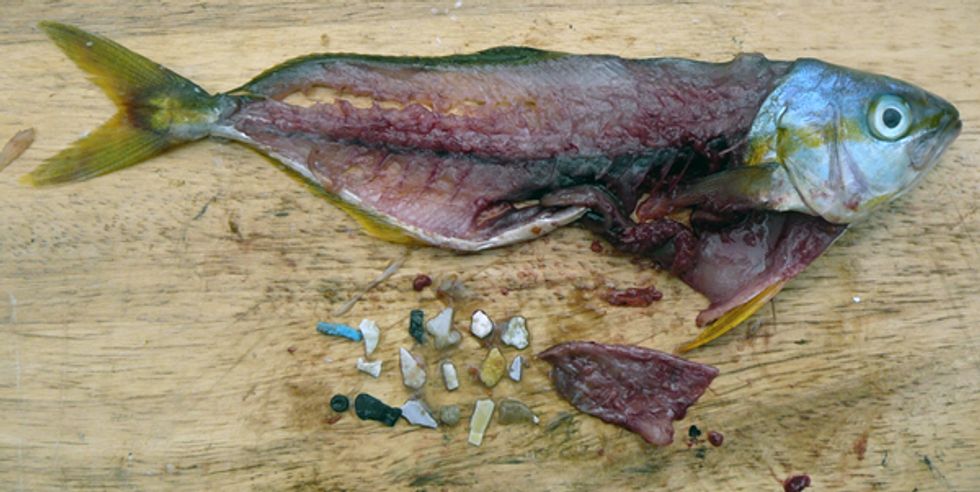 What can be done? More states can pass legislation like California's AB 258, which put teeth in the enforcement of best management practices for plastic pellet producers. This bill mandates that producers sweep their factory floors, monitor screens in neighborhood storm drains and build barriers around the site where they unload truck and trains filled with pellets. It worked in California. It can work around the world. It can work here on Sandy Beach in Cleveland. 
Here's what you can do. Look for pellets on your shoreline. Send 100 of them to IPW. You can learn how to document pellets per square meter by clicking here. Once you know the abundance of pellets and their toxicity, you can then organize locally to engage companies and policymakers to take responsibility. It's going from science to solutions to make a slam dunk argument for the good of people and the environment.
You Might Also Like
5 Gyres Institute Finds Plastic in Every Ocean Sample From Bermuda to Iceland
How Does Your State Rank For Beach Water Quality?
Meet the 19-Year-Old With a 10-Year Plan to Clean Half the Pacific Ocean
EcoWatch Daily Newsletter
Ocean pollution concept with plastic and garbage.
Anton Petrus
/ Moment / Getty Images
Nestlé cannot claim that its Ice Mountain bottled water brand is an essential public service, according to Michigan's second highest court, which delivered a legal blow to the food and beverage giant in a unanimous decision.
A number of supermarkets across the country have voluntarily issued a recall on sushi, salads and spring rolls distributed by Fuji Food Products due to a possible listeria contamination, as CBS News reported.
A U.S. Border Patrol agent gathers personal effects from immigrants before they are transferred to a McAllen processing center on July 02, 2019 in Los Ebanos, Texas. John Moore / Getty Images
Poverty and violence in Central America are major factors driving migration to the United States. But there's another force that's often overlooked: climate change.
Retired Lt. Cmdr. Oliver Leighton Barrett is with the Center for Climate and Security. He says that in Guatemala, Honduras and El Salvador, crime and poor economic conditions have long led to instability.
"And when you combine that with protracted drought," he says, "it's just a stressor that makes everything worse."
Barrett says that with crops failing, many people have fled their homes.
"These folks are leaving not because they're opportunists," he says, "but because they are in survival mode. You have people that are legitimate refugees."
So Barrett supports allocating foreign aid to programs that help people in drought-ridden areas adapt to climate change.
"There are nonprofits that are operating in those countries that have great ideas in terms of teaching farmers to use the land better, to harvest water better, to use different variety of crops that are more resilient to drought conditions," he says. "Those are the kinds of programs I think are needed."
So he says the best way to reduce the number of climate change migrants is to help people thrive in their home countries.
Reporting credit: Deborah Jian Lee / ChavoBart Digital Media.
Reposted with permission from Yale Climate Connections.
Chris Pratt arrives to the Los Angeles premiere of "Jurassic World: Fallen Kingdom" on June 12, 2018 in Los Angeles, California. Michael Tran / FilmMagic / Getty Images

Chris Pratt was called out on social media by Game of Thrones star Jason Momoa after Pratt posted an image "low key flexing" with a single-use plastic water bottle.