This website uses cookies to ensure you get the best experience while browsing it. By clicking 'Got It' you're accepting these terms.

Millions of industrial plastic pellets pollute the sands beneath our feet, but you can't see them unless you look closely, and no beach cleanup will ever make it better. 
"We picked up all the bags and bottles already," said one young volunteer that collected trash on Whiskey Island at Wendy Park's Sandy Beach, along the shore of Lake Erie in Cleveland as part of the Burning River Fest. I was sitting next to her on the ground sifting through leaf litter picking up the little pieces. I yelled, "I'll give a dollar to the first person to find a pellet!" Within a few minutes a dozen volunteers were on their hand and knees picking up thousands of them. The amount of pellets on this beach is equivalent to a least one plastic bottle every three feet.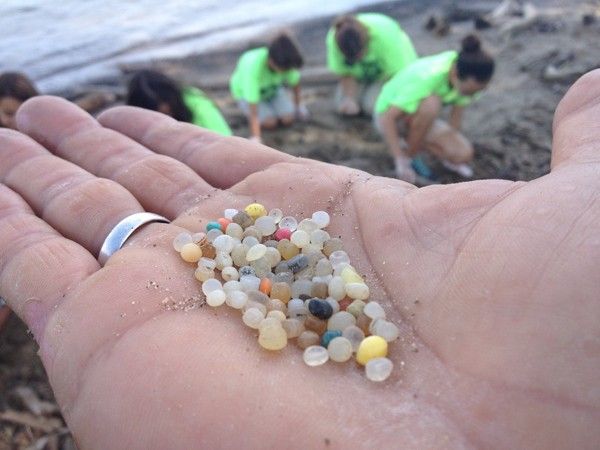 Industries that make or use preproduction plastic pellets contribute to the problem of uncontrolled pellet loss. Preproduction plastic is the raw plastic resin materials that are molded into finished plastic products, according to the California Environmental Protection Agency. Preproduction plastics are often produced in a resin pellet format, occasionally termed as "nurdles." These small, 1- to 5- mm diameter pieces are produced in various shapes, colors and plastic types. Preproduction plastics can be produced in powder, granule and flake form.
As the Research Director at the 5 Gyres Institute, I've collected pellets on dozens of beaches around the world to support the work of the International Pellet Watch in Tokyo. If you send IPW a hundred pellets, they will tell you what chemicals are absorb into them from the environment. When pellets from this beach were sent to them three years ago, we were appalled to find that the concentrations of DDT on these pellets were the highest in the U.S.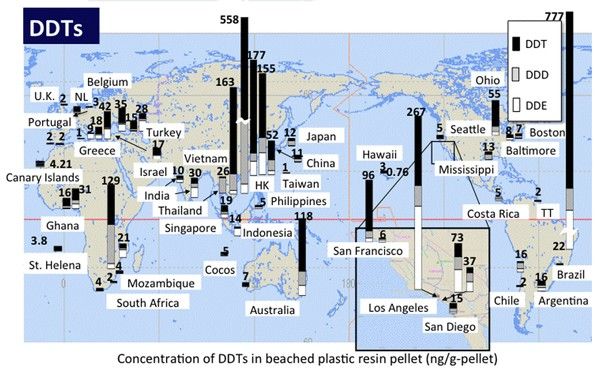 Why does this matter? We know than marine organisms mistake pellets for food. In 2008, I caught a Rainbow Runner with 17 particles of plastic in its gut, including a little black pellet. We also know that changes in PH, temperature and surfactants in the stomachs of marine organisms can desorb chemicals from microplastics. By a few logical steps, we are eating our own trash.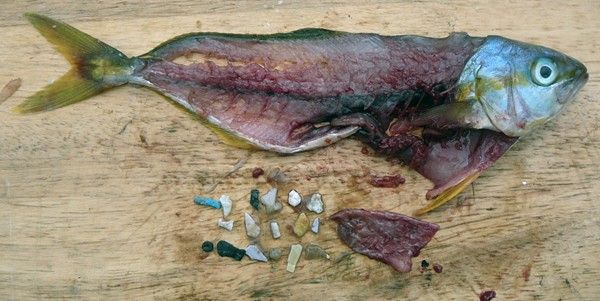 What can be done? More states can pass legislation like California's AB 258, which put teeth in the enforcement of best management practices for plastic pellet producers. This bill mandates that producers sweep their factory floors, monitor screens in neighborhood storm drains and build barriers around the site where they unload truck and trains filled with pellets. It worked in California. It can work around the world. It can work here on Sandy Beach in Cleveland. 
Here's what you can do. Look for pellets on your shoreline. Send 100 of them to IPW. You can learn how to document pellets per square meter by clicking here. Once you know the abundance of pellets and their toxicity, you can then organize locally to engage companies and policymakers to take responsibility. It's going from science to solutions to make a slam dunk argument for the good of people and the environment.
You Might Also Like
5 Gyres Institute Finds Plastic in Every Ocean Sample From Bermuda to Iceland
How Does Your State Rank For Beach Water Quality?
Meet the 19-Year-Old With a 10-Year Plan to Clean Half the Pacific Ocean
EcoWatch Daily Newsletter
Did you know that more than a third of food is wasted or thrown away every year? And that only 25 percent of it would be enough to feed the 795 million undernourished people in the world? That's why today is Stop Food Waste Day, a chance to reflect on what you can do to waste less of the food you buy.
Stop Food Waste Day is an initiative of food service company Compass Group. It was launched first in the U.S, in 2017 and went global the year after, making today it's second worldwide celebration.
Flames and smoke are seen billowing from the roof at Notre-Dame Cathedral on April 15 in Paris, France. Veronique de Viguerie / Getty Images
When Paris's Notre Dame caught fire on April 15, the flames threatened more than eight centuries of culture and history. The fire evoked shock, horror and grief worldwide. While the cathedral burned, French President Emmanuel Macron expressed determination to rebuild what the French regard as a sacred site.
An artist's impression of NASA's InSight lander on Mars. NASA / JPL-CALTECH
Scientists have likely detected a so-called marsquake — an earthquake on Mars — for the first time, The National Aeronautics and Space Administration (NASA) announced on Tuesday.
Hero Images / Getty Images
Across the political aisle, a majority of American parents support teaching climate change in schools even though most teachers currently do not.
By Andrea Germanos
Lawyer and visionary thinker Polly Higgins, who campaigned for ecocide to be internationally recognized as a crime on par with genocide and war crimes, died Sunday at the age of 50.
She had been diagnosed with an aggressive cancer last month and given just weeks to live.
The Anopheles stephensi mosquito, which carries malaria. CDC / Jim Gathany
The world's first malaria vaccine was launched in Malawi on Tuesday, NPR reported. It's an important day in health history. Not only is it the first malaria vaccine, it's the first vaccine to target any human parasite.