This website uses cookies to ensure you get the best experience while browsing it. By clicking 'Got It' you're accepting these terms.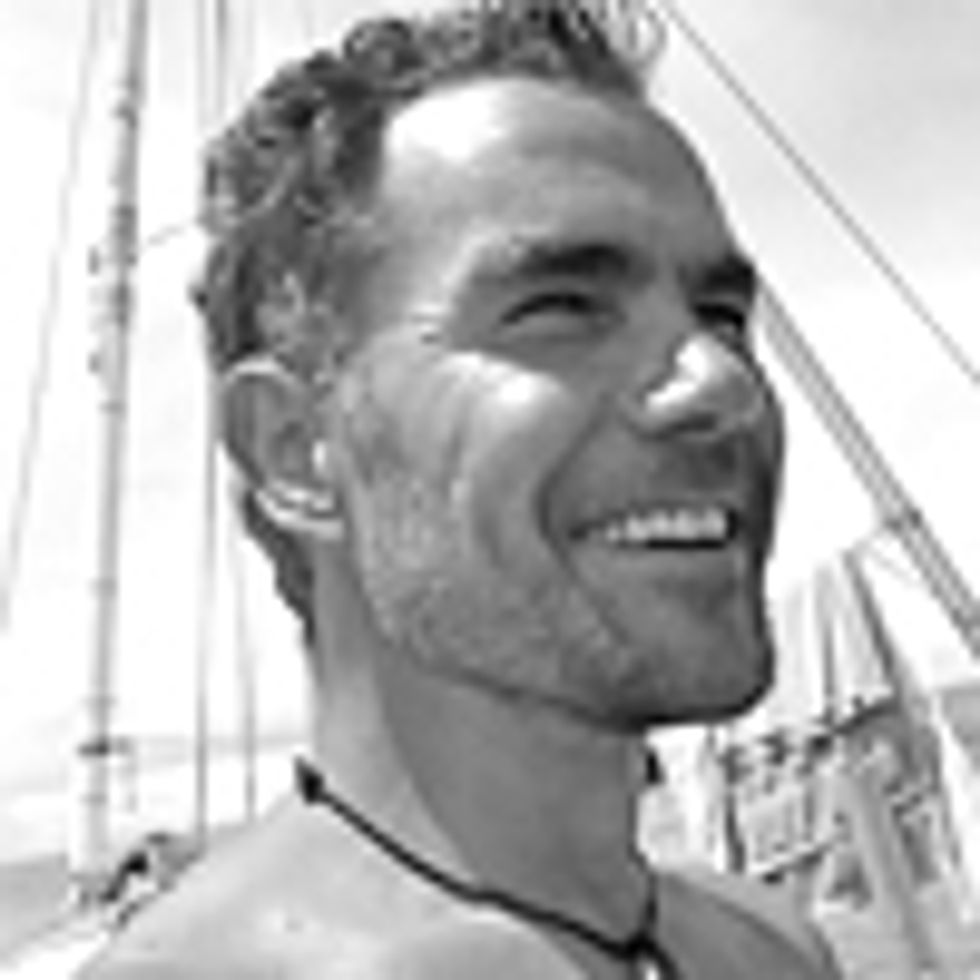 Millions of industrial plastic pellets pollute the sands beneath our feet, but you can't see them unless you look closely, and no beach cleanup will ever make it better. 
"We picked up all the bags and bottles already," said one young volunteer that collected trash on Whiskey Island at Wendy Park's Sandy Beach, along the shore of Lake Erie in Cleveland as part of the Burning River Fest. I was sitting next to her on the ground sifting through leaf litter picking up the little pieces. I yelled, "I'll give a dollar to the first person to find a pellet!" Within a few minutes a dozen volunteers were on their hand and knees picking up thousands of them. The amount of pellets on this beach is equivalent to a least one plastic bottle every three feet.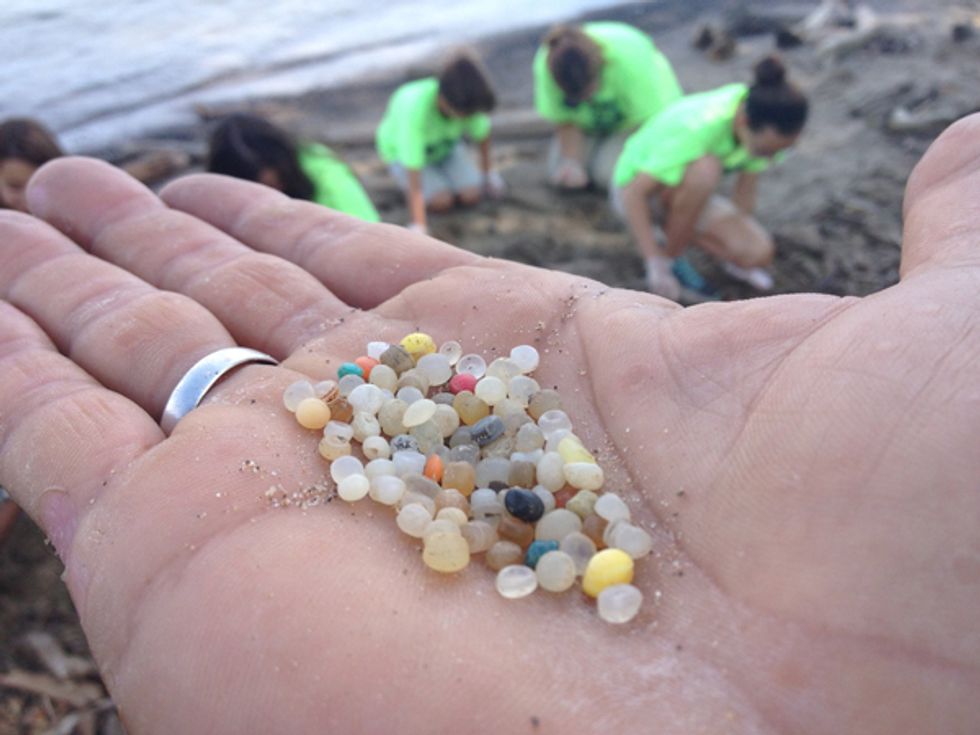 Industries that make or use preproduction plastic pellets contribute to the problem of uncontrolled pellet loss. Preproduction plastic is the raw plastic resin materials that are molded into finished plastic products, according to the California Environmental Protection Agency. Preproduction plastics are often produced in a resin pellet format, occasionally termed as "nurdles." These small, 1- to 5- mm diameter pieces are produced in various shapes, colors and plastic types. Preproduction plastics can be produced in powder, granule and flake form.
As the Research Director at the 5 Gyres Institute, I've collected pellets on dozens of beaches around the world to support the work of the International Pellet Watch in Tokyo. If you send IPW a hundred pellets, they will tell you what chemicals are absorb into them from the environment. When pellets from this beach were sent to them three years ago, we were appalled to find that the concentrations of DDT on these pellets were the highest in the U.S.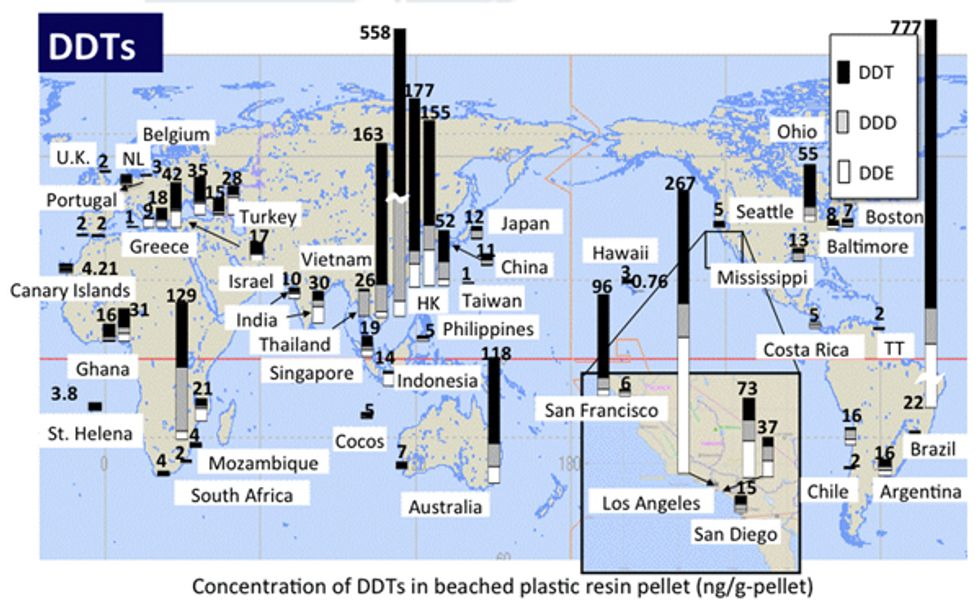 Why does this matter? We know than marine organisms mistake pellets for food. In 2008, I caught a Rainbow Runner with 17 particles of plastic in its gut, including a little black pellet. We also know that changes in PH, temperature and surfactants in the stomachs of marine organisms can desorb chemicals from microplastics. By a few logical steps, we are eating our own trash.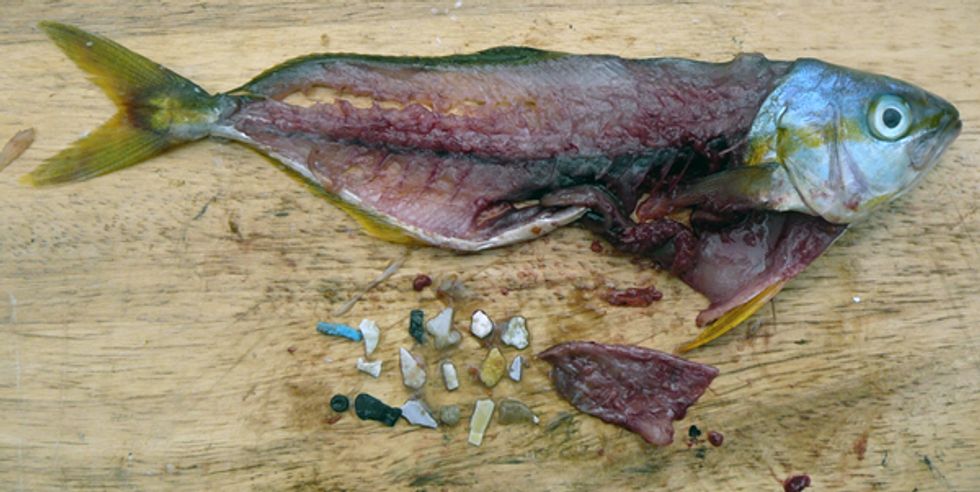 What can be done? More states can pass legislation like California's AB 258, which put teeth in the enforcement of best management practices for plastic pellet producers. This bill mandates that producers sweep their factory floors, monitor screens in neighborhood storm drains and build barriers around the site where they unload truck and trains filled with pellets. It worked in California. It can work around the world. It can work here on Sandy Beach in Cleveland. 
Here's what you can do. Look for pellets on your shoreline. Send 100 of them to IPW. You can learn how to document pellets per square meter by clicking here. Once you know the abundance of pellets and their toxicity, you can then organize locally to engage companies and policymakers to take responsibility. It's going from science to solutions to make a slam dunk argument for the good of people and the environment.
You Might Also Like
5 Gyres Institute Finds Plastic in Every Ocean Sample From Bermuda to Iceland
How Does Your State Rank For Beach Water Quality?
Meet the 19-Year-Old With a 10-Year Plan to Clean Half the Pacific Ocean
EcoWatch Daily Newsletter
Aerial view of Ruropolis, Para state, northen Brazil, on Sept. 6, 2019. Tthe world's biggest rainforest is under threat from wildfires and rampant deforestation. JOHANNES MYBURGH / AFP via Getty Images
By Kate Martyr
Deforestation in Brazil's Amazon rainforest last month jumped to the highest level since records began in 2015, according to government data.
A total of 563 square kilometers (217.38 square miles) of the world's largest rainforest was destroyed in November, 103% more than in the same month last year, according to Brazil's space research agency.
From January to November this year an area almost the size of the Caribbean island of Puerto Rico was destroyed — an 83% overall increase in destruction when compared with the same period last year.
The figures were released on Friday by the National Institute for Space Research (INPE), and collected through the DETER database, which uses satellite images to monitor forest fires, forest destruction and other developments affecting the rainforest.
What's Behind the Rise?
Overall, deforestation in 2019 has jumped 30% compared to last year — 9,762 square kilometers (approximately 3769 square miles) have been destroyed, despite deforestation usually slowing during November and December.
Environmental groups, researchers and activists blamed the policies of Brazil's president Jair Bolsonaro for the increase.
They say that Bolosonaro's calls for the Amazon to be developed and his weakening support for Ibama, the government's environmental agency, have led to loggers and ranchers feeling safer and braver in destroying the expansive rainforest.
His government hit back at these claims, pointing out that previous governments also cut budgets to environment agencies such as Ibama.
The report comes as Brazil came to loggerheads with the Association of Small Island States (AOSIS) over climate goals during the UN climate conference in Madrid.
AOSIS blasted Brazil, among other nations, for "a lack of ambition that also undermines ours."
Last month, a group of Brazilian lawyers called for Bolsonaro to be investigated by the International Criminal Court over his environmental policies.
Reposted with permission from DW.
The Carolina parakeet went extinct in 1918. James St. John /
CC BY 2.0
The Carolina parakeet, the only parrot species native to the U.S., went extinct in 1918 when the last bird died at the Cincinnati Zoo. Now, a little more than 100 years later, researchers have determined that humans were entirely to blame.
Pexels
Vitamin C is a very important nutrient that's abundant in many fruits and vegetables.
BLM drill seeders work to restore native grasses after wildfire on the Bowden Hills Wilderness Study Area in southeast Oregon, Dec. 14, 2018. Marcus Johnson / BLM / CC BY 2.0
By Tara Lohan
In 2017 the Thomas fire raged through 281,893 acres in Ventura and Santa Barbara counties, California, leaving in its wake a blackened expanse of land, burned vegetation, and more than 1,000 destroyed buildings.