This website uses cookies to ensure you get the best experience while browsing it. By clicking 'Got It' you're accepting these terms.
Plastic Bottle Ban Gets Green Light Despite Opposition From Coca-Cola
Dec. 15, 2011 04:38PM EST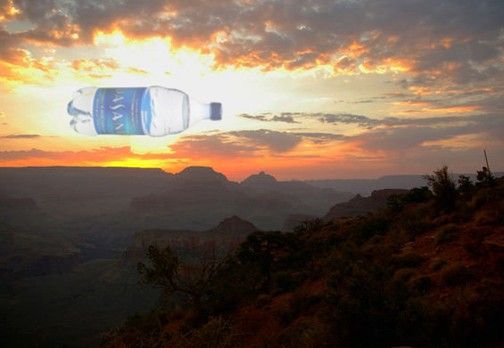 A new National Park Service (NPS) policy issued Dec. 14 may lead the way for plastic bottle bans in all national parks. This announcement comes after nearly 100,000 people across the country joined a popular campaign on Change.org calling on the NPS to ban plastic water bottles following the park's decision to abruptly cancel implementation of a ban amid charges of corporate influence from Coca Cola.
Stiv Wilson, who started the campaign on Change.org, signed by almost 100,000 people, said:
"While it is commendable that the National Park Service has decided not to completely cow to Coca-Cola on a plastic bottle ban, the new policy is still troubling.
"Unfortunately, the new directive, which allows park superintendents to implement bottle bans in their jurisdiction, may not result in changes best for our national parks. If the barriers to implementation of bottle bans are too cost-prohibitive or onerous for the superintendents to act, then we've only witnessed a bait and switch.
"The public outcry around the Park Service's seemingly backroom corporate deals has been overwhelming, and the public expects the NPS to go the whole way and save our national parks from plastic pollution."
Stiv Wilson launched the campaign on Change.org after learning of allegations that the NPS nixed its long-planned ban on plastic water bottles in the Grand Canyon due to a last-minute lobbying effort by Coca-Cola, a major national park donor actively opposed to bottled water bans. Wilson worked as a journalist before dedicating his life to reducing plastic pollution and joining the staff of 5 Gyres, a nonprofit focused on plastic pollution.
"Mobilizing 100,000 people to take action is no small feat," said Corinne Ball, organizing director at Change.org. "Stiv has demonstrated, through using Change.org's unique platform, that anyone, anywhere can act on issues that are important to them and create meaningful change."
Live signature totals from Stiv Wilson's campaign can be found by clicking here.
Related Links:
For Public Employees for Environmental Responsibility exposes the controversy, with documents from a whistleblower, click here.
For New York Times coverage that prompted Mr. Wilson to launch his campaign, click here.
For Stiv Wilson's blog post about the National Park Service directive on 5gyres.org, click here.
For more information, click here.
—————
5 Gyres is a research organization that seeks to communicate the global impact of plastic pollution in the world's oceans and employ strategies to eliminate the accumulation of plastic pollution in the 5 subtropical gyres. Almost 100,000 people have joined Stiv Wilson's campaign on Change.org
Change.org is the world's fastest-growing platform for social change—growing by more than 500,000 new members a month, and empowering millions of people to start, join, and win campaigns for social change in their community, city and country.
EcoWatch Daily Newsletter
Colombia rainforest. Marcel Oosterwijk / CC BY-SA 2.0
Many of us think of the Amazon as an untouched wilderness, but people have been thriving in these diverse environments for millennia. Due to this long history, the knowledge that Indigenous and forest communities pass between generations about plants, animals and forest ecology is incredibly rich and detailed and easily dwarfs that of any expert.
picture-alliance / Newscom / R. Ben Ari
By Wesley Rahn
Plastic byproducts were found in 97 percent of blood and urine samples from 2,500 children tested between 2014 and 2017, according to a study by the German Environment Ministry and the Robert Koch Institute.

Pexels
Medically reviewed by Daniel Bubnis, MS, NASM-CPT, NASE Level II-CSS
Hot yoga has become a popular exercise in recent years. It offers many of the same benefits as traditional yoga, such as stress reduction, improved strength, and flexibility.
Lara Hata / iStock / Getty Images
By SaVanna Shoemaker, MS, RDN, LD
Rice is a staple in many people's diets. It's filling, inexpensive, and a great mild-tasting addition to flavorful dishes.
An image of the trans-alaskan oil pipeline that carries oil from the northern part of Alaska all the way to valdez. This shot is right near the arctic national wildlife refuge. kyletperry / iStock / Getty Images Plus
The Trump administration has initialized the final steps to open up nearly 1.6 million acres of the protected Alaskan National Wildlife Refuge to allow oil and gas drilling.
Kaboompics / Pexels
Tensions between lawmakers and several large manufacturing companies came to a head on Capitol Hill this week during a hearing on toxic fluorochemicals in U.S. drinking water.