This website uses cookies to ensure you get the best experience while browsing it. By clicking 'Got It' you're accepting these terms.
Plastic Bottle Ban Gets Green Light Despite Opposition From Coca-Cola
Dec. 15, 2011 04:38PM EST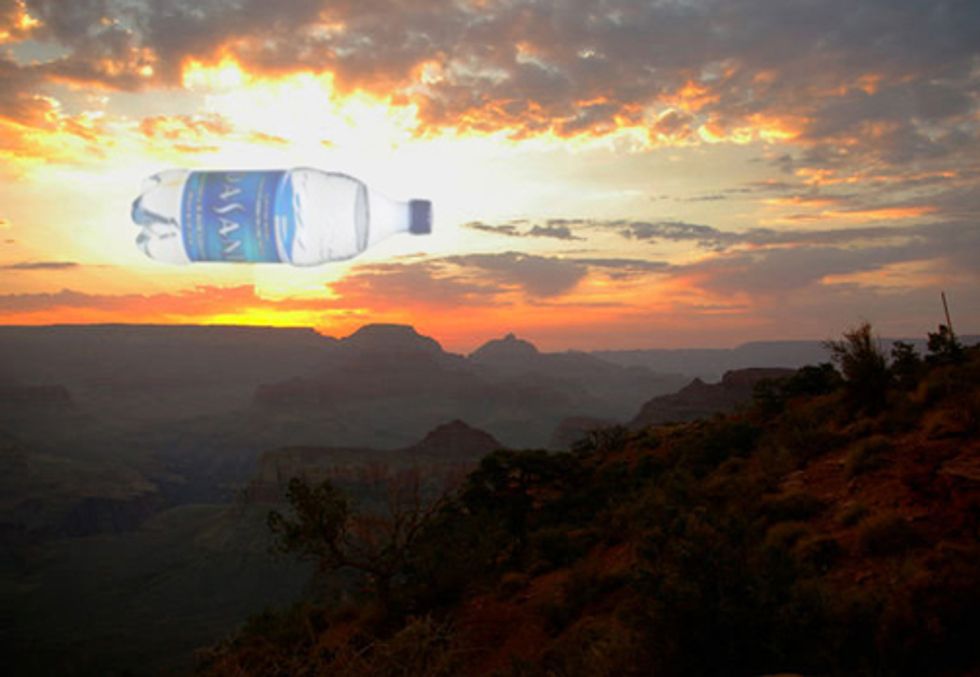 A new National Park Service (NPS) policy issued Dec. 14 may lead the way for plastic bottle bans in all national parks. This announcement comes after nearly 100,000 people across the country joined a popular campaign on Change.org calling on the NPS to ban plastic water bottles following the park's decision to abruptly cancel implementation of a ban amid charges of corporate influence from Coca Cola.
Stiv Wilson, who started the campaign on Change.org, signed by almost 100,000 people, said:
"While it is commendable that the National Park Service has decided not to completely cow to Coca-Cola on a plastic bottle ban, the new policy is still troubling.
"Unfortunately, the new directive, which allows park superintendents to implement bottle bans in their jurisdiction, may not result in changes best for our national parks. If the barriers to implementation of bottle bans are too cost-prohibitive or onerous for the superintendents to act, then we've only witnessed a bait and switch.
"The public outcry around the Park Service's seemingly backroom corporate deals has been overwhelming, and the public expects the NPS to go the whole way and save our national parks from plastic pollution."
Stiv Wilson launched the campaign on Change.org after learning of allegations that the NPS nixed its long-planned ban on plastic water bottles in the Grand Canyon due to a last-minute lobbying effort by Coca-Cola, a major national park donor actively opposed to bottled water bans. Wilson worked as a journalist before dedicating his life to reducing plastic pollution and joining the staff of 5 Gyres, a nonprofit focused on plastic pollution.
"Mobilizing 100,000 people to take action is no small feat," said Corinne Ball, organizing director at Change.org. "Stiv has demonstrated, through using Change.org's unique platform, that anyone, anywhere can act on issues that are important to them and create meaningful change."
Live signature totals from Stiv Wilson's campaign can be found by clicking here.
Related Links:
For Public Employees for Environmental Responsibility exposes the controversy, with documents from a whistleblower, click here.
For New York Times coverage that prompted Mr. Wilson to launch his campaign, click here.
For Stiv Wilson's blog post about the National Park Service directive on 5gyres.org, click here.
For more information, click here.
—————
5 Gyres is a research organization that seeks to communicate the global impact of plastic pollution in the world's oceans and employ strategies to eliminate the accumulation of plastic pollution in the 5 subtropical gyres. Almost 100,000 people have joined Stiv Wilson's campaign on Change.org
Change.org is the world's fastest-growing platform for social change—growing by more than 500,000 new members a month, and empowering millions of people to start, join, and win campaigns for social change in their community, city and country.
EcoWatch Daily Newsletter
A Starbucks barista prepares a drink at a Starbucks Coffee Shop location in New York. Ramin Talaie / Corbis via Getty Images
By Cathy Cassata
Are you getting your fill of Starbucks' new Almondmilk Honey Flat White, Oatmilk Honey Latte, and Coconutmilk Latte, but wondering just how healthy they are?
By Sharon Kelly
Back in April last year, the Trump administration's Environmental Protection Agency decided it was "not necessary" to update the rules for toxic waste from oil and gas wells. Torrents of wastewater flow daily from the nation's 1.5 million active oil and gas wells and the agency's own research has warned it may pose risks to the country's drinking water supplies.
Swedish climate activist Greta Thunberg takes part in a "Friday for Future" youth demonstration in a street of Davos on Jan. 24, 2020 on the sideline of the World Economic Forum annual meeting. FABRICE COFFRINI / AFP via Getty Images
Treasury Secretary Steven Mnuchin pretended not to know who Greta Thunberg is, and then he told her to get a degree in economics before giving world leaders advice, as The Guardian reported.
The Visible Infrared Imaging Radiometer Suite on the Suomi NPP satellite acquired this image of forest fire smoke hovering over North America on Aug. 15, 2018. NASA Earth Observatory
New York City isn't known for having the cleanest air, but researchers traced recent air pollution spikes there to two surprising sources — fires hundreds of miles away in Canada and the southeastern U.S.
If temperatures continue to rise, the world is at risk from global
sea-level rise
, which will flood many coastal cities as seen above in Bangladesh. NurPhoto / Contributor / Getty Images
The mounting climate emergency may spur the next global financial crisis and the world's central banks are woefully ill equipped to handle the consequences, according to a new book-length report by the Bank for International Settlements (BIS), as S&P Global reported. Located in Basel, Switzerland, the BIS is an umbrella organization for the world's central banks.