This website uses cookies to ensure you get the best experience while browsing it. By clicking 'Got It' you're accepting these terms.
Plans Underway for World's First Bicycle Superhighway
Feb. 09, 2015 08:45AM EST
Business
Bike paths? Protected bike lanes? You're thinking way too small! The city of London is thinking much bigger, as befits a city with a population of more than 8 million where cycling is rapidly becoming a favored means of commuting.
The city's transportation agency, Transport for London, last week approved the world's first bicycle superhighway. It would run along the bank of the Thames River, which flows east-west through southern England, including the entire width of London. The plan is part of the city's Road Modernization Plan, proposed by Transport for London (TfL), the city's transportation coordinating agency. It received final approval yesterday. A subsection of the plan touts Mayor Boris Johnson's "Vision for Cycling."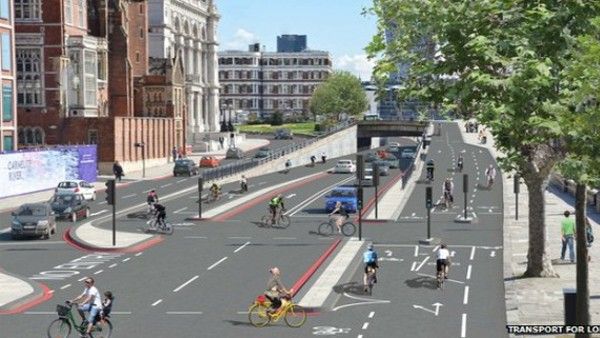 Describing the superhighway, Johnson said, "My flagship route will run for at least 15 miles, very substantially segregated, from the western suburbs, through the heart of the Capital, to the City, Canary Wharf and Barking in the east. It will, we believe, be the longest substantially segregated continuous cycle route of any city in Europe. It will use a new segregated cycle track along, among other places, the Victoria Embankment and the Westway flyover. The Westway, the ultimate symbol of how the urban motorway tore up our cities, will become the ultimate symbol of how we are claiming central London for the bike."
With the number of cyclists on London's main roads tripling in the last decade, a study of cycling was undertaken in the spring of 2013, leading to the development of the plan. It projects to double the number of people cycling by 2020 through what it calls a "Tube network for bikes," a series of high capacity, joined-up tracks, many running parallel to bus, rail and Underground routes; more segregated, mandatory bike lanes and junctions; and a network of direct, back-street "Quietway" routes to encourage those concerned about safety on London's busier main streets. In addition to the east-west "superhighway," there will be several shorter mini superhighways including a north-south route.
To get there, the plan doubles the amount of money spent on cycling. London's first-ever cycling commissioner Andrew Gilligan, appointed two years ago, will oversee the execution of the plan. Work could start within weeks and the new routes could be open by the spring of 2016.
According to The Guardian of London, "The forces in favour seem overwhelming: Johnson, with all his political capital and democratic mandate, is a key proponent, and a nine-week consultation involving 21,500 people or organisations found 84 percent in favour."
But it also notes the plan has faced opposition from some business groups and the Licensed Tax Drivers Association (LTDA), which wants a judicial review of the process. LTDA general secretary Steve McNamara claims cyclists have been attacking him.
"You can't believe the amount of emails and tweets I've been getting," he told The Guardian. "Some of it is quite outrageous. I've been threatened with violence. But I'm 6ft 2in, I weigh 15 stone, and I grew up in Hackney. They don't scare me."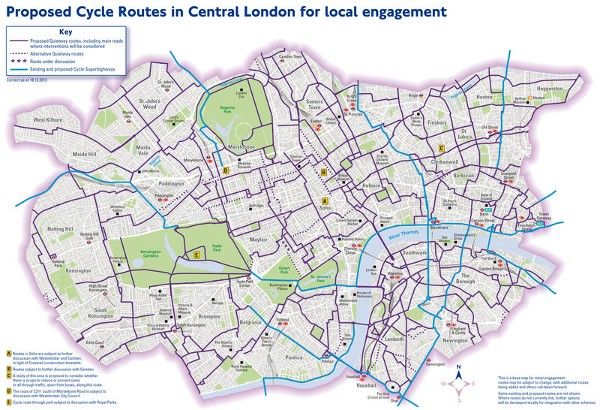 While the TfL study showed that most London cyclists are young and male, Johnson, who is a cyclist himself, wants to mix it up more.
"I want cycling to be normal, a part of everyday life," he said. "I want it to be something you feel comfortable doing in your ordinary clothes, something you hardly think about. I want more women cycling, more older people cycling, more black and minority ethnic Londoners cycling, more cyclists of all social backgrounds–without which truly mass participation can never come. As well as the admirable Lycra-wearers, and the enviable east Londoners on their fixed-gear bikes, I want more of the kind of cyclists you see in Holland, going at a leisurely pace on often clunky steeds."
Johnson says that the cycling plan will benefit all of the city's citizens, including those crabby cabbies.
"At the very heart of this strategy is my belief that helping cycling will not just help cyclists," he said. "It will create better places for everyone. It means less traffic, more trees, more places to sit and eat a sandwich. It means new life, new vitality and lower crime on underused streets. It means more seats on the Tube, less competition for a parking place and fewer cars in front of yours at the lights."
YOU MIGHT ALSO LIKE
5 Cool Ways to Make Urban Biking Safer
Top 10 Greenest Cities in the World
EcoWatch Daily Newsletter
SHEALAH CRAIGHEAD
By Elliott Negin
On July 19, President Trump hosted Apollo 11 astronauts Buzz Aldrin and Michael Collins and their families, along with the family of their deceased colleague Neil Armstrong, at a White House event to commemorate the 50th anniversary of the first manned landing on the moon.
The study looked at three groups of diverse lizards from South America. Daniel Pincheira-Donoso
Cold-climate lizards that give live birth to their offspring are more likely to be driven to extinction than their egg-laying cousins as global temperatures continue to rise, new research suggests.
Sean Gallup / Getty Images
A stock photo of fire in the Amazon; a record number of fires have burned there this year. Brasil2 / E+ / Getty Images
Tuna auctions are a tourist spectacle in Tokyo. Outside the city's most famous fish market, long queues of visitors hoping for a glimpse of the action begin to form at 5 a.m. The attraction is so popular that last October the Tsukiji fish market, in operation since 1935, moved out from the city center to the district of Toyosu to cope with the crowds.

gmnicholas / E+ / Getty Images
Kristan Porter grew up in a fishing family in the fishing community of Cutler, Maine, where he says all roads lead to one career path: fishing. (Porter's father was the family's lone exception. He suffered from terrible seasickness, and so became a carpenter.) The 49-year-old, who has been working on boats since he was a kid and fishing on his own since 1991, says that the recent warming of Maine's cool coastal waters has yielded unprecedented lobster landings.
Aerial view of lava flows from the eruption of volcano Kilauea on Hawaii, May 2018. Frizi / iStock / Getty Images
Hawaii's Kilauea volcano could be gearing up for an eruption after a pond of water was discovered inside its summit crater for the first time in recorded history, according to the AP.