Pipelines = Fracking: Stop the Constitution Pipeline
Oct. 22, 2012 11:27PM EST
Energy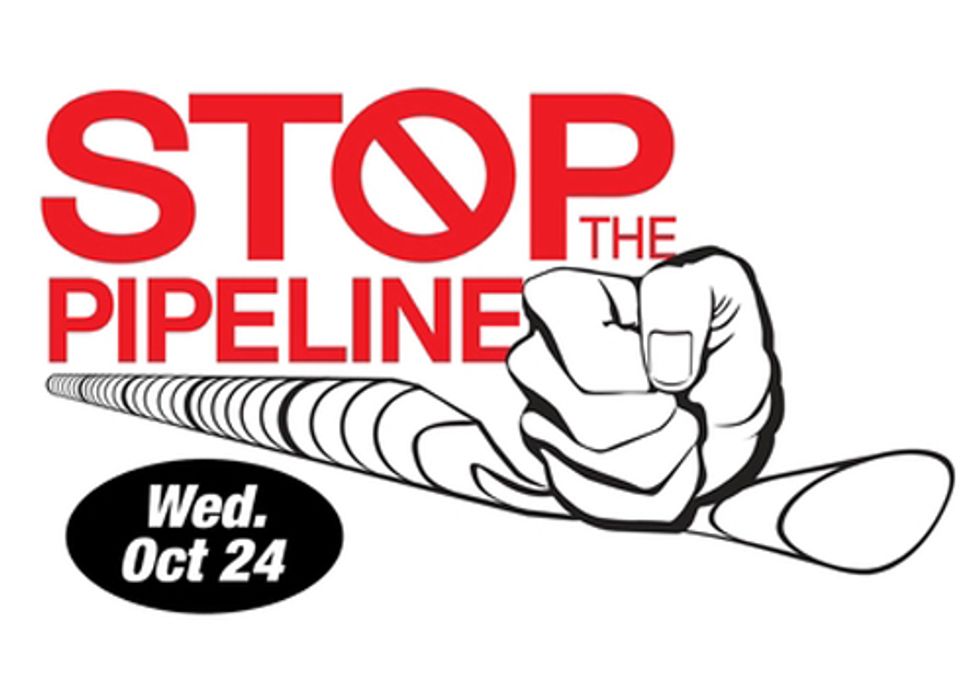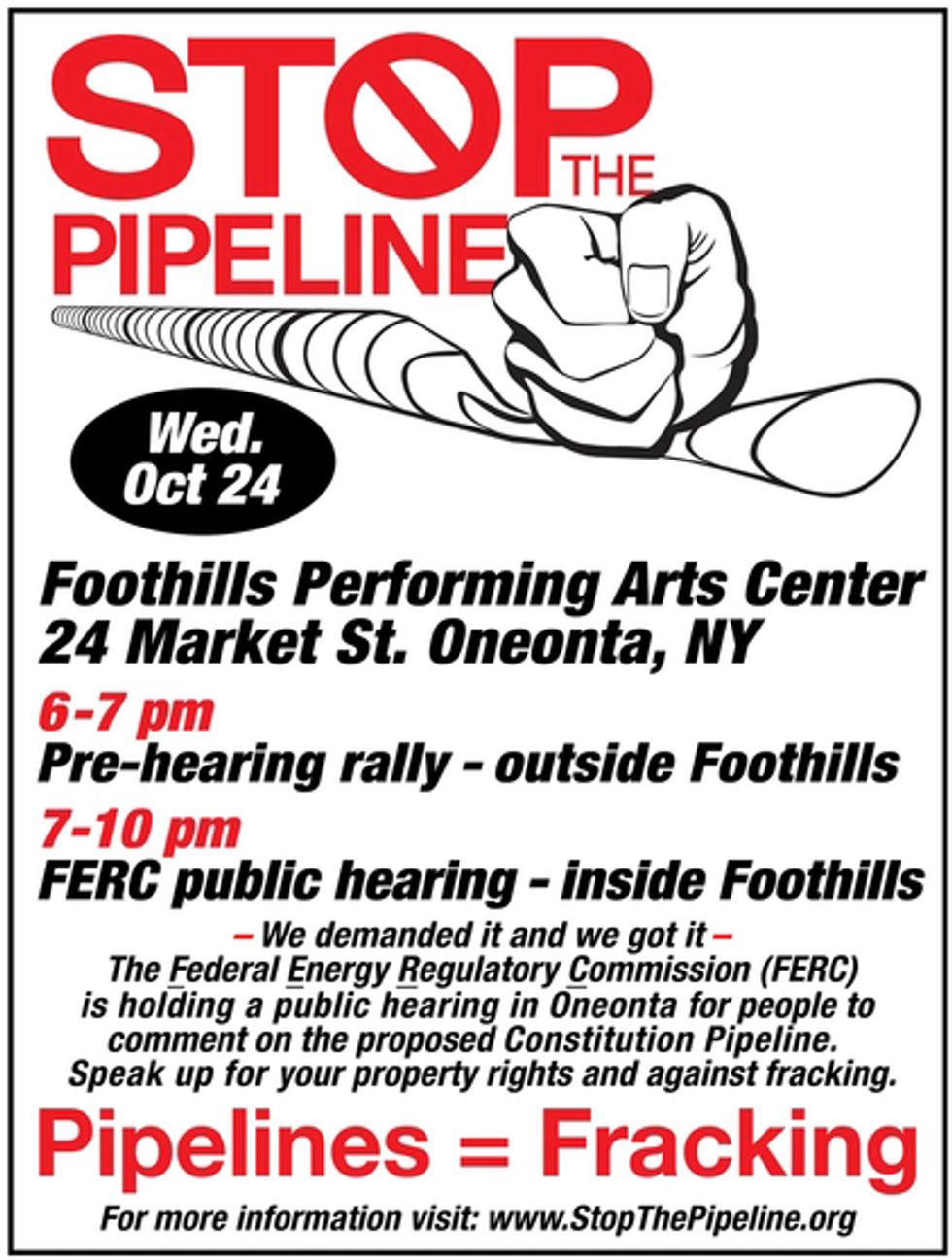 Stop the Pipeline (STP), a grassroots organization of landowners and citizens who are opposed to the 120-mile long Constitution Pipeline which would run through pristine territory, from Susquehanna County, PA to Schoharie County, NY, is holding a street meeting and rally in front of Foothills Performing Art Center—24 Market St., Oneonta, NY 13820—at 6 p.m. on Wednesday, Oct. 24, before the scheduled Federal Energy Regulatory Commission (FERC) public scoping session at 7 p.m. where people will testify regarding the obligations of FERC to investigate all possible impacts of the proposed pipeline.  
FERC had not originally scheduled any Constitution Pipeline hearings for Delaware or Otsego counties in New York. As a result of public pressure from Stop the Pipeline and other groups and individuals, FERC has extended the comment period to Nov. 9 and is holding the Oct. 24 hearing in Oneonta.
In early June, landowners received a letter from the pipeline developers—Constitution Pipeline Co. LLC, a joint venture of Williams Partners LP and Cabot Oil & Gas Corp—about the plans to build the Constitution Pipeline. Concerned about what was stated in the letter, Howard Hannum, a resident of Sidney Center, NY, called the first meeting of Stop the Pipeline. He asked Anne Marie Garti, a Delaware County native and law student enrolled at Pace University's nationally esteemed Environmental Litigation Clinic, to speak. More than 150 people attended, representing all the New York counties affected, including residents from Pennsylvania.
"We want, need and deserve to know the cumulative impact this is going to have on our way of life, public health and safety, the environment, and the future of tourism and agriculture," says Rebecca Roter, who lives in Montrose, PA, where the pipeline's originating compressor is being built. "We already know the economic boom is going to come to an end. We need to know what is going to be left when that happens."
The group's mission is to focus on the the impacts of the pipeline. One of the greatest concerns is the ecological and seismic fragility of the land along the pipeline route. One of the pipeline routes crosses Riddell State Park, home of old growth trees and Schenevus Creek, a Class A trout stream. Another cuts through the famed and unique Emmons Bog.
"The Richmondville and East Worcester portions of the I-88/M route, where there is a confluence of a spider web of faults, present an elevated risk for pipeline compromise during and following the area's inevitable seismic activity," says Robert Nied, of Schoharie, NY, a Stop the Pipeline steering committee member. "There have been something like 91 quakes in that area since 1973. I live about 2.5 miles west of the confluence and the last substantive quake, about 6 years ago, cracked the foundation of my house."  
Another goal is to keep an eye on the industry. "Williams-Cabot are renegades operating outside the law," says Mark Pezzati of  Andes, NY.
"For instance, they lack required permits, yet despite that they are building a facility at the start of this project in Pennsylvania which in some places, such as internal investor's reports, is described as the beginning of the Constitution Pipeline and on others, such as government specs, is just a compressor being built in limbo. They are illegally and fraudulently segmenting the project to avoid regulatory oversight."
The first proposed route runs right beside Loddie Marsh's home in Sidney. The second route does not. "When people read that the new proposed pipeline will use the I-88 corridor they may get the impression that no residents will be affected, that no land will be taken by eminent domain," says Marsh, an STP steering committee member. "That's what Cabot-Williams, who is building the pipeline, wants you to think. Cabot-Williams is trying to take your land for corporate profit. This project is not created for the good of the people. This project is providing the infrastructure for fracking. So I do not want a pipeline in my front yard nor in anyone's front yard."
Bruce Kernan of East Worcester, NY, a STP steering committee member, whose family manages a sustainable forest, is concerned about environmental as well as economic impacts. "The pipeline is sucking wealth out of local property owners and giving it to the stockholders of the pipeline company. Just the proposal of this pipeline project has already destroyed property values in the counties through which the proposed pipeline would pass."
"I am grateful to those who traveled from the west to comment at the scoping session in Schoharie County," says Robert Nied, a concerned citizen. "Everyone who is concerned about this proposal views this as a regional issue rather than a local one. Comments were clearly articulated, heartfelt, thoughtful and well researched. There is no question that the community spoke well for itself and there is no question that the proposed Constitution Pipeline is intended to encourage and facilitate the reckless practice of hydrofracking across Upstate NY and is part of an effort to industrialize and negatively transform our rural communities. I hope that the people of Otsego and Delaware Counties will let FERC know about their concerns at the Oneonta hearing."
Stop the Pipeline has retained the Pace Environmental Litigation Clinic, who will be representing STP on legal matters during the environmental review of the Constitution Pipeline. The supervising attorneys of the Litigation Clinic are Karl S. Coplan, Daniel E. Estrin and Robert F. Kennedy, Jr. Garti will be working under them.
Robert F. Kennedy, Jr. founded the Pace Environmental Litigation Clinic in 1987, and still operates it with his two law partners, Professors Karl S. Coplan and Daniel E. Estrin, and a team of ten eager third-year law students. "It is not possible to sit back and watch corporations and government agencies violate the public trust. We must do everything possible to take back our democracy and protect the air, water and soil on which we all depend," said Kennedy.
Learn more about pipelines by watching this video:
Visit EcoWatch's PIPELINE and FRACKING pages for more related news on this topic.
EcoWatch Daily Newsletter