Fracking
Oct. 11, 2013 07:27AM EST
Pipeline Spews 20,600 Barrels of Fracked Oil Amidst Government Shutdown
By Steve Horn
More than 20,600 barrels of oil fracked from the Bakken Shale has spilled from a Tesoro Logistics pipeline in Tioga, North Dakota in one of the biggest onshore oil spills in recent U.S. history.
Though the spill occurred on Sept. 29, the U.S. National Response Center—tasked with responding to chemical and oil spills—did not make the report available until Oct. 8 due to the ongoing government shutdown.
"The center generally makes such reports available on its website within 24 hours of their filing, but services were interrupted last week because of the U.S. government shutdown," explained Reuters.
The "Incident Summaries" portion of the National Response Center's website is currently down, and the homepage notes, "Due to [the] government shutdown, some services may not be available."
At more than 20,600 barrels—equivalent to 865,200 gallons—the spill was bigger than the April 2013 ExxonMobil Pegasus pipeline spill, which spewed 5,000-7,000 barrels of tar sands into a residential neighborhood in Mayflower, AR.
So far, only 1,285 barrels have been cleaned, and the oil is spread out over a 7.3 acre land mass.
Kris Roberts, environmental geologist for the North Dakota Department of Health Division of Water Quality told the Williston Herald, "the leak was caused by a hole that deteriorated in the side of the pipe."
"No water, surface water or ground water was impacted," he said. "They installed monitoring wells to ensure there is no impact now or that there is going to be one."
Roberts also told the Herald he was impressed with Tesoro's handling of the cleanup.
"They've responded aggressively and quickly," Roberts commented, also noting that the cleanup will cost upward of $4 million. "Sometimes we've had to ask companies to do what they did right off the mark. They're going at this aggressively and they know they have a problem and they know what they need to do about it."
Tesoro Logistics Chairman and CEO Greg Goff also weighed in on the spill.
"Protection and care of the environment are fundamental to our core values, and we deeply regret any impact to the landowner," said Goff in a press release. "We will continue to work tirelessly to fully remediate the release area."
Pipeline to Albany Refinery, Barging on the Hudson
Tesoro's six-inch pipeline was carrying oil obtained via the controversial hydraulic fracturing process to the Stampede, ND rail facility. From Stampede, Canadian Pacific's freight trains take the oil piped from Tesoro's pipeline and ship it to an Albany, NY holding facility by Global Partners located along the Hudson River.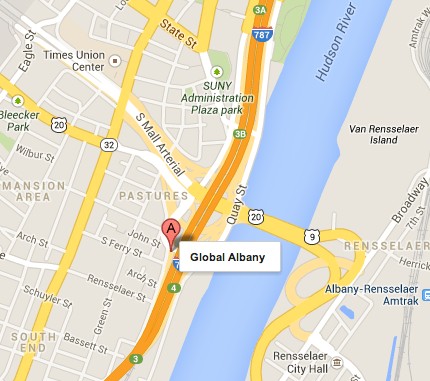 Albany, NY Global Partners Facility. Image credit: Google Maps
"Over five years, the equivalent of roughly 91 million barrels of oil will be transported via CP's rail network from a loading facility in Stampede, N.D., to a Global terminal in Albany," explained a September story appearing in the Financial Post.
Albany's holding facility received its first Canadian Pacific shipment from the Bakken Shale in December 2011, according to Bloomberg, with 1.4 million barrels of storage capacity. The facility receives 149,000-157,000 barrels of Bakken crude per day from Canadian Pacific.
Once shipped to Global's Albany holding facility, much of the oil is barged to market on tankers along the Hudson from the Port of Albany.
"As much as a quarter of the shale oil being produced in North Dakota could soon be headed by rail to the Port of Albany," explained an April 2012 article appearing in the Albany Times-Union. "The crude oil...will be loaded onto barges to be shipped down the Hudson River to refineries along the East Coast."
North Dakota Petroleum Council Responds
North Dakota Petroleum Council's response to the largest fracked oil spill in U.S. history and one of the biggest onshore spills in U.S. history? Ho-hum.
"You know, this is an industrial business and sometimes things happen and the companies are certainly responsible to take care of these things when they happen," Petroleum Council President Ron Ness told KQCD.
John Berger, manager of Tesoro's Mandan, ND, refinery, sits on the Petroleum Council's Board of Directors.
Stomach contents of an albatross chick photographed in the Pacific in 2009. Chris Jordan / U.S. Fish & Wildlife Service HQ
By Tim Radford
Scientists have calculated yet another item on the human shopping list that makes up the modern world: plastics. They have estimated the mass of all the plastic bottles, bags, cups, toys, instruments and fabrics ever produced and tracked its whereabouts, as yet another index of the phenomenal change to the face of the planet made by recent human advance.
Altogether, since about 1950, with the birth of a new industry, more than 8.3 billion tonnes (or 9.1 tons) of synthetic organic polymers have been generated, distributed and discarded. Of that total, 6.3 billion tonnes are classified as waste.
Keep reading...
Show less
By Jessica Corbett
As Senate Democrats stay silent on an energy bill that environmental groups call "a pro-fracking giveaway to oil and gas interests that would commit America to decades more of dangerous fossil fuel dependence," Sen. Bernie Sanders (I-Vt.) is receiving applause for speaking out against it.
"As a nation, our job is to move away from fossil fuels toward sustainable energy and energy efficiency. This bill does the opposite," Sanders said in a statement.
Keep reading...
Show less
ExxonMobil filed suit against the federal government last week, claiming that a $2 million fine levied against the company by the Treasury Department is "unlawful" and "capricious."
The Treasury Department fined Exxon Thursday morning, alleging that the oil giant displayed "reckless disregard" of U.S.-Russian sanctions in its dealings with Russian company Rosneft in 2014 under CEO Rex Tillerson.
Keep reading...
Show less
By Andy Rowell
For years, environmentalists have warned that due to climate change, there will be billions of barrels of oil that we will never be able to burn. These reserves will become what has increasingly been called "stranded assets."
To give you one example: In a new report, Friends of the Earth argued that "The coal, oil and gas in reserves already in production and development globally is more than we can afford to burn. There is no room for any new coal, oil or gas exploration and production.
Keep reading...
Show less
Craftsman tiny house by Zyl Vardos. Abel Zyl / Shuttertstock
Late last year, the tiny house community celebrated a watershed moment—an official appendix in the 2018 version of the International Residential Code, the model building code used by most jurisdictions in the U.S.
"There are many things that are monumental in the adoption of tiny house construction codes by the IRC," cheered Thom Stanton, the CEO of small space developer, Timber Trails. "Among them, that architects, designers, builders, community developers and (maybe most importantly) zoning officials have a means of recognizing tiny houses as an official form of permissible dwelling."
Keep reading...
Show less
www.youtube.com
The colossal mass of throwaway plastic—from straws to bags to bottles—has grown much faster than recycling and disposal efforts can contain it. You might even say this is obvious, no matter where you look.
As a result, places that were once considered pristine—such as Antarctica and the ocean floors of Australia—have become inundated with plastic waste.
Check out this video from National Geographic to watch underwater photographer Huai Su film a diver collecting an endless amount of plastic bottles that litter the seafloor off Xiaoliuqiu Island, Taiwan.
A reef off the coast of Cancún will become the first in the world with its own insurance policy, testing a new strategy meant to encourage local investment in the wellbeing of the reef.
Under the policy, created by insurance company Swiss Re and the Nature Conservancy, local hotels and other organizations dependent on tourism will pay into the policy, receiving reimbursements to repair the reef and local beaches after natural disasters.
Keep reading...
Show less
www.youtube.com
The Northeast Organic Farming Association of New York (NOFA-NY) denounced the USDA's permit for the world's first open-air trials of the Genetically Engineered (GE) Diamondback moth to be released in Geneva, New York.

This announcement came concurrently with the availability of a final environmental assessment and finding of no significant impact for the field release of the GE Diamondback moths. NOFA-NY considers the Environmental Assessment lacking comprehensive health and environmental details.
Keep reading...
Show less