This website uses cookies to ensure you get the best experience while browsing it. By clicking 'Got It' you're accepting these terms.
Pipeline Failures Plague Oil Companies, Erode Public Trust
Jun. 19, 2013 09:07AM EST
Energy
By Emily Saari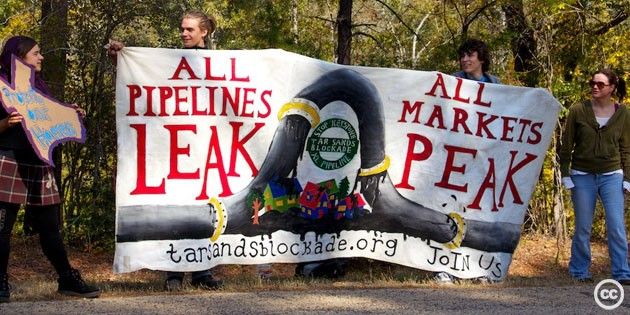 Tar Sands Blockade
. Creative Commons: Elizabeth Brossa, 2012
Pipeline safety is growing more difficult to prove, as oil companies struggle with failing infrastructure and persistent pollution issues from spills that should have been cleaned up long ago. News of pipeline failures are eroding public trust in oil companies to quickly and effectively control toxic spills, much less prevent them in the first place. These events add gravity to President Obama's pending decision to allow Canadian company TransCanada to build a pipeline across the U.S. to carry highly corrosive tar sands oil from Montana to the Gulf of Mexico.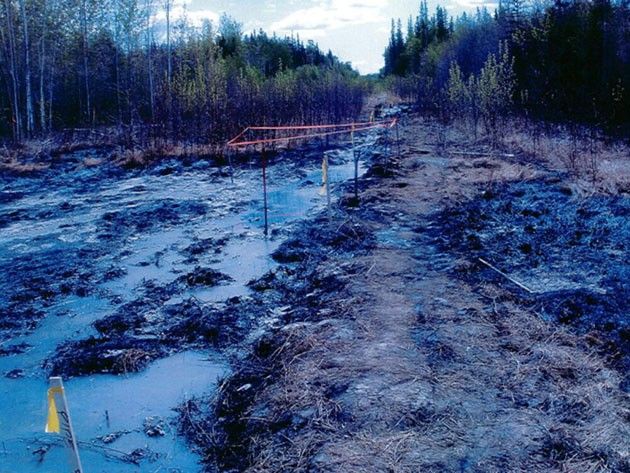 A huge pipeline failure in Zama City, Canada, on June 1, spilled 2.5 million gallons of toxic tar sands wastewater into the environment, in what some are calling the biggest wastewater spill in recent North American history. Alberta's Energy Resources Conservation Board, however, waited 11 days to issue a public statement reporting the spill's occurrence, raising doubts about the adequacy of government regulation and transparency.
Locals believe that the wastewater leak might have originated even earlier than June. Dene Tha' Councilman Sidney Chambaud told The Canadian Press:
There are indications that the spill occurred earlier, during the winter season, but due to ice and snow it wasn't discovered.
The spill occurred near the territory of the Dene Tha' First Nation, where the community lives, farms, fishes and hunts. Yet Houston-based Apache Corp. said in its press release that the spill posed "no risk to the public." This contradicts a statement by Dene Tha' Chief James Ahnassay reporting that the spill "seriously affected harvesting areas."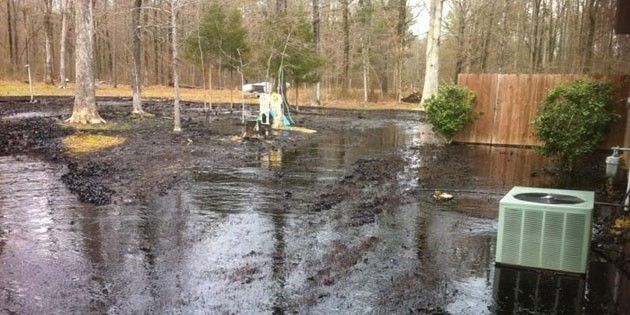 350.org
The ExxonMobil pipeline spill in Arkansas on March 29 sent 84,000 gallons of heavy tar sands oil through a suburban community and continues to pollute waterways and contaminate the neighborhood months later, keeping many of the evacuated residents from returning to their homes.
On June 14, the state of Arkansas and the federal Department of Justice filed suit against ExxonMobil on the grounds that Exxon violated state and federal clean water and air laws, asserting that the company must do more to pay for clean-up costs.
This follows a class-action lawsuit filed by Arkansas residents in April demanding $5 million in damages from Exxon.
Exxon's history of pipeline failures doesn't bode well for future pipelines. Exxon was fined $1.7 million for a spill in 2011 that sent 62,000 gallons of oil into the Yellowstone River. In July 2010, a six-foot break in an Exxon pipeline near the Kalamazoo River in Michigan resulted in the largest on-land oil spill, and one of the costliest, in U.S. history.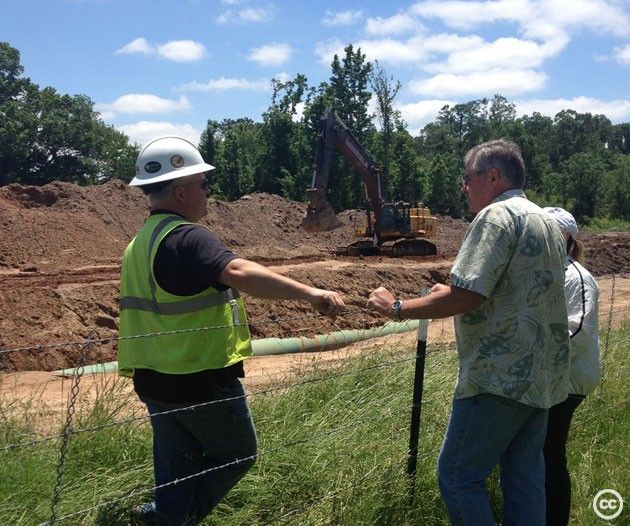 Public Citizen
, 2013
In Texas, newly laid pipes that could one day be part of the Keystone XL are being dug up and replaced for structural damage. Photographs from the sites by grassroots organization Bold Nebraska show pieces of pipe that have been spray-painted with the word "dent" and flags along the pipeline route that say "anomaly" and "weld."
Landowners watching TransCanada retrace its steps to excavate and replace brand new pieces of pipe are increasingly suspicious of the integrity of the pipelines: "that it is not a matter of if, but a matter of when this line will leak."
Michael Bishop, landowner in east Texas whose property is to be dug up once again to replace pieces of Keystone XL pipeline, said:
When the new segments are welded up, how can the public be assured that the work will not be a repeat of the shoddy, prior performance that has brought them back to our properties? If we were concerned about leaking before construction began, how can we have confidence in TransCanada at this point?
Landowners Against TransCanada, an organization formed to provide assistance to landowners in the U.S. to legally fight the TransCanada Keystone XL pipeline, launched a petition telling the Pipeline Hazardous Materials Safety Administration to perform its legal duties to protect human health and the environment, and immediately investigate the pipeline anomalies and stop further construction of the southern segment of the Keystone XL pipeline.
Visit EcoWatch's PIPELINES and KEYSTONE XL pages for more related news on this topic.
——-

EcoWatch Daily Newsletter
A. Battenburg / Technical University of Munich
By Sarah Kennedy
Algae in a pond may look flimsy. But scientists are using algae to develop industrial-strength material that's as hard as steel but only a fraction of the weight.
Variety of fermented food korean traditional kimchi cabbage and radish salad. white and red sauerkraut in ceramic plates over grey spotted background. Natasha Breen / REDA&CO / Universal Images Group / Getty Image
Even if you've never taken probiotics, you've probably heard of them.
These supplements provide numerous benefits because they contain live microorganisms, such as bacteria or yeast, which support the healthy bacteria in your gut (1, 2, 3, 4).
Pexels
Singapore will become the first country in the world to place a ban on advertisements for carbonated drinks and juices with high sugar contents, its health ministry announced last week. The law is intended to curb sugar consumption since the country has some of the world's highest diabetes rates per capita, as Reuters reported.
A typical adult takes around 20,000 breaths per day. If you live in a megacity like Beijing, with many of those lungfuls you're likely to inhale a noxious mixture of chemicals and pollutants.
Fred Stone holds his brown swiss cow Lida Rose at his Arundel dairy farm on March 18 after a press conference where he spoke about PFAS chemical contamination in his fields. Gregory Rec / Portland Portland Press Herald via Getty Images
By Susan Cosier
First there was Fred Stone, the third-generation dairy farmer in Maine who discovered that the milk from his cows contained harmful chemicals. Then came Art Schaap, a second-generation dairy farmer in New Mexico, who had to dump 15,000 gallons of contaminated milk a day.
Protesters attend the 32nd annual Fur-Free Friday demonstration on Nov. 23, 2018 in Beverly Hills, California. Ella DeGea / Getty Images
California Governor Gavin Newsom signed into law a bill that that bans the sale and manufacture of fur products in the state. The fur ban, which he signed into law on Saturday, prohibits Californians from selling or making clothing, shoes or handbags with fur starting in 2023, according to the AP.
By Simon Evans
During the three months of July, August and September, renewables generated an estimated total of 29.5 terawatt hours (TWh), compared with just 29.1TWh from fossil fuels, the analysis shows.
A demonstrator waves an Ecuadorian flag during protests against the end of subsidies to gasoline and diesel on Oct. 9 in Quito, Ecuador. Jorge Ivan Castaneira Jaramillo / Getty Images