This website uses cookies to ensure you get the best experience while browsing it. By clicking 'Got It' you're accepting these terms.
Pipeline Failures Plague Oil Companies, Erode Public Trust
Jun. 19, 2013 09:07AM EST
Energy
By Emily Saari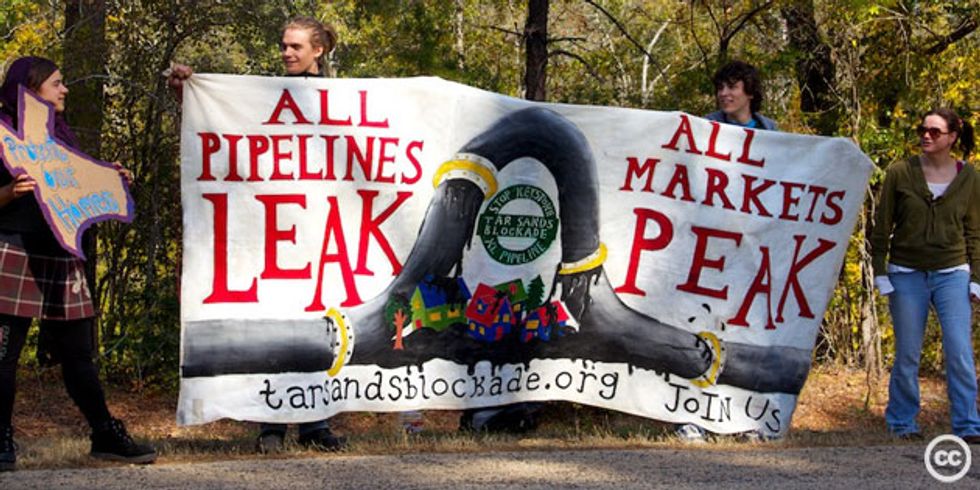 Tar Sands Blockade
. Creative Commons: Elizabeth Brossa, 2012
Pipeline safety is growing more difficult to prove, as oil companies struggle with failing infrastructure and persistent pollution issues from spills that should have been cleaned up long ago. News of pipeline failures are eroding public trust in oil companies to quickly and effectively control toxic spills, much less prevent them in the first place. These events add gravity to President Obama's pending decision to allow Canadian company TransCanada to build a pipeline across the U.S. to carry highly corrosive tar sands oil from Montana to the Gulf of Mexico.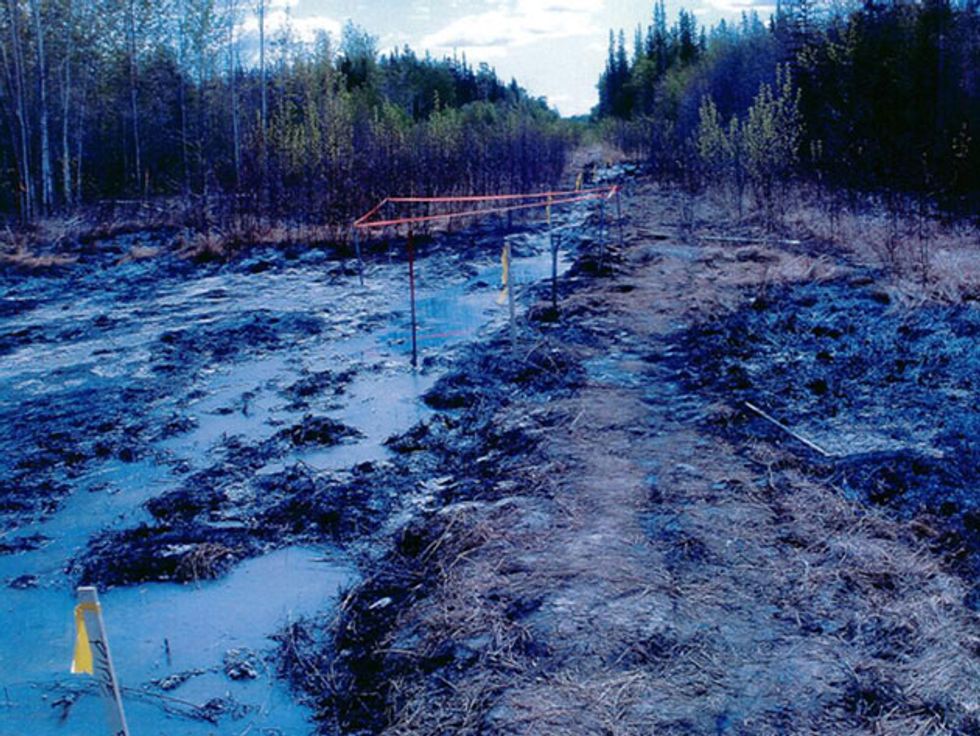 A huge pipeline failure in Zama City, Canada, on June 1, spilled 2.5 million gallons of toxic tar sands wastewater into the environment, in what some are calling the biggest wastewater spill in recent North American history. Alberta's Energy Resources Conservation Board, however, waited 11 days to issue a public statement reporting the spill's occurrence, raising doubts about the adequacy of government regulation and transparency.
Locals believe that the wastewater leak might have originated even earlier than June. Dene Tha' Councilman Sidney Chambaud told The Canadian Press:
There are indications that the spill occurred earlier, during the winter season, but due to ice and snow it wasn't discovered.
The spill occurred near the territory of the Dene Tha' First Nation, where the community lives, farms, fishes and hunts. Yet Houston-based Apache Corp. said in its press release that the spill posed "no risk to the public." This contradicts a statement by Dene Tha' Chief James Ahnassay reporting that the spill "seriously affected harvesting areas."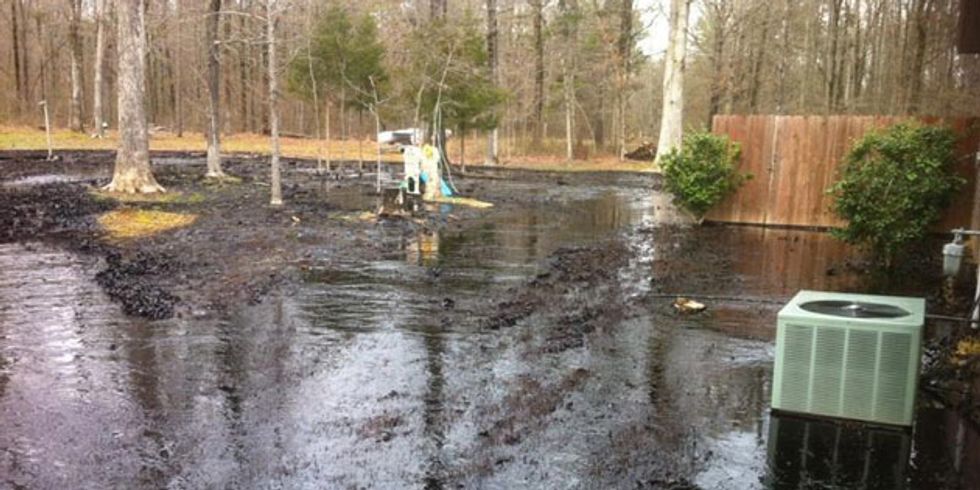 350.org
The ExxonMobil pipeline spill in Arkansas on March 29 sent 84,000 gallons of heavy tar sands oil through a suburban community and continues to pollute waterways and contaminate the neighborhood months later, keeping many of the evacuated residents from returning to their homes.
On June 14, the state of Arkansas and the federal Department of Justice filed suit against ExxonMobil on the grounds that Exxon violated state and federal clean water and air laws, asserting that the company must do more to pay for clean-up costs.
This follows a class-action lawsuit filed by Arkansas residents in April demanding $5 million in damages from Exxon.
Exxon's history of pipeline failures doesn't bode well for future pipelines. Exxon was fined $1.7 million for a spill in 2011 that sent 62,000 gallons of oil into the Yellowstone River. In July 2010, a six-foot break in an Exxon pipeline near the Kalamazoo River in Michigan resulted in the largest on-land oil spill, and one of the costliest, in U.S. history.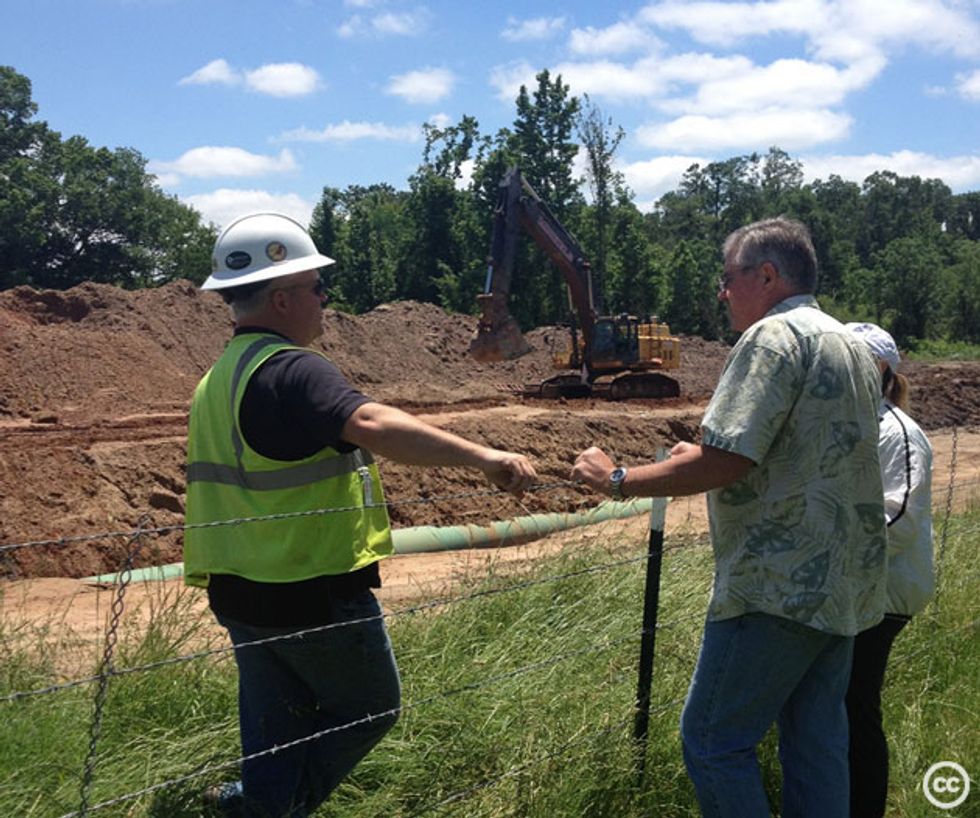 Public Citizen
, 2013
In Texas, newly laid pipes that could one day be part of the Keystone XL are being dug up and replaced for structural damage. Photographs from the sites by grassroots organization Bold Nebraska show pieces of pipe that have been spray-painted with the word "dent" and flags along the pipeline route that say "anomaly" and "weld."
Landowners watching TransCanada retrace its steps to excavate and replace brand new pieces of pipe are increasingly suspicious of the integrity of the pipelines: "that it is not a matter of if, but a matter of when this line will leak."
Michael Bishop, landowner in east Texas whose property is to be dug up once again to replace pieces of Keystone XL pipeline, said:
When the new segments are welded up, how can the public be assured that the work will not be a repeat of the shoddy, prior performance that has brought them back to our properties? If we were concerned about leaking before construction began, how can we have confidence in TransCanada at this point?
Landowners Against TransCanada, an organization formed to provide assistance to landowners in the U.S. to legally fight the TransCanada Keystone XL pipeline, launched a petition telling the Pipeline Hazardous Materials Safety Administration to perform its legal duties to protect human health and the environment, and immediately investigate the pipeline anomalies and stop further construction of the southern segment of the Keystone XL pipeline.
Visit EcoWatch's PIPELINES and KEYSTONE XL pages for more related news on this topic.
——-

EcoWatch Daily Newsletter
Investing in grid infrastructure would enable utilities to incorporate modern technology, making the grid more resilient and flexible. STRATMAN2 / FLICKR
By Elliott Negin
The Royal Swedish Academy of Sciences' recent decision to award the 2019 Nobel Prize in Chemistry to scientists who developed rechargeable lithium-ion batteries reminded the world just how transformative they have been. Without them, we wouldn't have smartphones or electric cars. But it's their potential to store electricity generated by the sun and the wind at their peak that promises to be even more revolutionary, reducing our dependence on fossil fuels and protecting the planet from the worst consequences of climate change.
Two Javan rhinos deep in the forests of Ujung Kulon National Park, the species' last habitat on Earth. Sugeng Hendratno / WWF
The global population of the critically endangered Javan rhinoceros has increased to 72 after four new calves were spotted in the past several months.
A tiger looks out from its cage at a new resort and zoo in the eastern Lao town of Tha Bak on Dec. 5, 2018. Karl Ammann believes the "zoo" is really a front for selling tigers. Terrence McCoy / The Washington Post / Getty Images
Are tigers extinct in Laos?
That's the conclusion of a detailed new study that found no evidence wild tigers still exist in the country.
A group of scientists is warning that livestock production must not expand after 2030 for the world to stave off ecological disaster.
The largest wetland in Africa is in the South Sudan. George Steinmetz / Corbis Documentary / Getty Images Plus
Methane emissions are a far more powerful greenhouse gas than carbon dioxide – about 28 times more powerful. And they have been rising steadily since 2007. Now, a new study has pinpointed the African tropics as a hot spot responsible for one-third of the global methane surge, as Newsweek reported.