This website uses cookies to ensure you get the best experience while browsing it. By clicking 'Got It' you're accepting these terms.


The best of EcoWatch, right in your inbox. Sign up for our email newsletter!
Pinkwashing: Fracking Company Teams Up With Susan G. Komen to 'End Breast Cancer Forever'
Oct. 08, 2014 07:37AM EST
Insights + Opinion
TAKE ACTION: Tell Susan G. Komen Don't Frack With Our Health
What do you get when you cross a breast cancer charity with a frack job?
The answer is the image below, which, as I am writing, is going epidemically viral.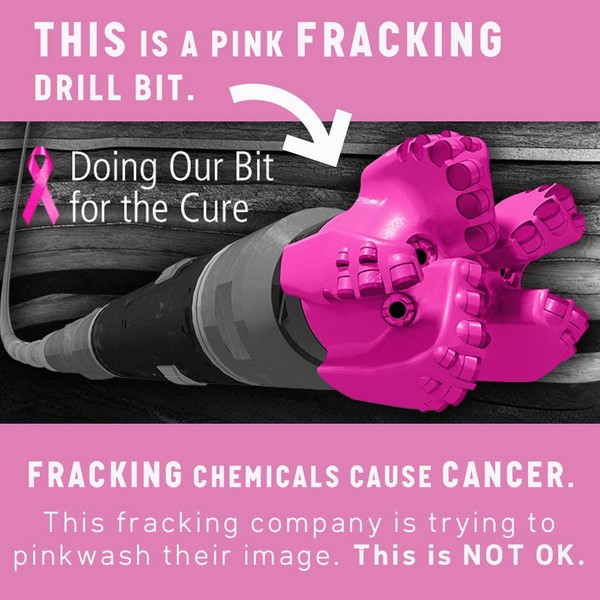 It's hard to stop staring in utter baffled amazement. Is it some kind of … phallic cyborg?
The opening scene of a yet another sequel to Tremors? (Kevin Bacon! Nevada! Subterranean, worm-like, cross-dressing graboid!)
A sex toy from hell?
In fact, it's all these things and more. Susan G. Komen, the largest breast cancer organization in America with more than 100,000 volunteers and partnerships in more than 50 countries, has teamed up with Baker Hughes, one of the world's largest oilfield service companies with employees in more than 80 countries. Susan G. Komen hands out pink ribbons for breast cancer awareness, and Baker Hughes fracks. So, there you have it: a pink, fracking, drill head.
That's Susan G. Komen pink, by the way. It's special. Like John Deere green. And that signature color has been painted by hand on a thousand drill bits, which will soon be shipped by Baker Hughes to well pads all over the world, thus facilitating a thousand fossil fuel extraction projects just in time for Breast Cancer Awareness Month. Which is this month. (But please don't confuse Baker Hughes pink drill bits with Chesapeake Energy's "even-rigs-can-rally-for-a-cure" pink drill rigs. That was so 2012).
I am not making this up. Read more about the Komen/Baker Hughes frack-for-the-cure effort here. Watch a little promotional video about it here.  And then share the contents of your heart with Susan G. Komen headquarters: right over here.
As the story explains, when the pink drill bits are shipped in their boxes (and, yes, the boxes are pink, too), they come packed with information about "breast health facts, breast cancer risk factors and screening tips."
And exactly whose breast cancer awareness quotient will be bolstered out there on the well pad? Inside the trailers and the trucks? Down on the drilling floor? Up on the derrick?
"The hope is that the roughneck who cracks open that container learns a little more about the disease that afflicts 200,000 women per year."
Here's what I'm wagering that roughneck does not learn from the literature shipped with his drill bit this October: I'm betting he does not read about the recent study from the U.S. Centers for Disease Control that found dangerous levels of benzene in the urine of workers in the unconventional (aka fracking) oil and gas industry. Benzene is a proven human carcinogen.
According to Bernard Goldstein, MD, toxicologist and former dean at the University of Pittsburgh School of Public Health, "These workers are at higher risk for leukemia. The longer, the more frequently they do this, the more likely they are to get leukemia particularly if the levels are high."
In addition to leukemia, benzene is also a suspected cause of, well, breast cancer.
Benzene exposure is known to induce breast cancer in laboratory animals and is modestly associated with breast cancer among women. But the best evidence we have for the benzene-breast cancer link comes from studies of young male workers exposed on the job. Male breast cancer is clearly linked to occupational exposure to benzene.
So, maybe those pamphlets really will come in handy in the man camps.
The carcinogenic dangers of fracking begin at the job site and extend far beyond. They include silica dust (a lung carcinogen); volatile organic air pollutants (linked to lymphoma); radioactive wastes, such as radon and radium (lung and breast cancers again); and drinking water contaminants, such as arsenic and brominated byproducts (both bladder carcinogens). Indeed, cancer hazards are present at every stage of the drilling, fracking, processing, and distribution process.
Researchers at the University of Colorado School of Public Health found higher excess cancer risks in people living within a half-mile of drilling and fracking operations than people living further away.
But I'll guess that particular study is not packed in the box with the drill bit and the cancer screening tips.
So, here's a message from me to America's biggest breast cancer charity:
Susan G. Komen, it's time to stop taking money from the frackers and come home. Your roots—as well as my own—are in central Illinois. (I grew up near Peoria. And so did the woman named Susan, in whose memory the organization was created. And so did her sister Nancy who founded it).
While your pink drill bits are multiplying on social media, here's an image from Illinois that's also enjoying a bit of traction. Take a look: more than 100 people pack a county board meeting last night in objection to plans to drill for oil in McLean County. The signs they hold: "Not one permit."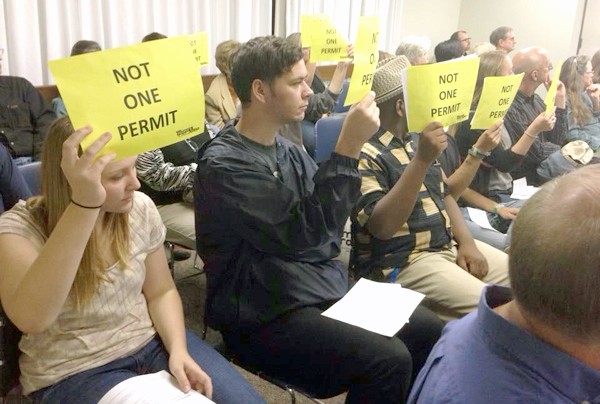 Here is the vision statement that your $100,000 donor, Baker Hughes, distributes to the world:
"We are looking forward to the next 100 years of working side by side with our customers to continue expanding the limits of oil, gas and alternative energy drilling, completion and production ..."
Meanwhile, back in your home and mine, folks are hunkered down in the fight of their lives against fracking and are messaging under the banners #NoDrilling and #ClimateChange.
Those are the hashtags of awareness—enough for this month and all the rest to follow.
All together, it's the beginning of the cure we've been racing after.
Sandra Steingraber, PhD is a biologist, a cancer survivor, and co-founder of Concerned Health Professionals of New York. She is author of Living Downstream: An Ecologist's Personal Investigation of Cancer and the Environment, also an award-winning film.
YOU MIGHT ALSO L IKE:
Tell Starbucks to Serve Only Organic Milk From Cows Not Fed GMOs
Poisoned Fracking Playgrounds a Threat to Texas Kids
EcoWatch Daily Newsletter
Aerial view of the explosion site of a chemical factory on March 22 in Yancheng, Jiangsu Province of China. Caixin Media / VCG / Getty Images)
At least 47 people have died in an explosion at a plant in Yancheng, China Thursday run by a chemical company with a history of environmental violations, Sky News reported.
A fishmonger in Elmina, a fishing port in the Central Region of Ghana. Environmental Justice Foundation
By Daisy Brickhill
Each morning, men living in fishing communities along Ghana's coastline push off in search of the day's catch. But when the boats come back to shore, it's the women who take over.
Pexels
By Sam Nickerson
Links between excess sugar in your diet and disease have been well-documented, but new research by Harvard's School of Public Health might make you even more wary of that next soda: it could increase your risk of an early death.
The study, published this week in the American Heart Association's journal Circulation, found that drinking one or two sugar-sweetened beverages (SSBs) each day — like sodas or sports drinks — increases risk of an early death by 14 percent.
Tyson Foods is recalling approximately 69,093 pounds of frozen chicken strips because they may have been contaminated with pieces of metal, the U.S. Department of Agriculture (USDA) Food Safety and Inspection Service (FSIS) announced Thursday.
The affected products were fully-cooked "Buffalo Style" and "Crispy" chicken strips with a "use by" date of Nov. 30, 2019 and an establishment number of "P-7221" on the back of the package.
"FSIS is concerned that some product may be in consumers' freezers," the recall notice said. "Consumers who have purchased these products are urged not to consume them. These products should be thrown away or returned to the place of purchase."
Environmental exposure to pesticides, both before birth and during the first year of life, has been linked to an increased risk of developing autism spectrum disorder, according to the largest epidemiological study to date on the connection.
The study, published Wednesday in BMJ, found that pregnant women who lived within 2,000 meters (approximately 1.2 miles) of a highly-sprayed agricultural area in California had children who were 10 to 16 percent more likely to develop autism and 30 percent more likely to develop severe autism that impacted their intellectual ability. If the children were exposed to pesticides during their first year of life, the risk they would develop autism went up to 50 percent.
The ExxonMobil Torrance Refinery in Torrance, California.
waltarrrr / Flickr
ExxonMobil could be the second company after Monsanto to lose lobbying access to members of European Parliament after it failed to turn up to a hearing Thursday into whether or not the oil giant knowingly spread false information about climate change.
The call to ban the company was submitted by Green Member of European Parliament (MEP) Molly Scott Cato and should be decided in a vote in late April, The Guardian reported.
Bernie Sanders holds his first presidential campaign rally at Brooklyn College on March 02 in Brooklyn, New York. Kena Betancur / VIEWpress / Corbis. Getty Images
Bernie Sanders has become the first contender in the crowded 2020 Democratic presidential primary field to pledge to offset all of the greenhouse gas emissions released by campaign travel, The Huffington Post reported Thursday.