Fracking
Oct. 08, 2014 07:37AM EST
Pinkwashing: Fracking Company Teams Up With Susan G. Komen to 'End Breast Cancer Forever'
TAKE ACTION: Tell Susan G. Komen Don't Frack With Our Health
What do you get when you cross a breast cancer charity with a frack job?
The answer is the image below, which, as I am writing, is going epidemically viral.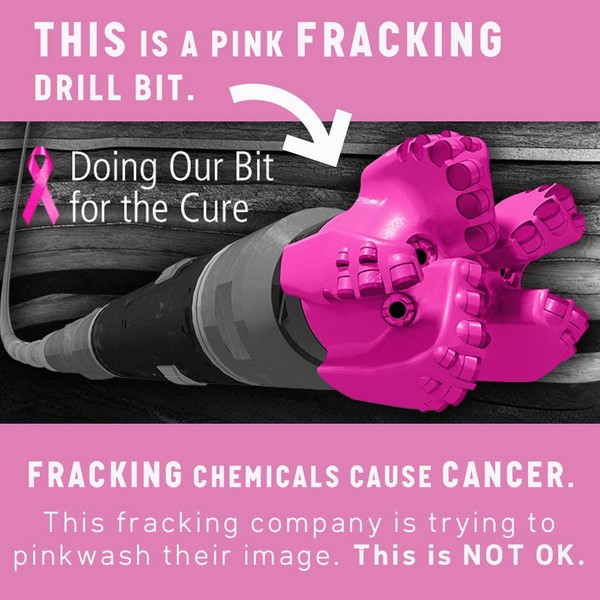 It's hard to stop staring in utter baffled amazement. Is it some kind of … phallic cyborg?
The opening scene of a yet another sequel to Tremors? (Kevin Bacon! Nevada! Subterranean, worm-like, cross-dressing graboid!)
A sex toy from hell?
In fact, it's all these things and more. Susan G. Komen, the largest breast cancer organization in America with more than 100,000 volunteers and partnerships in more than 50 countries, has teamed up with Baker Hughes, one of the world's largest oilfield service companies with employees in more than 80 countries. Susan G. Komen hands out pink ribbons for breast cancer awareness, and Baker Hughes fracks. So, there you have it: a pink, fracking, drill head.
That's Susan G. Komen pink, by the way. It's special. Like John Deere green. And that signature color has been painted by hand on a thousand drill bits, which will soon be shipped by Baker Hughes to well pads all over the world, thus facilitating a thousand fossil fuel extraction projects just in time for Breast Cancer Awareness Month. Which is this month. (But please don't confuse Baker Hughes pink drill bits with Chesapeake Energy's "even-rigs-can-rally-for-a-cure" pink drill rigs. That was so 2012).
I am not making this up. Read more about the Komen/Baker Hughes frack-for-the-cure effort here. Watch a little promotional video about it here.  And then share the contents of your heart with Susan G. Komen headquarters: right over here.
As the story explains, when the pink drill bits are shipped in their boxes (and, yes, the boxes are pink, too), they come packed with information about "breast health facts, breast cancer risk factors and screening tips."
And exactly whose breast cancer awareness quotient will be bolstered out there on the well pad? Inside the trailers and the trucks? Down on the drilling floor? Up on the derrick?
"The hope is that the roughneck who cracks open that container learns a little more about the disease that afflicts 200,000 women per year."
Here's what I'm wagering that roughneck does not learn from the literature shipped with his drill bit this October: I'm betting he does not read about the recent study from the U.S. Centers for Disease Control that found dangerous levels of benzene in the urine of workers in the unconventional (aka fracking) oil and gas industry. Benzene is a proven human carcinogen.
According to Bernard Goldstein, MD, toxicologist and former dean at the University of Pittsburgh School of Public Health, "These workers are at higher risk for leukemia. The longer, the more frequently they do this, the more likely they are to get leukemia particularly if the levels are high."
In addition to leukemia, benzene is also a suspected cause of, well, breast cancer.
Benzene exposure is known to induce breast cancer in laboratory animals and is modestly associated with breast cancer among women. But the best evidence we have for the benzene-breast cancer link comes from studies of young male workers exposed on the job. Male breast cancer is clearly linked to occupational exposure to benzene.
So, maybe those pamphlets really will come in handy in the man camps.
The carcinogenic dangers of fracking begin at the job site and extend far beyond. They include silica dust (a lung carcinogen); volatile organic air pollutants (linked to lymphoma); radioactive wastes, such as radon and radium (lung and breast cancers again); and drinking water contaminants, such as arsenic and brominated byproducts (both bladder carcinogens). Indeed, cancer hazards are present at every stage of the drilling, fracking, processing, and distribution process.
Researchers at the University of Colorado School of Public Health found higher excess cancer risks in people living within a half-mile of drilling and fracking operations than people living further away.
But I'll guess that particular study is not packed in the box with the drill bit and the cancer screening tips.
So, here's a message from me to America's biggest breast cancer charity:
Susan G. Komen, it's time to stop taking money from the frackers and come home. Your roots—as well as my own—are in central Illinois. (I grew up near Peoria. And so did the woman named Susan, in whose memory the organization was created. And so did her sister Nancy who founded it).
While your pink drill bits are multiplying on social media, here's an image from Illinois that's also enjoying a bit of traction. Take a look: more than 100 people pack a county board meeting last night in objection to plans to drill for oil in McLean County. The signs they hold: "Not one permit."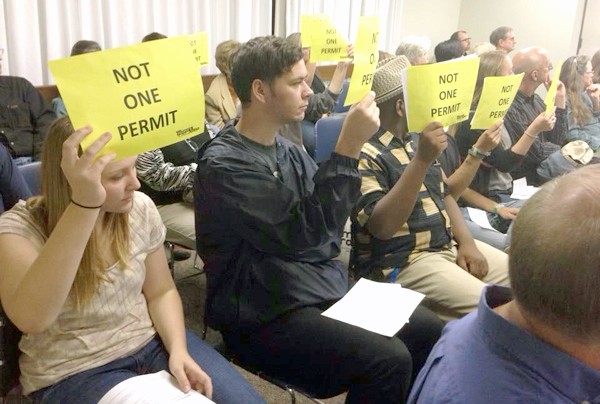 Here is the vision statement that your $100,000 donor, Baker Hughes, distributes to the world:
"We are looking forward to the next 100 years of working side by side with our customers to continue expanding the limits of oil, gas and alternative energy drilling, completion and production ..."
Meanwhile, back in your home and mine, folks are hunkered down in the fight of their lives against fracking and are messaging under the banners #NoDrilling and #ClimateChange.
Those are the hashtags of awareness—enough for this month and all the rest to follow.
All together, it's the beginning of the cure we've been racing after.
Sandra Steingraber, PhD is a biologist, a cancer survivor, and co-founder of Concerned Health Professionals of New York. She is author of Living Downstream: An Ecologist's Personal Investigation of Cancer and the Environment, also an award-winning film.
YOU MIGHT ALSO L IKE:
Tell Starbucks to Serve Only Organic Milk From Cows Not Fed GMOs
Poisoned Fracking Playgrounds a Threat to Texas Kids
Risa Scott / RF Scott Imagery
The Bioscience Resource Project and the Center for Media and Democracy released a trove of rediscovered and newly digitized chemical industry and regulatory agency documents Wednesday stretching back to the 1920s. The documents are available here.
Together, the papers show that both industry and regulators understood the extraordinary toxicity of many chemical products and worked together to conceal this information from the public and the press. These papers will transform our understanding of the hazards posed by certain chemicals on the market and the fraudulence of some of the regulatory processes relied upon to protect human health and the environment.
Keep reading...
Show less
Trevor Hall. PHOTO CREDIT: Emory Hall
I'm a huge Trevor Hall fan so when I saw he was playing in my hometown of Cleveland, I was stoked. I knew seeing the show would be fantastic, but I was also thinking an interview with Trevor would be something really cool to give EcoWatch readers. So, lucky enough, I was offered an interview and was able to hop on my paddleboard from Whiskey Island on the shore of Lake Erie, head up the Cuyahoga River and get to the Music Box Supper Club just in time to chat with Trevor before the show.
"My dad was a drummer, so most my musical influence comes from my dad," Trevor said during our nearly hour interview. "Growing up, my dad had this CD collection in the hallway and I was always fascinated by all the CDs. My hobby was pulling out a CD that looked cool and I'd put it on the stereo and pretend I was rocking out. My dad was really into The Doobie Brothers, Allman Brothers, Earth Wind & Fire, Simply Red, and Crosby, Stills, Nash & Young."
Keep reading...
Show less
The Arbuckle Mountain Wind Farm in southern Oklahoma. Brian Hardzinski / KGOU
American Electric Power (AEP) will invest $4.5 billion in a wind energy project in Oklahoma that could become the largest wind farm in the U.S., the utility announced Wednesday.
AEP will develop a 350-mile transmission line for the 2 GW farm.
Keep reading...
Show less
Environment America / Twitter
The sun is rising on a newer, cleaner era of American energy use.
The U.S. generates nearly eight times as much electricity from the sun and the wind than it did in 2007—enough to power more than 25 million homes—and the average American uses 10 percent less energy than he or she did 10 years ago, according to a new report by Environment America Research and Policy Center.
The report, Renewables on the Rise: A Decade of Progress Toward a Clean Energy Future, also cites a 20-fold increase in battery storage of electricity and the meteoric rise in sales of electric cars—from virtually none in 2007 to nearly 160,000 last year—as evidence that despite attempted rollbacks in Washington, a clean energy revolution is under way across the U.S.
Keep reading...
Show less
Cirrus clouds over Golden Gate Bridge. Brocken Inaglory / Wikimedia Commons
By Tim Radford
Geoengineering, the deliberate alteration of the planet to undo its inadvertent alteration by humans over the past 200 years, is back on the scientific agenda, with a climate compromise suggested as a possible solution.
One group wants to turn down the global thermostat and reverse the global warming trend set in train by greenhouse gases released by fossil fuel combustion, by thinning the almost invisible cirrus clouds that trap radiation and keep the planet warm.
Keep reading...
Show less
By Joe McCarthy
This past June was the third hottest June in recorded history—only 2016 and 2015 had hotter Junes.
The global average temperature has been surpassing the 20th century average for 41 straight years. "Record-breaking temperatures" has almost become a platitude since the turn of the century, yet the consequences of this shift are devastating communities and environments in new ways around the world.
Keep reading...
Show less
iStock
By Joe McCarthy
Tony Maphosa, a Zimbabwean poacher, is accused of putting cyanide in watering holes and salt pans used by elephants numerous times over several years.
All told, his poisoning spree is said to have killed more than 100 elephants, according to Zimbabwean authorities who have been searching for Maphosa for four years.
Keep reading...
Show less
iStock
By David Doniger
As the nation and the world swelter through another year of extraordinary heat, storms, drought and disrupted weather, Senators Sheldon Whitehouse and Brian Schatz introduced carbon fee legislation Wednesday to help curb the heat-trapping pollution that drives this dangerous climate disruption.
Representatives Earl Blumenauer and David Cicilline are introducing companion legislation in the House of Representatives.
Keep reading...
Show less