This website uses cookies to ensure you get the best experience while browsing it. By clicking 'Got It' you're accepting these terms.
Pink Is Not Green: Companies That Support Fighting Cancer Should Not Use Chemicals That Cause It
Feb. 09, 2015 08:59AM EST
Fracking
Everyone remembers the Komen vs Planned Parenthood scandal from a couple years ago, right? To recap: Susan G. Komen for the Cure defunded Planned Parenthood because, in addition to providing breast health services, they also offer—gasp—contraception and abortions. While Komen eventually caved to public pressure and reversed their decision, the damage was done. The scandal outed Komen as a right-wing institution.
So it should be no surprise that Komen's conservative culture extends beyond reproductive rights, that they also take positions that fly in the face of common-sense environmental sensibilities. A women's health charity opposing access to reproductive health care is shocking, and the same charity taking anti-environment positions given that breast cancer increasingly linked to environmental causes is plain wrong.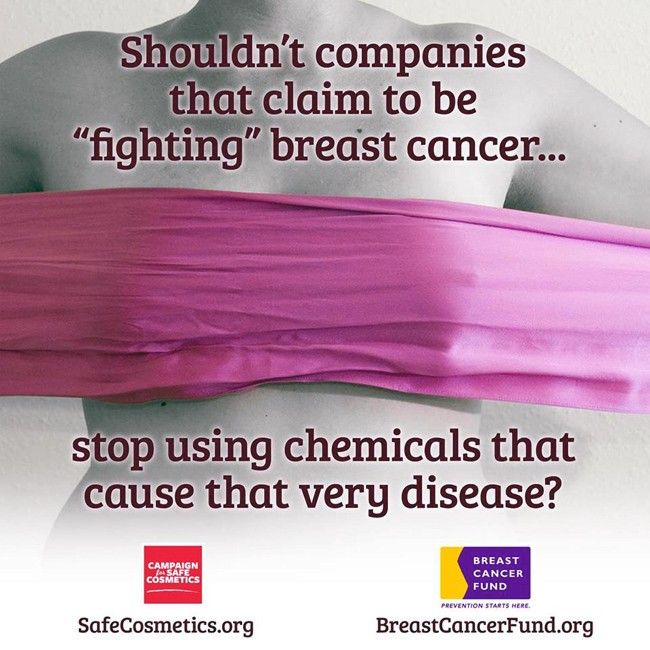 Komen sells and endorses toxic pink ribbon products.
We are all exposed to a slew of toxic or hazardous chemicals in our daily lives. Companies regularly sell products that contain toxic or hazardous ingredients that can impact the health of consumers. While we'd all love to avoid products that have problem ingredients, the kind of attention and painstaking ingredient-list reading is not possible for most of us, which means that we are exposed to numerous harmful chemicals without our consent or knowledge. And pink ribbon products are no exception. Breast Cancer Action calls this practice pinkwashing.
Komen's long list of corporate sponsors includes several companies that are selling a product which contains breast cancer causing ingredients, including Ford and American Airlines whose emissions are linked to increased risk of the disease, and Alhambra Water, which sells plastic water bottles emblazoned with pink ribbons—and that contain BPA, a hormone-disrupting chemical linked to breast cancer.
To be fair, Komen is not alone in their pinkwashing. Frustratingly, there are seemingly endless examples of this hypocritical practice, made possible by multi-million breast cancer charities happy to loan their name and pink ribbon stamp of approval to hazardous products.
Komen endorses fracking.
Fracking, the very controversial practice of using a mix of toxic and hazardous chemicals to extract oil and gas from deep underground can count Komen as a fan and supporter. Even though fracking fluid contains chemicals linked to increased risk for breast cancer.
In 2012, Komen partnered with Chesapeake Energy's subsidiary, Nomac Drilling, for a pink ribbon-wrapped fracking rig in rural Ohio. And in 2013 and 2014, Komen again made a truly astounding partnership decision, this time with fracking company Baker Hughes, which was publicized with, I kid you not, pink drill bits "for the cure."
When it comes to toxic chemical safety, Komen stays silent and rakes in the money.
It sounds wonky, but the legislative effort to pass chemical safety reform is the most promising, and potentially comprehensive effort to reduce the public's exposure to toxic, cancer-causing chemicals. Of course, Komen is not only conspicuously absent, but has ties to chemical industry lobbyists who are standing in the way.
Some background for the non-wonks among us: Environmental and public health organizations have worked for years to update the ancient Toxic Substances Control Act (TSCA), which even the U.S. Environmental Protection Agency—tasked with enforcing it—acknowledges is woefully inadequate to address the seemingly endless list of toxic and harmful chemicals that we encounter with every day—from BPA in cans to flame retardants in furniture and phthalates in plastics.
Rather than lend their tremendous weight to pass chemical safety legislation, which just as easily could be called "cancer prevention" legislation, Komen counts as partners and sponsors organizations that are members of the American Chemistry Council. The ACC is a lobbying firm intent on undermining and derailing these efforts to ensure that toxic chemicals that can cause breast cancer remain under-regulated.
3M, which makes pink ribbon post-it notes, and Merck, a pharmaceutical company which does breast cancer research, are ACC member companies, and are also among Komen's corporate sponsors. What's worse is that the ACC and the industrial chemical industry has, so far, succeeded—as of early 2015, it appears that the conservative effort to quash meaningful TSCA reform is a success.
Komen's smiling, cheerful brand, synonymous with the pink ribbon and "breast cancer awareness," essentially serves as the mechanism for this deep environmental hypocrisy to play out. Nobody who cares about clean air, clean water or non-toxic consumer products should be giving Komen their time or money. Instead, there are plenty of great organizations that put women's health first, and work to reduce our exposure to cancer causing chemicals—lets support them instead.
YOU MIGHT ALSO LIKE
4 Steps to Detoxify Your Kitchen
Baby Carrots: A Great Way to Get Kids to Snack on Veggies, But Are They Safe?
EcoWatch Daily Newsletter
By Adam Vaughan
Two-thirds of people in the UK think the amount people fly should be reined in to tackle climate change, polling has found.
Climate Week NYC
On Monday, Sept. 23, the Climate Group will kick off its 11th annual Climate Week NYC, a chance for governments, non-profits, businesses, communities and individuals to share possible solutions to the climate crisis while world leaders gather in the city for the UN Climate Action Summit.
By Pam Radtke Russell in New Orleans
Local TV weather forecasters have become foot soldiers in the war against climate misinformation. Over the past decade, a growing number of meteorologists and weathercasters have begun addressing the climate crisis either as part of their weather forecasts, or in separate, independent news reports to help their viewers understand what is happening and why it is important.

While airlines only serve bottled drinking water directly to customers, they use the plane's water for coffee and tea, and passengers can drink the tap water. Aitor Diago / Getty Images
You might want to think twice before washing your hands in an airplane bathroom.
By Allegra Kirkland, Jeremy Deaton, Molly Taft, Mina Lee and Josh Landis
Climate change is already here. It's not something that can simply be ignored by cable news or dismissed by sitting U.S. senators in a Twitter joke. Nor is it a fantastical scenario like The Day After Tomorrow or 2012 that starts with a single crack in the Arctic ice shelf or earthquake tearing through Los Angeles, and results, a few weeks or years later, in the end of life on Earth as we know it.
A pregnant woman works out in front of the skyline of London. SHansche / iStock / Getty Images Plus
Air pollution particles that a pregnant woman inhales have the potential to travel through the lungs and breach the fetal side of the placenta, indicating that unborn babies are exposed to black carbon from motor vehicles and fuel burning, according to a study published in the journal Nature Communications.
Teen activist Greta Thunberg delivered a talking-to to members of Congress Tuesday during a meeting of the Senate Climate Change Task Force after politicians praised her and other youth activists for their efforts and asked their advice on how to fight climate change.
Ten feet of water flooded 20 percent of this Minot, North Dakota neighborhood in June 2011.
DVIDSHUB
/
CC BY 2.0