This website uses cookies to ensure you get the best experience while browsing it. By clicking 'Got It' you're accepting these terms.
Pink Is Not Green: Companies That Support Fighting Cancer Should Not Use Chemicals That Cause It
Feb. 09, 2015 08:59AM EST
Fracking
Everyone remembers the Komen vs Planned Parenthood scandal from a couple years ago, right? To recap: Susan G. Komen for the Cure defunded Planned Parenthood because, in addition to providing breast health services, they also offer—gasp—contraception and abortions. While Komen eventually caved to public pressure and reversed their decision, the damage was done. The scandal outed Komen as a right-wing institution.
So it should be no surprise that Komen's conservative culture extends beyond reproductive rights, that they also take positions that fly in the face of common-sense environmental sensibilities. A women's health charity opposing access to reproductive health care is shocking, and the same charity taking anti-environment positions given that breast cancer increasingly linked to environmental causes is plain wrong.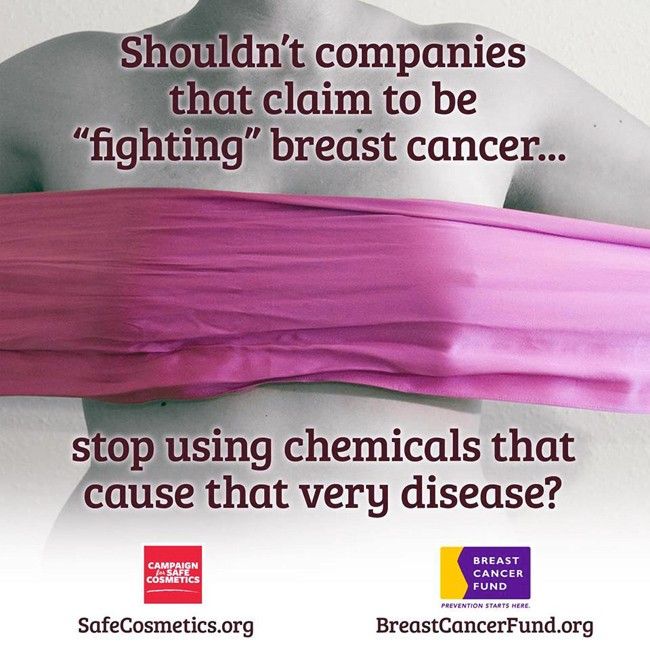 Komen sells and endorses toxic pink ribbon products.
We are all exposed to a slew of toxic or hazardous chemicals in our daily lives. Companies regularly sell products that contain toxic or hazardous ingredients that can impact the health of consumers. While we'd all love to avoid products that have problem ingredients, the kind of attention and painstaking ingredient-list reading is not possible for most of us, which means that we are exposed to numerous harmful chemicals without our consent or knowledge. And pink ribbon products are no exception. Breast Cancer Action calls this practice pinkwashing.
Komen's long list of corporate sponsors includes several companies that are selling a product which contains breast cancer causing ingredients, including Ford and American Airlines whose emissions are linked to increased risk of the disease, and Alhambra Water, which sells plastic water bottles emblazoned with pink ribbons—and that contain BPA, a hormone-disrupting chemical linked to breast cancer.
To be fair, Komen is not alone in their pinkwashing. Frustratingly, there are seemingly endless examples of this hypocritical practice, made possible by multi-million breast cancer charities happy to loan their name and pink ribbon stamp of approval to hazardous products.
Komen endorses fracking.
Fracking, the very controversial practice of using a mix of toxic and hazardous chemicals to extract oil and gas from deep underground can count Komen as a fan and supporter. Even though fracking fluid contains chemicals linked to increased risk for breast cancer.
In 2012, Komen partnered with Chesapeake Energy's subsidiary, Nomac Drilling, for a pink ribbon-wrapped fracking rig in rural Ohio. And in 2013 and 2014, Komen again made a truly astounding partnership decision, this time with fracking company Baker Hughes, which was publicized with, I kid you not, pink drill bits "for the cure."
When it comes to toxic chemical safety, Komen stays silent and rakes in the money.
It sounds wonky, but the legislative effort to pass chemical safety reform is the most promising, and potentially comprehensive effort to reduce the public's exposure to toxic, cancer-causing chemicals. Of course, Komen is not only conspicuously absent, but has ties to chemical industry lobbyists who are standing in the way.
Some background for the non-wonks among us: Environmental and public health organizations have worked for years to update the ancient Toxic Substances Control Act (TSCA), which even the U.S. Environmental Protection Agency—tasked with enforcing it—acknowledges is woefully inadequate to address the seemingly endless list of toxic and harmful chemicals that we encounter with every day—from BPA in cans to flame retardants in furniture and phthalates in plastics.
Rather than lend their tremendous weight to pass chemical safety legislation, which just as easily could be called "cancer prevention" legislation, Komen counts as partners and sponsors organizations that are members of the American Chemistry Council. The ACC is a lobbying firm intent on undermining and derailing these efforts to ensure that toxic chemicals that can cause breast cancer remain under-regulated.
3M, which makes pink ribbon post-it notes, and Merck, a pharmaceutical company which does breast cancer research, are ACC member companies, and are also among Komen's corporate sponsors. What's worse is that the ACC and the industrial chemical industry has, so far, succeeded—as of early 2015, it appears that the conservative effort to quash meaningful TSCA reform is a success.
Komen's smiling, cheerful brand, synonymous with the pink ribbon and "breast cancer awareness," essentially serves as the mechanism for this deep environmental hypocrisy to play out. Nobody who cares about clean air, clean water or non-toxic consumer products should be giving Komen their time or money. Instead, there are plenty of great organizations that put women's health first, and work to reduce our exposure to cancer causing chemicals—lets support them instead.
YOU MIGHT ALSO LIKE
4 Steps to Detoxify Your Kitchen
Baby Carrots: A Great Way to Get Kids to Snack on Veggies, But Are They Safe?
EcoWatch Daily Newsletter
Waterloo Bridge during the Extinction Rebellion protest in London. Martin Hearn / Flickr / CC BY 2.0
Money talks. And today it had something to say about the impending global climate crisis.
Sam Cooper
By Sam Cooper
Thomas Edison once said, "I'd put my money on the sun and solar energy. What a source of power!"
Simple swaps that cut down on kitchen trash.
Sponsored
By Kayla Robbins
Along with the bathroom, the kitchen is one of the most daunting areas to try and make zero waste.
A NOAA research vessel at a Taylor Energy production site in the Gulf of Mexico in September 2018. NOAA
The federal government is looking into the details from the longest running oil spill in U.S. history, and it's looking far worse than the oil rig owner let on, as The New York Times reported.
Golde Wallingford submitted this photo of "Pure Joy" to EcoWatch's first photo contest. Golde Wallingford
EcoWatch is pleased to announce our third photo contest!

Damage at the Malheur National Wildlife Refuge from the 2016 occupation. USFWS
By Tara Lohan
When armed militants with a grudge against the federal government seized the Malheur National Wildlife Refuge in rural Oregon back in the winter of 2016, I remember avoiding the news coverage. Part of me wanted to know what was happening, but each report I read — as the occupation stretched from days to weeks and the destruction grew — made me so angry it was hard to keep reading.
Computer model projection of temperature anomalies across Europe on June 27. Temperature scale in °C. Tropicaltidbits.com
A searing heat wave has begun to spread across Europe, with Germany, France and Belgium experiencing extreme temperatures that are set to continue in the coming days.
Skull morphology of hybrid "narluga" whale. Nature / Mikkel Høegh Post
In the 1980s, a Greenlandic subsistence hunter shot and killed a whale with bizarre features unlike any he had ever seen before. He knew something was unique about it, so he left its abnormally large skull on top of his toolshed where it rested until a visiting professor happened upon it a few years later.