Photos Highlight Global Extent of Shark Fin Trade
Oct. 19, 2011 12:49PM EST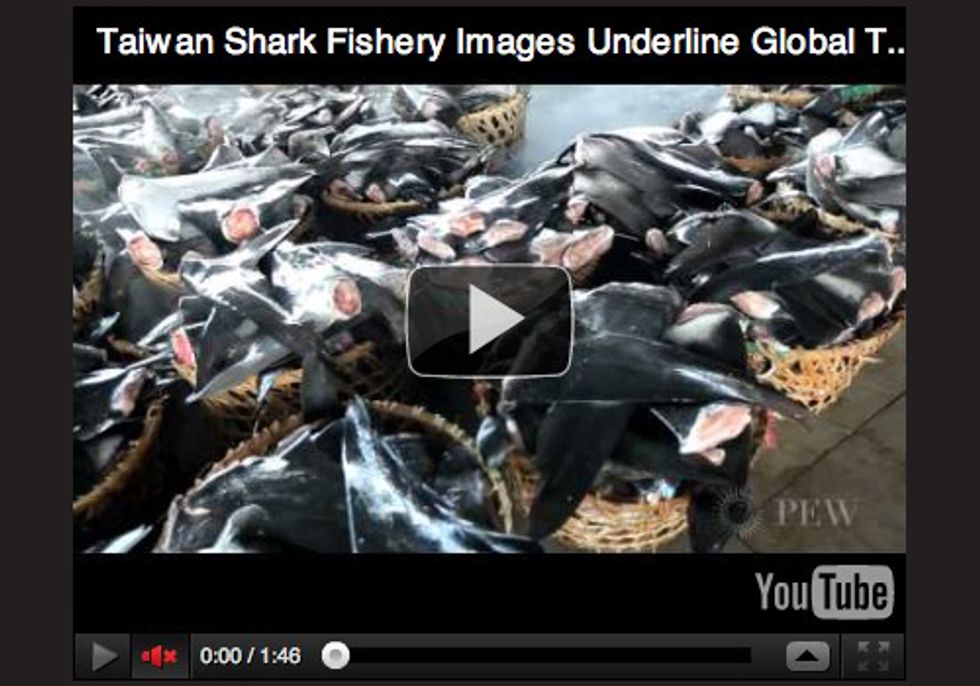 Ten months after releasing a landmark report revealing the planet's top 20 shark-fishing catchers, the Pew Environment Group is expressing concern about new images and video taken in Taiwan that detail the expansive and unregulated nature of shark fishing globally. The depictions show fins and body parts of biologically vulnerable shark species, such as scalloped hammerhead and oceanic whitetip, being readied for market.
"These images present a snapshot of the immense scale of shark-fishing operations and show the devastation resulting from the lack of science-based management of sharks," said Matt Rand, director of global shark conservation at the Pew Environment Group. "Unfortunately, since there are no limits on the number of these animals that can be killed in the open ocean, this activity can continue unabated."
The report by Pew and TRAFFIC, the wildlife trade monitoring network, listed Taiwan as having the fourth-largest number of reported shark catches in the world after Indonesia, India and Spain. Those four account for more than 35 percent of total global landings.
The demand for shark fins, meat, liver oil and other products has driven some populations of these animals to the brink of extinction. Up to 73 million sharks are killed annually to support the global trade in their fins. The International Union for Conservation of Nature assessed in its Red List of Threatened Species that 30 percent of shark populations around the world are threatened or near threatened with extinction. Since sharks are top predators, their depletion also has risks for the health of entire ocean ecosystems.
"This strip-mining of the world's sharks is clearly unsustainable, and governments need to act now if these predators are to swim the world's oceans in the future," said Rand.
To address the overfishing of sharks, governments should immediately:
Establish shark sanctuaries, just as the Marshall Islands, Palau, the Maldives, Honduras, the Bahamas and Tokelau have done, where the animals are fully protected from exploitation.
End fishing of sharks for which science-based management plans are not in place or for those that are threatened or near threatened with extinction.
Devise and implement an effective national plan of action for the conservation and management of sharks.
Eliminate shark bycatch, the accidental catch of a species during targeted fishing for other species.
For more information, click here.
EcoWatch Daily Newsletter