Photo of 'Mutant Daisies' Near Fukushima Goes Viral
Jul. 23, 2015 11:44AM EST
Energy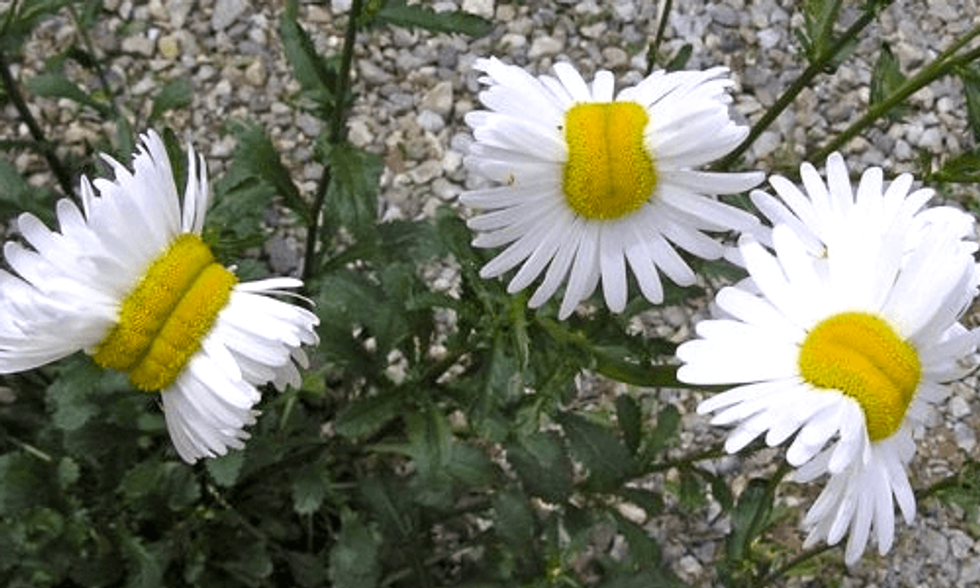 A recent photograph of less-than-perfect daisies near Japan's Fukushima nuclear disaster site is generating headlines and is making the rounds on social media.
マーガレットの帯化(那須塩原市5/26)② 右は4つの花茎が帯状に繋がったまま成長し,途中で2つに別れて2つの花がつながって咲いた。左は4つの花茎がそのまま成長して繋がって花が咲き輪の様になった。空間線量0.5μSv地点(地上高1m) pic.twitter.com/MinxdFgXBC

— 三悔堂 (@san_kaido) May 27, 2015
The image, showing daisies with a fused center and petals growing out the side, was posted by Twitter user @San_kaido of Nasushiobara, a city that borders Fukushima prefecture to the north. According to a translation from the International Business Times, the tweet reads:
"The right one grew up, split into 2 stems to have 2 flowers connected each other, having 4 stems of flower tied belt-like. The left one has 4 stems grew up to be tied to each other and it had the ring-shaped flower. The atmospheric dose is 0.5 μSv/h at 1m above the ground."
Should we be worried about these flowers being a sign of the End Times? Anyone who's ever eaten "ugly" produce knows that these variations from "perfection" are rare but normal.
Gardening experts explained to the International Business Times that "abnormal growth that distorts the heads of daisies and other wildflowers is caused by hormonal imbalance." So this photo might not be a sign of the effects of nuclear radiation but from fasciation, aka cresting, "a relatively rare condition of abnormal growth in vascular plants. Fasciation may cause plant parts to increase in weight and volume," the experts added.
A post on Snopes also pointed out that "daisies showcasing similar mutations have been found at locations far away from nuclear radiation," citing this photo of a daisy in the Netherlands and this photo in Idaho.
In fact, if you type in "mutant daisies" into Google images, up pop countless images of this "deformation," a point made by Mike Shellenberger, president of environmental research group Breakthrough Institute.
Fukushima causes mutant daisies @weatherchannel reports!! Oh wait, sorry. Mutant daisies are common #badjournalism pic.twitter.com/Kf84lwialr

— Mike Shellenberger (@MichaelBTI) July 21, 2015
Still, real horror stories have emerged in the four years since a powerful earthquake and tsunami struck the nuclear power plant, and Japan is still reeling from the devastation.
As Harvey Wasserman reported, 300 tons of radioactive water have been pouring into the Pacific every day.
He also wrote in a separate post, "more than 48 percent of some 375,000 young people—nearly 200,000 kids—tested by the Fukushima Medical University near the smoldering reactors now suffer from pre-cancerous thyroid abnormalities, primarily nodules and cysts. The rate is accelerating."
YOU MIGHT ALSO LIKE
Aging Nuclear Power Plant Must Close Before It Closes Us
'San Andreas' Blockbuster Has Huge Radioactive Omissions
EcoWatch Daily Newsletter
Recent Stories from EcoWatch