Philippines to World Leaders: Our Survival Is Not Negotiable
Oct. 20, 2015 12:22PM EST
Climate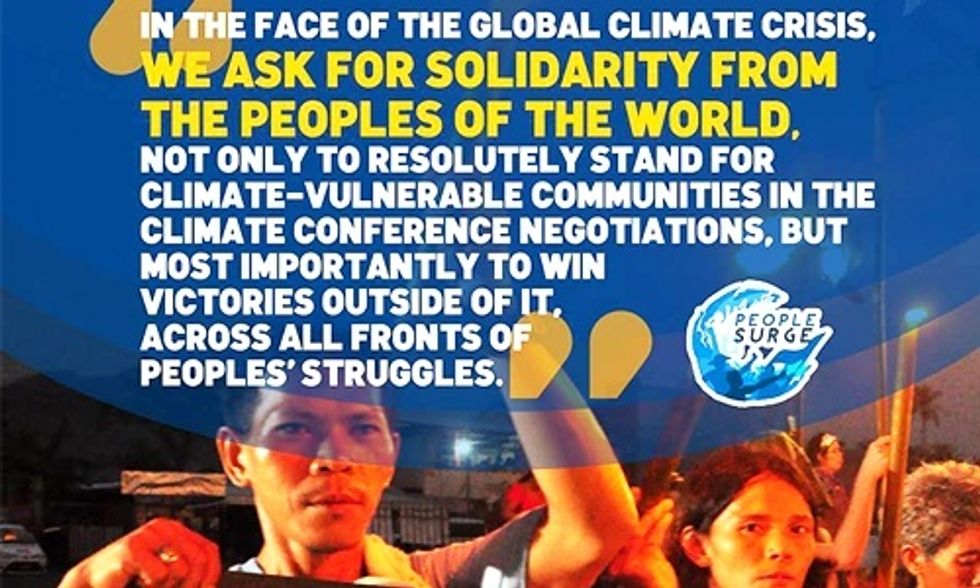 We often imagine weekends as leisure time spent with family and friends.
The opposite was true for the people residing in Northern Luzon, Philippines as they spent their weekend tending to their loved ones' safety as the Category 4 super typhoon Koppu (known locally as Lando) arrived, bringing widespread flooding and lashing winds.
The typhoon made landfall on Sunday in Casiguran, on the island of Luzon, with winds close to 200 km/h. Among the hardest-hit areas were the eastern coastal town of Baler, where significant building damage was reported and the inland city of Cabanatuan, about 100 kilometers north of Manila, where widespread flooding was reported and several rescues requested.
By Monday, Koppu left 12 people dead, several missing, 16,000 displaced and caused power outages in entire provinces. Two elderly farmers, Mario Abesamis, 54, and Pedro Tuarez, 65, died after being caught by flood waters as they tried to save their carabaos near Cabanatuan City, in Nueva Ecija.
Typhoon victims putting their lives on the line for the sake of their animals is a common challenge for disaster officials in the Philippines. Carabaos are more than pets for these farmers; as working animals play a vital role in cultivating the land people earn a living from, they consider them to be part of their families.
This shack blown across the road by #typhoon #Koppu #LandoPH http://t.co/LH69pf8xl5

— James Reynolds (@James Reynolds)1445135002.0
[VIDEO] Residents attending to their submerged vehicles in Cabanatuan. #LandoPH http://t.co/fYpKw0dFCz | via @raphbosano

— ABS-CBN News Channel (@ABS-CBN News Channel)1445172938.0
River overflowed in Maria Aurora, Aurora, causing a flash flood | via @Dennis_Datu #LandoPH http://t.co/HZfvi16A1O

— ABS-CBN News (@ABS-CBN News)1445150659.0
Bangui windmill in Ilocos Norte amid #Lando #Koppu @cnnphilippines http://t.co/ACqUF7AltA

— David Y. Santos (@David Y. Santos)1445137407.0
Heavy rains currently lashing Baler. Four barangays now flooded #LandoPh | @MrPaulGarcia #Koppu http://t.co/EW7YUHzXk3

— CNN Philippines (@CNN Philippines)1445141708.0
Children in an evacuation shelter in northern Luzon aftermath fleeing homes because of threat of landslides #koppu http://t.co/33dAZoqHIe

— Jon Donnison (@Jon Donnison)1445237893.0
A man and his pig stay afloat in floodwaters caused by Typhoon Koppu in the Philippines http://t.co/26zM3RZjMM http://t.co/IFNGyQ3h37

— AFP news agency (@AFP news agency)1445233311.0
Appeal for Support
The government, aid agencies and humanitarian organizations are currently scrambling to respond to the destruction left in Koppu's wake, appealing for volunteers and materials to support their response work.
Current needs include basic survival means, such as food, medicine, water supplies and sanitary kits for the displaced families who are currently staying in evacuation centers.
Click here to support the Citizens' Disaster Response Center in providing assistance to the most affected, least served and most vulnerable sectors of the population.
The Imperative for Drastic Climate Action
The ever-increasing and intensifying storms that have wreaked havoc on the Philippines in the past decade are clear indications that the world has changed, and living with the spectre of extreme weather events has become a new normal for many people.
Communities are starting to make the connection between extreme weather and climate justice. For example, super typhoon Haiyan survivors came together in January of 2014 to establish the Alliance for Disaster Survivors in the Philippines (People Surge).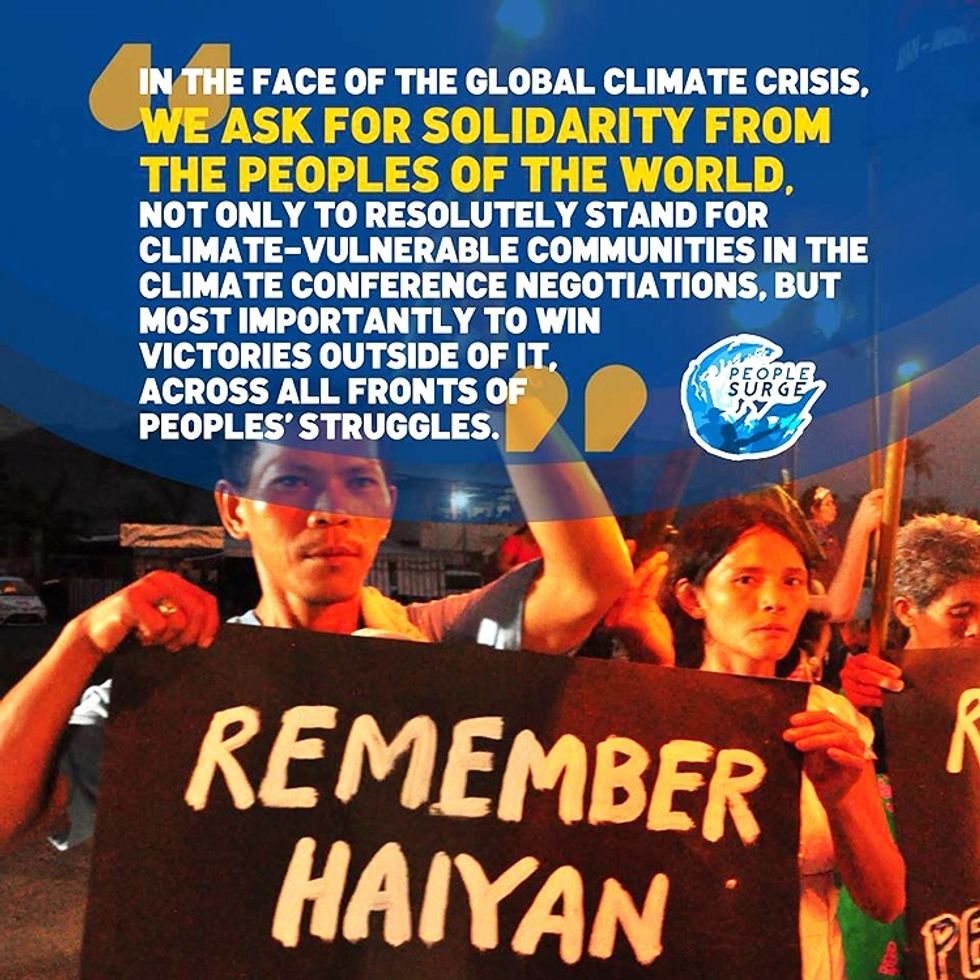 As we appeal for relief for those immediately affected by the typhoon, we reiterate our call for industrialized nations to put money on the table for adaptation, mitigation and forest protection in the negotiations of COP21, the upcoming climate conference in Paris. Answering this call could help countries that, like the Philippines, are most vulnerable and least prepared to deal with the impacts of catastrophic climate change.
With just a one-degree increase of human-caused global warming, we are already seeing storms that are more intense than ever before, which should serve as a serious warning about the dangers of global warming. We need to steer clear of the three-degree Celsius increase that we'd see if we allow the business of fossil fuel emissions to go on as usual. Business as usual will cost our people too much.
Two years after typhoon Haiyan hit Tacloban, survivors are still struggling for their dignity, rights and justice by campaigning for a rehabilitation program with people rather than big business at its core. They are also working to link their struggle with the global work of holding historic emitters accountable for their inequitable greenhouse gas contributions.
That is why People Surge is calling for global demonstrations and solidarity actions from October to December, to remind the Philippines government and world leaders meeting in Paris that our survival is not negotiable.
YOU MIGHT ALSO LIKE
Dalai Lama: Climate Change Is Destroying Tibet's 'Roof of the World'
Drought Causes 450-Year-Old Church to Re-Emerge
Oslo Becomes First Capital City in the World to Divest From Fossil Fuels
EcoWatch Daily Newsletter
Recent Stories from EcoWatch