Philippines Negotiator Ties Massive Typhoon to Global Warming and Pledges Hunger Strike at Warsaw Climate Talks
Diplomats, negotiators and civil society representatives from around the world held their breath this afternoon at the United Nations Climate Talks in Warsaw, Poland, this afternoon as Yeb Sano, the lead negotiator for the Philippines, began to address the opening of the conference.
More than 10,000 people are feared dead in the aftermath of Typhoon Haiyan, which slammed into the Philippines this weekend, causing apocalyptic devastation across a number of islands.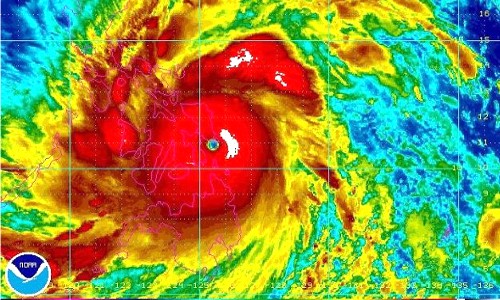 While scientists are careful not to connect any single weather event to climate change, it's clear that global warming is loading the dice for devastating events like Typhoon Haiyan. Rising seas, warmer waters and a warmer and wetter atmosphere, all contribute to supercharge storms like Haiyan and Hurricane Sandy. Scientists have warned that extreme weather events will only increase in intensity and frequency if climate change is left unchecked.
Addressing the UN Climate Talks on behalf of the Philippines, Sano didn't hesitate to connect Typhoon Haiyan to climate change and the fossil fuel industry's role in fueling the crisis.
He began by thanking the global community, and especially young people, for the support and solidarity that they have shown the people of the Philippines.
"I thank the youth present here and the billions of young people around the world who stand steadfast behind my delegation and who are watching us shape their future," said Sano. "I thank civil society, both who are working on the ground as we race against time in the hardest hit areas, and those who are here in Warsaw prodding us to have a sense of urgency and ambition.
"We are deeply moved by this manifestation of human solidarity," Sano continued. "This outpouring of support proves to us that as a human race, we can unite; that as a species, we care."
Sano spoke of the terrifying devastation that Typhoon Haiyan has wrecked upon the Philippines, before connecting the dots directly to the climate crisis.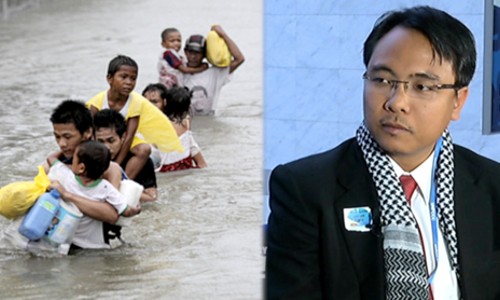 "To anyone who continues to deny the reality that is climate change, I dare you to get off your ivory tower and away from the comfort of you armchair," he said. "I dare you to go to the islands of the Pacific, the islands of the Caribbean and the islands of the Indian ocean and see the impacts of rising sea levels; to the mountainous regions of the Himalayas and the Andes to see communities confronting glacial floods, to the Arctic where communities grapple with the fast dwindling polar ice caps, to the large deltas of the Mekong, the Ganges, the Amazon and the Nile where lives and livelihoods are drowned, to the hills of Central America that confronts similar monstrous hurricanes, to the vast savannas of Africa where climate change has likewise become a matter of life and death as food and water becomes scarce."
"Not to forget the massive hurricanes in the Gulf of Mexico and the eastern seaboard of North America," Sano continued. "And if that is not enough, you may want to pay a visit to the Philippines right now. What my country is going through as a result of this extreme climate event is madness. The climate crisis is madness."
Sano said that he identified with the young people and activists around the world who are standing up to the fossil fuel industry, protesting in the streets and committing civil disobedience. He shared their frustration and appreciated their courageous action. The same sort of leadership was necessary here in Warsaw, he said.
"We can take drastic action now to ensure that we prevent a future where super typhoons are a way of life," said Sano. "Because we refuse, as a nation, to accept a future where super typhoons like Haiyan become a fact of life. We refuse to accept that running away from storms, evacuating our families, suffering the devastation and misery, having to count our dead, become a way of life. We simply refuse to."
Sano then went off the prepared script of his remarks that were released to the media to announce that he would be commencing a voluntary fast.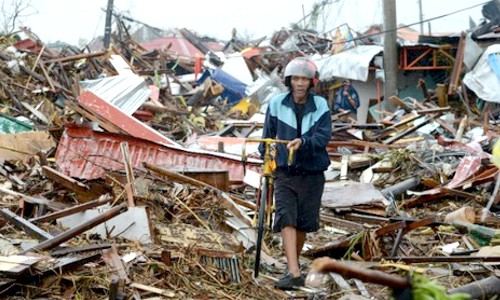 "In solidarity with my countrymen who are struggling to find food back home and with my brother who has not had food for the last three days, in all due respect Mr. President, and I mean no disrespect for your kind hospitality, I will now commence a voluntary fasting for the climate. This means I will voluntarily refrain from eating food during this COP until a meaningful outcome is in sight."
Meaningful action, he explained would involve real commitments around climate finance.
"We call on this COP to pursue work until the most meaningful outcome is in sight," Sano said further. "Until concrete pledges have been made to ensure mobilization of resources for the Green Climate Fund. Until the promise of the establishment of a loss and damage mechanism has been fulfilled; until there is assurance on finance for adaptation; until concrete pathways for reaching the committed 100 billion dollars have been made; until we see real ambition on stabilizing greenhouse gas concentrations. We must put the money where our mouths are."
"Let Poland, let Warsaw, be remembered as the place where we truly cared to stop this madness," Sano concluded. "Can humanity rise to this occasion? Mr. President, I still believe we can."
At the end of his speech, the entire room here at the negotiations rose to their feet in a standing ovation. As the applause continued for minute after minute, a chant started up up in the back of the room, "We stand with you! We stand with you!"
The Philippines, and Yeb Sano have become a voice for the billions of people around the world who are already feeling the impacts of climate change.and are worried about their and their children's future. Let's hope that not only the public, but our politicians, can find the courage to stand with him and all of those pushing for action here at the talks in Warsaw.
Monsanto, the maker of the glyphosate-based herbicide Roundup, filed a motion June 16 in U.S. District Court, Northern District of California to reconsider the chemical's addition to California's Proposition 65 list of agents known to cause cancer.
The agrochemical giant made this move based on a June 14 Reuters investigation of Dr. Aaron Blair, a lead researcher on the World Health Organization's International Agency for Research on Cancer (IARC) committee, that classified glyphosate as a "2A probable human carcinogen" in March 2015.
Keep reading...
Show less
By Avery Friedman
Algae is often considered a nuisance, but for Sweden, the rapidly growing sea plant is now an asset.
As the Scandinavian country works to cut all of its greenhouse gas emissions by 2045, it's using algae to sop up the carbon emissions from cement.
Keep reading...
Show less
Jun. 24, 2017 01:35PM EST
By Itai Vardi
A recent intensification in protests against Williams Partners' planned Atlantic Sunrise pipeline in Pennsylvania prompted a state senator to propose legislation aimed at limiting demonstrations.
Last month, Pennsylvania Sen. Scott Martin (R-Norman) announced his intention to introduce legislation that would pass the costs of law enforcement responding to protests onto the demonstrators. Martin also helped introduce a different bill that would criminalize protests at natural gas facilities.
Keep reading...
Show less
Jun. 24, 2017 01:29PM EST
Black Shogun / iStock
The Federal Energy Regulatory Commission (FERC) released its Final Environmental Impact Statement Friday for the Mountain Valley Pipeline, a controversial 303-mile pipeline that would carry two billion cubic feet of fracked gas per day from West Virginia through Virginia.
Keep reading...
Show less
Jun. 24, 2017 01:46PM EST
Falcon PEV
The so-called "first and last mile" problem is one of the biggest hurdles with public transportation. How do you encourage more people to take Earth-friendlier commutes when their homes are miles away from the train or bus station?
One solution, as this Estonian electric scooter company proposes, is to simply take your commute with you—literally. Tallinn-based Stigo has developed a compact e-scooter that folds to the size of a rolling suitcase in about two seconds.
Keep reading...
Show less
Jun. 24, 2017 05:12PM EST
Connect4Climate
[Editor's note: I'm still in shock after hearing the news that Lucia Grenna passed away in her sleep last week. When we first met in April of 2014 at a Copenhagen hotel, I was immediately taken by here powerful presence. We spent the next couple days participating in a Sustainia climate change event where Lucia presented her audacious plans to connect people to the climate issue. I had the chance to partner with Lucia on several other projects throughout the years and work with her incredible Connect4Climate team. I was always in awe of her ability to "make the impossible possible." Her spirit will live on forever. — Stefanie Spear]
It is with a heavy heart that Connect4Climate announces the passing of its founder and leading light, Lucia Grenna. Lucia passed peacefully in her sleep on June 15, well before her time. We remember her for her leadership and extraordinary ability to motivate people to take on some of the greatest challenges of our time, not least climate change.
Keep reading...
Show less
Jun. 23, 2017 07:29PM EST
Wikimedia Commons
By Stacy Malkan
Neil deGrasse Tyson has inspired millions of people to care about science and imagine themselves as participants in the scientific process. What a hopeful sign it is to see young girls wearing t-shirts emblazoned with the words, "Forget princess, I want to be an astrophysicist."
Keep reading...
Show less
Jun. 23, 2017 01:57PM EST
www.youtube.com
By Andy Rowell
Any day now we will truly witness climate change in action. Within days at worst, maybe weeks at best, scientists predict that a huge section of the Larsen C ice shelf in Antarctica will break off into the ocean, in what is called a major "carving" event.
Keep reading...
Show less
Jun. 23, 2017 02:27PM EST
www.youtube.com
President Trump visited Cedar Rapids, Iowa on June 21 to speak to a large crowd in the U.S. Cellular Center at a political rally organized by his campaign.
As Trevor Noah noted during The Daily Show episode last night (starts at 2:25), the real reason Trump has these rallies is to "get back in front of his loyal crowds and feed of their energy." Noah believes that "Trump supporters are so on board with their dude he can say anything and they'll come along for the ride."
Keep reading...
Show less