This website uses cookies to ensure you get the best experience while browsing it. By clicking 'Got It' you're accepting these terms.
Pew Applauds Measure to Preserve Effectiveness of Critical Antibiotics
Jan. 05, 2012 09:00AM EST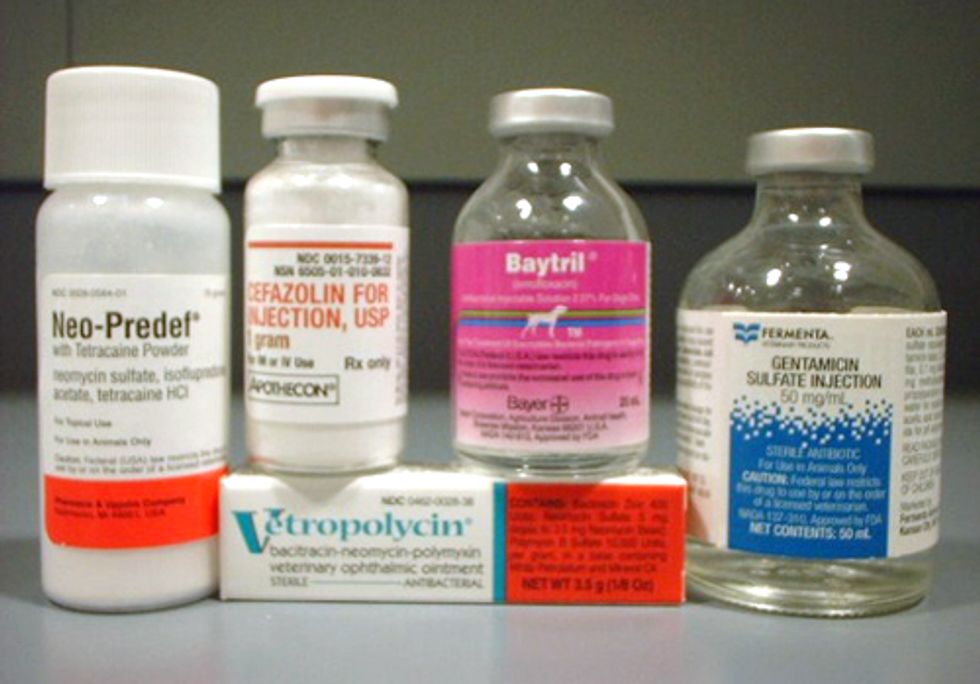 The Pew Campaign on Human Health and Industrial Farming praised the U.S. Food and Drug Administration (FDA) Jan. 4 for limiting the use of cephalosporins in food animal production.
Cephalosporins are vital treatments for children suffering from infection. Unlike other antibiotics, such as fluoroquinolones and tetracyclines, they carry no warnings or precautions for pediatric use. They also are important medicines for treating people suffering from bacterial meningitis and infections of the bone, urinary tract, and upper respiratory system, as well as those associated with cancer.
 
"We applaud FDA's move," said Laura Rogers, project director of the Pew Campaign on Human Health and Industrial Farming. "This restriction is a victory for human health, as it will help ensure we can still rely on cephalosporins to treat life-threatening infections today and in the future."
 
Although FDA has approved cephalosporins to treat some infections in food animals, the drugs often are administered in ways not specifically approved by the agency. Its rule will apply to such extralabel use of cephalosporins in meat and poultry production, which multiple studies have linked to the emergence of cephalosporin-resistant bacteria that can infect people.
 
If cephalosporins continue to be overused on industrial farms, these drugs will lose their effectiveness. As a result, many human infections will become more difficult to treat, leading to more deaths and higher health care costs.
"Today's action is a good first step," added Ms. Rogers, "and we encourage FDA to issue guidelines expeditiously that restrict the overuse and misuse of other critical antibiotics on industrial farms."
In 2010, officials from FDA, the U.S. Department of Agriculture, and the Centers for Disease Control and Prevention testified before Congress that there was a definitive link between the uses of antibiotics in food animal production and the crisis of antibiotic resistance in humans. In addition, many medical organizations including the American Medical Association, the American Academy of Pediatrics and the World Health Organization warn that this practice is putting human health at risk.
 
To ensure additional human antibiotics work when we need them, the Pew Campaign on Human Health and Industrial Farming also urges Congress to pass the Preservation of Antibiotics for Medical Treatment Act (H.R. 965, S. 1211).
A 60-day public comment will follow FDA's announcement, during which Pew will submit a formal response to the agency.
For more information, click here.
EcoWatch Daily Newsletter
Participants of the climate demonstration Fridays for Future walk through Hamburg, Germany on Feb. 21, 2020. Axel Heimken / picture alliance via Getty Images
Blue whale (Balaenoptera musculus) surfacing, showing the remains of a blow and its mottled appearance near South Georgia Island in the Polar Regions. Mick Baines & Maren / Getty Images
The largest animal on Earth is proving that wildlife protections work.
More than 300 people were forced to evacuate and 46 were sent to the hospital after a gas pipeline ruptured in Mississippi Saturday.

Pexels
By Tim Lydon
Climate-related disasters are on the rise, and carbon emissions are soaring. Parents today face the unprecedented challenge of raising children somehow prepared for a planetary emergency that may last their lifetimes. Few guidebooks are on the shelves for this one, yet, but experts do have advice. And in a bit of happy news, it includes strategies already widely recognized as good for kids.
Pexels
Be it Nina Simone and James Brown for civil rights, Joni Mitchell and Marvin Gaye for the environment, or Jackson Browne and Buffalo Springfield for nuclear disarmament, musicians have long helped push social movements into the limelight.