This website uses cookies to ensure you get the best experience while browsing it. By clicking 'Got It' you're accepting these terms.
Pew Applauds Measure to Preserve Effectiveness of Critical Antibiotics
Jan. 05, 2012 09:00AM EST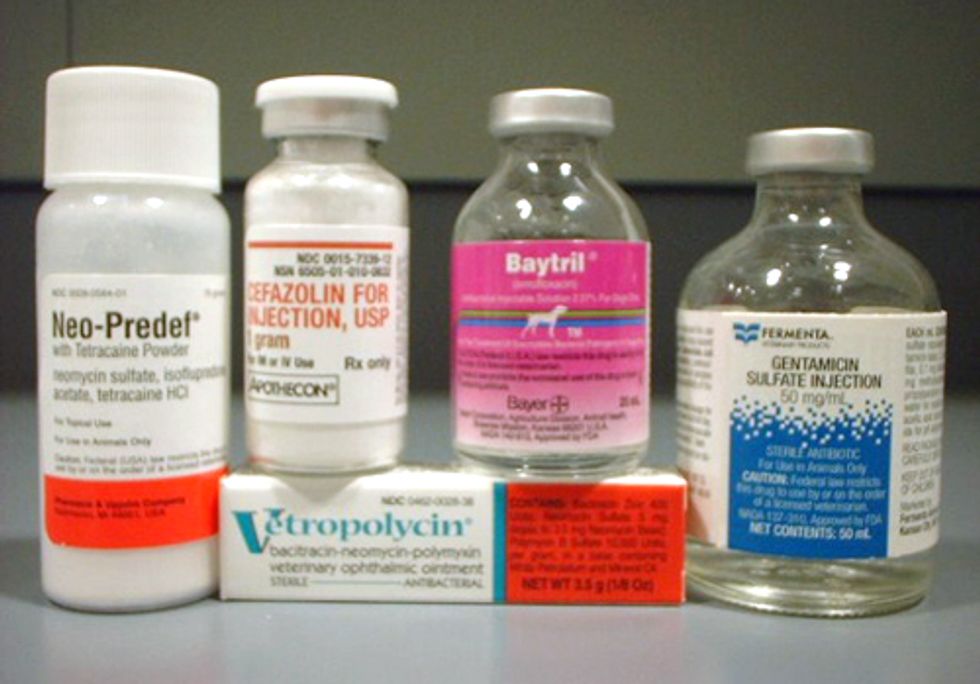 The Pew Campaign on Human Health and Industrial Farming praised the U.S. Food and Drug Administration (FDA) Jan. 4 for limiting the use of cephalosporins in food animal production.
Cephalosporins are vital treatments for children suffering from infection. Unlike other antibiotics, such as fluoroquinolones and tetracyclines, they carry no warnings or precautions for pediatric use. They also are important medicines for treating people suffering from bacterial meningitis and infections of the bone, urinary tract, and upper respiratory system, as well as those associated with cancer.
 
"We applaud FDA's move," said Laura Rogers, project director of the Pew Campaign on Human Health and Industrial Farming. "This restriction is a victory for human health, as it will help ensure we can still rely on cephalosporins to treat life-threatening infections today and in the future."
 
Although FDA has approved cephalosporins to treat some infections in food animals, the drugs often are administered in ways not specifically approved by the agency. Its rule will apply to such extralabel use of cephalosporins in meat and poultry production, which multiple studies have linked to the emergence of cephalosporin-resistant bacteria that can infect people.
 
If cephalosporins continue to be overused on industrial farms, these drugs will lose their effectiveness. As a result, many human infections will become more difficult to treat, leading to more deaths and higher health care costs.
"Today's action is a good first step," added Ms. Rogers, "and we encourage FDA to issue guidelines expeditiously that restrict the overuse and misuse of other critical antibiotics on industrial farms."
In 2010, officials from FDA, the U.S. Department of Agriculture, and the Centers for Disease Control and Prevention testified before Congress that there was a definitive link between the uses of antibiotics in food animal production and the crisis of antibiotic resistance in humans. In addition, many medical organizations including the American Medical Association, the American Academy of Pediatrics and the World Health Organization warn that this practice is putting human health at risk.
 
To ensure additional human antibiotics work when we need them, the Pew Campaign on Human Health and Industrial Farming also urges Congress to pass the Preservation of Antibiotics for Medical Treatment Act (H.R. 965, S. 1211).
A 60-day public comment will follow FDA's announcement, during which Pew will submit a formal response to the agency.
For more information, click here.
EcoWatch Daily Newsletter
Pexels
Vitamin C is a very important nutrient that's abundant in many fruits and vegetables.
BLM drill seeders work to restore native grasses after wildfire on the Bowden Hills Wilderness Study Area in southeast Oregon, Dec. 14, 2018. Marcus Johnson / BLM / CC BY 2.0
By Tara Lohan
In 2017 the Thomas fire raged through 281,893 acres in Ventura and Santa Barbara counties, California, leaving in its wake a blackened expanse of land, burned vegetation, and more than 1,000 destroyed buildings.
Brogues Cozens-Mcneelance / EyeEm / Getty Images
Fruit juice is generally perceived as healthy and far superior to sugary soda.
Pexels
By Danielle Nierenberg and Katherine Walla
As the holiday season ramps up for many across the world, Food Tank is highlighting 15 children's books that will introduce young eaters, growers and innovators to the world of food and agriculture. Authors and organizations are working to show children the importance — and fun — of eating healthy, nutritious and delicious food, growing their own produce, and giving food to others in need.
Pixabay
Purple cabbage, also referred to as red cabbage, belongs to the Brassica genus of plants. This group includes nutrient-dense vegetables, such as broccoli, Brussels sprouts, and kale.