This website uses cookies to ensure you get the best experience while browsing it. By clicking 'Got It' you're accepting these terms.
Petroleum Porn: The XXXL Pipeline
Oct. 25, 2012 09:21AM EST
Energy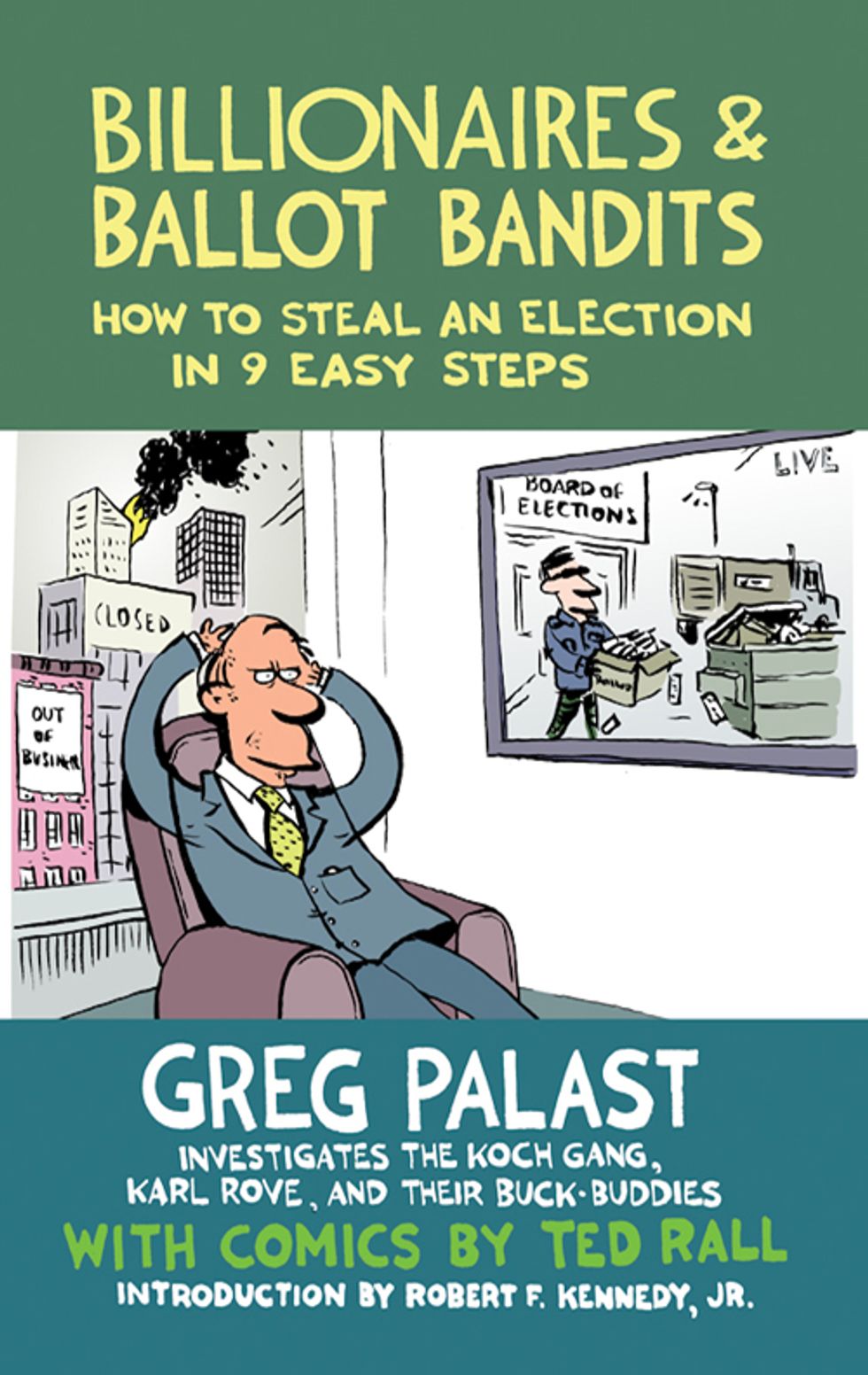 It was BBC Television's Greg Palast who, in 2000, exposed how Katherine Harris removed thousands of innocent Black citizens from voter rolls as "felons"—and stole the election for George Bush.
It was Palast for Rolling Stone, with co-author Robert F. Kennedy, Jr., who uncovered more ballotbending trickery—from inane ID laws to "caging" of absentee ballots that earned the thanks of the U.S. Civil Rights Commission and the hatred of ballot thieves everywhere, of both parties.
Now, Palast, using his inimitable undercover techniques and cache of inside documents, in detective story style, tells two stories in his newest book Billionaires & Ballot Bandits: How to Steal an Election in 9 Easy Steps. The first story—the 9 ways over 5.9 million votes can be stolen in November, unless the ballot bandits are stopped. The second story—the billionaire PAC-men who would purchase Congress and the White House through a mud-slide of money.
In his chapter Petroleum Porn: The XXXL Pipeline, Palast begins by describing Charles and David Koch as the most greedy men on the planet. The Koch brothers are worth more than $20 billion each. With campaign contributions totaling some $400 million, Palast asks:
What in 2012 could a president give them that they don't already have? To start with: the Keystone XL pipeline.
The proposed XL pipeline would bring thick, gunky tar-sands oil from Alberta, Canada, down across the entire U.S. to Texas, crossing America's biggest aquifers. God forbid this beast ever burst. Some voters opposed this, mostly those who object to hastening a world where we puke out our polluted lungs into rising seas on an overheating planet...
Politicians' competitive lust for crude at all costs has grown from embarrassing to pornographic. Still, why all this enthusiasm for the XL pipeline in particular? After all, there are plenty of other really stupid, dangerous, boneheaded energy schemes for Congress to blindly authorize.
Progressives looked in vain for the Koch Brothers' interest in the pipeline or in Canada's tar sands. But they were looking at the wrong end of the pipe. My question was, Why the hell are we running an oil pipe two thousand miles to Texas? That's a bit like "coals to Newcastle," ain't it?
The answer is: Flint Hills Refining of Corpus Christi, Texas—now owned by Koch Industries. In March 2012, the price to import light oil from Saudi Arabia was eighteen dollars a barrel higher than the heavy crude that Texas refineries import from Venezuela. East Coast refineries forced to import the premium Saudi oil were going broke, while Gulf Coast refineries like the Kochs' crank cash—so long as the heavy-crude supply flows...
With the election of 2012 approaching, President Obama could see the torches of angry citizens lighting the night sky around the White House. Angry citizens demanded the XL pipeline to bring them cheap gasoline. A crowd just as angry was made up of Green people who demanded Obama kill the great, black snake slithering down from Canada to Houston. (Well, that metaphor certainly got out of hand.)
So, Obama did the courageous thing—and announced he wouldn't make a decision on the XL pipeline until after the election.
That assumes you'll be reelected, homey, thought the Brothers Koch.
The two brothers committed to raise a quarter billion to push the president out of the White House and off their pipe. So they launched Americans for Prosperity. The Kochs' prosperity.
This excerpt only begins to tell the story of how democracy is being stolen from the American people. The introduction to the book, A Hostile Takeover of Our Country, by Robert F. Kennedy, Jr., further outlines how, as Kennedy states, "American democracy is under assault."
As excerpted from the introduction of Billionaires & Ballot Bandits: How to Steal an Election in 9 Easy Steps, Kennedy writes:
Two of the Koch Brothers, Charles and David, pledged $130 million to elect candidates who favor unrestrained corporate profiteering.
The senators and congressmen they fund and elect are not representing the United States—they are representing Koch and its oil industry cronies, Big Pharma, and the Wall Street banksters currently mounting a hostile takeover of our government...
For my part, I have no problem characterizing these corporate-centric super-PACs as treasonous. They are designed to subvert American democracy and turn our country over to the moneyed aristocracy. Their aspirations are apostasy to the notion of democratic governance that our Founders intended. We are now in a free fall toward old-fashioned oligarchy, that noxious thieving, tyrannical, oppressive species of government that America's original settlers fled Europe to escape.
Watch the book trailer below and then go buy this book. Don't worry Palast doesn't leave readers to the mercy of the billionaires, the book concludes with a tear-out, 7 Ways to Beat the Ballot Bandits. So go get ready for election day and stop the ballot bandits.
EcoWatch Daily Newsletter
Coral restoration in Guam. U.S. Pacific Fleet / CC BY-NC 2.0
By Erica Cirino
Visit a coral reef off the coast of Miami or the Maldives and you may see fields of bleached white instead of a burst of colors.
Cracker Lake, Glacier National Park, Montana. Jacob W. Frank / NPS / Flickr
By Jason Bittel
High up in the mountains of Montana's Glacier National Park, there are two species of insect that only a fly fishermen or entomologist would probably recognize. Known as stoneflies, these aquatic bugs are similar to dragonflies and mayflies in that they spend part of their lives underwater before emerging onto the land, where they transform into winged adults less than a half inch long. However, unlike those other species, stoneflies do their thing only where cold, clean waters flow.
Augusta National / Getty Images
By Bob Curley
The new chicken sandwiches at McDonald's, Popeyes, and Chick-fil-A all contain the MSG flavor enhancement chemical.
Experts say MSG can enhance the so-called umami flavor of a food.
The ingredient is found in everything from Chinese food and pizza to prepackaged sandwiches and table sauces.
McDonald's wants to get in on the chicken sandwich war currently being waged between Popeyes and Chick-fil-A.
Protesters march during a "Friday for future" youth demonstration in a street of Davos on Jan. 24 on the sideline of the World Economic Forum annual meeting. FABRICE COFFRINI / AFP / Getty Images
By Andrea Germanos
Youth climate activists marched through the streets of Davos, Switzerland Friday as the World Economic Forum wrapped up in a Fridays for Future demonstration underscoring their demand that the global elite act swiftly to tackle the climate emergency.
chuchart duangdaw / Moment / Getty Images
By Tim Radford
The year is less than four weeks old, but scientists already know that carbon dioxide emissions will continue to head upwards — as they have every year since measurements began — leading to a continuation of the Earth's rising heat.