This website uses cookies to ensure you get the best experience while browsing it. By clicking 'Got It' you're accepting these terms.
Pesticides Threaten Aquatic Species in the Wildest Stream in the West
Apr. 08, 2012 03:53PM EST
Insights + Opinion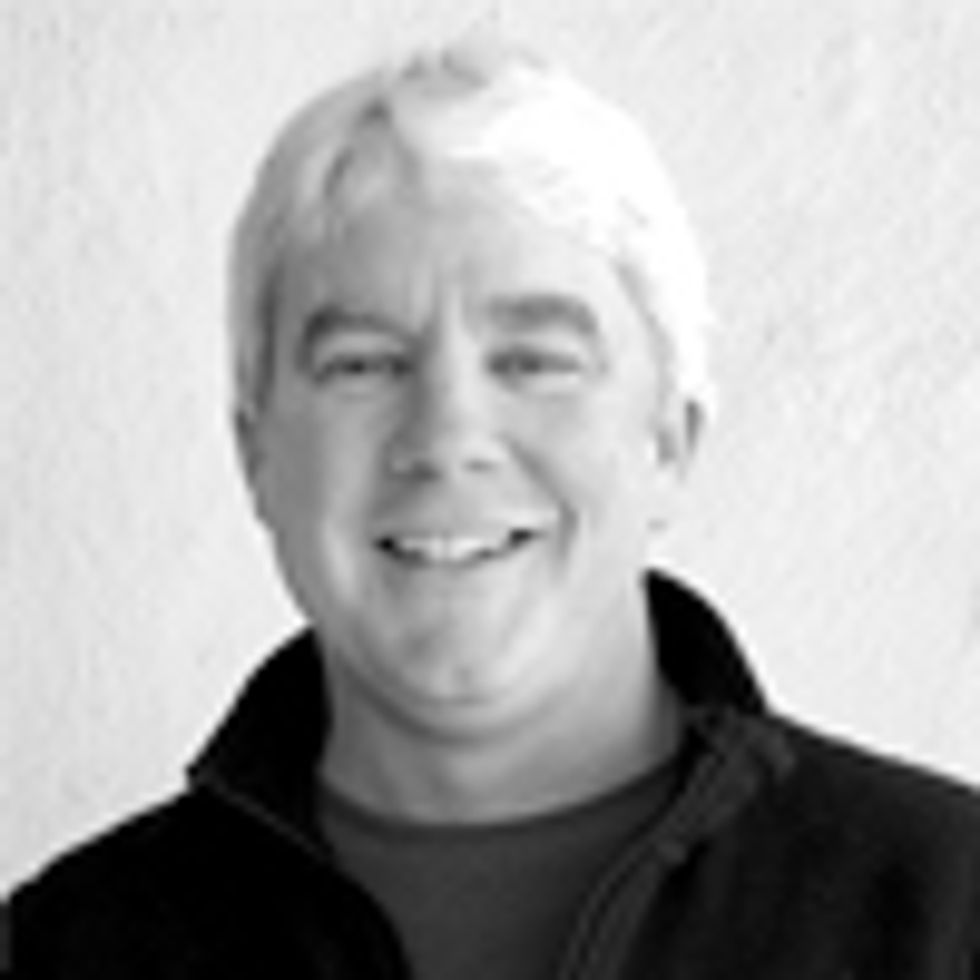 Travelers on the northern pitch of California find themselves ascending through the Klamath-Siskiyou Bioregion, one of the oldest, largest and wildest ecosystems in the U.S. outside of Alaska. The coastal gateway to this wildland is the Smith River, the only remaining undammed major river in California. The Smith is almost fully protected, a 719 square-mile paradise where salmon and steelhead of monumental size still reign in a state whose fishery flirts with extinction.
Incredibly, for the past half-century local farmers—who grow ninety percent of the U.S. production of Easter lily bulbs—have applied an annual average of 300,000 pounds of highly toxic pesticides on some 1,000 acres of lily fields that drain directly to the Smith River estuary. Estuaries provide critical habitat for salmonids—particularly endangered Coho salmon—and other species.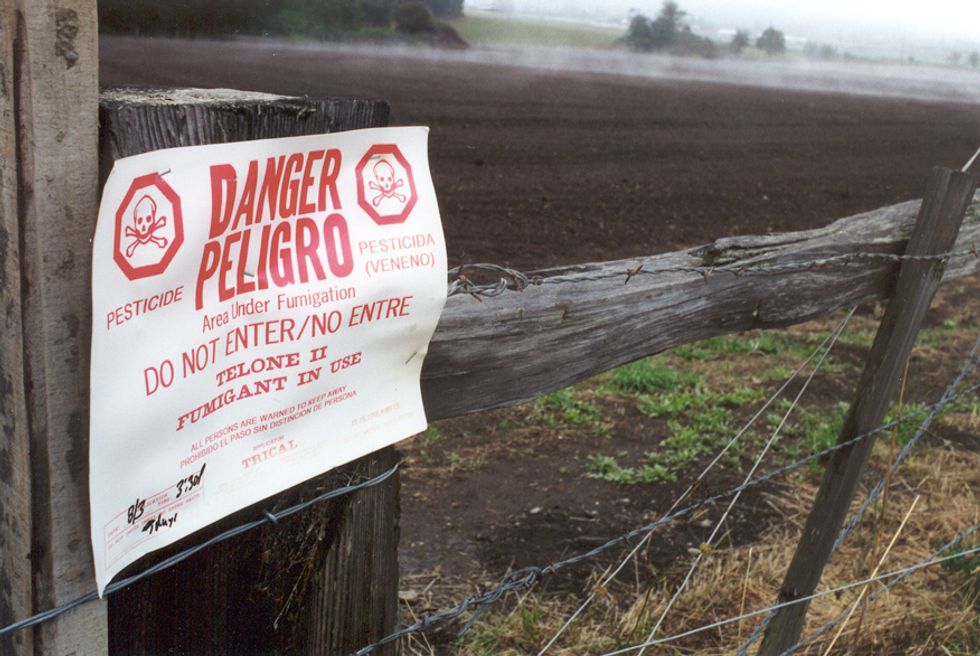 The non-profit Siskiyou Land Conservancy and its predecessor, the Smith River Project, have for the past dozen years dogged state and federal agencies to reign in lily farmers' pesticide use, which, in the case of two "bad actor" chemicals, occurs in pounds-per-acre amounts that are higher than anywhere else in pesticide-soaked California. But challenging pesticide use in California, or anywhere in the U.S., is like searching a black hole for a place to sit down.
In the distance we see a bench. In 2011, the California North Coast Regional Water Quality Control Board issued a report revealing that a stream feeding the Smith River estuary's only remaining large slough was contaminated with pesticide residues. The testing occurred only after a years-long squeaky-wheel campaign by Siskiyou Land Conservancy. While the sampling was tiny, the result has given proponents of clean water ammunition to protect what is arguably the most pristine salmonid stream on the West Coast of the U.S.
Water Quality scientists took just four samples in all, one above and one below pesticide use in two creeks. They got a huge hit. One of the samples revealed that copper levels in Delilah Creek were 28 times higher than that allowed by state law. The findings also "demonstrate evidence of chronic reproductive toxicity," according to the report.
Copper is easier and cheaper to detect than most of the pesticides (and their breakdown products) used along the Smith River. The Water Board's findings indicate that other pesticides may be reaching the Smith River estuary. Christopher Pincetich, Ph.D., an expert on the effects of pesticides on aquatic organisms, said of the state's Smith River testing, "The chronic toxicity result is very significant; I saw almost zero reproduction. That test uses Ceriodaphnia dubia, a freshwater invertebrate, the 'water flea.' It is very relevant to use as it is the base of the food-web. If Cerio can not reproduce in your watershed, you can technically extrapolate this to say that salmon habitat is likely impaired as their food source (small aquatic invertebrates) is impacted."
Public trust agencies are responding with concern. The Smith River—no dams, little sediment, almost entirely protected within the Smith River National Recreation Area, more miles designated "Wild and Scenic" than any other U.S. stream outside of Alaska—is a "seed bank" for wild salmonid stocks. In terms of species recovery, over decades "strays" from the Smith River may be responsible for recolonizing salmon and steelhead streams up and down the California-Oregon coast. That is, if the pesticides don't get them first.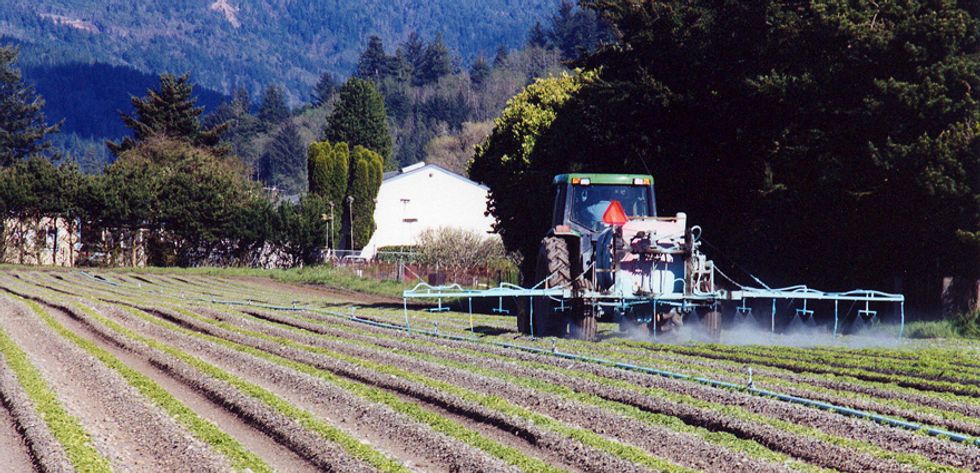 A 2002 study commissioned by the Smith River Project revealed that in 2000 lily growers applied more pounds per acre of metam sodium and 1,3-Dichloropropene—highly toxic and carcinogenic nematicides—than occurred in any other county in California. By 2008 use of both of these chemicals in Smith River had more than doubled. In addition, use of at least four pesticides along the Smith River estuary exceed the federal government's established level of concern for endangered aquatic organisms.
Since January 2012, several significant developments promise to bolster protection efforts at the Smith River estuary, including:
In January, the National Marine Fisheries Service released its long awaited Southern Oregon/Northern California Coast Coho Salmon Recovery Plan, which lists pesticide use on lily bulb farms alongside the Smith River estuary as one of the greatest threats to salmon in the watershed. The Recovery Plan cites the work of Siskiyou Land Conservancy and the Smith River Project, which provided the Plan with original research on pesticide use along the Smith River and its potential impacts on salmonids. Coho salmon are at risk of extinction throughout California, including the Smith River, which is nonetheless held up as one of the few streams in the state that should be able to sustain viable Coho populations well into the future. (In addition to Coho salmon, the tidewater goby, listed as Endangered under the federal Endangered Species Act, is imperiled by Smith River pesticide use. The Smith River estuary provides northernmost habitat of the goby's entire range. The only place tidewater gobies are found in the Smith River estuary are in Tillas Slough, which is fed by Delilah Creek, where the state Water Board found the copper spike.)
In February, the North Coast Regional Water Quality Control Board invited Siskiyou Land Conservancy to join a Stakeholder Advisory Group to develop a Water Quality Compliance Program for discharges from irrigated lands in the North Coast Region. The significance of the appointment extends beyond the Smith River, in that the Water Quality Compliance Program area includes watersheds as far south as the San Francisco Bay Area.
Siskiyou Land Conservancy is now working directly with lily farmers in an attempt to achieve voluntary reductions in pesticide use. Lily farmers have long been reluctant to collaborate with conservation organizations, and are only doing so now owing to the findings of the Water Quality Board's testing and the Coho Recovery Plan's citing of pesticide use as a threat to protected species.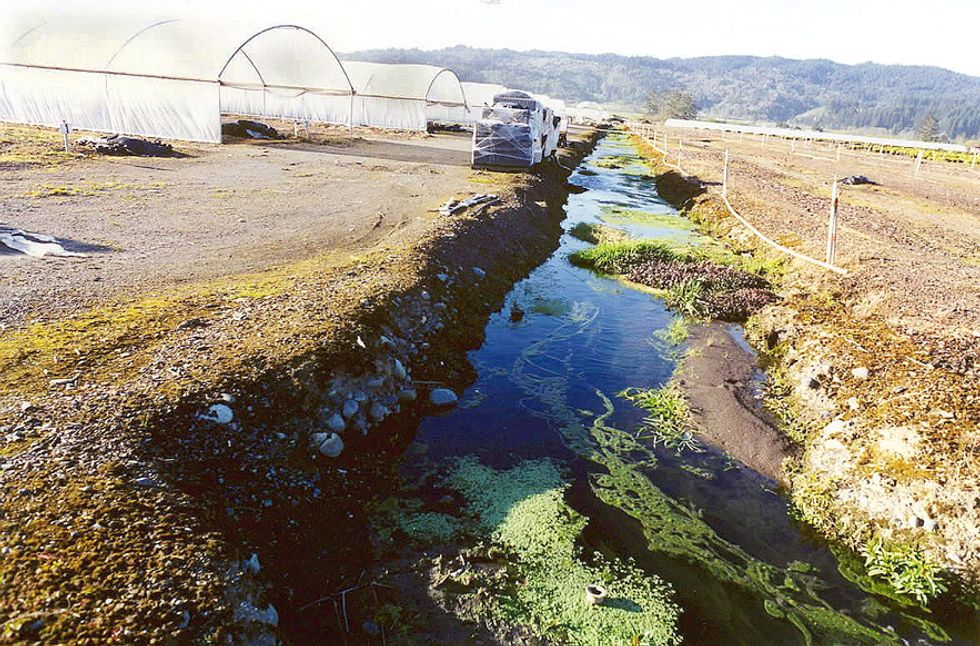 Lily farming is one of the last viable local industries in Del Norte County, one of the poorest regions of California. Twenty-two percent of Del Norte County's 30,000 residents live under the poverty level; the timber and fishing industries are all but dead; and the biggest employer is Pelican Bay State Prison, a lock-up so severe that even Amnesty International has condemned it.
Challenging lily farmers draws howls from local business boosters. When NMFS released the Coho Recovery Plan, all five of the county Board of Supervisors condemned the document.
"There's a bullseye on ag," Supervisor David Finigan told the Del Norte County Triplicate in a story that appeared on April 2.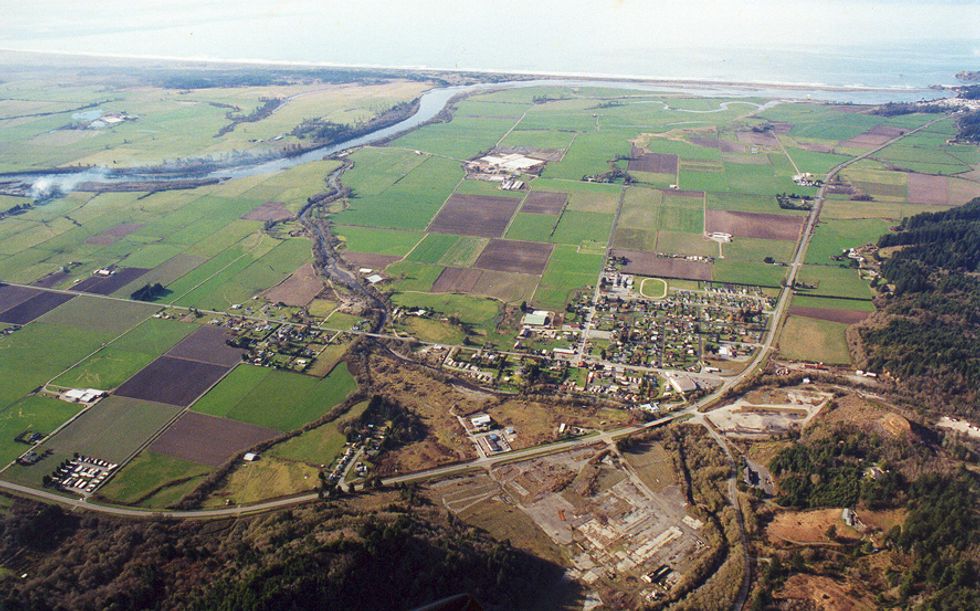 Indeed, the Recovery Plan hammers ag throughout the Smith River chapter of the document. "The areas that have been impacted are in the lower Smith River, where the greatest potential to support coho exists. … Agriculture in the lower watershed and around the estuary has been, and continues to be the greatest contributor to loss and degradation of coho salmon habitat. … The production of lily flowers and bulbs requires pesticide use to control nematodes and diseases, which can impact salmonids."
In the Triplicate article Harry Harms, general manager of Hastings Bulb Growers, Inc., said the Recovery Plan should not have cited a 2002 study conducted for the Smith River Project by the Center for Ethics and Toxics, then led by the renowned toxicologist Dr. Marc Lappé.
"It's loaded with supposition and these guys are trying to basically use data that connects dots," said Harms. "They're saying since we use it, it must be there."
EcoWatch Daily Newsletter
A verdant and productive urban garden in Havana. Susanne Bollinger / Wikimedia Commons
By Paul Brown
When countries run short of food, they need to find solutions fast, and one answer can be urban farming.
Trevor Noah appears on set during a taping of "The Daily Show with Trevor Noah" in New York on Nov. 26, 2018.
The Daily Show With Trevor Noah / YouTube screenshot
Rebecca Burgess came up with the idea of a fibersheds project to develop an eco-friendly, locally sourced wardrobe.
Nicolás Boullosa / CC BY 2.0
By Tara Lohan
If I were to open my refrigerator, the origins of most of the food wouldn't be too much of a mystery — the milk, cheese and produce all come from relatively nearby farms. I can tell from the labels on other packaged goods if they're fair trade, non-GMO or organic.
A television crew reports on Hurricane Dorian while waves crash against the Banana River sea wall. Paul Hennessy / SOPA Images / LightRocket / Getty Images
By Mark Hertsgaard and Kyle Pope
Some good news, for a change, about climate change: When hundreds of newsrooms focus their attention on the climate crisis, all at the same time, the public conversation about the problem gets better: more prominent, more informative, more urgent.
U.S. Senators Chris Coons (D-Del.) and Mike Braun (R-Ind.) met with Bill Gates on Nov. 7 to discuss climate change and ways to address the challenge.
Senator Chris Coons
The U.S. Senate's bipartisan climate caucus started with just two members, a Republican from Indiana and a Democrat from Delaware. Now it's up to eight members after two Democrats, one Independent and three more Republicans joined the caucus last week, as The Hill reported.
A timelapse video shows synthetic material and baby fish collected from a plankton sample from a surface slick taken off Hawaii's coast.
Honolulu Star-Advertiser / YouTube screenshot