Pesticide Exposure Linked to Alzheimer's Disease
By Robin Lally
Scientists have known for more than 40 years that the synthetic pesticide DDT is harmful to bird habitats and a threat to the environment.
Now researchers at Rutgers University say exposure to DDT—banned in the U.S. since 1972 but still used as a pesticide in other countries—may also increase the risk and severity of Alzheimer's disease in some people, particularly those over the age of 60.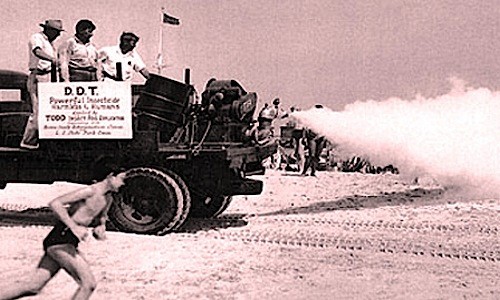 In a study published online Tuesday in JAMA Neurology, Rutgers scientists discuss their findings in which levels of DDE—the chemical compound left when DDT breaks down—were higher in the blood of late-onset Alzheimer's disease patients compared to those without the disease.
DDT was used in the U.S. for insect control in crops and livestock and to combat insect-borne diseases like malaria. It was introduced as a pesticide during WWII. Rutgers scientists (the first to link a specific chemical compound to Alzheimer's disease) believe that research into how DDT and DDE may trigger neurodegenerative diseases, like Alzheimer's, is crucial.
"I think these results demonstrate that more attention should be focused on potential environmental contributors and their interaction with genetic susceptibility," said Jason R. Richardson, associate professor in the Department of Environmental and Occupational Medicine at Robert Wood Johnson Medical School and a member of the Environmental and Occupational Health Sciences Institute. "Our data may help identify those that are at risk for Alzheimer's disease and could potentially lead to earlier diagnosis and an improved outcome."
Although the levels of DDT and DDE have decreased significantly in the U.S. over the last three decades, the toxic pesticide is still found in 75 to 80 percent of the blood samples collected from the Centers for Disease Control and Prevention for a national health and nutrition survey. This occurs, scientists say, because the chemical can take decades to breakdown in the environment. In addition, people may be exposed to the pesticide by consuming imported fruits, vegetables and grains where DDT is still being used or eating fish from contaminated waterways.
In the Rutgers study, conducted in coordination with Emory University Alzheimer's Disease Research Center and the University of Texas Southwestern Medical School's Alzheimer's Disease Center, 74 out of the 86 Alzheimer's patients involved (whose average age was 74) had DDE blood levels almost four times higher than the 79 people in the control group who did not have Alzheimer's disease.
Patients with a version of ApoE gene (ApoE4), which greatly increases the risk of developing Alzheimer's, and high blood levels of DDE exhibited even more severe cognitive impairment than the patients without the risk gene. Brain cell studies also found that DDT and DDE increased the amount of a protein associated with plaques believed to be a hallmark of Alzheimer's disease.
These sticky amyloid proteins—which may form in regions of the brain involved in memory, learning and thinking—break off and clump together in the brain and increase as the disease progresses. This new research is important, Richardson says, because it suggests that DDT and DDE may directly contribute to the process of plaque development.
"We need to conduct further research to determine whether this occurs and how the chemical compound interacts with the ApoE4 gene," Richardson said.
Although the exact cause of Alzheimer's disease, with which five million Americans are now suffering and millions more expected to fall prey with the graying of the Baby Boom Generation, is not known, scientists believe that late-onset Alzheimer's may be linked to a combination of genetic, environmental and lifestyle factors. Much of the research into Alzheimer's and other neurodegenerative diseases has mostly been centered on finding genetic connections, Richardson explained.
"This study demonstrates that there are additional contributors to Alzheimer's disease that must be examined and that may help identify those at risk of developing Alzheimer's," Richardson said. "It is important because when it comes to diagnosing and treating this and other neurodegenerative diseases, the earlier someone is diagnosed, the more options there may be available."
Scientists Ananya Roy, Stuart Shalat and Brian Buckley at the Environmental and Occupational Health Sciences Institute at Rutgers, Allan Levey and Maria Gearing at Emory University School of Medicine, and Dwight German at the University of Texas Southwestern Medical Center contributed to the research.
Visit EcoWatch's HEALTH and BIODIVERSITY pages for more related news on this topic.

Disturbing footage of a snake in Goa, India vomiting an empty soft drink bottle highlights the world's mounting plastic pollution crisis.
Keep reading...
Show less
By Melissa Hellmann
When her eldest son was in elementary school in the Oakland Unified School District, Ruth Woodruff became alarmed by the meals he was being served at school. A lot of it was frozen, processed foods, packed with preservatives. At home, she was feeding her children locally sourced, organic foods.
Keep reading...
Show less
May. 28, 2017 01:33PM EST
Laurie Woolever
By James O'Hare
There are 20 million people in the world facing famine in South Sudan, Somalia, Nigeria and Yemen. In developed nations, too, people go hungry. Venezuela, for instance, is enduring food insecurity on a national level as a result of economic crisis and political corruption. In the U.S., the land of supposed excess, 12.7 percent of households were food insecure in 2015, meaning they didn't know where their next meal would come from.
Keep reading...
Show less
May. 28, 2017 01:22PM EST
Melwater, Greenland ice sheet. Diane Tuft
Artists are taking the climate crisis into frame and the results are emotional, beautiful and stirring.
So you've seen the best climate change cartoons and shared them with your friends. You've showed your family the infographics on climate change and health, infographics on how the grid works and infographics about clean, renewable energy. You've even forwarded these official National Oceanic and Atmospheric Administration graphs that explain the 10 clear indicators of climate change to your colleagues at the office.
Keep reading...
Show less
May. 27, 2017 01:11PM EST
As the Trump administration moves full speed ahead on boosting the oil and fossil fuel industry, opposition to increased pipeline construction is cropping up in different communities around the country.
Keep reading...
Show less
May. 27, 2017 01:02PM EST
Minke whale stranding near Havergate Island in Suffolk. MCGA.
By Simon Evans
Last Saturday, two dead whales washed up on the coast of Suffolk, in eastern England, and a third was spotted floating at sea.
What happened next illustrates how news can spread and evolve into misinformation, when reported by journalists rushing to publish before confirming basic facts or sourcing their own quotes.
Keep reading...
Show less
May. 27, 2017 01:22PM EST
By Monica Amarelo and Paul Pestano
Sun safety is a crucial part of any outdoor activity for kids, and sunscreen can help protect children's skin from harmful ultraviolet rays. Kids often get sunburned when they're outside unprotected for longer than expected. Parents need to plan ahead and keep sun protection handy in their cars or bags.
Keep reading...
Show less
May. 27, 2017 01:02PM EST
By Joe McCarthy
A lot of people take part in community clean-up efforts—spending a Saturday morning picking up litter in a park, mowing an overgrown field or painting a fence.
Keep reading...
Show less