This website uses cookies to ensure you get the best experience while browsing it. By clicking 'Got It' you're accepting these terms.
Pesticide and Biotech Corporations Guilty of Human Rights Violations
Dec. 07, 2011 03:02PM EST
GMO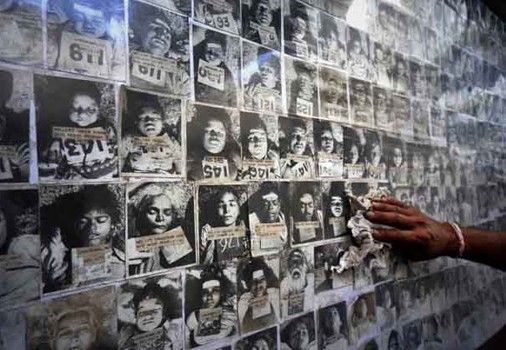 After an intensive public trial covering a range of human rights violations, jurors issued a scathing verdict to the six largest pesticide and biotechnology corporations, urging governments, especially the U.S., Switzerland and Germany, to take action to prevent further harms.
"The trial shed light on widespread and systematic human rights violations by the world's six largest pesticide corporations," said Kathryn Gilje, co-director of Pesticide Action Network North America, and who reported live from the trial. "The existing justice system has failed to provide adequate protections for our health, our food and farmers' livelihoods. Pesticide corporations will continue to go to great lengths to avoid responsibility for their human rights violations until we create a strong system of accountability."
The verdict was handed down to the six largest pesticide corporations—Monsanto, Syngenta, Bayer, BASF, Dow and Dupont—collectively known as the "Big 6," for their human rights violations, including internationally recognized rights to life, livelihood and health. The agrichemical industry is valued at more than $42 billion and operates with impunity while more than 355,000 people die from pesticide poisoning each year, and hundreds of thousands more are made ill. In addition, pesticide corporations have put livelihoods and jobs in jeopardy, including, farmers, beekeepers and lobstermen.
Over the past few days, witnesses from across globe, including the U.S., shared their stories of the harms of pesticides and biotechnology. Among them was Viola Wighiyi, an indigenous Yupik mother from St. Lawrence Island in Alaska. "The corporations are contaminating us without our consent and affecting our lands, our subsistence foods, the health and well-being of our people, our children and future generations," she said.
More than fifteen witnesses testified at the trial sharing the impacts of pesticides on their lives, livelihood and health. Witnesses included:
David Runyon, Indiana farmer. Runyon and his wife Dawn almost lost the 900-acre family farm when pesticide and genetic engineering giant Monsanto found contamination of seeds on their property. The company threatened to sue Runyon unless he paid them for genetically modified seeds, seeds that had been carried by the wind from a neighboring farm. Runyon testified that a Monsanto attorney said, "Taking money from a farmer is like taking candy from a baby."
Dr. Tyrone Hayes, University of California - Berkeley professor. Hayes, a former researcher for Syngenta, has been continually threatened by the company ever since he brought to light the damages of their high profile herbicide atrazine. His research has demonstrated that even at small amounts, the chemical significantly can feminize male frogs. At the trial he noted that farmworkers can have 24,000 times those levels of Syngenta's atrazine in their system.
The verdict lays out the six pesticide corporations as responsible for gross, widespread and systematic violations of the right to health and life, economic, social and cultural rights, as well as of civil and political rights, and women and childrens' rights, and the systematic violation of indigenous peoples' human rights.The jury also found that the corporations have caused avoidable catastrophic risks, increasing the prospects of extinction of biodiversity, including species whose continued existence is necessary for reproduction of human life.
The verdict also names three particular nations as culpable alongside the corporations. Their preliminary findings state, "The United States, Switzerland and Germany [home states for the pesticide corporations] have failed to comply with their internationally accepted responsibility to promote and protect human rights…The three states, where six corporations are registered and headquartered, have failed to adequately regulate, monitor and discipline these entities by national laws and policy."
The trial began on the anniversary of the Bhopal disaster, in which more than 20,000 people have died after an explosion at a Dow Chemical facility. And it concluded before International Human Rights Day. The trial was hosted by the Pesticide Action Network International, a network of more than 600 participating nongovernmental organizations, institutions and individuals in more than 90 countries working to replace the use of hazardous pesticides with ecologically sound and socially just alternatives.
The Permanent People's Tribunal (PPT) was founded in Italy in 1979 as a people's court to raise awareness of massive human rights violations in the absence of another international justice system. The PPT draws its authority from the people while remaining rooted in the rigors of a conventional court format. Citing relevant international human rights laws, precedents and documents such as the United Nations Declaration of Human Rights in its findings, the PPT examines and passes judgment on complaints of human rights violations brought by victims and their representative groups.
A summary of the trial, including summaries of cases against the Big 6, can be found by clicking here. Photos from the trial are available here.
For more information, click here.
EcoWatch Daily Newsletter
A vegan diet can improve your health, but experts say it's important to keep track of nutrients and protein. Getty Images
By Dan Gray
Research shows that 16 weeks of a vegan diet can boost the gut microbiome, helping with weight loss and overall health.
A healthy microbiome is a diverse microbiome. A plant-based diet is the best way to achieve this.
It isn't necessary to opt for a strictly vegan diet, but it's beneficial to limit meat intake.
New research shows that following a vegan diet for about 4 months can boost your gut microbiome. In turn, that can lead to improvements in body weight and blood sugar management.
Students gathered at the National Mall in Washington DC, Sept. 20. NRDC
By Jeff Turrentine
Nearly 20 years have passed since the journalist Malcolm Gladwell popularized the term tipping point, in his best-selling book of the same name. The phrase denotes the moment that a certain idea, behavior, or practice catches on exponentially and gains widespread currency throughout a culture. Having transcended its roots in sociological theory, the tipping point is now part of our everyday vernacular. We use it in scientific contexts to describe, for instance, the climatological point of no return that we'll hit if we allow average global temperatures to rise more than 2 degrees Celsius above preindustrial levels. But we also use it to describe everything from resistance movements to the disenchantment of hockey fans when their team is on a losing streak.
samael334 / iStock / Getty Images
Berries are small, soft, round fruit of various colors — mainly blue, red, or purple.
A glacier is seen in the Kenai Mountains on Sept. 6, near Primrose, Alaska. Scientists from the U.S. Geological Survey have been studying the glaciers in the area since 1966 and their studies show that the warming climate has resulted in sustained glacial mass loss as melting outpaced the accumulation of new snow and ice. Joe Raedle / Getty Images
By Mark Mancini
On Aug. 18, Iceland held a funeral for the first glacier lost to climate change. The deceased party was Okjökull, a historic body of ice that covered 14.6 square miles (38 square kilometers) in the Icelandic Highlands at the turn of the 20th century. But its glory days are long gone. In 2014, having dwindled to less than 1/15 its former size, Okjökull lost its status as an official glacier.
Members of Chicago Democratic Socialists of America table at the Logan Square Farmers Market on Aug. 18. Alex Schwartz
By Alex Schwartz
Among the many vendors at the Logan Square Farmers Market on Aug. 18 sat three young people peddling neither organic vegetables, gourmet cheese nor handmade crafts. Instead, they offered liberation from capitalism.
Hackney primary school students went to the Town Hall on May 24 in London after school to protest about the climate emergency. Jenny Matthews / In Pictures / Getty Images
Bird watching in the U.S. may be a lot harder than it once was, since bird populations are dropping off in droves, according to a new study.