This website uses cookies to ensure you get the best experience while browsing it. By clicking 'Got It' you're accepting these terms.
Peru Declares State of Emergency as Mercury Contamination From Illegal Gold Mining Poisons People and Planet
May. 27, 2016 09:27AM EST
Health + Wellness
Peru's government has declared a two-month state of emergency across 11 Amazon jungle districts due to mercury contamination caused by widespread illegal gold mining activities.
The South American country, home to 13 percent of the iconic Amazon rainforest, is the sixth largest gold producer in the world. Covert mining for the luxury metal, however, has been a major cost to the environment and human health.
"Gold has a dirty underbelly, whether the horrific mercury poisoning in the Peruvian Amazon from small-scale mining, or the human rights abuses in northern Peru perpetuated by multinational mining companies," Earthworks mining program director Payal Sampat told EcoWatch.
According to Mining.com, illicit gold production in Peru increased fivefold since 2012, and it is estimated to provide 100,000 direct jobs in the country, 40 percent of which are in the Madre de Dios region in southern Peru.
Studies from Stanford University and other institutions have detected high levels of mercury in Peru's citizens, fish and waterways.
The International Business Times noted that thousands of miners, who are working illegally in the region, use mercury to extract gold from the rivers.
"Some 15 percent of the production is believed to be extracted illegally with little to no measures taken to protect the environment," the publication writes.
According to Reuters, miners dump 40 tonnes of mercury into Amazonian rivers annually, destroying more than 100,000 hectares (247,105 acres) of rainforest in the Madre de Dios region, the environment ministry said.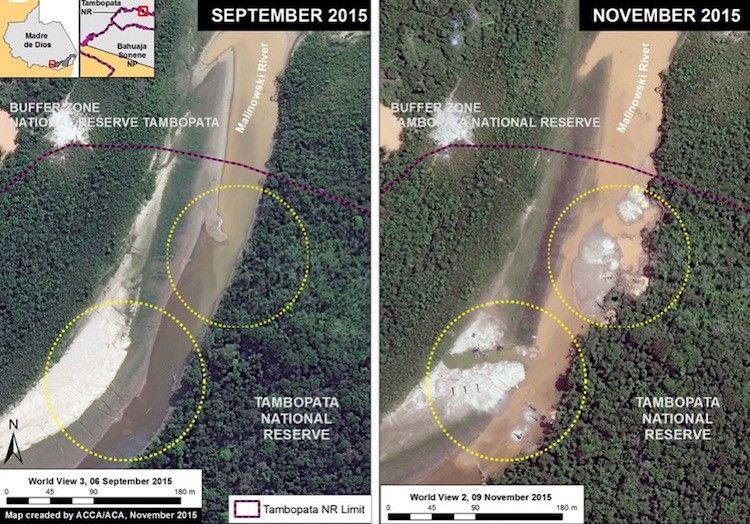 Tambopata National Reserve, an important protected area in the southern Peruvian Amazon in Madre de Dios. "One can clearly see the beginning of the illegal gold mining activity and deforestation within the reserve between September (left panel) and November (right panel) 2015," MAAP says. Photo credit: Monitoring the Andean Amazon Project (MAAP)
As for human health, the toxic chemical can affect vital functions of the nervous, digestive and immune systems, and on lungs, kidneys, skin and eyes.
Environment minister Manuel Pulgar-Vidal said during a news conference that 41 percent of the population—about 50,000 people—in Madre de Dios are exposed to mercury pollution.
"The consequences of mining activity in Madre de Dios will be with us for the next 80 years, and that must be fought at its roots," he said. "Declaring the emergency brings action, hospitals, food such as uncontaminated fish, among other things."
Indigenous and rural communities are particularly vulnerable since they consume the fish they catch from the river. Survival International writes that "up to 80 percent of the recently contacted Nahua tribe have been poisoned with mercury" and have been suffering from acute respiratory infections and other health problems since they were contacted.
Despite Peruvian President Ollanta Humala calling a state of emergency on Monday, Survival International says that the government has known about the contamination since 2014 and has done little to address the problem.
According to the Associated Press, the government is sending hospital boats to help treat people living in the affected area. Authorities are also trying to crack down on illegal mining.
"Consumers need to be aware of the human and environmental costs of the gold in their jewelry boxes and smart phones, and demand accountability from mining companies and retailers," Sampat said.
YOU MIGHT ALSO LIKE
Ground-Breaking Agreement Marks First Voluntarily Limits to Industrial Fishing in Arctic
Scientists Uncover Array of Strange Animals in Cave That Has Been Sealed Off for 5.5 Million Years
Vandana Shiva: Small Farmers Are Foundation to Food Security, Not Corporations Like Monsanto
EcoWatch Daily Newsletter
The Democratic primary candidates take the stage during Tuesday's debate. SAUL LOEB / AFP via Getty Images
On Tuesday night, the Democratic presidential candidates gathered for what The Guardian said was the largest primary debate in U.S. history, and they weren't asked a single question about the climate crisis.
A. Battenburg / Technical University of Munich
By Sarah Kennedy
Algae in a pond may look flimsy. But scientists are using algae to develop industrial-strength material that's as hard as steel but only a fraction of the weight.
Variety of fermented food korean traditional kimchi cabbage and radish salad. white and red sauerkraut in ceramic plates over grey spotted background. Natasha Breen / REDA&CO / Universal Images Group / Getty Image
Even if you've never taken probiotics, you've probably heard of them.
These supplements provide numerous benefits because they contain live microorganisms, such as bacteria or yeast, which support the healthy bacteria in your gut (1, 2, 3, 4).
Pexels
Singapore will become the first country in the world to place a ban on advertisements for carbonated drinks and juices with high sugar contents, its health ministry announced last week. The law is intended to curb sugar consumption since the country has some of the world's highest diabetes rates per capita, as Reuters reported.
A typical adult takes around 20,000 breaths per day. If you live in a megacity like Beijing, with many of those lungfuls you're likely to inhale a noxious mixture of chemicals and pollutants.
Fred Stone holds his brown swiss cow Lida Rose at his Arundel dairy farm on March 18 after a press conference where he spoke about PFAS chemical contamination in his fields. Gregory Rec / Portland Portland Press Herald via Getty Images
By Susan Cosier
First there was Fred Stone, the third-generation dairy farmer in Maine who discovered that the milk from his cows contained harmful chemicals. Then came Art Schaap, a second-generation dairy farmer in New Mexico, who had to dump 15,000 gallons of contaminated milk a day.
Protesters attend the 32nd annual Fur-Free Friday demonstration on Nov. 23, 2018 in Beverly Hills, California. Ella DeGea / Getty Images
California Governor Gavin Newsom signed into law a bill that that bans the sale and manufacture of fur products in the state. The fur ban, which he signed into law on Saturday, prohibits Californians from selling or making clothing, shoes or handbags with fur starting in 2023, according to the AP.
By Simon Evans
During the three months of July, August and September, renewables generated an estimated total of 29.5 terawatt hours (TWh), compared with just 29.1TWh from fossil fuels, the analysis shows.