This website uses cookies to ensure you get the best experience while browsing it. By clicking 'Got It' you're accepting these terms.
Peru Declares State of Emergency as Mercury Contamination From Illegal Gold Mining Poisons People and Planet
May. 27, 2016 09:27AM EST
Health + Wellness
Peru's government has declared a two-month state of emergency across 11 Amazon jungle districts due to mercury contamination caused by widespread illegal gold mining activities.
The South American country, home to 13 percent of the iconic Amazon rainforest, is the sixth largest gold producer in the world. Covert mining for the luxury metal, however, has been a major cost to the environment and human health.
"Gold has a dirty underbelly, whether the horrific mercury poisoning in the Peruvian Amazon from small-scale mining, or the human rights abuses in northern Peru perpetuated by multinational mining companies," Earthworks mining program director Payal Sampat told EcoWatch.
According to Mining.com, illicit gold production in Peru increased fivefold since 2012, and it is estimated to provide 100,000 direct jobs in the country, 40 percent of which are in the Madre de Dios region in southern Peru.
Studies from Stanford University and other institutions have detected high levels of mercury in Peru's citizens, fish and waterways.
The International Business Times noted that thousands of miners, who are working illegally in the region, use mercury to extract gold from the rivers.
"Some 15 percent of the production is believed to be extracted illegally with little to no measures taken to protect the environment," the publication writes.
According to Reuters, miners dump 40 tonnes of mercury into Amazonian rivers annually, destroying more than 100,000 hectares (247,105 acres) of rainforest in the Madre de Dios region, the environment ministry said.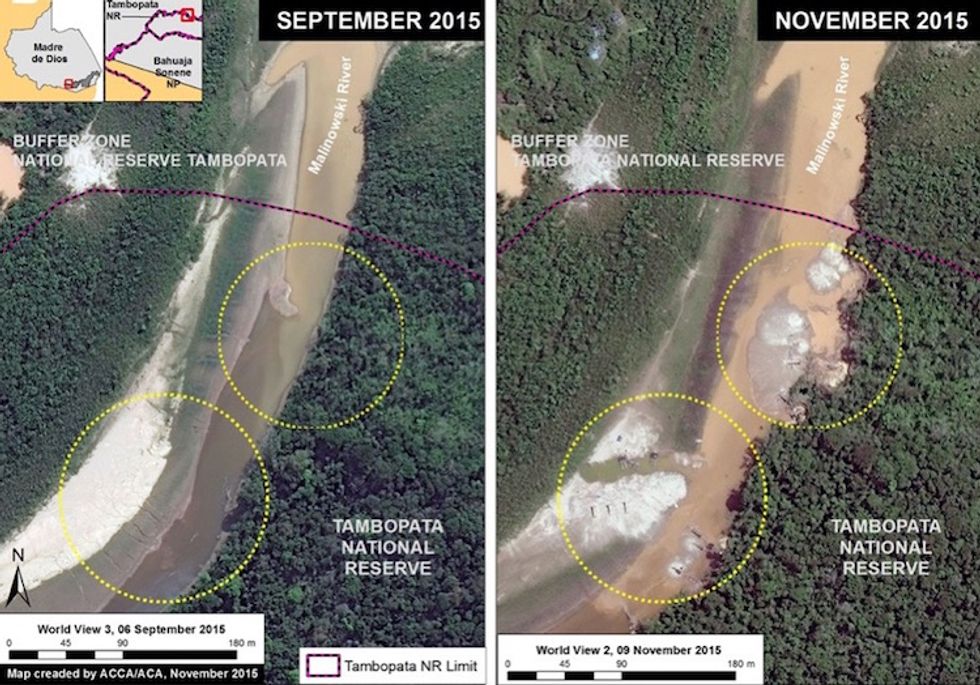 Tambopata National Reserve, an important protected area in the southern Peruvian Amazon in Madre de Dios. "One can clearly see the beginning of the illegal gold mining activity and deforestation within the reserve between September (left panel) and November (right panel) 2015," MAAP says. Photo credit: Monitoring the Andean Amazon Project (MAAP)
As for human health, the toxic chemical can affect vital functions of the nervous, digestive and immune systems, and on lungs, kidneys, skin and eyes.
Environment minister Manuel Pulgar-Vidal said during a news conference that 41 percent of the population—about 50,000 people—in Madre de Dios are exposed to mercury pollution.
"The consequences of mining activity in Madre de Dios will be with us for the next 80 years, and that must be fought at its roots," he said. "Declaring the emergency brings action, hospitals, food such as uncontaminated fish, among other things."
Indigenous and rural communities are particularly vulnerable since they consume the fish they catch from the river. Survival International writes that "up to 80 percent of the recently contacted Nahua tribe have been poisoned with mercury" and have been suffering from acute respiratory infections and other health problems since they were contacted.
Despite Peruvian President Ollanta Humala calling a state of emergency on Monday, Survival International says that the government has known about the contamination since 2014 and has done little to address the problem.
According to the Associated Press, the government is sending hospital boats to help treat people living in the affected area. Authorities are also trying to crack down on illegal mining.
"Consumers need to be aware of the human and environmental costs of the gold in their jewelry boxes and smart phones, and demand accountability from mining companies and retailers," Sampat said.
YOU MIGHT ALSO LIKE
Ground-Breaking Agreement Marks First Voluntarily Limits to Industrial Fishing in Arctic
Scientists Uncover Array of Strange Animals in Cave That Has Been Sealed Off for 5.5 Million Years
Vandana Shiva: Small Farmers Are Foundation to Food Security, Not Corporations Like Monsanto
EcoWatch Daily Newsletter
Pro-environment demonstrators on the streets of Washington, DC during the Jan. 20, 2017 Trump inauguration.
Mobilus In Mobili
/ Flickr /
CC BY-SA 2.0
By Dr. Brian R. Shmaefsky
One year after the Flint Water Crisis I was invited to participate in a water rights session at a conference hosted by the US Human Rights Network in Austin, Texas in 2015. The reason I was at the conference was to promote efforts by the American Association for the Advancement of Science (AAAS) to encourage scientists to shine a light on how science intersects with human rights, in the U.S. as well as in the context of international development. My plan was to sit at an information booth and share my stories about water quality projects I spearheaded in communities in Bangladesh, Colombia, and the Philippines. I did not expect to be thrown into conversations that made me reexamine how scientists use their knowledge as a public good.
Mt. Rainier and Reflection Lake on Sept. 10, 2015. Crystal Geyser planned to open a bottling plant near Mt. Rainier, emails show.
louelke - on and off / Flickr
Bottled water manufacturers looking to capture cool, mountain water from Washington's Cascade Mountains may have to look elsewhere after the state senate passed a bill banning new water permits, as The Guardian reported.
Large storage tank of Ammonia at a fertilizer plant in Cubatão, Sao Paulo State, Brazil. Luis Veiga / The Image Bank / Getty Images
The shipping industry is coming to grips with its egregious carbon footprint, as it has an outsized contribution to greenhouse gas emissions and to the dumping of chemicals into open seas. Already, the global shipping industry contributes about 2 percent of global carbon emissions, about the same as Germany, as the BBC reported.
At high tide, people are forced off parts of the pathway surrounding DC's Tidal Basin. Andrew Bossi /
Wikimedia
The Jefferson Memorial in Washington, DC overlooks the Tidal Basin, a man-made body of water surrounded by cherry trees. Visitors can stroll along the water's edge, gazing up at the stately monument.
But at high tide, people are forced off parts of the path. Twice a day, the Tidal Basin floods and water spills onto the walkway.
Lioness displays teeth during light rainstorm in Kruger National Park, South Africa. johan63 / iStock / Getty Images
Ahead of government negotiations scheduled for next week on a global plan to address the biodiversity crisis, 23 former foreign ministers from various countries released a statement on Tuesday urging world leaders to act "boldly" to protect nature.