Permanent Protest Setup at Proposed Tar Sands Strip Mine in Utah
Jun. 02, 2014 03:35PM EST
Energy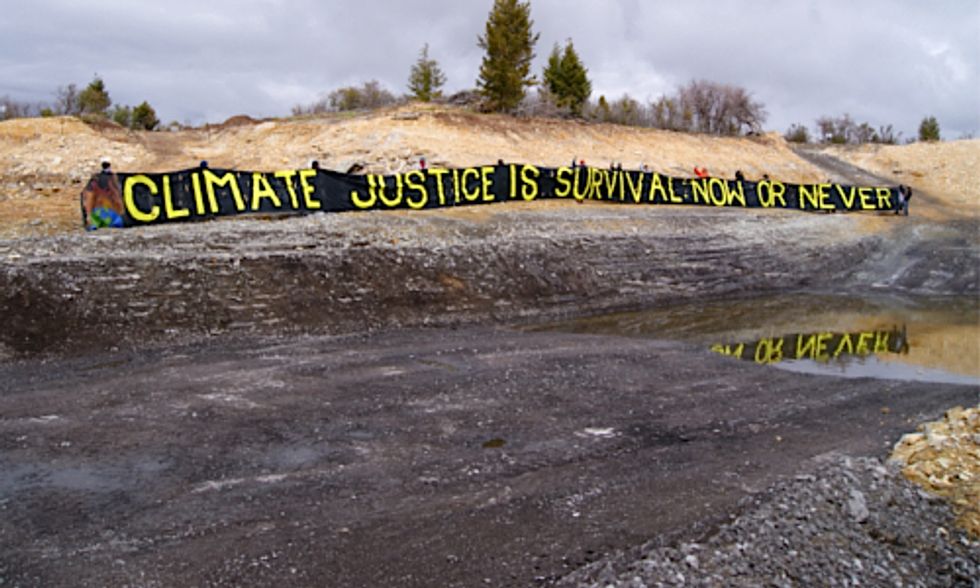 Construction of what could become the first tar sands strip mine in the U.S. is expected to begin this summer in Book Cliffs, UT, with bitumen production and sales expected to commence next year.
Local community members have vowed to stop the Canadian-based U.S. Oil Sands controversial project, and on Friday established a permanent protest vigil inside the boundaries of the planned tar sands mine.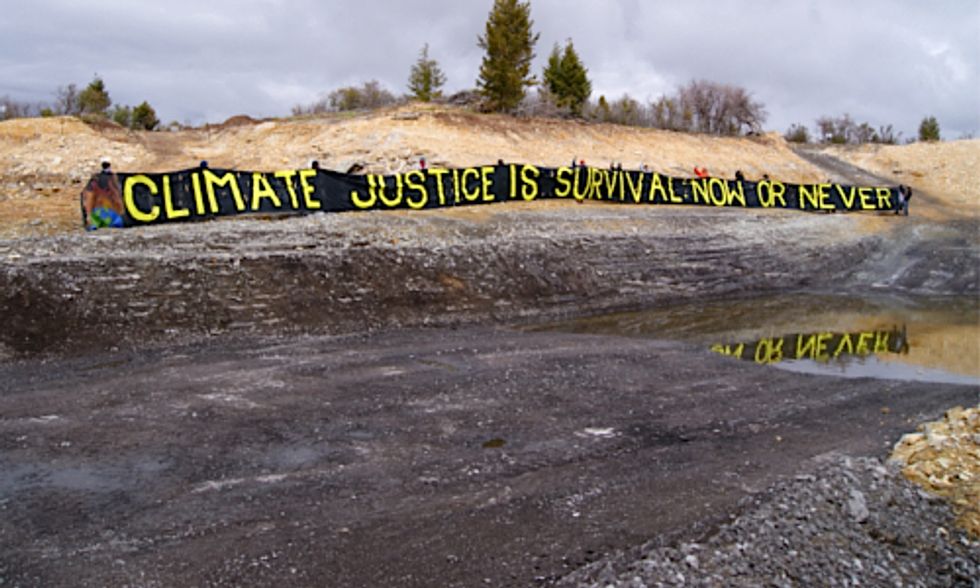 "These beautiful lands that U.S. Oil Sands plans to destroy have been enjoyed by Utahns for decades and were the home for Ute people for hundreds of generations," said Jessica Lee, on behalf of the community activists. "This tar sands strip mine would cause swift obliteration of multiple ecosystems and severe contributions to climate change related disasters."
U.S. Oil Sands hold leases on 32,000 acres of land traditionally inhabited by Ute people but now controlled by the Utah School and Institutional Trust Lands Administration. The company boasts of an "innovative process" that would allegedly eliminate the need for tailings ponds or reclamation, by utilizing a chemical solvent never before used for tar sands processing. But local residents are not convinced. 
Tar sands development in Alberta, Canada, has poisoned the drinking water for people and wildlife downstream of the mega-project—land which Indigenous communities rely on for food—continuing the genocide against native peoples of the area, says Utah Tar Sands Resistance. The Alberta tar sands spew more greenhouse-gas emissions into the atmosphere than any other project on Earth.
Toxins from the proposed Utah mine present direct threats to the Colorado River Basin, which provides drinking water for 20 million people—including the cities of Las Vegas, Los Angeles, San Diego and Phoenix—and irrigation for 15 percent of the nation's produce.
The permanent protest vigil is the latest in a string of setbacks for U.S. Oil Sands. According to Utah Tar Sands Resistance, the company has routinely missed construction goals, their stock price on the Toronto Stock Exchange has dropped 50 percent from its 2013 peak that represents a $100 million loss in value and direct action campaigns have delayed the company's progress. In July 2013, the construction of the test mine was shut down for a full day, delivering a 13 percent stock dip. U.S. Oil Sands also lacks a refinery contract, so despite big promises, it's unclear how the company intends to bring its product to market.
Endorsed by Utah Tar Sands Resistance, Peaceful Uprising and Canyon Country Rising Tide—as well as supporters from throughout the Colorado Plateau—the vigil seeks to halt U.S. Oil Sands's immediate plans to spend $60 million dollars on preliminary construction.
--------
YOU MIGHT ALSO LIKE
Report Finds Investments in Alberta's Tar Sands 'Make Neither Economic Nor Climate Sense'
Tar Sands Emissions Linked to Serious Health Problems in Alberta
Canadian Scientist Expose Their Government's Tar Sands Obsession at D.C. Briefing 
--------
EcoWatch Daily Newsletter
Related Articles from EcoWatch