This website uses cookies to ensure you get the best experience while browsing it. By clicking 'Got It' you're accepting these terms.
Perdue Launches Fraudulent PR Effort
Oct. 27, 2011 05:55AM EST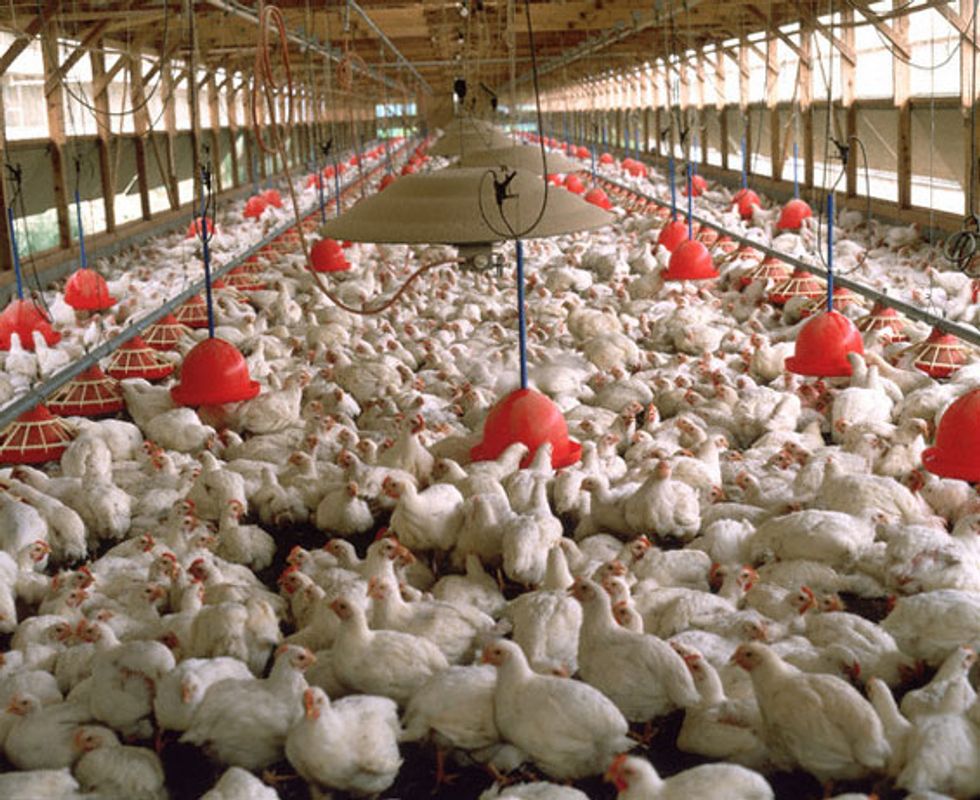 A national consumer group challenged chicken giant Perdue Oct. 25 to step forward and take responsibility for creating the SaveFarmFamilies.org website—and to correct misinformation on it regarding the lawsuit filed by Waterkeeper Alliance to address pollution run-off from the Eastern Shore farm of Alan and Kristin Hudson.
In an open letter to Perdue CEO Jim Perdue, Food & Water Watch questioned its PR strategy behind the lawsuit.
"The website portrays the Hudsons as victims of overzealous persecution by an out-of-state environmental group, with barely a mention of Perdue," wrote Food & Water Watch Executive Director Wenonah Hauter in the letter. "Given the amount of misinformation on the site, it's easy to see why Perdue might want to cover up its role."
The SaveFarmFamilies.org was registered anonymously though a web register proxy service, but the site's IP address belongs to Perdue's web server in Salisbury, Maryland, where it sits alongside Perdue's chicken recipes and homepage.
"Proxy registrations are for folks who don't want you to know who owns the site—sort of like proxy farmers are for integrators who don't want folks to know who really owns the waste," wrote Hauter.
SaveFarmFamilies.org, launched Oct. 3, 2011, was purportedly created to help Alan and Kristin Hudson pay their mounting legal bills from a lawsuit filed by the environmental nonprofit Waterkeeper Alliance. It claims to be a grassroots effort to help save the family farm by portraying the Hudsons, and farmers in general, as victims of radical environmental groups and perpetuates myths about chicken farming in Maryland and the lawsuit itself. In fact, SaveFarmFamilies.org is an astroturfing effort—an industry-generated attempt to spread misinformation while purporting to be by farmers for farmers.
In 2006, four processors—including Perdue—controlled nearly three out of five broiler operations in the U.S. These companies, known as integrators, control every step of chicken production. The Hudsons are contract growers who do not even own the birds that they raise and fatten for Perdue. But they are responsible for disposing of the waste that these birds produce.
The lawsuit is an attempt to get Perdue to take responsibility for the waste produced by their chickens, which growers simply raise under unfair contracts, and to stop polluting the waterways surrounding these contract farms.
"If you really want to help local farmers and communities surrounding the bay, then you should stop forcing your growers to sign unfair contracts that shift the cost and risk of doing business from the integrator to the grower. It is time to stop the baseless propaganda, stop hiding behind your struggling contract growers, and take responsibility for your production wastes," concluded Hauter in the letter.
For more information, click here.
—————
Read Food & Water Watch's open letter to Perdue here.
Read Six Myths and Facts About Perdue's Savefarmfamilies.org here.
Food & Water Watch works to ensure the food, water and fish we consume is safe, accessible and sustainable. So we can all enjoy and trust in what we eat and drink, we help people take charge of where their food comes from, keep clean, affordable, public tap water flowing freely to our homes, protect the environmental quality of oceans, force government to do its job protecting citizens, and educate about the importance of keeping shared resources under public control.
EcoWatch Daily Newsletter
Animal rights activists try to save dogs at a free market ahead of the Yulin Dog Eating Festival in Yulin city, south China's Guangxi Zhuang Autonomous Region on June 21, 2014. Jie Zhao / Corbis via Getty Images
The Great Barrier Reef, where record-high sea temperatures in February caused its most widespread coral bleaching event. JAYNE JENKINS / CORAL REEF IMAGE BANK
Tropical coral reefs are at a critical tipping point, and we've pushed them there, scientists say. Climate change may now cause previously rare, devastating coral bleaching events to occur in tropical coral reefs around the globe on a 'near-annual' basis, reported The Guardian.
The first peer-reviewed research into a promising coronavirus vaccine was published Thursday. Javier Zayas Photography / Moment / Getty Images
Deserted view of NH24 near Akshardham Temple on day nine of the 21-day nationwide lockdown to curb the spread of coronavirus on April 2, 2020 in New Delhi, India. Raj K Raj / Hindustan Times via Getty Images
A Unicef social mobilizer uses a speaker as she carries out public health awareness to prevent the spread and detect the symptoms of the COVID-19 coronavirus by UNICEF at Mangateen IDP camp in Juba, South Sudan on April 2. ALEX MCBRIDE / AFP / Getty Images
By Eddie Ndopu
South Africa is ground zero for the coronavirus pandemic in Africa.
Its townships are typical of high-density neighbourhoods across the continent where self-isolation will be extremely challenging.
The failure to eradicate extreme poverty is a threat beyond the countries in question.