This website uses cookies to ensure you get the best experience while browsing it. By clicking 'Got It' you're accepting these terms.
People's Consumptive Demands Undermine Planet's Life-Support Systems
Oct. 07, 2014 06:25PM EST
Climate

The Amazon rainforest is magnificent. Watching programs about it, we're amazed by brilliant parrots and toucans, tapirs, anacondas and jaguars. But if you ever go there expecting to be overwhelmed by a dazzling blur of activity, you'll be disappointed. The jungle has plenty of vegetation—hanging vines, enormous trees, bromeliads and more—and a cacophony of insects and frogs. But much of the activity goes on at night or high up in the canopy.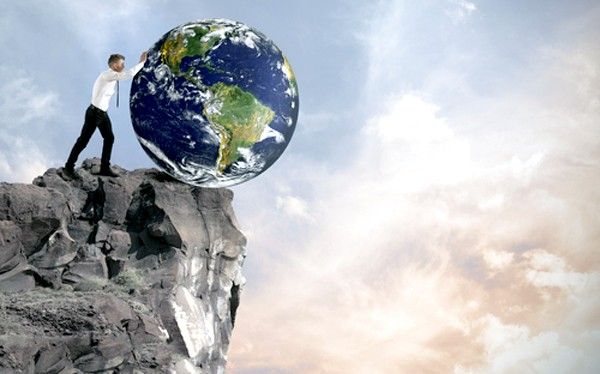 Let's slow down, breathe, listen, look and feel. Only then will we understand our place in the world and what we must do to live well on this small blue dot spinning in an enormous universe. Photo credit: Shutterstock
Films of tropical forests don't accurately reflect the reality of the ecosystems. They're skillfully edited shots acquired over many months. Our media-nurtured impatience and urgent sense of time often prevent us from seeing how life truly unfolds.
Nature needs time to adjust and adapt to biosphere changes. After life appeared on Earth, atmospheric oxygen gradually went from zero to 20 percent, oceans appeared and disappeared, mountains thrust upward and then eroded, continents moved on tectonic plates, climate cycled between ice ages and warm intervals, magnetic poles reversed and re-reversed. Life flourished because species and ecosystems evolved over time.
The fossil record also indicates periods of rapid change, including mass extinctions when up to 95 percent of living things were wiped out. Each time, survivors changed, adapted to new conditions and flourished. Still, recovery took millions of years. Humans have been around for a mere 150,000 years. We're an infant species, but our precocity has allowed us to expand exponentially. Now our technological power and consumptive demand are undermining the planet's life-support systems on a geologic scale.
We've become impatient. We're so demanding that we're unwilling to slow down and ensure our major projects are sustainable for human society and the biosphere. Over the past century, we've burned increasing amounts of finite fossil fuels that were stored and compressed over millions of years, exacerbating conditions that lead to climate chaos. We've clear-cut vast tracts of forest that have evolved over millennia, flooded huge areas under large dams, depleted our oceans with over-efficient fishing technology and spread vast quantities of toxic waste throughout the planet's air, water and soil.
Governments rationalize these actions by claiming to do proper environmental assessments, but continue to impose restrictive time limits on assessment processes while reducing the number of scientists and other staff who do the work. It takes time to acquire scientific information, and it can't always be done on a strict timetable.
If we truly desire a sustainable society, we require vibrant and abundant nature. To recognize that nature isn't separate from us and fully understand how it provides critical services, we need patience to learn its secrets. We can't survive, let alone be healthy and flourish, without clean air, clean water, clean soil and food, photosynthesis and biodiversity. But we're overwhelming nature—and ourselves—with the incessant demands of our ramped-up consumer culture.
Fortunately, people are starting to remember that we're part of nature and that what we do to the natural world we do to ourselves. They're taking notice of the drastic impacts we're having on Earth, our only home, and demanding that we show more care.
In New York on Sept. 21, more than 300,000 people turned out for what was billed as the largest climate march ever, one of 2,646 marches in 162 countries. Leaders of some of the world's largest corporations are calling for climate action and carbon pricing, and distancing themselves from organizations that have worked to stall progress. Even the heirs of the Rockefeller Standard Oil fortune announced they'll withdraw their investments in fossil fuels, including the Alberta oil sands.
With the Blue Dot Tour, the David Suzuki Foundation and I are hoping to encourage all Canadians to become part of this growing movement to protect the air, water, soil and biodiversity that we and our children and grandchildren need to survive and be healthy. Like nature, social movements sometimes take time to evolve and unfold. We don't always see their impacts as they happen. If we expect a dazzling blur of activity and immediate results, we'll be disappointed.
Let's slow down, breathe, listen, look and feel. Only then will we understand our place in the world and what we must do to live well on this small blue dot spinning in an enormous universe.
YOU MIGHT ALSO LIKE
Fighting Global Warming Will Improve Health of People Everywhere
David Suzuki: Put People Before Politics
EcoWatch Daily Newsletter
Protesters gathered outside US Bank and Wells Fargo locations around the U.S. to protest investment in the Dakota Access Pipeline on Dec. 1, 2016. This photo is from a protest outside US Bank in south Minneapolis, Minnesota.
Fibonacci Blue / CC BY 2.0
By Jake Johnson
As a growing number of states move to pass laws that would criminalize pipeline protests and hit demonstrators with years in prison, an audio recording obtained by The Intercept showed a representative of a powerful oil and gas lobbying group bragging about the industry's success in crafting anti-protest legislation behind closed doors.
Reposted with permission from our media associate Common Dreams.

DESIREE MARTIN / AFP / Getty Images
Wildfires raging on Gran Canaria, the second most populous of Spain's Canary Islands, have forced around 9,000 people to evacuate.
Wolves in Mount Rainier, Washington. Ron Reznick / VW Pics / Universal Images Group via Getty Images
The last four members of an embattled wolf pack were killed in Washington State Friday, hours before the court order that could have saved them.
Aerial view of lava flows from the eruption of volcano Kilauea on Hawaii, May 2018. Frizi / iStock / Getty Images
Hawaii's Kilauea volcano could be gearing up for an eruption after a pond of water was discovered inside its summit crater for the first time in recorded history, according to the AP.
Plateau Creek near De Beque, Colorado, where land has been leased for oil and gas production. Helen H. Richardson / The Denver Post / Getty Images
By Randi Spivak
Slashing two national monuments in Utah may have received the most attention, but Trump's Interior Department and U.S. Forest Service have been quietly, systematically ceding control of America's public lands to fossil fuel, mining, timber and livestock interests since the day he took office.
Global SO2 Emission Hotspot Database / Greenpeace
A new report by Greenpeace International pinpointed the world's worst sources of sulfur dioxide pollution, an irritant gas that harms human health. India has seized the top spot from Russia and China, contributing nearly 15 percent of global sulfur dioxide emissions.
The huge surge this year in Amazon deforestation is leading some European countries to think twice about donations to the Amazon Fund. LeoFFreitas / Moment / Getty Images
By Sue Branford and Thais Borges
Ola Elvestrun, Norway's environment minister, announced Thursday that it is freezing its contributions to the Amazon Fund, and will no longer be transferring €300 million ($33.2 million) to Brazil. In a press release, the Norwegian embassy in Brazil stated:
Gina Lopez, the Philippine secretary of the environment, at a meeting with residents affected by a mine tailing disaster. Keith Schneider
Gina Lopez, a former Philippine environment secretary, philanthropist and eco-warrior, died on Aug. 19 from brain cancer. She was 65.