This website uses cookies to ensure you get the best experience while browsing it. By clicking 'Got It' you're accepting these terms.
People's Climate March = Tipping Point in Fight to Halt Climate Crisis
Sep. 14, 2014 12:52PM EST
Climate
The New York state elections just concluded, and the national midterms are still weeks away, but there is a campaign office in downtown Manhattan that has just gone into overdrive. Volunteers there are hard at work on another deadline: Sept. 21.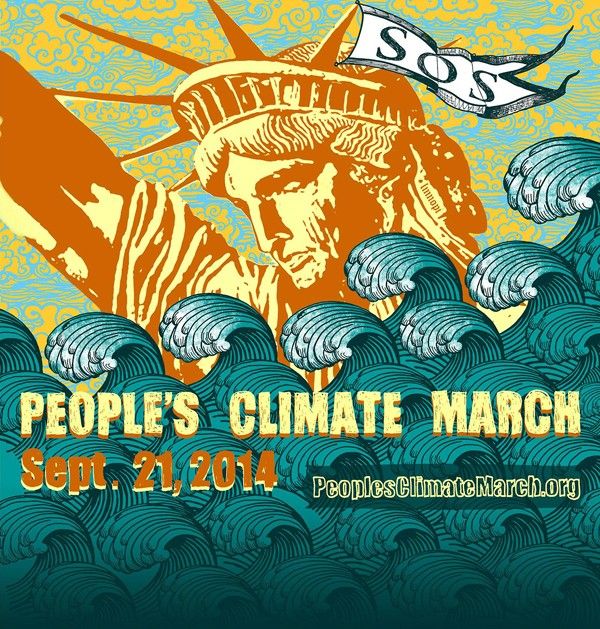 That's the day of the People's Climate March, what promises to be the largest demonstration for action on climate change in world history. The march has brought together more than 1,100 organizations at last count, from the New York City Environmental Justice Alliance to the Georgia Climate Change Coalition. A coalition that's both staggering in size and diversity.
"There's a vast latent constituency of people out there who are alarmed about climate change. But for years, nobody has put up a banner that said 'this is the time, this is the place, to show you care,'" says Ricken Patel, executive director of the 38-million member civic organization, Avaaz. "The People's Climate March is that banner, and we're seeing a phenomenal response to it."
The response should be a wake up call to politicians who still consider climate change a niche issue. For years, climate change felt like a distant threat. Environmentalists, used to stressing out about such things, were incensed. But for the vast majority of the public, fixated on immediate priorities, like finding a job or keeping the kids healthy, a few melting ice bergs just didn't register.
Enter Irene and Sandy from stage left. Cue wildfires, drought and devastating floods. Over the last couple years, it's as if Jerry Bruckheimer was put in charge of producing Mother Nature's special effects. The extreme weather events have become blockbusters: literally. Americans don't need to read a scientific report to understand the threat posed by climate change, they can see it right outside their window.
And as more people have begun to understand the impacts of the climate crisis, they've been connecting it to the daily hardships facing their families and communities. The asthma that keeps your kid home from school? You can look to the very same coal plant that's polluting the atmosphere. The lack of public transit options serving your community? Perhaps the generous subsidies to the fossil fuel industry, and lack of investments in public infrastructure, have something to do with it.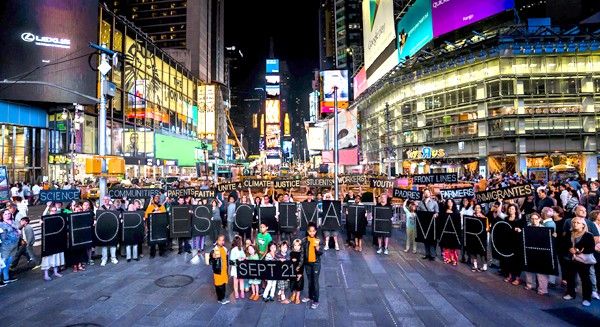 "The days when climate change was thought of as a sort of side issue? Those days are over," May Boeve, executive director of 350.org, recently told Capital New York. "The people are united calling for action."
At the forefront of that movement are the low-income, people of color, migrant and indigenous communities that are the hardest hit by climate disasters and the fossil fuel industry.
As Eddie Bautista, the executive director of the New York City Environmental Justice Alliance puts it, "While everybody is impacted by climate change, the impacts are not evenly felt." If you live in a high rise on the Upper East Side, Hurricane Sandy probably freaked you out. But you're probably not still waiting for your home to be rebuilt like many residents in the Rockaways and outlying districts of Queens.
The goal of the People's Climate March isn't to push a single demand or piece of legislation. Frankly, there's too much work that needs to get done to boil it down to one silver-bullet. The goal is to show that public opinion on climate change has reached a tipping point—that there is a loud, organized, and powerful movement of people in this country who are going to force our politicians to take action on this crisis. It's been said time and time again that the one thing that's missing from tackling climate change isn't the policies or technologies, it's the political will. Generating that will is what this march is all about.
"Students on hundreds of campuses, and thousands of youth vote leaders across the country are bringing their power and voices to the People's Climate March to say enough is enough," said Maura Cowley, director of Energy Action Coalition. "We will divest from fossil fuels and build a new clean and just economy, and President Obama and world leaders better be prepared to join us, or face the political consequences."
The march isn't just a flash in the pan. It's the result of years of base building, community organizing, and alliances that are just coming to fruition.
"Labor unions, community organizations--environmental justice, economic justice and faith groups--environmental and climate organizations have been working together more and more over the past several years," says Tomas Garduno, political director of ALIGN: Alliance for a Greater New York, a labor/community alliance. "The breadth and depth of who's working together to organize the People's Climate March is a testament to that."
And the work doesn't end on Sept. 21 in New York City. Throughout the build-up to the march, organizers have set building for the long-term as a key priority. On the People's Climate March website, dozens of online hubs are helping people connect at the local level, as well as via their own interests (the hubs rang from "fracking" to "beekeepers"). Turnout for the march isn't being led by a temporary political operation, but community groups who will continue to work for climate justice in the months and years to come.
"This isn't just about getting a bunch of people to New York to march for an hour then go home," said Michael Brune, executive director of the Sierra Club. "This is about making sure that the tipping point in the fight to halt climate disruption tips in the favor of the average citizen and clean energy prosperity, and that the world's leaders see that the support to do so has reached a level that can no longer be ignored."
Brune is exactly right. As climate change has become impossible to ignore, so has the climate movement.
YOU ALSO MIGHT LIKE
Climate Activists to Converge on NYC for UN Summit, People's Climate March and More
WATCH INTERVIEW: Citing Climate Change, DA Drops Charges in Lobster Boat Coal Blockade
Fighting Global Warming Will Improve Health of People Everywhere
EcoWatch Daily Newsletter
Farms with just one or a handful of different crops encourage fewer species of pollinating and pest-controlling insects to linger, ultimately winnowing away crop yields, according to a new study.
Up to half of the detrimental impacts of the "landscape simplification" that monocropping entails come as a result of a diminished mix of ecosystem service-providing insects, a team of scientists reported Oct. 16 in the journal Science Advances.
Monocrop palm oil plantation Honduras.
​SHARE Foundation / Flickr / CC BY-NC 2.0​
"Our study shows that biodiversity is essential to ensure the provision of ecosystem services and to maintain a high and stable agricultural production," Matteo Dainese, the study's lead author and a biologist at Eurac Research in Bolzano, Italy, said in a statement.

It stands to reason that, with declines in the sheer numbers of insects that ferry pollen from plant to plant and keep crop-eating pests under control, these services will wane as well. But until now, it hasn't been clear how monocultures affect the number and mix of these species or how crop yields might change as a result.
Aiming to solve these questions, Dainese and his colleagues pulled together data from 89 studies cutting across a variety of landscapes, from the tropics of Asia and Africa to the higher latitudes of northern Europe. They tabulated the number of pollinating and pest-controlling insects at these sites — both the absolute number of individuals and the number of species — along with an assessment of the ecosystem services the insects provided.
In almost all of the studies they looked at, the team found that a more diverse pool of these species translated into more pollination and greater pest control. They also showed that simplified landscapes supported fewer species of service-providing insects, which ultimately led to lower crop yields.
The researchers also looked at a third measure of the makeup of insect populations — what they called "evenness." In natural ecosystems, a handful of dominant species with many more individuals typically live alongside a higher number of rarer species. The team found as landscapes became less diverse, dominant species numbers dwindled and rare species gained ground. This resulting, more equitable mix led to less pollination (though it didn't end up affecting pest control).
"Our study provides strong empirical support for the potential benefits of new pathways to sustainable agriculture that aim to reconcile the protection of biodiversity and the production of food for increasing human populations," Ingolf Steffan-Dewenter, one of the study's authors and an animal ecologist at the University of Würzburg in Germany, said in the statement.
The scientists figure that the richness of pollinator species explains around a third of the harmful impacts of less diverse landscapes, while the richness of pest-controlling species accounts for about half of the same measure. In their view, the results of their research point to the need to protect biodiversity on and around crops in an uncertain future.
"Under future conditions with ongoing global change and more frequent extreme climate events, the value of farmland biodiversity ensuring resilience against environmental disturbances will become even more important," Steffan-Dewenter said.
Reposted with permission from our media associate Mongabay.
From Your Site Articles
Related Articles Around the Web
View of an Ivorian cleared forest at the edge of the 35.000 hectares Peko Mont National Park on Oct. 8, 2016. The Mont Péko National Park is located in the west of Ivory Coast where the forest officers fight with illegal immigrants to protect an exceptional flora and fauna, espacially dwarf elephants. SIA KAMBOU / AFP / Getty Images
Ivory Coast's rainforests have been decimated by cocoa production and what is left is put in peril by a new law that will remove legal protections for thousands of square miles of forests, according to The Guardian.
The Apusiaajik Glacier, as seen from Kulusuk village in East Greenland. Like most glaciers in Greenland, it's retreating rapidly, changing the local landscape year by year. Photo credit: Karin Kirk
By Karin Kirk
Greenland had quite the summer. It rose from peaceful obscurity to global headliner as ice melted so swiftly and massively that many were left grasping for adjectives. Then, Greenland's profile was further boosted, albeit not to its delight, when President Trump expressed interest in buying it, only to be summarily dismissed by the Danish prime minister.
During that time I happened to be in East Greenland, both as an observer of the stark effects of climate change and as a witness to local dialogue about presidential real estate aspirations, polar bear migrations and Greenland's sudden emergence as a trending topic.

Heavy metals that may damage a developing brain are present in 95 percent of baby foods on the market. Cirou Frederic / PhotoAlto Agency RF Collections / Getty Images
Heavy metals that may damage a developing brain are present in 95 percent of baby foods on the market, according to new research from the advocacy organization Healthy Babies Bright Futures (HBBF), which bills itself as an alliance of scientists, nonprofit organizations and donors trying to reduce exposures to neurotoxic chemicals during the first three years of development.
Chicago skyline on July 22 as high winds continue to push the waters of Lake Michigan over the top of the pedestrian and bike trail along the lakefront in Chicago. Raymond Boyd / Michael Ochs Archives / Getty Images
Every fall, I take my environmental studies class camping at Sleeping Bear Dunes National Lakeshore on Lake Michigan. Some years the beach extends more than three meters to the water. This year, in many spots, there was no beach at all.
Insects like bees, butterflies and even certain species of beetle and ant incidentally pollinate our crops when they collect protein-rich pollen and sugary nectar.
Rolf Dietrich Brecher
/ CC BY 2.0
By Kerstin Palme
Creepy-crawlies are among the oldest life forms on this planet. Before dinosaurs ever walked the earth, insects were certainly already there. Some estimates date their origins to 400 million years ago. They're also extremely successful. Of the 7 to 8 million species documented on Earth, around three quarters are likely bugs.
But several insect species could disappear for good in the next few decades and that would have serious consequences for humans.
Swedish automaker Volvo unveils its first electric vehicle the XC40 Recgarge EV, during an event in Los Angeles on Oct. 16. Frederic J. BROWN / AFP / Getty Images
Volvo introduced its first-ever all-electric vehicle this week, kicking off an ambitious plan to slash emissions and phase out solely gas-powered vehicles starting this year.
Cars are queued in Turin, Italy in August. Particulate matter levels were the highest in Italy, Poland and the Balkans countries. Nicolò Campo / LightRocket / Getty Images