This website uses cookies to ensure you get the best experience while browsing it. By clicking 'Got It' you're accepting these terms.
People Voice Overwhelming Opposition for Water Project
Nov. 29, 2011 04:35PM EST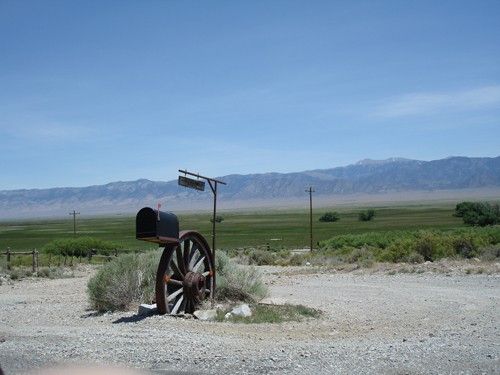 The Center for Biological Diversity (CBD) submitted more than 21,200 comments from the public Nov. 29 to the Nevada state engineer opposing granting of water rights to the Southern Nevada Water Authority for its massive groundwater pipeline project. If approved, the project would siphon 57 million gallons of water a year away from rural Nevada and Utah to fuel unsustainable urban growth in southern Nevada, unleashing vast environmental, economic and social harm.
The CBD will also submit the comments to the Southern Nevada Water Authority's board of directors Nov. 30, at their meeting.
"Aside from being a financial boondoggle, the Water Authority's proposed pipeline would destroy Nevada's priceless natural heritage and huge swaths of rural communities," said Rob Mrowka, a Nevada-based ecologist with the CBD. "There are other, better options for addressing southern Nevada's long-term water needs."
A fiscal analysis produced by Las Vegas-based Hobbs, Ong & Associates conservatively pegged the cost of the water project at nearly $15.5 billion—which would saddle millions of ratepayers in Clark County with huge costs for water services for generations. The Water Authority has said publicly that the cost for the project, which would initially include more than 300 miles of pipelines and dozens of well sites in rural east-central Nevada, is $2 billion to $3.6 billion. Under the $15.5 billion estimate, average monthly water bills for residents would increase from $36 to more than $90.
A draft environmental impact statement prepared by the U.S. Bureau of Land Management for the pipeline project disclosed that major vegetation and ecosystem changes would occur on more than 200,000 acres, including wetlands that will dry up and wildlife shrubland habitat converted to dryland grasses and noxious weeds. More than 300 springs would also be damaged, along with more than 120 miles of streams. Species such as the Bonneville cutthroat trout, sage grouse, mule deer and elk would suffer major declines as their habitats disappear.
"It doesn't make sense to rob Nevada's wildlife and these rural areas of the water they need just to quench the thirst of unsustainable growth, whether it's Las Vegas or Coyote Springs," said Mrowka. "It's time for our county and municipal leaders to start talking about creating sustainable communities in the face of dwindling water supplies and a hotter, drier climate. Clearly the old paradigm of a growth-driven economy has failed and will not lead to a promising future."
Among the options not seriously studied by the Water Authority are aggressive conservation; investment in modern and efficient indoor and outdoor water appliances and devices; expanded development of ocean desalinization; reworking the sorely outdated laws governing the Colorado River's water; and the Authority's own general manager's suggestion of diversion of the flood waters of the Mississippi. The Water Authority has never produced an analysis comparing the costs, benefits and risks of the various alternatives, but instead has single-mindedly pursued the groundwater-mining solution.
For more information, click here.
—————
The Center for Biological Diversity is a national, nonprofit conservation organization with more than 320,000 members and online activists dedicated to the protection of endangered species and wild places.
EcoWatch Daily Newsletter
Variety of fermented food korean traditional kimchi cabbage and radish salad. white and red sauerkraut in ceramic plates over grey spotted background. Natasha Breen / REDA&CO / Universal Images Group / Getty Image
Even if you've never taken probiotics, you've probably heard of them.
These supplements provide numerous benefits because they contain live microorganisms, such as bacteria or yeast, which support the healthy bacteria in your gut (1, 2, 3, 4).
Pexels
Singapore will become the first country in the world to place a ban on advertisements for carbonated drinks and juices with high sugar contents, its health ministry announced last week. The law is intended to curb sugar consumption since the country has some of the world's highest diabetes rates per capita, as Reuters reported.
A typical adult takes around 20,000 breaths per day. If you live in a megacity like Beijing, with many of those lungfuls you're likely to inhale a noxious mixture of chemicals and pollutants.
Fred Stone holds his brown swiss cow Lida Rose at his Arundel dairy farm on March 18 after a press conference where he spoke about PFAS chemical contamination in his fields. Gregory Rec / Portland Portland Press Herald via Getty Images
By Susan Cosier
First there was Fred Stone, the third-generation dairy farmer in Maine who discovered that the milk from his cows contained harmful chemicals. Then came Art Schaap, a second-generation dairy farmer in New Mexico, who had to dump 15,000 gallons of contaminated milk a day.
Protesters attend the 32nd annual Fur-Free Friday demonstration on Nov. 23, 2018 in Beverly Hills, California. Ella DeGea / Getty Images
California Governor Gavin Newsom signed into law a bill that that bans the sale and manufacture of fur products in the state. The fur ban, which he signed into law on Saturday, prohibits Californians from selling or making clothing, shoes or handbags with fur starting in 2023, according to the AP.
By Simon Evans
During the three months of July, August and September, renewables generated an estimated total of 29.5 terawatt hours (TWh), compared with just 29.1TWh from fossil fuels, the analysis shows.
A demonstrator waves an Ecuadorian flag during protests against the end of subsidies to gasoline and diesel on Oct. 9 in Quito, Ecuador. Jorge Ivan Castaneira Jaramillo / Getty Images
Protesters block the road outside Mansion House in London during an XR climate change protest. Gareth Fuller / PA Images via Getty Images