This website uses cookies to ensure you get the best experience while browsing it. By clicking 'Got It' you're accepting these terms.
People Power Needed Now More Than Ever
Jul. 10, 2015 10:36AM EST
Climate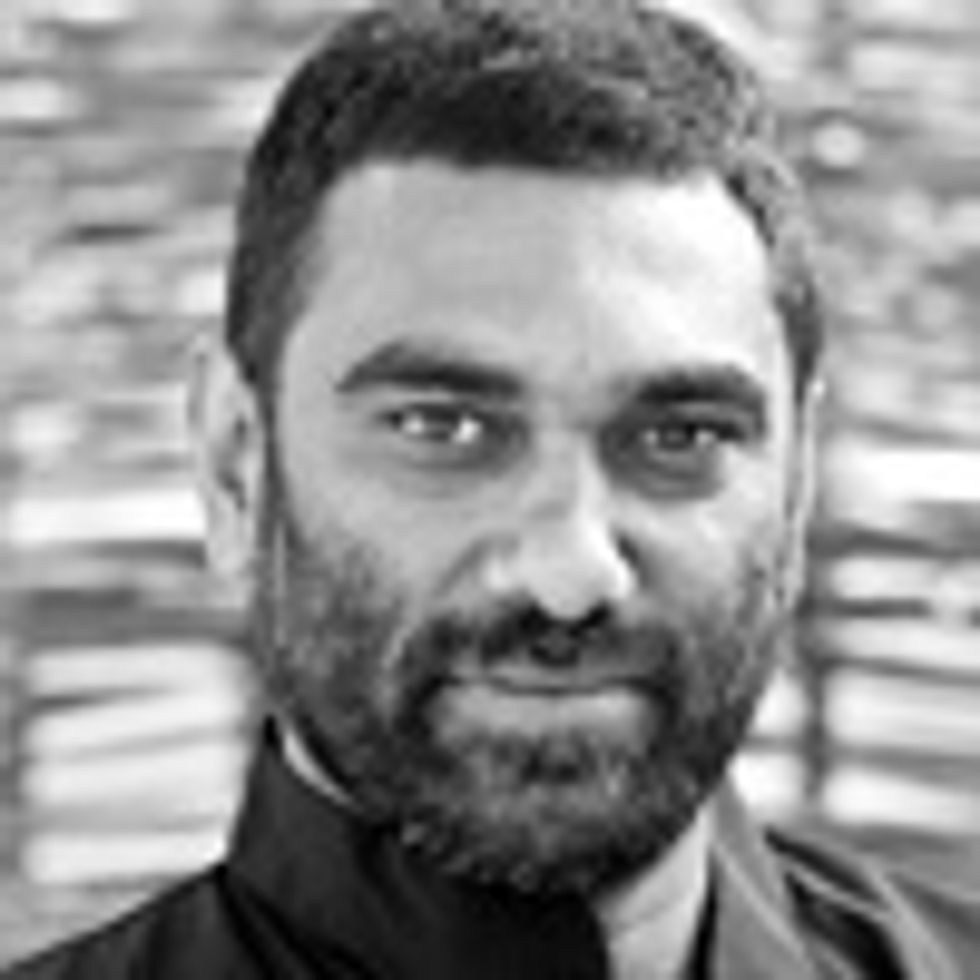 Thirty years ago, groups of individuals in New Zealand were preparing to leave their families, their jobs and their homes to set off in small boats across the Pacific Ocean into a nuclear weapons testing zone. They hoped that their presence there would be enough to stop nuclear bomb tests.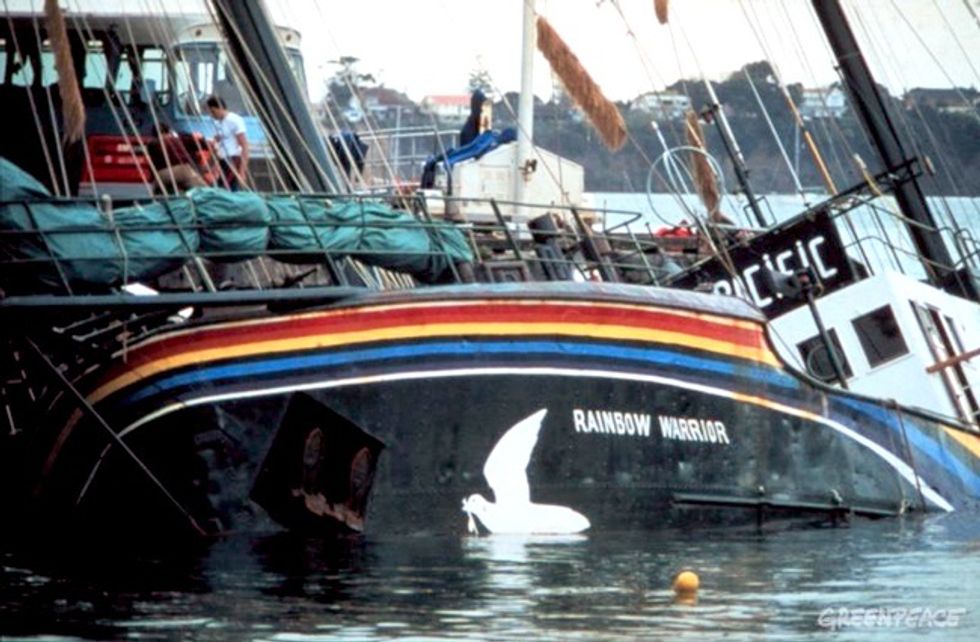 Rainbow Warrior, sunk by two underwater mines placed by agents of the French Government in Marsden Wharf, New Zealand. July 11, 1985 Photo credit: © Greenpeace / Miller
The French Government conducting the tests must have known it could not win against such a show of people power. So a few minutes before midnight on 10 July 1985, French secret service agents struck in Auckland harbour, New Zealand. They bombed and sank the Greenpeace ship Rainbow Warrior, one of the ships that was due to lead the flotilla into the nuclear test zone. The French agents murdered Fernando Pereira, a photographer and crew member.
The government was mistaken if it believed that this would knock the courage out of a movement of millions. One of our supporters said it best: you can't sink a rainbow.
Thanks to public protest, nuclear tests in the Pacific were abandoned. People power made history. Not all of those people clambered into boats. But they all took a stand. Some by writing, some by marching, some by signing a petition. Some volunteered, some donated, some challenged their friends and family. Others changed minds simply by telling people where they stood. Each one of those single acts, by people just like you and me, reached into hearts and minds and ultimately brought an end to nuclear weapons testing.
Today, we all face a different threat: climate change. Just as nuclear weapons threatened global catastrophe 30 years ago, so climate change threatens all of us now. Global warming means more flooding and bigger storms. We see severe weather events hitting the news with greater regularity. Millions of people suffer them at first hand, some losing their homes, livelihoods and even their lives.
It is already undermining security and is set to further exacerbate scarcities and tensions that fuel conflict.
But even as the world's seas are rising, the tide is turning. The ranks of the clean energy revolution are swelling. Between January and May this year, around three-quarters of new electricity capacity in the U.S. was solar and wind.
In Norway, the country's politicians voted unanimously to sell off coal investments from the US$900 billion Government Pension Fund, the largest sovereign wealth fund on the planet.
Just last month, the Pope called on the world's rich nations to tackle climate change, in a 180-page call for action. And, in the Netherlands, 900 Dutch citizens won a stunning legal victory in which the court ordered the Dutch state to cut more carbon pollution in the next five years.
Increasingly, people are standing up to the coal, oil and gas companies whose polluting products are fouling the air we breathe, the seas we fish and swim in, and the habitats on which we depend. It's partly due to the events of 30 years ago, where a wide and diverse group of people showed courage in standing up to the nuclear threat in the Pacific, that we know that people power can win.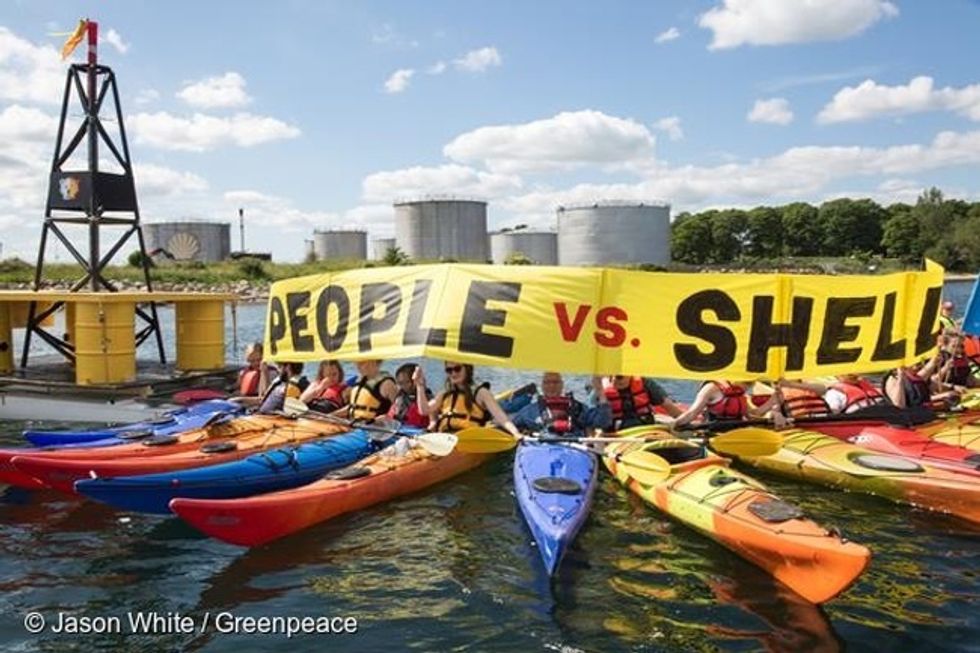 In a few days' time Shell could start drilling for oil in the Arctic. Millions of people are taking a stand to protect this beautiful place and to say 'no' to yet more fossil fuels and yet more global warming. Some people have shown courage by climbing Arctic-bound oil drilling rigs, or by clambering into kayaks and daring to paddle in front of these huge vessels; others by joining marches, writing letters and signing petitions—just as people did 30 years ago to stop Pacific nuclear weapons testing.
People in the Pacific region are also standing up against climate change and the polluters. Filipinos are calling on the country's Commission on Human Rights to investigate the big carbon polluters for human rights violations linked to the impacts of climate change. In Australia people are standing up to protect the Great Barrier Reef. On the 30th anniversary of the bombing of the Rainbow Warrior, the third Rainbow Warrior will be campaigning to protect the reef—the largest living thing on the planet—from the coal industry.
The French Government didn't realise the strength of a people-powered movement. They thought two bombs could blow the movement away. They were wrong.
There are small and large acts that each of us can take to make the world a safer, cleaner, healthier, better place. To end the era of dependence on dirty fossil fuels and usher in the age of renewables, where all the world has access to clean energy. Stand up for what you believe in, in whatever way you can; celebrate those who do the same. It makes us all stronger.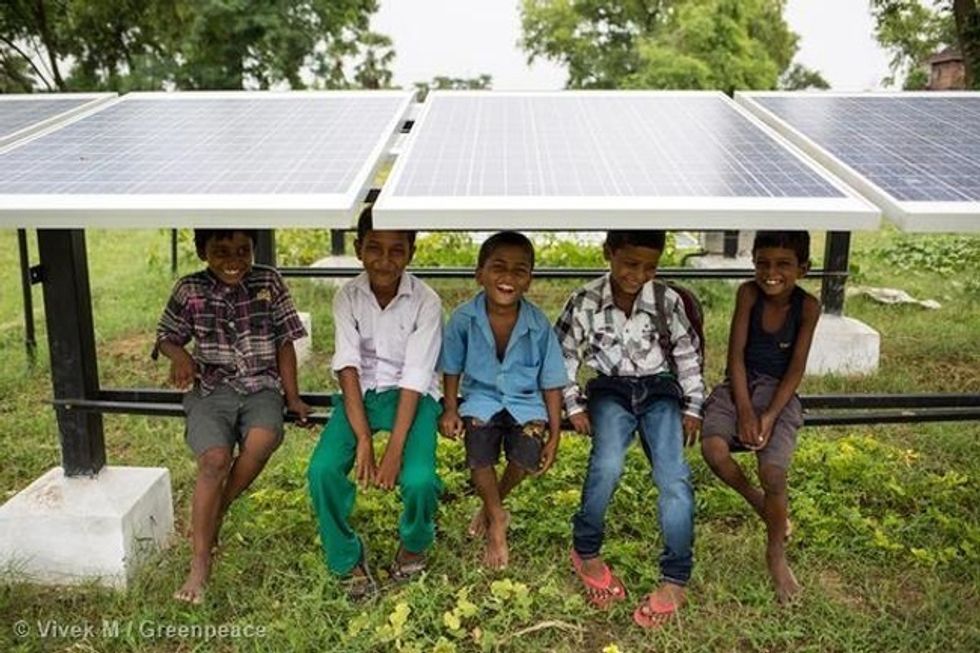 As we remember Fernando Pereira, and dedicate this anniversary to the courage of the crew of that first Rainbow Warrior, we are asking everyone to share their own story of courage to this site.
Read about people just like you and me who oppose injustice and environmental abuse, and who are seized with infectious optimism for change, and a better future.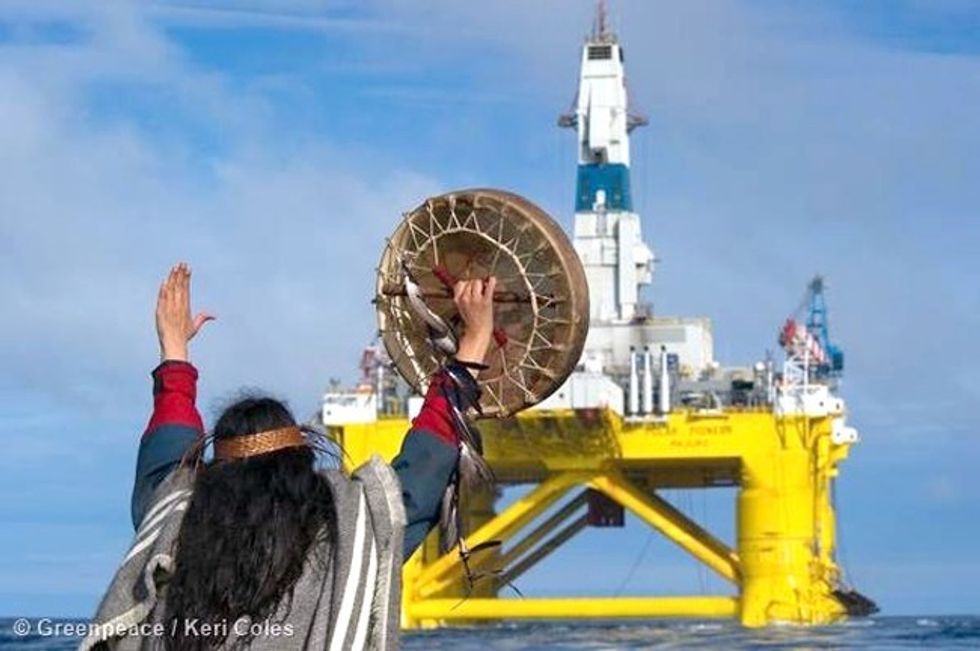 Being courageous is not always easy. But courage is contagious. #CourageWorks and the world has never needed all of us to find the courage to take action as it does now.
YOU MIGHT ALSO LIKE
Pope Francis: Unbridled Capitalism Is 'Dung of the Devil'
3 Presidential Candidates Say 'No' to Fossil Fuel Funding, Will Hillary Join Them?
EcoWatch Daily Newsletter
New pine trees grow from the forest floor along the North Fork of the Flathead River on the western boundary of Glacier National Park on Sept. 16, 2019 near West Glacier, Montana. Chip Somodevilla / Getty Images
Household actions lead to changes in collective behavior and are an essential part of social movements. Pixabay /
Pexels
Talk is cheap, says the acting executive secretary of the United Nations Convention on Biological Diversity, who begged governments around the world to make sure that 2020 is not another year of conferences and empty promises, but instead is the year to take decisive action to stop the mass extinction of wildlife and the destruction of habitat-sustaining ecosystems, as The Guardian reported.
The people of Kiribati have been under pressure to relocate due to sea level rise. A young woman wades through the salty sea water that flooded her way home on Sept. 29, 2015. Jonas Gratzer / LightRocket via Getty Images
Refugees fleeing the impending effects of the climate crisis cannot be forced to return home, according to a new decision by the United Nations Human Rights Committee, as CNN reported. The new decision could open up a massive wave of legal claims by displaced people around the world.
The first day of the Strike WEF march on Davos on Jan. 18, 2020 near Davos, Switzerland. The activists want climate justice and think the WEF is for the world's richest and political elite only. Kristian Buus / In Pictures via Getty Images
By Ashutosh Pandey
Teenage climate activist Greta Thunberg is returning to the Swiss ski resort of Davos for the 2020 World Economic Forum with a strong and clear message: put an end to the fossil fuel "madness."