This website uses cookies to ensure you get the best experience while browsing it. By clicking 'Got It' you're accepting these terms.
People, Planet, Profit: How Triple-Bottom-Line Businesses Lead the Way Toward Sustainable Economies
Mar. 04, 2015 09:41AM EST
Business
The business model that puts profit ahead of everything—that in fact looks at profit as the only thing—has created extensive human and environmental misery in the world.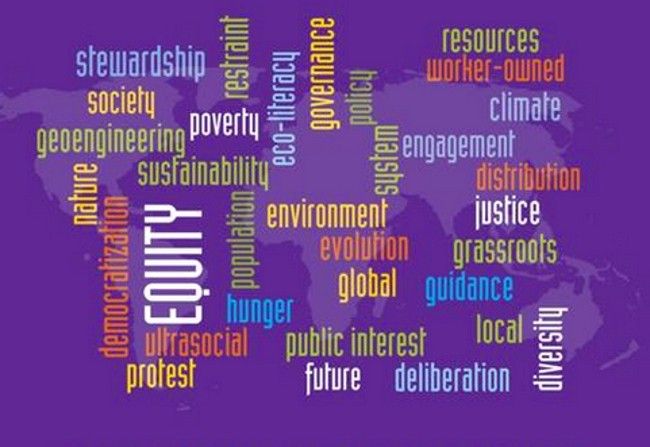 Worldwatch Institute's new book, State of the World 2014: Governing for Sustainability, takes a look at how some entrepreneurs and business people are starting to reassess this model to become "triple-bottom-line" companies—ones that function more holistically to consider "people/planet/profit" in their impact of their practices. It calls this "a small revolution."
"Put simply, the conventional economic model—amoral capitalism—and the willingness of so many investors and consumers to tolerate it are two of the most challenging threats to preserving a livable human future," writes Colleen Cordes, a public policy consultant and director of outreach and development for The Nature Institute, who authored the chapter The Rise of Triple-Bottom-Line Businesses. "A remarkable new breed of business is volunteering to be held publicly or even legally accountable to a triple bottom line: prioritizing people and the planet, while also promoting profits."
She writes that one of the major factors in getting these changes rolling is public pressure. In the last decade, as awareness of climate change and environmental degradation have grown, along with an increasing awareness of how a handful have profited handsomely while most workers are falling behind even in the face of growing productivity, environmentalists, labor unions, nonprofits, consumers and even investors have begun to take a harder look at how corporations conduct their businesses, from what they spend lobbying to what they put in their food.
While most large corporations are lagging behind, continuing to value profit at all costs, State of the World 2014 found that some, primarily privately held, small and medium-sized companies in the U.S., as well as in other countries like Canada and Chile, are starting to consider how to be more socially and environmentally responsible while still keeping an eye on the bottom line. And some larger companies like Patagonia and King Arthur Flour are starting to come on board too.
State of the World 2014 points out that a few major corporations are dabbling in the triple-bottom-line movement primarily through subsidiaries they've acquired. It lauds this engagement but also expresses concern that the movement's potential could be diluted if the parent companies are not strongly behind their subsidiaries' values—emphasizing the importance of organizations and individuals working to grow environmental and social justice awareness and talking to businesses about it.
"Although it could take years for a Fortune 500 benefit corporation to emerge, such conversations—and broader advocacy by citizens and public interest groups—could begin now to firm up and speed up that possibility," says Cordes.
The book points to the role the environmental movement has played in moving both governments and corporations to be better planetary citizens, saying, "Citizens expect their governments to lead on sustainability. But governments' progress has been lackluster. That's not to say leadership is absent; it just often comes from the bottom up rather than the top down. Action—on climate, species loss, inequity and other sustainability crises—is being driven by local, people's, women's and grassroots movements around the world, often in opposition to the agendas pursued by governments and big corporations."
Despite the slow progress, that's an upbeat message, say some environmental leaders.
"This book is a manifesto of practical hope published in the shadow of accelerating environmental catastrophe," said
Bill McKibben
, founder of
350.org
. "It tells us that we do not have to sit on our hands and close our eyes as we wait for the deluge. Instead, we can govern and lead with some courage in the interests of all humanity."
YOU MIGHT ALSO LIKE
50 of the World's Largest Cities Ranked by People, Planet, Profit
3 Key Trends to Watch in Green Business
Tesla and Toyota Driving Innovation Far Beyond Electric Cars
EcoWatch Daily Newsletter
A. Battenburg / Technical University of Munich
By Sarah Kennedy
Algae in a pond may look flimsy. But scientists are using algae to develop industrial-strength material that's as hard as steel but only a fraction of the weight.
Variety of fermented food korean traditional kimchi cabbage and radish salad. white and red sauerkraut in ceramic plates over grey spotted background. Natasha Breen / REDA&CO / Universal Images Group / Getty Image
Even if you've never taken probiotics, you've probably heard of them.
These supplements provide numerous benefits because they contain live microorganisms, such as bacteria or yeast, which support the healthy bacteria in your gut (1, 2, 3, 4).
Pexels
Singapore will become the first country in the world to place a ban on advertisements for carbonated drinks and juices with high sugar contents, its health ministry announced last week. The law is intended to curb sugar consumption since the country has some of the world's highest diabetes rates per capita, as Reuters reported.
A typical adult takes around 20,000 breaths per day. If you live in a megacity like Beijing, with many of those lungfuls you're likely to inhale a noxious mixture of chemicals and pollutants.
Fred Stone holds his brown swiss cow Lida Rose at his Arundel dairy farm on March 18 after a press conference where he spoke about PFAS chemical contamination in his fields. Gregory Rec / Portland Portland Press Herald via Getty Images
By Susan Cosier
First there was Fred Stone, the third-generation dairy farmer in Maine who discovered that the milk from his cows contained harmful chemicals. Then came Art Schaap, a second-generation dairy farmer in New Mexico, who had to dump 15,000 gallons of contaminated milk a day.
Protesters attend the 32nd annual Fur-Free Friday demonstration on Nov. 23, 2018 in Beverly Hills, California. Ella DeGea / Getty Images
California Governor Gavin Newsom signed into law a bill that that bans the sale and manufacture of fur products in the state. The fur ban, which he signed into law on Saturday, prohibits Californians from selling or making clothing, shoes or handbags with fur starting in 2023, according to the AP.
By Simon Evans
During the three months of July, August and September, renewables generated an estimated total of 29.5 terawatt hours (TWh), compared with just 29.1TWh from fossil fuels, the analysis shows.
A demonstrator waves an Ecuadorian flag during protests against the end of subsidies to gasoline and diesel on Oct. 9 in Quito, Ecuador. Jorge Ivan Castaneira Jaramillo / Getty Images