This website uses cookies to ensure you get the best experience while browsing it. By clicking 'Got It' you're accepting these terms.
People, Planet, Profit: How Triple-Bottom-Line Businesses Lead the Way Toward Sustainable Economies
Mar. 04, 2015 09:41AM EST
Business
The business model that puts profit ahead of everything—that in fact looks at profit as the only thing—has created extensive human and environmental misery in the world.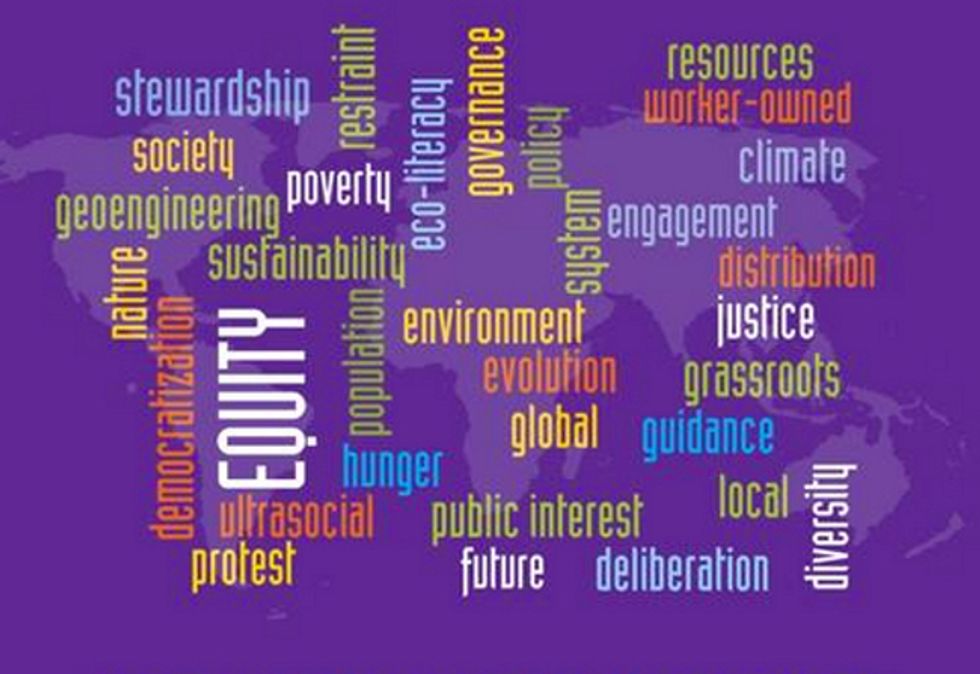 Worldwatch Institute's new book, State of the World 2014: Governing for Sustainability, takes a look at how some entrepreneurs and business people are starting to reassess this model to become "triple-bottom-line" companies—ones that function more holistically to consider "people/planet/profit" in their impact of their practices. It calls this "a small revolution."
"Put simply, the conventional economic model—amoral capitalism—and the willingness of so many investors and consumers to tolerate it are two of the most challenging threats to preserving a livable human future," writes Colleen Cordes, a public policy consultant and director of outreach and development for The Nature Institute, who authored the chapter The Rise of Triple-Bottom-Line Businesses. "A remarkable new breed of business is volunteering to be held publicly or even legally accountable to a triple bottom line: prioritizing people and the planet, while also promoting profits."
She writes that one of the major factors in getting these changes rolling is public pressure. In the last decade, as awareness of climate change and environmental degradation have grown, along with an increasing awareness of how a handful have profited handsomely while most workers are falling behind even in the face of growing productivity, environmentalists, labor unions, nonprofits, consumers and even investors have begun to take a harder look at how corporations conduct their businesses, from what they spend lobbying to what they put in their food.
While most large corporations are lagging behind, continuing to value profit at all costs, State of the World 2014 found that some, primarily privately held, small and medium-sized companies in the U.S., as well as in other countries like Canada and Chile, are starting to consider how to be more socially and environmentally responsible while still keeping an eye on the bottom line. And some larger companies like Patagonia and King Arthur Flour are starting to come on board too.
State of the World 2014 points out that a few major corporations are dabbling in the triple-bottom-line movement primarily through subsidiaries they've acquired. It lauds this engagement but also expresses concern that the movement's potential could be diluted if the parent companies are not strongly behind their subsidiaries' values—emphasizing the importance of organizations and individuals working to grow environmental and social justice awareness and talking to businesses about it.
"Although it could take years for a Fortune 500 benefit corporation to emerge, such conversations—and broader advocacy by citizens and public interest groups—could begin now to firm up and speed up that possibility," says Cordes.
The book points to the role the environmental movement has played in moving both governments and corporations to be better planetary citizens, saying, "Citizens expect their governments to lead on sustainability. But governments' progress has been lackluster. That's not to say leadership is absent; it just often comes from the bottom up rather than the top down. Action—on climate, species loss, inequity and other sustainability crises—is being driven by local, people's, women's and grassroots movements around the world, often in opposition to the agendas pursued by governments and big corporations."
Despite the slow progress, that's an upbeat message, say some environmental leaders.
"This book is a manifesto of practical hope published in the shadow of accelerating environmental catastrophe," said
Bill McKibben
, founder of
350.org
. "It tells us that we do not have to sit on our hands and close our eyes as we wait for the deluge. Instead, we can govern and lead with some courage in the interests of all humanity."
YOU MIGHT ALSO LIKE
50 of the World's Largest Cities Ranked by People, Planet, Profit
3 Key Trends to Watch in Green Business
Tesla and Toyota Driving Innovation Far Beyond Electric Cars
EcoWatch Daily Newsletter
Investing in grid infrastructure would enable utilities to incorporate modern technology, making the grid more resilient and flexible. STRATMAN2 / FLICKR
By Elliott Negin
The Royal Swedish Academy of Sciences' recent decision to award the 2019 Nobel Prize in Chemistry to scientists who developed rechargeable lithium-ion batteries reminded the world just how transformative they have been. Without them, we wouldn't have smartphones or electric cars. But it's their potential to store electricity generated by the sun and the wind at their peak that promises to be even more revolutionary, reducing our dependence on fossil fuels and protecting the planet from the worst consequences of climate change.
Two Javan rhinos deep in the forests of Ujung Kulon National Park, the species' last habitat on Earth. Sugeng Hendratno / WWF
The global population of the critically endangered Javan rhinoceros has increased to 72 after four new calves were spotted in the past several months.
A tiger looks out from its cage at a new resort and zoo in the eastern Lao town of Tha Bak on Dec. 5, 2018. Karl Ammann believes the "zoo" is really a front for selling tigers. Terrence McCoy / The Washington Post / Getty Images
Are tigers extinct in Laos?
That's the conclusion of a detailed new study that found no evidence wild tigers still exist in the country.
A group of scientists is warning that livestock production must not expand after 2030 for the world to stave off ecological disaster.
The largest wetland in Africa is in the South Sudan. George Steinmetz / Corbis Documentary / Getty Images Plus
Methane emissions are a far more powerful greenhouse gas than carbon dioxide – about 28 times more powerful. And they have been rising steadily since 2007. Now, a new study has pinpointed the African tropics as a hot spot responsible for one-third of the global methane surge, as Newsweek reported.