This website uses cookies to ensure you get the best experience while browsing it. By clicking 'Got It' you're accepting these terms.
Pennsylvanians Demand Senators Declare Independence from Fracking
Jul. 12, 2013 09:39AM EST
Energy
A week after millions of Americans celebrated our nation's independence, Pennsylvanians held "Independence from Fracking" rallies outside key state senator's offices, including Sen. Browne.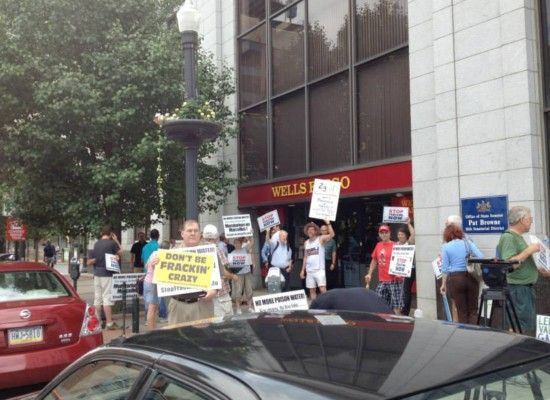 The rallies, coordinated by local citizens and statewide environmental groups, highlighted key legislators' continued opposition to a moratorium on fracking, despite growing support in the Commonwealth. There were rallies outside the offices of Pennsylvania Sen. Baker (R-Wayne), Sen. Browne (R-Lehigh), Sen. Farnese (D-Philadelphia), Sen. Kasunic (D-Fayette), Sen. McIlhinney (R-Bucks), Sen. Scarnati (R-Jefferson & Tioga), Sen. Ward (R-Westmoreland) and Sen. White (R-Westmoreland).
Organizers also held a thank you rally outside Sen. Dinniman's (D-Chester) office, who signed on in support the day before the "Independence from Fracking" day of action.
"Every day that passes, more Pennsylvanians are impacted as fracking continues to ravage our beautiful state," said Adam Garber, PennEnvironment field director. "It's time for our senators to stand up and put people's health first by supporting a moratorium, instead of allowing gas drilling companies to profit at our expense."
"People around the state are putting their state senators on notice today, standing together with one clear message: stop fracking in Pennsylvania." Said Sam Bernhardt, Pennsylvania organizer for Food & Water Watch. "We're thankful for those elected officials who stand with us. Those who continue to allow our state to be exploited by the gas industry should expect only more days like today."
The rallies are part of a growing momentum for a moratorium in Pennsylvania. After a coalition of environmental and health groups submitted 100,000 signatures for a moratorium in April, Sen. Ferlo (D- Allegheny) introduced legislation that will put our health and environment first by halting fracking permits in the Commonwealth.
"I'm encouraged by the leadership of my colleagues in co-sponsoring my legislation to enact a temporary moratorium on fracking," said Sen. Ferlo. "These six senators understand the consequences of gas drilling, and have taken a stand to protect the Commonwealth's air, land and water despite the pressure from the wealthy oil and gas industry."
"Pennsylvania's approach to fracking is 'permit first' and 'figure the rest out later'," said Melissa Troutman, Mountain Watershed Association outreach coordinator. "From water withdrawals to waste disposal, fracking in Pennsylvania is nothing more than an experiment. That is neither good policy nor planning for the Commonwealth's future."
The growing fracking disaster has now persuaded a majority of Pennsylvanians to support a moratorium, demonstrated by a recent Muhlenberg poll. And, in recent weeks, more senators have signed onto Sen. Ferlo's legislation, including Sen. Boscola (D-Northampton), Sen. Dinniman,  Sen. Kitchens (D-Philadelphia), Sen. Leach (D-Montgomery), Sen. Schwank (D-Berks) and Sen. Washington (D-Montgomery, Phildelphia). And, the Pennsylvania State Democratic Committee passed a resolution in support of a moratorium.
"Until there are greater assurances that our citizens, environment and communities are adequately protected and have reasonable legal recourse, there should be a moratorium on gas drilling in Pennsylvania," said Sen. Boscola.
"It is important that we take this action in the interest of clearly understanding the health and environmental impacts of fracking in the Commonwealth," Sen. Dinniman said.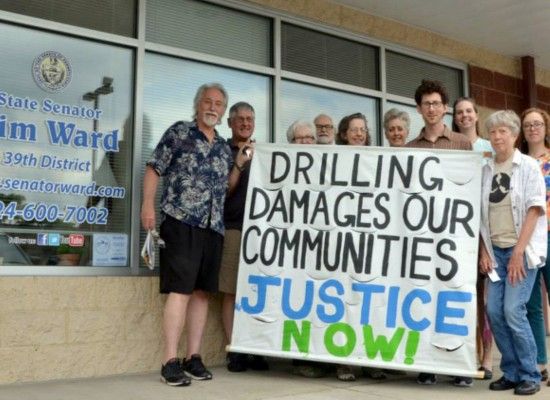 "Since there is still plenty of gas in capped wells and the pipeline infrastructure is still in the planning and approval stages, now is an excellent moment to have a moratorium for a set period of time so we can better understand the impact of natural gas pipelines on my Chester and Montgomery County district," Dinniman concluded.
"The people of Pennsylvania have spoken—nearly two-thirds support a moratorium on fracking, according to recent polling. The Pennsylvania Democratic party voted to support a moratorium," said Karen Feridun of Berks Gas Truth. "Now it's up to our elected officials to decide who they're representing—the people or the natural gas industry."
The rush to drill has had devastating effects on Pennsylvania's environment and public health and includes a track record of thousands of violations of cornerstone environmental laws and protections. In fact, the gas drilling industries have committed more than 4,363 environmental violations in recent years.
"The scope, scale and intensity of destructive accidents and widespread contamination has escalated even while new science has shown that shale gas development harms groundwater and climate," said Iris Marie Bloom, executive director of Protecting Our Waters. "It's time for our leaders to follow the majority of Pennsylvanians in calling for a moratorium to protect our health!"
"Senator Pat Browne and all other PA Senators need to think long and hard about aligning themselves with the will of 59 percent of Pennsylvania citizens who support a moratorium," said Julie Edgar of Lehigh Valley Gas Truth. "Our  need to stop this slow-motion train-wreck of gas industry domination of PA on hold before it is too late—it should be non-partisan, and non-negotiable."
There have also been dozens of cases where people's health has suffered. In Dimock, PA, drilling operations contaminated the drinking water wells of several households for roughly three years, perhaps more. And, recently released court documents show that gas drillers settled with a Washington County family who endured health problems.
The event's organizers pledge to continue pushing these senators, and many more, to support a moratorium in coming months with rallies, letter-writing campaigns, new reports about the impacts of fracking, and more.
"As a founding member of Americans Against Fracking and with nearly 3,000 members in Pennsylvania, Democracy for America is committed to the fight against drilling in PA because public health and the environment are more important than corporate profits," said Ljubica Sarafov, mid-atlantic field organizer for Democracy for America.
Visit EcoWatch's FRACKING page for more related news on this topic.
——–

EcoWatch Daily Newsletter
By Anita Desikan
The Trump administration is routinely undermining your ability — and mine, and everyone else's in this country — to exercise our democratic rights to provide input on the administration's proposed actions through the public comment process. Public comments are just what they sound like: an opportunity for anyone in the public, both individuals and organizations, to submit a comment on a proposed rule that federal agencies are required by law to read and take into account. Public comments can raise the profile of an issue, can help amplify the voices of affected communities, and can show policymakers whether a proposal has broad support or is wildly unpopular.
Alena Gamm / EyeEm / Getty Images
Picture this: a world where chocolate is as rare as gold. No more five-dollar bags of candy on Halloween. No more boxes of truffles on Valentine's day. No more roasting s'mores by the campfire. No more hot chocolate on a cold winter's day.
Who wants to live in a world like that?
Fabian Krause / EyeEm / Getty Images
Water protectors of all persuasions gathered in talking circles at Borderland Ranch in Pe'Sla, the heart of the sacred Black Hills, during the first Sovereign Sisters Gathering. At the center are Cheryl Angel in red and white and on her left, Lyla June. Tracy Barnett
By Tracy L. Barnett
Sources reviewed this article for accuracy.
For Sicangu Lakota water protector Cheryl Angel, Standing Rock helped her define what she stands against: an economy rooted in extraction of resources and exploitation of people and planet. It wasn't until she'd had some distance that the vision of what she stands for came into focus.
Hedges, 2019 © Hugh Hayden. All photos courtesy of Lisson Gallery
By Patrick Rogers
"I'm really into trees," said the sculptor Hugh Hayden. "I'm drawn to plants."
BruceBlock / iStock / Getty Images
Thanks to their high concentration of powerful plant compounds, foods with a natural purple hue offer a wide array of health benefits.