Pennsylvanians Demand Clean Water and Moratorium on Fracking
Jun. 21, 2013 10:56AM EST
Fracking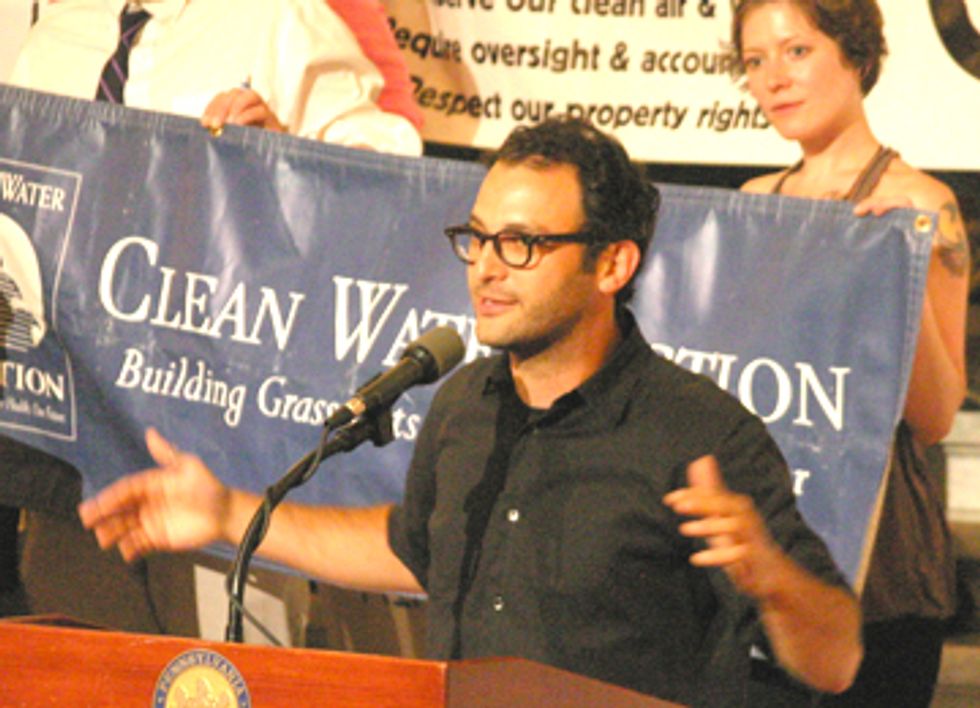 By Kati Lawson, Pennsylvania Legislative Service
Clean water activists and representatives from Clean Water Action, Sierra Club, Delaware Riverkeeper Network and Berks Gas Truth gathered in the Capitol Wednesday to call on Gov. Corbett (R-PA) to speak publicly on the extent of water contamination from fracking for natural gas in Pennsylvania.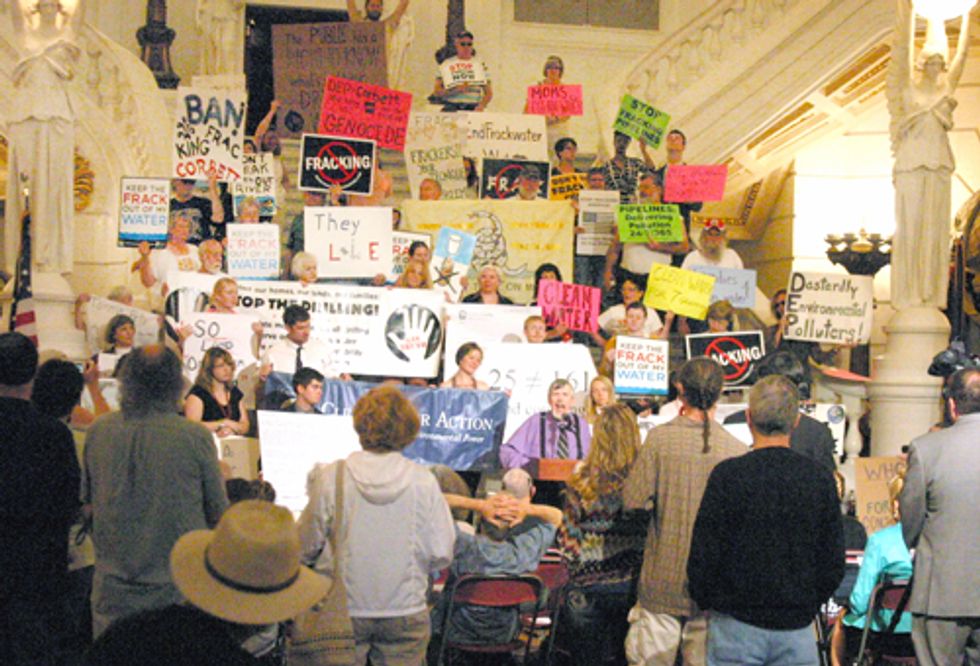 Pennsylvania State Director of Clean Water Action, Myron Arnowitt, said the rally was being held because many activists know that Pennsylvania will end up with dirty water if gas companies continue to work without regulations. He pointed to some of the large signs carried by attendees on the steps and explained that they received a letter from the Department of Environmental Protection (DEP) that told homeowners that their water had been contaminated due to gas drilling.
"It's time for Gov. Corbett to tell the public what happened and how many people have been affected by fracking," said Arnowitt. "We want a little truth from our government and some justice for the folks who have had their water contaminated by fracking."
Tracy Carluccio, deputy director at Delaware Riverkeeper Network, said that the rally was scheduled to make the government listen to the people saying "no" to drilling for natural gas in Pennsylvania. "We are as important as the gas development companies," said Carluccio. "Democracy is eroding and we will bring it back by showing the truth about gas drilling."
Carluccio said DEP has failed Pennsylvanians, and because Gov. Corbett is the man behind DEP, he too has failed his constituents. She said that DEP has not been transparent about drilling incidents and does not even have a database of the water affected by natural gas drilling.
"This administration is working for the gas drillers and developers, not for the people," stated Carluccio. "We demand that the truth come out and we want a DEP that cares and works for the people."
Karen Feridun, founder of Berks Gas Truth, said that all of Pennsylvania is in danger because of fracking, not just the areas of the state that host drilling wells. She explained that a compressor station 100 miles away from a Berks County Residence was affected during Hurricane Sandy and sent tons of gas and compounds into the air. Feridun said that people in the area who smelled gas tried to contact the gas company, the media and DEP with no success.
Feridun said that it took her personally contacting DEP representatives to get any answers about the compressor station incident. "Nothing has been done to the company who caused the leak and this kind of thing happens all the time," said Feridun. "It's almost guaranteed that when these companies violate the rules that nothing will happen; the recidivism rate is ridiculous."
Feridun stated that she knows many wonderful hardworking people who would love to do their jobs in the DEP, but as long as Gov. Corbett is in charge the state is stuck with a dangerous industry in command. "There are lots of things in life that are more important than money," said Feridun. "Our environment, health, safety and community are more important than money."
Craig Stevens, a Susquehanna County resident affected by gas drilling, said that his message to the naysayers is to go see the destruction caused by fracking firsthand. He stated that DEP has been claiming that there is no problem, then he held up hundreds of determination letters from DEP released through Right-to-Know requests.
"This isn't about fracking the ground for gas," said Stevens. "This is about fracturing a community."
Stevens said that he and other activists have offered the dirty drinking water of wells considered "safe" by DEP standards to DEP officials who refuse to drink. "There might be money in the ground for this, but I need water more than I need gas," proffered Stevens.
Ray Kemble, a resident of Dimock, PA, brought with him a jug of his well water, which was a medium brown color. "The DEP and EPA [Environmental Protection Agency] came to my house and said there was nothing wrong with my water at first," said Kemble. "Then a few months later I got a letter than said my well water is undrinkable."
Kemble explained that he used to work within the natural gas industry, but now that he is a whistleblower he no longer has a job.
Nathan Sooy, Harrisburg director of Clean Water Action, called Harrisburg the "Capital of Un-Reality." He demanded that Gov. Corbett direct DEP to protect the environment of Pennsylvania by implementing strong policies and practices, help all of the families whose water is impacted by natural gas drilling, and appoint a DEP Secretary who has experience in environmental protection.
Sooy said that a recent poll showed that almost two-thirds of Pennsylvanians are in favor of a full moratorium on drilling. He said that Gov. Corbett has accepted $1.8 million in contributions from the oil and gas industry since 2004 and called for Pennsylvanians to make the change in the Commonwealth through grassroots efforts.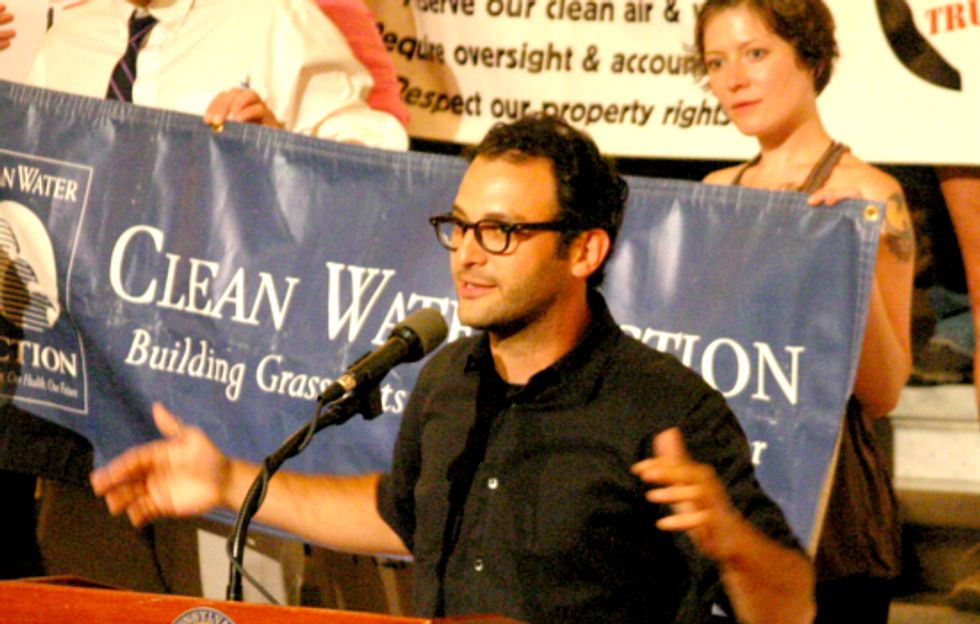 Filmmaker Josh Fox, creator of the movie Gasland, called Harrisburg the biggest fracking site in the Commonwealth. He said that the past three governors have accepted funds from natural gas drillers, but that Act 13 is the greatest affront to Pennsylvania's environment.
"Corbett sponsored and signed Act 13 which [sought] to overturn local and municipal bans because of Pennsylvania oil and gas laws," said Fox. "Another law above Pennsylvania oil and gas law, which is the Constitution of Pennsylvania, guarantees Pennsylvanians our rights to clean air and water."
Fox said that Act 13 also steps in between doctors and patients. He explained that if doctors think that their patient is suffering of a drilling-related illness they have to sign non-disclosure agreements.
"In New York, the government did environmental studies and then kept the natural gas industry out of the state because they had the democratic opportunity to do that," said Fox.
He said that the democracy of every Pennsylvanian is in jeopardy because of the gas industry's stranglehold on the elected government. Fox further explained that studies show that after thirty years, 50 percent of gas wells will leak in Pennsylvania. "With the projected 180,000 gas wells that are supposed to be built in Pennsylvania, there could be 90,000 leaky gas wells across Pennsylvania," said Fox. "There is a clear possibility of contaminating the entire state of Pennsylvania."
Fox said that Pennsylvanians have several reasons to be hopeful. "Nearly two-thirds of Pennsylvanians want a moratorium and Nate Silver said that Gov. Corbett is the most endangered governor in the United States of America," stated Fox. He said it is important to share information from neighbor to neighbor in order to vote Gov. Corbett out of office in 2014 and make sure the Democrat running for governor embraces a full moratorium on gas drilling.
Visit EcoWatch's FRACKING page for more related news on this topic.
——–

Sign the petition today, telling President Obama to enact an immediate fracking moratorium:

EcoWatch Daily Newsletter
Recent Stories from EcoWatch