Pennsylvania Township Passes Bill of Rights Banning Fracking Wastewater Injection Wells
Last night, the people of Grant Township adopted the country's first municipal charter establishing a local bill of rights. The Grant Bill of Rights codifies environmental and democratic rights, and bans fracking wastewater injection wells as a violation of those rights.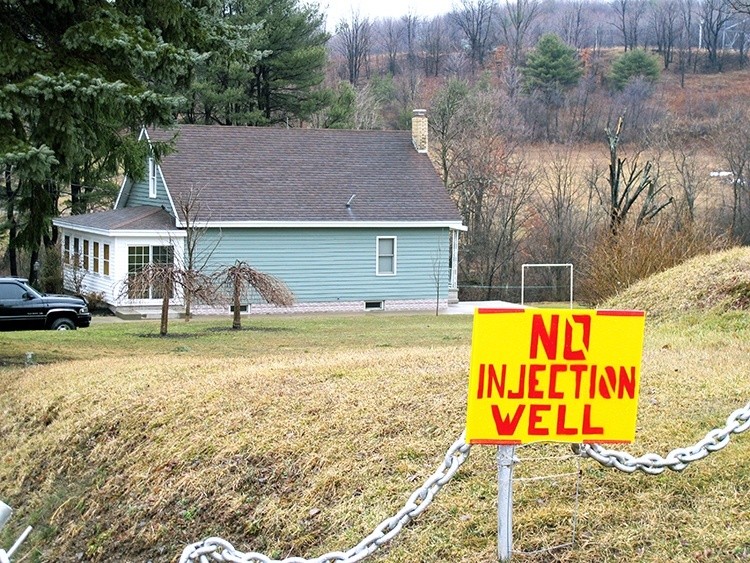 The Grant Bill of Rights codifies environmental and democratic rights and bans fracking wastewater injection wells as a violation of those rights. Photo credit: Susan Phillips / StateImpact Pennsylvania
Grant joins growing numbers of communities across Pennsylvania and the U.S. that are coming together in a community rights movement to stand up to a system of law that forces fracking waste wells and other practices into communities, and protects corporations over people, communities and nature. 
The passage of the Grant charter comes fourteen months after the township was sued by Pennsylvania General Energy Company (PGE) and the Pennsylvania Independent Oil and Gas Association (PIOGA). PGE proposed a fracking wastewater injection well for the community against the wishes of township residents. Injection wells have polluted drinking water and triggered earthquakes in several states.
In June 2014, the elected officials of Grant Township adopted a Community Bill of Rights Ordinance, which prohibited the injection well as a violation of the community's rights to clean air and water and local self-government.
In its lawsuit, PGE claimed that it had a right to inject wastewater into the township. PIOGA has also declared that there is "no constitutional right to local self-government" or to be free from the harms associated with oil and gas production. Although a recent ruling in mid-October invalidated a portion of the ordinance, the people of Grant Township have now reinstated the ban that the judge overturned. Transformation of the community into a home rule township now invalidates most of that court ruling.
Stacy Wanchisn Long, local resident and member of the commission that drafted the charter, stated, "Today's vote reaffirms what our residents have been saying for the past year: we are standing up to protect our rights, and we reject the proposed injection well. All of this is possible because of the support and involvement from so many Grant Township residents over the past year who have been unwavering in their commitment to ensure the people of Grant have more of a say over what happens in our community."
Chad Nicholson of the Community Environmental Legal Defense Fund (CELDF), served as a consultant to the commission that drafted the charter. CELDF has assisted close to 200 communities across the U.S. in advancing community rights. "Tonight, the people of Grant Township spoke loud and clear: They have rights, and they will protect those rights. We at CELDF congratulate the people of the Township on becoming the first municipality in the nation to draft and adopt a local, rights-based constitution," Nicholson said.
Nicholson added, "This isn't David vs. Goliath. This isn't just one community standing up to say 'no.' Grant Township is joining with communities across the country who are standing up collectively and saying to government and corporations, 'We're no longer willing to be fracked, poisoned and polluted.' They are mobilizing against a system of law that empowers corporations over communities, and empowers government to preempt communities from protecting their air and water. Communities are saying this is not acceptable, it's not sustainable, it's not democratic and it's going to change." 
The Grant Township charter recognizes rights to clean air and water, the right to be taxed fairly and the right to local community self-government. It protects those rights by banning fracking wastewater injection wells. While other communities have amended existing charters with rights-based provisions, Grant Township's charter is the first that is written entirely on the basis of asserting and protecting rights.
YOU MIGHT ALSO LIKE
61% of Americans in States Suing Obama Over Clean Power Plan Support Strict Limits on Carbon Pollution
Fracking Companies Warned to Scale Back Operations Linked to Earthquakes or Get Sued
Impacted Landowners Demand EPA Revise Flawed Fracking Study
Alarming Uptick of Earthquakes in Kansas Linked to Fracking With 52 in Just Last Two Weeks
Glyphosate, the main ingredient in Monsanto's widely used herbicide Roundup, will be added July 7 to California's list of chemicals known to the state to cause cancer, according to a Reuters report Tuesday. This news comes after the company's unsuccessful attempt to block the listing in trial court and requests for stay were denied by a state appellate court and California's Supreme Court.
California's Office of Environmental Health Hazard Assessment (OEHHA) announced the designation on Monday under the Safe Drinking Water and Toxic Enforcement Act of 1986, or Proposition 65.
Keep reading...
Show less
www.facebook.com
Keep reading...
Show less
Researchers from the Marine Animal Response Society examine one of the dead right whales. Marine Animal Response Society
Canadian government officials and marine biologists are investigating the mysterious deaths of six North American right whales. The endangered animals all turned up dead between June 6 and June 23 in the Gulf of St. Lawrence, off Canada's southeastern coast.
North Atlantic right whales are the rarest of all large whale species and among the rarest of all marine mammal species, with only about 450 right whales in the North Atlantic.
Keep reading...
Show less
Scott Pruitt testifies during his Senate confirmation hearing for EPA administrator, January 2017.
The U.S. Environmental Protection Agency's (EPA) chief of staff pressured the leader of its Board of Scientific Counselors to change her congressional testimony to downplay the impact of the agency's mass dismissal of scientists from the board, the New York Times reports.
Keep reading...
Show less
By Jason Mark
Sequoiadendron giganteum. That's the scientific name for the giant sequoia: the mammoth trees found in California's Sierra Nevada that are the largest organisms on Earth, and among the longest-lived. Biologists estimate that about half of all sequoias live in Giant Sequoia National Monument, a 328,000-acre preserve in the Southern Sierra Nevada established by President Clinton in 2000.
Now that national monument is in jeopardy.
Keep reading...
Show less
By Andy Rowell
Donald Trump this week is launching an "energy week," pushing the argument that the U.S. will become a net exporter of oil and gas.
The president and his cronies are talking about a new era of "U.S. energy dominance," which could stretch for decades to come. However, no one believes the president anymore.
Keep reading...
Show less
UN
By Colleen Curry
The United Nations has designated 23 new sites around the world to its World Network of Biosphere reserves—stunning natural landscapes that balance environmental and human concerns and strive for sustainability.
The forests, beaches and waterways were added to the list this year at the International Coordinating Council of the Man and the Biosphere Programme meeting in Paris earlier this month.
Keep reading...
Show less
Jun. 26, 2017 01:48PM EST
www.elysee.fr
By Andy Rowell
There is a growing feeling within European capitals that a quiet, but deeply positive, revolution is happening under Emmanuel Macron in France.
Macron's opinion poll rating is high, especially boosted in how the young French president has reacted to Donald Trump on the international stage.
Keep reading...
Show less
Jun. 26, 2017 12:32PM EST
www.facebook.com
Keep reading...
Show less