This website uses cookies to ensure you get the best experience while browsing it. By clicking 'Got It' you're accepting these terms.
Pennsylvania Statehouse Bought and Sold by Fracking Industry
Jul. 16, 2012 11:50AM EST
Energy
By Steve Horn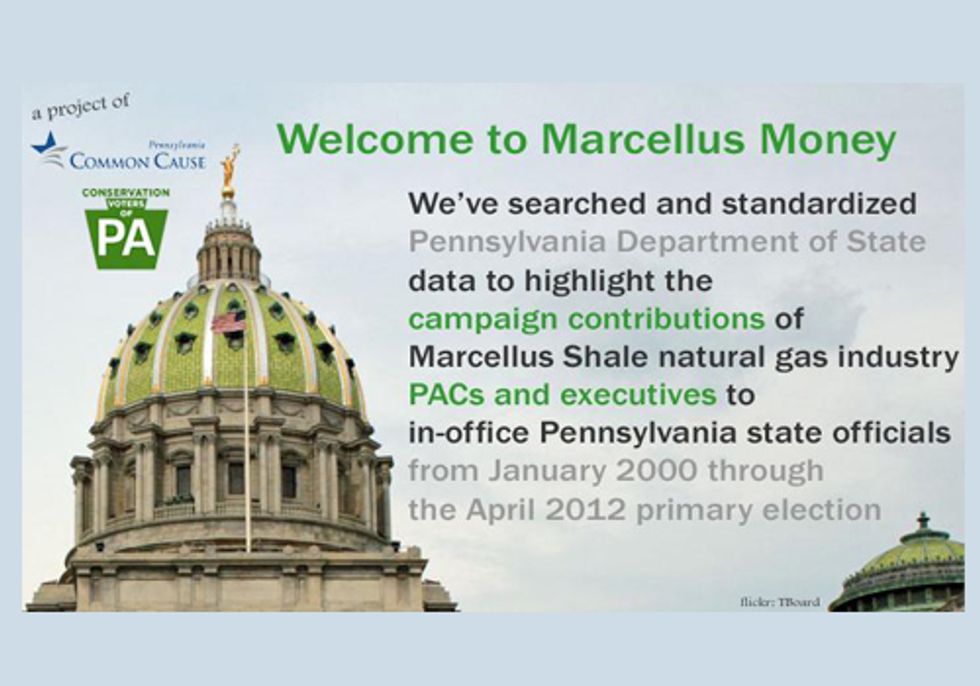 Consider it official—the Pennsylvania statehouse has been bought and sold by the shale gas industry. 
In a press release, Marcellus Money, a project of Common Cause of Pennsylvania and Conservation Voters of Pennsylvania laid out the sobering facts about the frackers' stranglehold over the PA state government, writing:
The natural gas industry and related trade groups have now given nearly $8 million to Pennsylvania state candidates and political committees since 2000…Top recipients of industry money given between 2000 and April 2012 were Governor Tom Corbett (R) with $1,813,205.59, Senate President Joseph Scarnati (R-25) with $359,145.72, Rep. Dave Reed (R-62) with $137,532.33, House Majority Leader Rep. Mike Turzai (R-28) with $98,600, and Sen. Don White (R-41) with $94,150.
Furthermore, between 2007-2012, the gas industry spent an astounding $15.7 million on lobbying the PA state legislature.
The overwhelming majority of the campaign cash flowed in the direction of Republican Party politicians between 2010-12. Individual GOP politicians and Political Action Committees (PACs) received $4.5 million from the gas industry during that time frame, while, on the other side of the aisle, Democratic Party politicians and PACs received roughly $650,000. 
"The industry has largely had its way in Pennsylvania and has spent millions to put their friends in the state legislature and the Governor's mansion," said James Browning, regional director of state operations for Common Cause, in the press release. "The industry's focus now is on protecting these investments and maintaining access to key elected officials."
All the while, the oil and gas industry made record profits. As Climate Progress highlighted in February, the industry made roughly $1 trillion between 2001-2011.
"Pennsylvania politicians sold gas companies the right to pollute Pennsylvania's land, air, and water for bargain basement prices," said Josh McNeil, executive director of Conservation Voters of PA.
$23 million, as McNeil suggested, is a tiny investment to protect profits of roughly $1 trillion. To be precise, the gas industry's total expenditure for lobbying and political contributions in PA was .0023% of its total profit during that time period.
Welcome to Democracy, Inc.
EcoWatch Daily Newsletter
California Gov. Gavin Newsom speaking with attendees at the 2019 California Democratic Party State Convention at the George R. Moscone Convention Center in San Francisco.
Gage Skidmore
/ Flickr /
CC BY-SA 2.0
California Gov. Gavin Newsom imposed new restrictions on oil exploration in his state yesterday by putting a moratorium on hundreds hydraulic fracturing permits until the projects are reviewed by independent scientists, as the AP reported.
The endangered Houston toad. Courtesy of U.S. Fish and Wildlife Service
While the planet continues to heat up, almost every single one of the 459 species listed as endangered in the U.S. will struggle as the climate crisis intensifies, according to new research published in the journal Nature Climate Change.
"This singular scientific achievement was accomplished at Heliogen's commercial facility in Lancaster, California."
Heliogen
A startup backed by Bill Gates unveiled a breakthrough solar technology Tuesday that could free heavy industry from fossil fuels.
Rhodiola rosea is an adaptogenic herb that can help with chronic fatigue and stress-related burnout. Tero Laakso / Flickr
By Gavin Van De Walle, MS, RD
While everyone has specific life stressors, factors related to job pressure, money, health, and relationships tend to be the most common.
Stress can be acute or chronic and lead to fatigue, headaches, upset stomach, nervousness, and irritability or anger.
A video shows a woman rescuing a koala from Australia's wildfires.
VOA News / YouTube screenshot
More than 350 koalas may have died in the wildfires raging near the Australian town of Port Macquarie in New South Wales, but one got a chance at survival after a woman risked her life to carry him to safety.