Pennsylvania Fracking Victims Come to New York to Share Their Stories
Jan. 30, 2013 01:20PM EST
Energy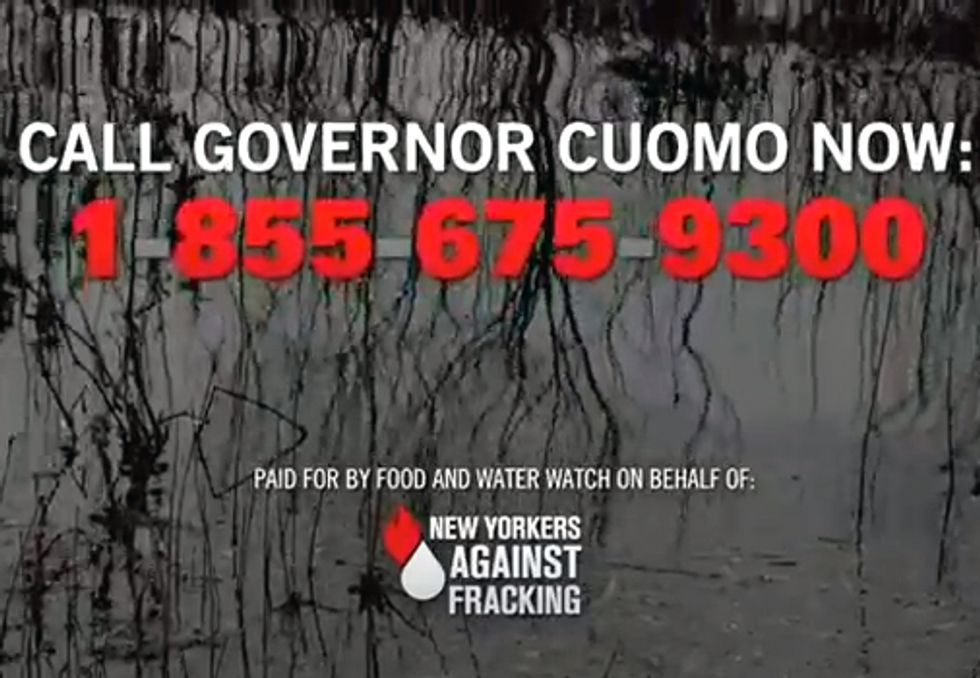 As the state rapidly approaches the deadline to decide whether to allow fracking to go forward in New York, residents from across Pennsylvania came forward to tell legislators their stories. New Yorkers Against Fracking also released an ad, which will initially run in the Albany and New York City markets highlighting stories of dead cows and poisoned water.
Since fracking began in states outside of New York, there have been numerous reports of water contamination in those states. Studies link fracking-related activities to contaminated groundwater and air pollution, human health issues, and illness, death and reproductive problems in cows, horses and wildlife.
"These stories from Pennsylvania are very alarming," said Dr. Sheila Bushkin, MD, MPH of the Institute for Health and the Environment at University at Albany. "The perspective of the gas industry fails to show adequate concern for the long-term health and quality of life of people. When you listen to the personal experiences of actual residents of Pennsylvania and other states where fracking has gone forward, you will hear stories of dead cows, pets, sick children, poisoned water and other serious health and environmental problems. These stories confirm our need for much greater research and evidence-based scientific facts."
 
"My story is not unusual," said Terry Greenwood, a farmer from Southwestern Pennsylvania. "After my cows drank from a pond that was contaminated by frackwater, 10 of the 19 calves were born stillborn."
 
"The industry says there are no problems," said Matt Manning.  "Well when the industry came to Northeastern PA, our water turned black and started bubbling. Our kids would cough and choke in the shower. It got so bad that the state required the companies to provide us with deliveries of clean water.  But that's not a long-term solution."
 
Ron Gulla, a farmer from Hickory in Southwest Pennsylvania has compiled a growing list of more than 800 individuals who have been harmed by fracking. Gulla said, "These are not isolated incidents. I've talked to so many people whose water has been contaminated and whose families have been poisoned by fracking."
 
"With tens of thousands of wells, transportation and processing devices spread across the landscape of the typical gas fields or plays, hundreds of accidents will happen over a year," said David Brown, ScD of the Southwest Pennsylvania Environmental Health Project said in a statement. "No one can assure people who live, work, or attend school near drilling and fracking operations that they are safe."
 
Sue Kinchy, a nurse and more than 30 year resident of Bradford County, PA who fled to New York a year ago after the impacts of fracking destroyed the nature of her community said, "Medically, we saw fracking linked to rashes, dizziness, headaches, and many, many more accidents. Crime skyrocketed, trucks crowded the roads, and kids went to school within sight of wellpads and flaring. Governor Cuomo, don't allow fracking in New York."
 
"The Cuomo administration repeatedly asserts that human health problems from fracking will not occur because its proposed regulations will eliminate all pathways of exposure, even though it has not identified these exposures through direct investigation and cannot explain how regulations would prevent exposures from inevitable accidents and well failures," said Sandra Steingraber, Ph.D. "Rather than undertake a comprehensive health impact assessment of fracking, the Cuomo administration instead hired outside experts to review its own internal health evaluation but released revised regulations before completion of the health review and has refused to release any substantial information on the review, placing gag orders on the outside experts."
Visit EcoWatch's FRACKING page for more related news on this topic.
——–
Sign the petition today, telling President Obama to enact an immediate fracking moratorium:

EcoWatch Daily Newsletter