This website uses cookies to ensure you get the best experience while browsing it. By clicking 'Got It' you're accepting these terms.


The best of EcoWatch, right in your inbox. Sign up for our email newsletter!
Paula Deen—From Market to Pharmacy
Jan. 20, 2012 08:40AM EST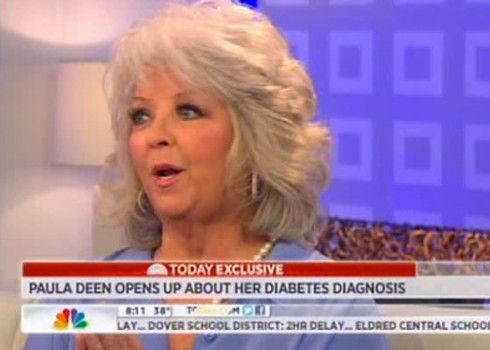 By Kristin Wartman
Paula Deen's public admission that she has Type 2 diabetes and her follow-up announcement that she is also a paid spokesperson for the pharmaceutical company Novo Nordisk, and its diabetes drug, Victoza, has sparked an interesting debate about the deeper issues surrounding our food system—especially the impact it has on the many people diagnosed with diabetes. And according to Deen's comments on the Today show, she implies to her millions of fans, that the primary ways to deal with this largely diet-related disease are through personal responsibility and pharmaceuticals.
Indeed, when Al Roker, asks her if she is going to change the way she eats and the foods she cooks, Deen says, "Honey, I'm your cook, I'm not your doctor. You are going to have to be responsible for yourself." Evading the question, Deen puts the onus back on the individual to decide what foods to eat or not, despite the fact that she promotes unhealthful and processed foods on TV. The one comment she does make about food choice is "moderation," one of the most meaningless and confusing bits of nutrition advice. In fact, this is what the industry giants often use as their defense for harmful, unhealthful foods.
Personal responsibility and consumer choice are solutions heralded by conservatives and liberals alike—the idea being that ultimately good health comes down to what we choose to buy and eat. But it's not that simple.
There are three main issues when it comes to the myth of personal responsibility about food choice and they get at the root of our nation's health crisis—The public's confusion about nutrition, the lack of time and knowledge about real home cooking, and the promotion of quick fixes like drugs, diet foods, and fads in lieu of addressing underlying causes. The Paula Deen diabetes story manages to hit on every single one of these issues.
Americans suffer from nutrition confusion, thanks to an array of conflicting and often inaccurate public health messages, misleading labels and claims on packaging, and a lack of nutrition knowledge by many doctors, dietitians, and other health care providers.
Deen's cooking, and now her public diabetes announcement, only adds to this confusion. During the Today show interview she repeatedly mentions the amount of fat in her recipes, as do many in the media reporting on the story. "For 10 years, wielding slabs of cream cheese and mounds of mayonnaise," a New York Times article begins, "Paula Deen has become television's self-crowned queen of Southern cuisine."
But real, unprocessed cream cheese and mayonnaise are not the problem. The issue that mainstream media has largely overlooked is that Deen uses the processed, packaged versions of these foods, which are full of chemicals, additives and trans-fats. Actual home cooking would require whipping these foods up herself in her kitchen using real ingredients. And that is the real story behind Deen's diabetes diagnosis—Her health problems are largely due to her reliance on packaged, processed foods that are the foundation for many of her recipes.
Even though her cooking show is called Paula's Home Cooking, there's a lot going on in her kitchen that is as far removed from home cooking as you can get. Many of her recipes include "ingredients" like Krispy Kreme doughnuts, biscuit mixes, cans of mushroom soup, and sour-cream-and-onion flavored potato chips. This is processed food cooking, not home cooking.
Heaping the blame on all the "fat" she cooks with only serves to confuse the public further. A New York Daily News article also cites fat as one of the main culprits in Deen's cooking and her diet. But the most recent research indicates that when it comes to diabetes, fat is not the problem. The problem foods are sugar, refined white flour, chemical additives, artificial sweeteners and flavors, trans-fats, and the various other chemicals and additives found in the processed foods that abound in Deen's recipes.
Now Deen is pushing the idea that taking medicine is the real solution to diabetes. On the Today show, she says, "Here's what I want to get across to people, I want them to first start by going to their doctor and asking to be tested for diabetes. Get on a program that works for you. I'm amazed at the people out there that are aware they're diabetic but they're not taking their medicine."
According to Deen, the reason she waited three years to go public with her diagnosis was because she didn't have anything to give her fans. "I could have walked out and said, 'Hey ya'll, I have been diagnosed with Type 2 diabetes.' I had nothing to give to my fellow friends out there. I wanted to bring something to the table when I came forward." So what is she bringing to the table? A sales pitch for a diabetes drug that costs $500 per month and has some seriously troubling side effects, including thyroid cancer, as Tom Philpott reports.
Just think of the kind of influence she could have wielded had she come out with a new cooking show that focused on using fresh, real food ingredients that cut way back on sugar and refined carbohydrates. In fact, if she had done so and eaten this way for the past three years she might have reversed her own diabetes diagnosis, which is entirely possible given the right diet.
But instead, Deen is getting paid to leave that task to a drug company. This isn't her first corporate sponsorship (here she peddles Smithfield ham) and I doubt it will be her last. Diabetic and diet foods can't be far behind in products she'll attach to her name.
Alas, we can't fairly discuss personal responsibility without taking into account the under-regulated advertising industry that pushes cheap, convenient, and processed foods on an overworked and cash-strapped population. Add to this the diminishing knowledge on how to shop for, cook, and prepare foods from scratch and we have a serious problem.
As Paula Deen now joins the 25.8 million other Americans suffering with diabetes, she "brings to the table" the ideas of moderation (an essentially meaningless and confusing bit of nutrition advice), personal responsibility, and the drug Victoza as the solutions. She could do so much more with all the power she wields.
Anthony Bourdain put it squarely when he said of Deen, "If I were on at seven at night and loved by millions of people at every age, I would think twice before telling an already obese nation that it's OK to eat food that is killing us." And this was before her diabetes announcement. Bourdain has also said that Deen is the "worst, most dangerous person to America." He might have a point.
For more information, click here.
—————
Kristin Wartman is a food writer living in Brooklyn. She has a Masters in Literature from UC Santa Cruz and is a Certified Nutrition Educator. She is interested in the intersections of food, health, politics, and culture. You can follow her on Twitter and read more of her writing at kristinwartman.wordpress.com.
EcoWatch Daily Newsletter
MStudioImages / E+ / Getty Images
Backpacking is an exciting way to explore the wilderness or travel to foreign countries on a budget.
Tim P. Whitby / 21st Century Fox / Getty Images
The beauty products we put on our skin can have important consequences for our health. Just this March, the U.S. Food and Drug Administration (FDA) warned that some Claire's cosmetics had tested positive for asbestos. But the FDA could only issue a warning, not a recall, because current law does not empower the agency to do so.
Michelle Pfeiffer wants to change that.
The actress and Environmental Working Group (EWG) board member was spotted on Capitol Hill Thursday lobbying lawmakers on behalf of a bill that would increase oversight of the cosmetics industry, The Washington Post reported.
By Collin Rees
We know that people power can stop dangerous fossil fuel projects like the proposed Line 3 tar sands oil pipeline in Minnesota, because we've proved it over and over again — and recently we've had two more big wins.

Scientists released a study showing that a million species are at risk for extinction, but it was largely ignored by the corporate news media. Danny Perez Photography / Flickr / CC
By Julia Conley
Scientists at the United Nations' intergovernmental body focusing on biodiversity sounded alarms earlier this month with its report on the looming potential extinction of one million species — but few heard their calls, according to a German newspaper report.
DoneGood
By Cullen Schwarz
Ethical shopping is a somewhat new phenomenon. We're far more familiar with the "tried and tested" methods of doing good, like donating our money or time.
Pixabay
Summer is fast approaching, which means it's time to stock up on sunscreen to ward off the harmful effects of sun exposure. Not all sunscreens are created equally, however.
Mark Wallheiser / Getty Images
The climate crisis is a major concern for American voters with nearly 40 percent reporting the issue will help determine how they cast their ballots in the upcoming 2020 presidential election, according to a report compiled by the Yale Program on Climate Change Communication.
Of more than 1,000 registered voters surveyed on global warming, climate and energy policies, as well as personal and collective action, 38 percent said that a candidate's position on climate change is "very important" when it comes to determining who will win their vote. Overall, democratic candidates are under more pressure to provide green solutions as part of their campaign promises with 64 percent of Democrat voters saying they prioritize the issue compared with just 34 percent of Independents and 12 percent of Republicans.
Flooding in Winfield, Missouri this month. Jonathan Rehg / Getty Images
President Donald Trump has agreed to sign a $19.1 billion disaster relief bill that will help Americans still recovering from the flooding, hurricanes and wildfires that have devastated parts of the country in the past two years. Senate Republicans said they struck a deal with the president to approve the measure, despite the fact that it did not include the funding he wanted for the U.S.-Mexican border, CNN reported.
"The U.S. Senate has just approved a 19 Billion Dollar Disaster Relief Bill, with my total approval. Great!" the president tweeted Thursday.