Patti Smith, Thom Yorke and Flea Rock Out at Pathway to Paris Concert
Dec. 08, 2015 12:41PM EST
Climate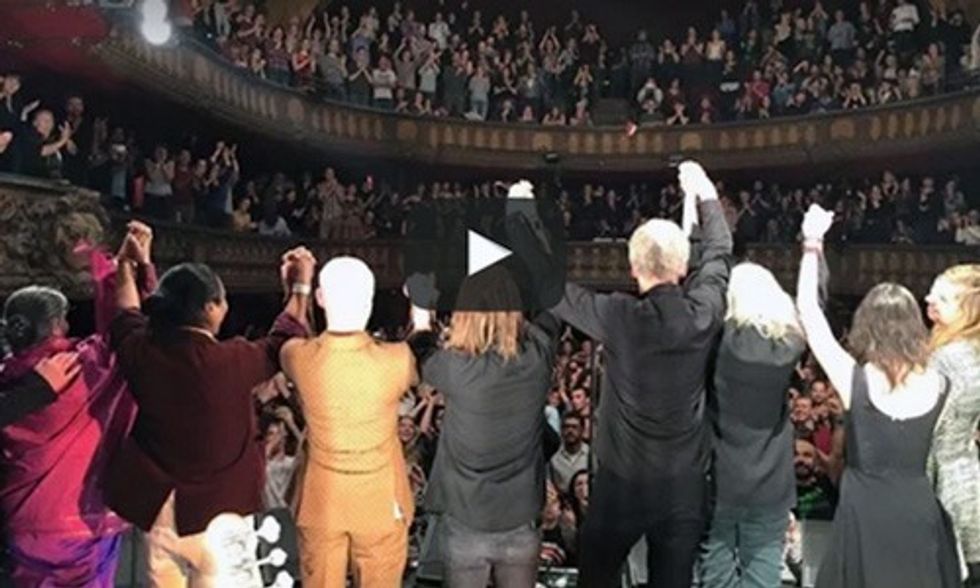 Is it possible to have a music concert in Paris after Nov. 13? And, if so, can the music give voice to the emergency of climate change and the desperate hope for a meaningful climate treaty, which is now being drafted in this very same city?
The answer is a grief-filled, joy-filled, resounding yes!
Under tight security on Friday, Dec. 4 and Saturday, Dec. 5 musicians and activist-organizers Jesse Paris Smith and Rebecca Foon brought the Pathway to Paris concert to the Le Trianon music hall in the bustling Parisian district of Montmarte.
On both nights, every seat in the house and in both tiers of balconies was filled to overflowing. As were eyes of everyone who sat in those seats, listening to voices of the musicians and speakers on stage who, all together, delivered a cathartic message that somehow variously soothed the audience, brought us to tears and called us to the streets in the fight for climate justice.
On all counts—as balm for a terrorized city, as a cry for political engagement with the most urgent of planetary crises and as a fundraiser for 350.org, which is helping to lead that charge—Pathway to Paris delivered.
In sum, the concert felt like a blood transfusion. It was quite possibly the most amazing public event I've ever attended.
The musical genius of Pathway to Paris was to showcase the human voice, from the sweet, keening cries of Radiohead's Thom Yorke to the defiant, prophetic refrains of poet and singer-songwriter Patti Smith, who, together, bookended the concert and served as its headliners.
Backed by her daughter, Jesse Paris Smith, on piano and Rebecca Foon on cello, Smith opened the evening with an unaffected spoken word piece, "Nature Is…" that catalogued the living world in elegiac, Shakespearian rhythms ("The fox. Eclipse. The bumblebee.")
Congelese singer-songwriter Fally Ipupa and Tibetan exile and musical legend, Tenzin Choegyal, brought more poetry to the stage. Quietly translated by Jesse Smith, Choegyal's soaring, prayerful composition named the planetary elements and called them into harmony. ("May the element of water not rise up against you.")
So the tone was set: We will mourn the dead. We will take stock of the living. In the face of those who seek to terrorize us and destroy "this blue planet, our only home," we will go forth with purpose and joy.
And in the hands of Flea (Red Hot Chile Peppers) and Warren Ellis (Nick Cave and the Bad Seeds), that message was taken up, virtuosically, by bass guitar, violin and flute.
It was as if musical instruments themselves were transformed into human voices—soothing, cathartic, urgent celebrational, grieving, bold—delivering a redemptive message at this historic moment of multiple emergencies.
And this was exactly the intent of this event, according to 350.org's founder Bill McKibben, who served as master of ceremonies. "In addition to entertaining you," said McKibben, "the job of these musicians is to turn you into warriors for the fight ahead. We have to fight and fight hard."
The scope of that fight was explicated in detail by concert's various all-star speakers, who addressed the crowd between the musical numbers.
McKibben said the fight for climate justice is two-fold. First, we need to send a message to those who are now negotiating a climate treaty "on the other side of town" and who are "doing nowhere near enough" to come up with something meaningful.
The chances of a durable, binding treaty are nevertheless higher than they were six years ago at Copenhagen, said McKibben. There is now less squabbling among nations and a greater sense of shared purpose. That change in tone, said McKibben, is precisely because we have already built a people's movement powerful enough to halt the all-but-assured Keystone XL pipeline, shut down coal mines in Australia and ban fracking in France. [Author's note: we also achieved a fracking ban in New York State!].
So far, the climate change movement has been powerful enough, he reminded us, to deprive the fossil fuel industry of $3.4 trillion dollars via divestment.
But, to win more victories like these, the climate justice movement must grow, said McKibben. And the necessary work will necessarily involve civil disobedience. "We need a lot more people going to jail."
That was an applause line.
Second, said McKibben, we must direct confront the source of the problem itself: "The real power rests with the fossil fuel industry, so that's where we take the fight." Chief among them: ExxonMobil, who McKibben accused—as he donned a shirt emblazoned with the trending hashtag #ExxonKnew—of "building a network of denial and confusion" as part of coordinated disinformation campaign about our unfolding planetary catastrophe.
Feminist and ecologist Vandana Shiva, who was welcomed to the stage with joyous ovations, urged her audience to understand that climate action necessarily also means confronting "the Exxons of agriculture." Ushered in by World War II, fossil fuel-dependent farming means that the food on our plate is grown by fertilizers made from natural gas and brought to market on a river of petroleum.
"We are all eating oil," Shiva said. Calling "climate smart agriculture," which relies on genetically modified seeds, a false promise based on a "fictitious creation myth," Shiva spoke to the need to look at carbon-sequestering powers of soil, seed saving and the empowerment of small-scale farmers as fundamental parts of the solution to the climate change problem. Fully half of all greenhouse gases derive from systems of agriculture, she said.
In her own talk, author and social critic Naomi Klein explored the nature of the word "emergency." When the declaration of a state of emergency on terrorism is used as a tactic to distract attention away from the emergency of climate change, the effective message, she said, is to say to those, for example, drowning in India from catastrophic and unprecedented storms that their lives do not matter. For many of the world's poorest and most politically marginalized people, there is "nothing far off or abstract about climate change."
Further, when political leaders claim climate change as an emergency but do not take appropriate actions—as is done with security emergencies or economic emergencies—they reveal the meaninglessness of their words.
The climate change talks began 21 years ago and have produced no coordinated plan to tackle the problem. A decades-long debate among nations is not an emergency response system, Klein asserted. "Which crises get action and which do not depends on who stands to gain."
Happily, she continued, "regular people can declare an emergency. They can declare a crisis from below." And regular people can identify and demand solutions that solve multiple and overlapping emergencies all at once and all together.
For example, renewable energy provides six to eight times more jobs than oil and gas. Thus could an emergency response to the climate crisis also relieve the employment crisis. But such solutions are held hostage by "the irrational logic of austerity."
Putting climate negotiators on notice that those on the front lines of climate change will not settle for "self-congratulatory photo ops" if the treaty now under negotiation fails to deliver a strong, binding agreement, Klein called her audience into the streets of Paris at high Noon on Saturday, Dec. 12 for some "climate disobedience."
All on their own, the words of the Pathway to Paris speakers were powerful. Here was the unexpected strength of oratory in the context of Pathway to Paris: The words that were spoken redirected the words that were sung.
"I was a wing in heaven blue" (Patti's Smith, "Wing") was no longer a metaphorical celebration of personal freedom. In the context of a climate change concert, it became a statement about our relationship to the physical atmosphere.
A call for a return to "the peaceable kingdom" became a cry against species extinction.
The mine into which the singer falls and the world that comes "crashing down" in Yorke's "Present Tense" became, for us during this concert, an actual mineshaft on a dying planet.
In the alchemy of Pathway to Paris, all songs about lost love seemed intended for the Earth itself.
Then, when our hearts were entirely broken open, it was time for Patti Smith to remind us in her encore, which called all the musicians and speakers to the stage, "The people have the power / to redeem the work of fools."
And knowing now exactly who these fools are, we poured forth, past the security guards, into the streets of Paris. And it was beautiful. It was beautiful.
YOU MIGHT ALSO LIKE
Arnold Schwarzenegger Doesn't 'Give a ****' Whether You Agree With Him on Climate Change
Richard Branson Presents Sustainia Award for World's Most Innovative City Solution
Leonardo DiCaprio: 'Do Not Wait Another Day' to Move to 100% Renewable Energy
Bill McKibben: 'Paris Summit is Missing One of the Great World Leaders on Climate' Because He's in Prison
The coal-fired Huaneng Power Plant in Huai 'an City, Jiangsu Province, China on Sept. 13, 2020. Costfoto / Barcroft Media via Getty Images
Overall energy demand is expected to rise 4.6 percent this year compared to 2020 and 0.5 percent compared to 2019, according to the IEA's Global Energy Review 2021. Demand for fossil fuels is expected to jump to such an extent that emissions will rise by nearly five percent in 2021. This will reverse 80 percent of the emissions decline reported in 2020, to end emissions just 1.2 percent below 2019 emissions levels. Because the lockdown saw the biggest drop in energy demand since World War II, the projected increase in carbon dioxide emissions will still be the second-highest on record, BBC News pointed out.
"This is a dire warning that the economic recovery from the COVID crisis is currently anything but sustainable for our climate," IEA Executive Director Fatih Birol said in a statement reported by AFP.
Birol said much of that increase was being driven by the resurgence of coal use. In fact, coal demand is expected to increase by 60 percent more than all forms of renewable energy, according to the report. Overall coal demand is expected to increase by 4.5 percent in 2021. More than 80 percent of that growth is in Asia, and more than 50 percent is in China. While coal use is expected to increase in the U.S. and Europe as well, it will remain far below pre-pandemic levels. Still, global coal use is expected to rise to nearly its 2014 peak, BBC News reported.
Natural gas demand is also expected to rise by 3.2 percent in 2021, to put it more than one percent above 2019 levels, according to the report.
There are, however, two bright spots in the report from a climate perspective. The first is that oil demand, while up 6.2 percent from 2020, is still expected to remain around 3 percent below 2019 levels. This is because oil use for ground transportation is not expected to recover until the end of 2021, and oil use for air travel is expected to remain at 20 percent below 2019 levels by December of 2021.
"A full return to pre-crisis oil demand levels would have pushed up CO2 emissions a further 1.5%, putting them well above 2019 levels," the report authors wrote.
The second bright spot is that renewable energy demand is set to rise in all sectors in 2021. In power, where its rise is the greatest, it is set to increase by more than eight percent. This is "the largest year-on-year growth on record in absolute terms," the report authors wrote.
Renewable energy will provide 30 percent of electricity overall, BBC News reported, which is the highest percentage since the industrial revolution. The problem is that the increase in renewables is running parallel to an increase in fossil fuels in some places. China, for example, is also expected to account for almost half of the rise in renewable electricity.
"As we have seen at the country-level in the past 15 years, the countries that succeed to cut their emissions are those where renewable energy replaces fossil energy," energy expert and University of East Anglia professor Corinne Le Quéré told BBC News. "What seems to be happening now is that we have a massive deployment of renewable energy, which is good for tackling climate change, but this is occurring alongside massive investments in coal and gas. Stimulus spending post-Covid-19 worldwide is still largely funding activities that lock us into high CO2 emissions for decades."
To address this issue, Birol called on the world leaders gathering for U.S. President Joe Biden's climate summit Thursday and Friday to pledge additional action before November's UN Climate Change Conference, according to AFP.
"Unless governments around the world move rapidly to start cutting emissions, we are likely to face an even worse situation in 2022," said Birol.
From Your Site Articles
Related Articles Around the Web
EcoWatch Daily Newsletter
A grizzly bear killed an outdoor guide in a rare attack near Yellowstone Park. William Campbell / Corbis / Getty Images
Representative Alexandria Ocasio-Cortez (D-NY) re-introduces the Green New Deal in Washington, D.C. on April 20, 2021. Mandel Ngan / AFP / Getty Images
By Brett Wilkins
In the latest of a flurry of proposed Green New Deal legislation, Reps. Cori Bush and Alexandria Ocasio-Cortez on Monday introduced the Green New Deal for Cities Act of 2021, a $1 trillion plan to "tackle the environmental injustices that are making us and our children sick, costing us our homes, and destroying our planet."
Offshore oil and gas drillers have left more than 18,000 miles of pipelines at the bottom of the Gulf of Mexico. Drew Angerer / Getty Images
Offshore oil and gas drillers have discarded and abandoned more than 18,000 miles of pipelines on the floor of the Gulf of Mexico since the 1960s, a report from the Government Accountability Office says.
The industry has essentially recovered none of the pipelines laid in the Gulf in the last six decades; the abandoned infrastructure accounts for more than 97% of all of the decommissioned pipelines in the Gulf.
The pipelines pose a threat to the habitat around them, as maritime commerce and hurricanes and erosion can move sections of pipeline.
The Bureau of Safety and Environmental Enforcement does not conduct undersea inspections even though surface monitoring is "not always reliable for detecting ruptures," according to the GAO.
For a deeper dive:
For more climate change and clean energy news, you can follow Climate Nexus on Twitter and Facebook, sign up for daily Hot News, and visit their news site, Nexus Media News.
Concerns over drinking polluted water top a recent Gallup poll on environmental threats. sonsam / Getty Images