This website uses cookies to ensure you get the best experience while browsing it. By clicking 'Got It' you're accepting these terms.
PART I: What 20 Months of Water Consumption for Fracking in the U.S. Looks Like
Sep. 25, 2012 10:55PM EST
Energy
SkyTruth has been looking over industry-reported data from FracFocus.org to see what we can learn about hydraulic fracturing activity across the U.S. One topic we were curious about was the volume of water being used by fracking operations.
According to a report on modern shale gas prepared for the U.S. Dept. of Energy and others by the Groundwater Protection Council (one of the managers of the FracFocus website):
"[t]he amount of water needed to drill and fracture a horizontal shale gas well generally ranges from about 2 million to 4 million gallons, depending on the basin and formation characteristics."
While that is a lot of water, does the data voluntarily reported match this estimate, and what does that look like repeated thousands of times across the U.S.?
We ranked the leading operators based on the number of reported wells with a Hydraulic Fracturing Fluid Product Component Information Disclosure on FracFocus.org and this is what we found: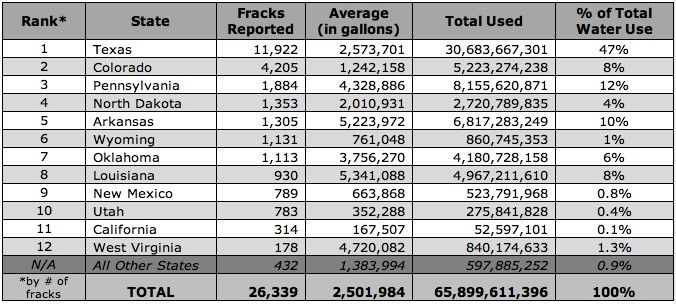 Looking at these numbers, we find that the industry estimate is fairly accurate but it varies significantly by state. The main variable for the volume of water is the geology of the basin being fracked. Stimulating a conventional shallow well for oil in the Coconino formation of Utah takes much less than an unconventional well in the Marcellus Shale of Pennsylvania, and in some cases, like California's Monterrey Shale, are ideally suited for low-volume fracking with an average of only 167,506 gallons.
But even with small fracks, water volumes in the hundreds of thousands of gallons add up to 65.9 billion gallons, so we decided to see what that total volume would look like in the real world. However, a few notes about the data:
Our analyses are based only on the information which is voluntarily reported by participating companies. We have posted before on the lack of complete disclosure on FracFocus, but for measuring quantities, we can easily assume that our calculations will be conservative.
Some fracking jobs reuse "produced water" from other jobs, but because it is listed by so many different names, we have not differentiated the amount recycled.
With these considerations in mind, you can see that between January 2011 and August 2012, a total of 20 months, the U.S. used at least 65.9 billion gallons of water to frack for oil and gas, with Texas accounting for almost half of all water use. But as big as these numbers are, what does that look like in the real world?
Visualizing 65.9 Billion Gallons of Frackwater: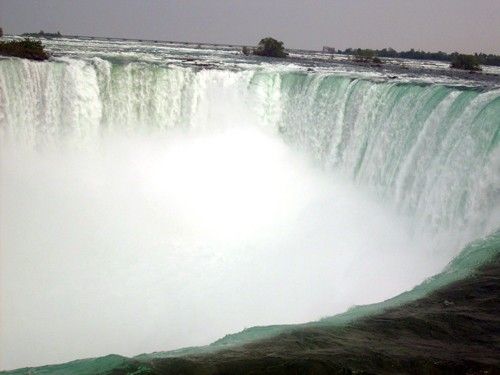 To put in perspective the immense volume that this is, we turned our attention to an iconic feature that epitomizes massive quantities of water: Niagara Falls. Standing 167 feet tall between New York, U.S.A. and Ontario, Canada, at least 100,000 cubic feet water flow over these cataracts every second during the daylight hours of summer. (As opposed to be diverted to produce hydro-electric power, an international treaty mandates that at least 100,000 cf/s of flow be maintained during the tourist season to ensure "an unbroken curtain of water.")
The minimum rate of flow that is guaranteed to tourists translates to three-quarters of a million gallons per second . We asked, at this rate, how long would it take for 65.9 billion gallons to thunder over the ledge and onto the Maid of the Mist below? Let's do the math...
1 cubic foot= 7.48 gallons so 100,000 cf/s=748,052 gal./second
748,052 g/s x 60 seconds = 44,883,120 gal./minute
44.88 million gal./min. x 60 min. per hour= 2,692,980,000 gal. /hr. = 100,000 cf/s
So all that leads us to this conclusion:
  65,899,611,396 gal. ÷ 2,692,980,000 gal. /hr. = 24.47 hours
At this rate, we can now see it would take over a day for Niagara Falls to represent the 65.9 billion gallons of water the United States has been drawing from rivers, lakes, and streams, trucking or piping to wellpads, lacing with toxic chemicals, mixing with tons of sand (check back in a few days to find out how much sand and where it comes from), and injecting deep into the ground to get oil and gas.
Keep in mind that all of this water either stays in the ground OR returns to the surface as an industrial waste product that is sometimes mildly radioactive, and that is just based on what has been reported to FracFocus. Now that is a LOT of water...
There are many videos of Niagara Falls, but this has a particular SkyTruthiness to it since we are always interested in remote sensing tools like this for  obtaining the aerial imagery that defines SkyTruth. (Start at 1:20 for the launch of the RC craft)
Visit EcoWatch's FRACKING page for more related news on this topic.
EcoWatch Daily Newsletter
Extreme weather events supercharged by climate change in 2012 led to nearly 1,000 more deaths, more than 20,000 additional hospitalizations, and cost the U.S. healthcare system $10 billion, a new report finds.
Giant sequoia trees at Sequoia National Park, California. lucky-photographer / iStock / Getty Images Plus
A Bay Area conservation group struck a deal to buy and to protect the world's largest remaining privately owned sequoia forest for $15.6 million. Now it needs to raise the money, according to CNN.
This aerial view shows the Ogasayama Sports Park Ecopa Stadium, one of the venues for 2019 Rugby World Cup. MARTIN BUREAU / AFP / Getty Images
The Rugby World Cup starts Friday in Japan where Pacific Island teams from Samoa, Fiji and Tonga will face off against teams from industrialized nations. However, a new report from a UK-based NGO says that when the teams gather for the opening ceremony on Friday night and listen to the theme song "World In Union," the hypocrisy of climate injustice will take center stage.
Vera_Petrunina / iStock / Getty Images Plus
By Wudan Yan
In June, New York Times journalist Andy Newman wrote an article titled, "If seeing the world helps ruin it, should we stay home?" In it, he raised the question of whether or not travel by plane, boat, or car—all of which contribute to climate change, rising sea levels, and melting glaciers—might pose a moral challenge to the responsibility that each of us has to not exacerbate the already catastrophic consequences of climate change. The premise of Newman's piece rests on his assertion that traveling "somewhere far away… is the biggest single action a private citizen can take to worsen climate change."

Volunteer caucasian woman giving grain to starving African children.
Bartosz Hadyniak / E+ / Getty Images
Food will be scarce, expensive and less nutritious," CNN warns us in its coverage of the UN's new "Climate Change and Land" report. The New York Times announces that "Climate Change Threatens the World's Food Supply."
By Adam Vaughan
Two-thirds of people in the UK think the amount people fly should be reined in to tackle climate change, polling has found.
Climate Week NYC
On Monday, Sept. 23, the Climate Group will kick off its 11th annual Climate Week NYC, a chance for governments, non-profits, businesses, communities and individuals to share possible solutions to the climate crisis while world leaders gather in the city for the UN Climate Action Summit.
By Pam Radtke Russell in New Orleans
Local TV weather forecasters have become foot soldiers in the war against climate misinformation. Over the past decade, a growing number of meteorologists and weathercasters have begun addressing the climate crisis either as part of their weather forecasts, or in separate, independent news reports to help their viewers understand what is happening and why it is important.