This website uses cookies to ensure you get the best experience while browsing it. By clicking 'Got It' you're accepting these terms.
PART I: One Man's Stand Against the Keystone XL Pipeline
Feb. 26, 2013 05:38PM EST
Energy
Michael Bishop
[Editor's note: Thanks to Michael Bishop for providing EcoWatch this firsthand account of what happens when a company like TransCanada claims eminent domain on one's property and begins building a tar sands pipeline—the southern leg of the Keystone XL. Unfortunately, this is one of many examples of corporations putting profits before human health and the environment in pursuit of extreme fossil fuel extraction. The good news is that people like Michael Bishop are fighting back. This is the first of a four-part series. Read Part II, Part III and Part IV.]
My name is Michael Bishop and I am a landowner in Douglass, Texas in Nacogdoches County. I am the victim of eminent domain by a foreign, private corporation. I received a letter from TransCanada in 2008 informing me that my property had been selected as a potential route for their "crude oil" pipeline. At that time, the line was to go on the eastern border of my property and would cross my creek. It was also going to adversely affect my neighbors as well.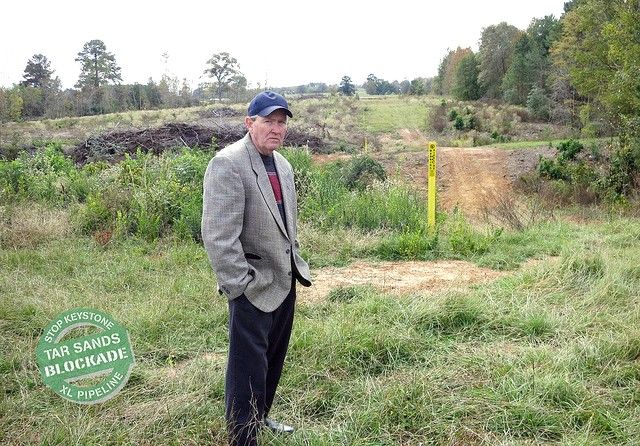 My neighbors and I met with the company's representatives. At that meeting, I offered them a suitable and reasonable alternative on the western edge of my property where existing pipelines were located. They informed us that we "could not tell them where to put their pipeline, according to Texas law." I left that meeting feeling helpless and betrayed by the very laws that are supposed to protect me and other people in this state.
It was something beyond my control and I simply forgot about it until my wife woke me up one morning to let me know people were on our property. I immediately went out and confronted the trespassers who informed me they represented TransCanada and that they were there to perform historical and archeological evaluations and to survey the route of the proposed pipeline. I immediately told them to leave my property. They had not notified me, given me the courtesy of a phone call or knocked on my door. I was told that if I refused to allow them access to my property, I would go to jail. As a former Marine, this became a major point of anger for me and I told them that if they did not leave my property, I would call 911. They left. I did not hear anything from them for quite some time.
When they decided to move forward with the project, I was called by two members of the survey team—Bob Johnston and Chad Wren—who wanted to meet with me to discuss the "new" route for the pipeline. I took a witness with me and met them for coffee. I was told at that meeting that the company (TransCanada) had decided the best route was indeed on the western edge of my property. I told them that I did not want any money from them, would move any buildings or equipment in their way and would sign any releases they required as long as they agreed to stay on the western edge of the property and away from the 14 acre tract of land where I raised my boys and where my six grandchildren now play.
The western edge of my property is also away from where I raise food for my family since 1988. I was told by those two individuals that I was one of the few people in the county that had "not settled" and that TransCanada had all of their construction permits in place and were ready to begin work. We agreed, shook hands and I left with a fairly good feeling. It's important to remember that I refused any compensation for the right of way they were seeking.
Time went by and I had heard nothing from the two representatives from TransCanada, so I emailed Johnston. He finally responded but informed me that the company had decided to come across my 14 acre tract (the homestead tract) instead of the "free offer" of the adjacent, adjoining six acre tract where existing pipelines already existed. I was furious and felt betrayed. His explanation was, "Your neighbor in the land behind you has a lake that we cannot bore under and therefore we had to reroute the pipeline."
That neighbor's lake is a small cattle "tank," not a pond, and I couldn't drown in it if I was trying to commit suicide. I told them to f**k off and that I would fight them.
Tom Weis served as contributing editor in this series.
Visit EcoWatch's KEYSTONE XL page for more related news on this topic.
——–
EcoWatch Daily Newsletter
Artist's conception of solar islands in the open ocean. PNAS
Millions of solar panels clustered together to form an island could convert carbon dioxide in seawater into methanol, which can fuel airplanes and trucks, according to new research from Norway and Switzerland and published in the Proceedings of the National Academy of Sciences journal, PNAS, as NBC News reported. The floating islands could drastically reduce greenhouse gas emissions and dependence on fossil fuels.
Marcos Alves / Moment Open / Getty Images
More than 40 percent of insects could go extinct globally in the next few decades. So why did the U.S. Environmental Protection Agency (EPA) last week ok the 'emergency' use of the bee-killing pesticide sulfoxaflor on 13.9 million acres?
EcoWatch teamed up with Center for Biological Diversity via EcoWatch Live on Facebook to find out why. Environmental Health Director and Senior Attorney Lori Ann Burd explained how there is a loophole in the The Federal Insecticide, Fungicide, and Rodenticide Act under section 18, "that allows for entities and states to request emergency exemptions to spraying pesticides where they otherwise wouldn't be allowed to spray."
Simple swaps that cut down on kitchen trash.
Sponsored
By Kayla Robbins
Along with the bathroom, the kitchen is one of the most daunting areas to try and make zero waste.
View of downtown Miami, Florida from Hobie Island on Feb. 2, 2019.
Michael Muraz / Flickr
The Democratic candidates for president descended upon Miami for a two-night debate on Wednesday and Thursday. Any candidate hoping to carry the state will have to make the climate crisis central to their campaign, as The New York Times reported.
By Sharon Kelly
On Monday, the Wall Street Journal featured a profile of Scott Sheffield, CEO of Pioneer Natural Resources, whose company is known among investors for its emphasis on drawing oil and gas from the Permian basin in Texas using horizontal drilling and hydraulic fracturing, or fracking.
Pexels
By Craig K. Chandler
The federal government has available to it, should it choose to use them, a wide range of potential climate change management tools, going well beyond the traditional pollution control regulatory options. And, in some cases (not all), without new legislative authorization.
Denis Poroy / Getty Images
By Dan Gray
Processed foods, in their many delicious forms, are an American favorite.
But new research shows that despite increasing evidence on just how unhealthy processed foods are, Americans have continued to eat the products at the same rate.
By Sarah Steffen
With a profound understanding of their environmental surroundings, indigenous communities around the world are often cited as being pivotal to tackling climate change.