Energy
Nov. 10, 2013 11:04AM EST
Pandora's Atomic Box Score

The first prophetic sign to follow CNN's irrelevant Pandora's Promise is this: the Dallas-based Luminant Power Company has cancelled two mammoth reactors.
Pandora's box score for atomic America 2013 is five announced early reactor closures, nine project cancellations and six ditched uprates. Today, 100 U.S. reactors operate where 1,000 were once promised. New orders are zilch.
Even more critical: For decades the nuclear industry said zero commercial reactors could explode. When Chernobyl blew, they blamed it on the Soviet design. Now, three General Electric reactors have exploded at Fukushima. Unfortunately, as they age and deteriorate, there may be more to come.
Here are some more numbers to tally. More than 1,300 fuel rods sit in a damaged fuel pool 100 feet in the air at Fukushima 4. They contain radioactive cesium equivalent to 14,000 times what was released at the bombing of Hiroshima. There are some 6,000 rods in a common fuel pool nearby. There are some 11,000 rods scattered around the site. The three melted cores from units One, Two and Three are missing. There are roughly 1,000 tanks holding billions of gallons of hot radioactive water that are leaking and will collapse in the next big earthquake.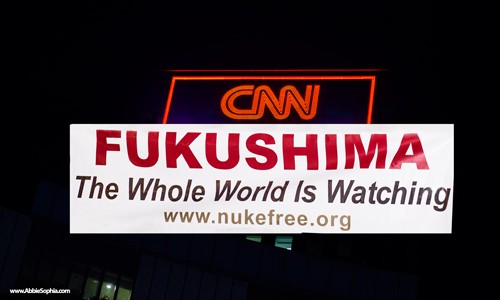 Photo courtesy of Abbie Sophia
All 50 allegedly operable reactors in Japan remain shut. Germany is on its way to total green power.  
Pandora's Promise was largely bankrolled by Microsoft billionaire Paul Allen, whose buddy Bill Gates has bet big on the mythic "new generation" reactors.
As it aired on CNN, a grassroots coalition presented more than 150,000 signatures to the United Nations, requesting a global takeover at the accursed Fukushima, where three reactors cores are missing and radiation still pours into the ocean.
Meanwhile Tokyo Electric Power postponed its potentially apocalyptic bring-down of the radioactive fuel rods at Unit Four.  
"More tests" were needed, they said. This week the U.S. Department of Energy will meet on how to aid an untried engineering exercise whose failure doom the planet. But if it can be done at all, it will take the entire global community to bring this beast under control. 
CNN dumped a ton of hype on Pandora's Promise, and made no real attempt to hide its own pro-nuke bias. Lead-up debates were heavily weighted toward the industry, whose push for a new generation of reactors will ultimately go nowhere.
The scenario is obvious: Gates and his fellow mega-rich will pour into various theoretical atomic technologies a few hundred million dollars. They'll write it all off their taxes. They'll demand immunity for any accidents. It'll all run billions over budget and years behind schedule. Then they'll leave yet another radioactive mess for the rest of us to clean up.
Atomic energy makes global warming worse. Its truest promise is for ever more meltdowns—in health, the ecology and economy.  
This movie maker needs to revisit Fukushima and report on those fuel rods flying in the sky, the river of radiation pouring into the oceans and the lethal long-lived poisons spewing into the air we breathe. As Hesiod says, when the original Pandora opened her forbidden box, "the Earth and sea were full of evils."
But hope did remain, now in the form of the green power revolution. The world of finance is on our side. So is the insurance industry. And, basic sanity.  
On the 11th of every month, in commemoration of Fukushima, many of us will fast in solidarity with the victims in hope of a survivable outcome. You can help by signing our petitions. With our grassroots organizing and escalated resistance, a Solartopian world can be won.
Pandora's clear promise—call it a warning—is that our survival depends on it.
Visit EcoWatch's NUCLEAR page for more related news on this topic.

Jul. 21, 2017 01:50PM EST
Will Rose / Greenpeace
Eleven peaceful activists from the Greenpeace ship Arctic Sunrise have taken to the water in inflatable boats with handheld banners to oppose the Statoil Songa Enabler oil rig, 275 km North off the Norwegian coast, in the Arctic Barents sea.
The banners say: "People Vs. Arctic Oil" and are directed at Statoil and the Norwegian government, which has opened a new, aggressive search for oil in the waters of the Barents Sea.
Keep reading...
Show less
Jul. 21, 2017 10:34AM EST
Dominion Pipeline Monitoring Coalition
The Federal Energy Regulatory Commission (FERC) paved the way Friday for the 600-mile, 42-inch fracked gas Atlantic Coast Pipeline to proceed when it issued the final environmental impact statement (FEIS). A joint project of utility giants Duke Energy and Dominion Energy, the Atlantic Coast Pipeline would move fracked gas from West Virginia into Virginia and North Carolina.
In April, the Sierra Club submitted more than 500 pages of legal and technical comments on FERC's draft EIS, which were joined by more than 18,000 individual comments detailing opposition to the project. The pipeline has been met with widespread opposition, with more than 1,000 people participating in public hearings across the three affected states. The Sierra Club recently requested that FERC issue a new environmental review document analyzing information that came in after or late in, the public comment process.
Keep reading...
Show less
Jul. 21, 2017 08:25AM EST
Greenpeace / PolluterWatch
By Jessica Corbett
"It's time Rex Tillerson step down or be removed," said Gigi Kellett of Corporate Accountability International, following an announcement on Thursday that ExxonMobil will pay $2 million for violating U.S. sanctions against Russian officials while the now-secretary of state was the company's CEO.
"ExxonMobil demonstrated reckless disregard for U.S. sanction requirements," according to enforcement filing released by the Treasury Department's Office of Foreign Assets Control (OFAC), which issued the penalty. Though the fine is reportedly the maximum penalty allowed, it's pittance to one of the world's most profitable and powerful corporations, which last year reported a profit of $7.8 billion.
Keep reading...
Show less
Jul. 21, 2017 11:15AM EST
New analysis from Amory B. Lovins debunks the notion that highly unprofitable, economically distressed nuclear plants should be further subsi­dized to meet financial, security, reliability and climate goals. The analysis, which will appear shortly in The Electricity Journal, shows that closing costly-to-run nuclear plants and reinvesting their saved operating costs in energy efficiency provides cheaper elec­tricity, increases grid reliability and security, reduces more carbon, and preserves (not distorts) market integrity—all without subsidies.

Keep reading...
Show less
Jul. 21, 2017 08:44AM EST
Oil Change International / Twitter
By Christian Detisch and Seth Gladstone
In the wake of Senate Republicans' ever-deepening debacle over their flailing attempts to strip health insurance from 22 million people, Majority Leader Mitch McConnell is desperate to do something—anything—to show that he can get legislation passed. To this end, he's bypassing the standard committee review process to push a complex 850+ page energy bill straight to the full Senate floor. Perhaps not surprisingly, this legislation, the Energy and Natural Resources Act of 2017, would be a disaster for public health and our climate.
Keep reading...
Show less
Jul. 21, 2017 08:11AM EST
Rooftop solar panels on a beach house in southern Florida. TAI VIINIKKA / CC BY-NC-ND 2.0
A new law passed this week in South Miami will require all new homes built in the city to install solar panels. The measure, which was inspired by a proposal from a teenage climate activist, will go into effect in September.
The text of the ordinance details the climate impacts facing South Miami.
Keep reading...
Show less
Jul. 21, 2017 10:27AM EST
www.youtube.com
Keep reading...
Show less
Jul. 21, 2017 08:49AM EST
iStock
By Katherine Paul and Ronnie Cummins
A recent series of articles by a Washington Post reporter could have some consumers questioning the value of the U.S. Department of Agriculture's (USDA) organic seal. But are a few bad eggs representative of an entire industry?
Consumers are all for cracking down on the fraudulent few who, with the help of Big Food, big retail chains and questionable certifiers give organics a bad name. But they also want stronger standards, and better enforcement—not a plan to weaken standards to accommodate "Factory Farm Organic."
Keep reading...
Show less


Get EcoWatch in your inbox