Pamela Anderson Shines Spotlight on Brutal and Archaic Mass Slaughter of Pilot Whales
Aug. 04, 2014 07:58AM EST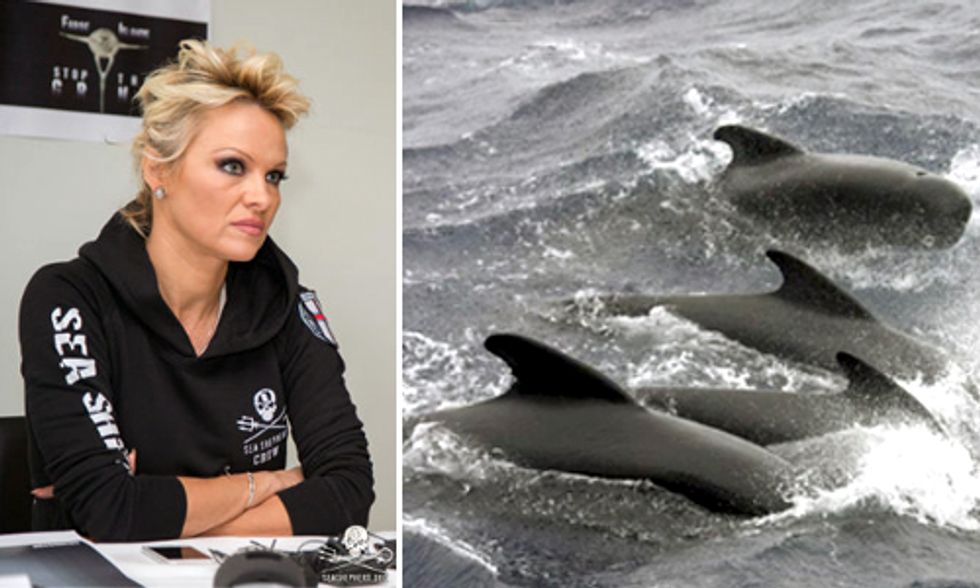 At a press conference Friday in the capital city of the Torshavn in the Faroe Islands, actress and activist Pamela Anderson joined Sea Shepherd Conservation Society to shine a spotlight on the brutal and archaic mass slaughter of pilot whales and other cetaceans known as the 'grindadrap' or 'grind' and show her support for Operation GrindStop 2014 campaign.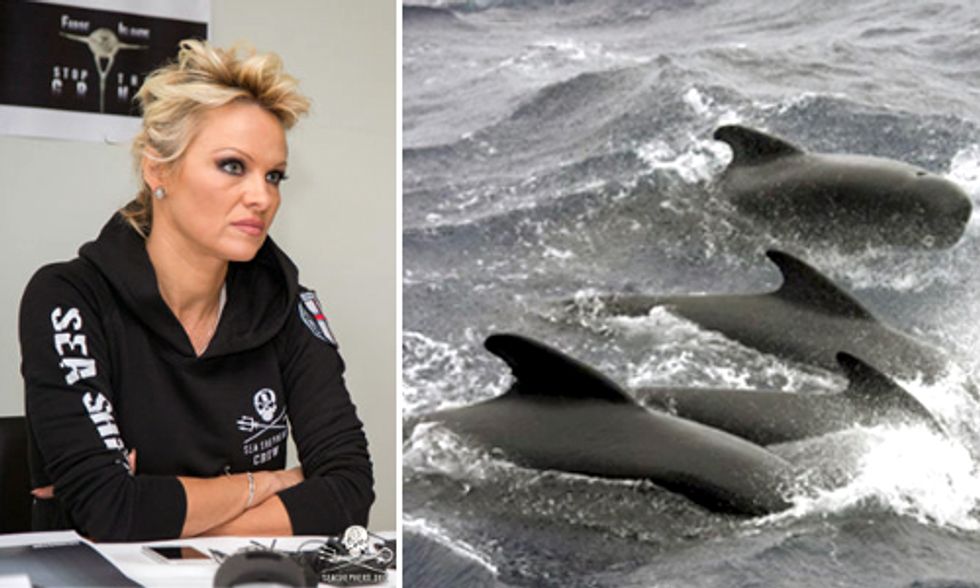 Photo credit: Sea Shepherd / Marianna Baldo
Anderson, a long-time animal protection advocate, explained that though the Faroese people once needed to kill pilot whales for food, there is no longer any need in the modern world to kill cetaceans.
"This is not for survival. There are very few things that happen like this, that are this brutal," said Anderson. "We have to put this behind us and move on, and let the whales swim freely by. And I think it's much more important for us in the future to save our oceans and the biodiversity of our oceans that the whales are very important to."
Anderson stressed how it needs to be the next generation "to end this archaic abomination called the Grindwho brings this needless grind to a halt."
"Young people probably feel pressure to follow in the footsteps of their ancestors. I think this is the perfect time to not listen to your parents, to think for yourself. Maybe there's going to be a movement like there have been movements for many other things in the world where you look inside yourself and say 'Is this something I should be doing just because my parents did it and my grandparents did it?' This is a new time and the world is at risk ... I think this is the generation that has to stand up and say 'That was then, this is now; this is what I'm going to do.'"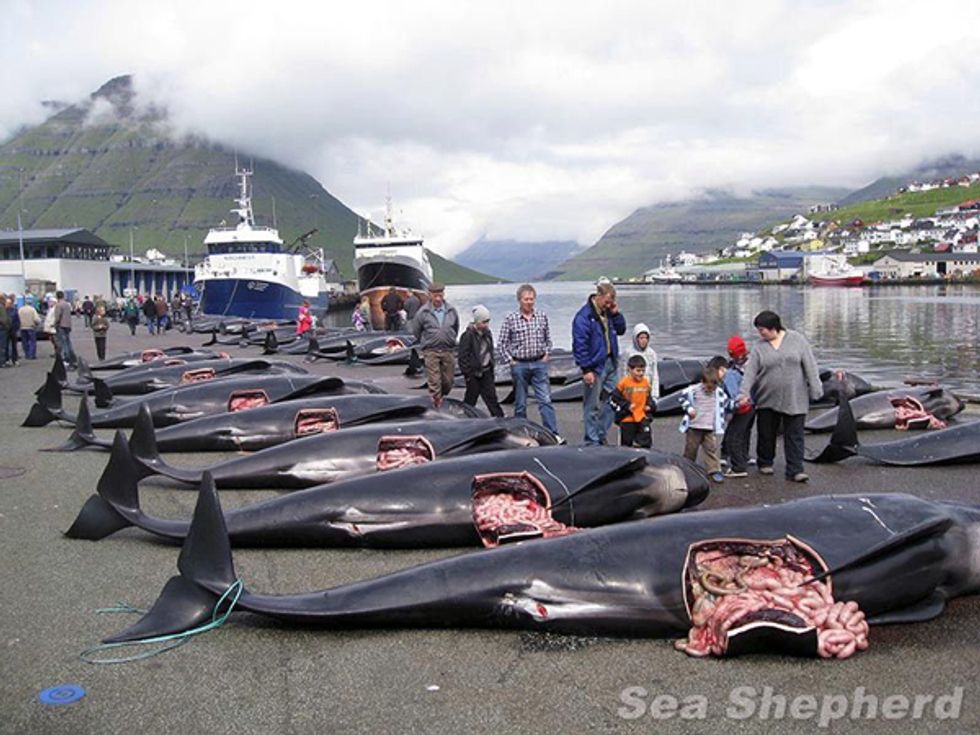 From now until Oct. 1, the traditionally bloodiest months of the hunt season, approximately 500 Sea Shepherd volunteers will patrol the land and waters of the Faroes for Operation GrindStop 2014 campaign. The only grind to take place so far this year was on May 18, before Sea Shepherd arrived in the Faroe Islands, claiming 13 pilot whales. The year before, a staggering 267 pilot whales were killed in just one grind.
"A culture and tradition that does not belong in the 21st century should be abolished," Rosie Kunneke, GrindStop 2014 onshore campaign leader for Sea Shepherd USA, said in a statement, sharing her own experiences growing up in South Africa. "I grew up in the 'culture' and 'tradition' of apartheid ... The whole world came in and attacked us, which we welcomed because that tradition and that culture didn't belong in that century, and we fought with the people outside against the government to change this. You don't need to kill pilot whales anymore. Every person I've met in the Faroes has said they don't need to do it anymore."
Sea Shepherd will take direct action to intervene and stop the grind from taking place using land, sea and air tactics as part of GrindStop 2014. Last week, Sea Shepherd's crew spotted a pod of pilot whales and guided them back out to sea, safely away from the Faroese killing bays. 
"The killing is a stain on this pristine country which no longer needs the meat of these animals to survive," said Anderson in a statement. "When we know better, we do better. And we now know that these are sentient creatures who suffer greatly not only during the slaughter but during the very stressful drive itself. They are very socially complex animals and their entire families are being killed in front of them in a manner that would never be permitted in any slaughterhouse in the world. In addition, the meat of these animals is tainted with toxic contaminants including mercury, which is particularly harmful to pregnant women and young children."
You Might Also Like
Southwest Airlines Ends Partnership With SeaWorld After 'Blackfish' Backlash
Sea Shepherd Founder to Bill Maher: 'If Oceans Die, We Die'
Shocking Court Documents Expose SeaWorld's Continued Cruelty of Orca Whales
EcoWatch Daily Newsletter
Related Articles from EcoWatch
Recent Stories from EcoWatch