Palau Authorities Burn Vietnamese Illegal Fishing Boats Saying 'We Will Not Tolerate Poachers in Our Ocean'
Jun. 12, 2015 02:06PM EST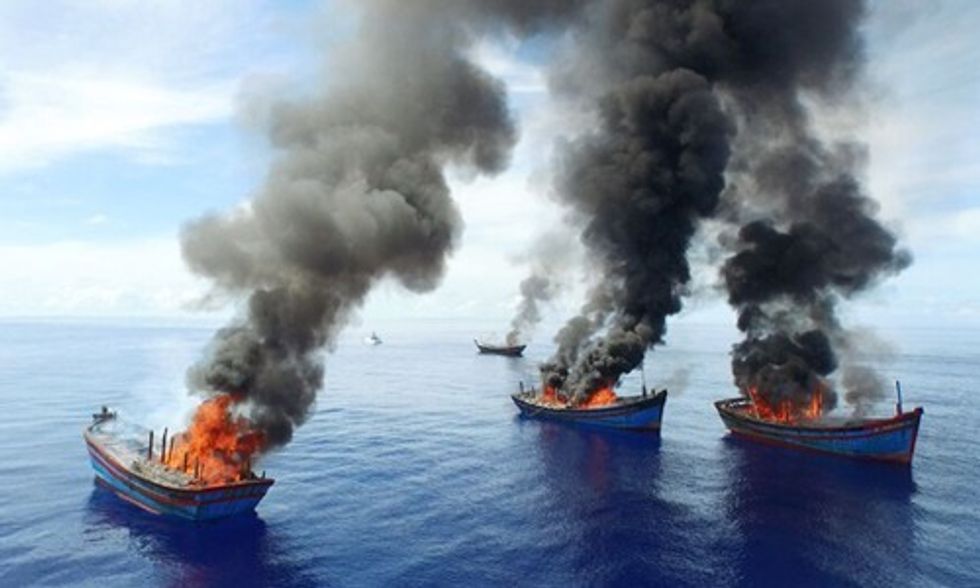 According to the Office of the President, today Palau authorities burned four Vietnamese "Blue Boat" vessels that were caught fishing illegally off of Kayangel Island. The unauthorized boats were discovered in a protected area with over 8 metric tons of sea cucumbers and reef fish on board. The fishing crew of 77 men will be loaded onto two unburned Blue Boats with enough fuel and provisions to get back to Vietnam. Since 2014, 15 Blue Boats from Vietnam have been captured stealing more than 25 metric tons of Palau's marine species for the black market in Asia.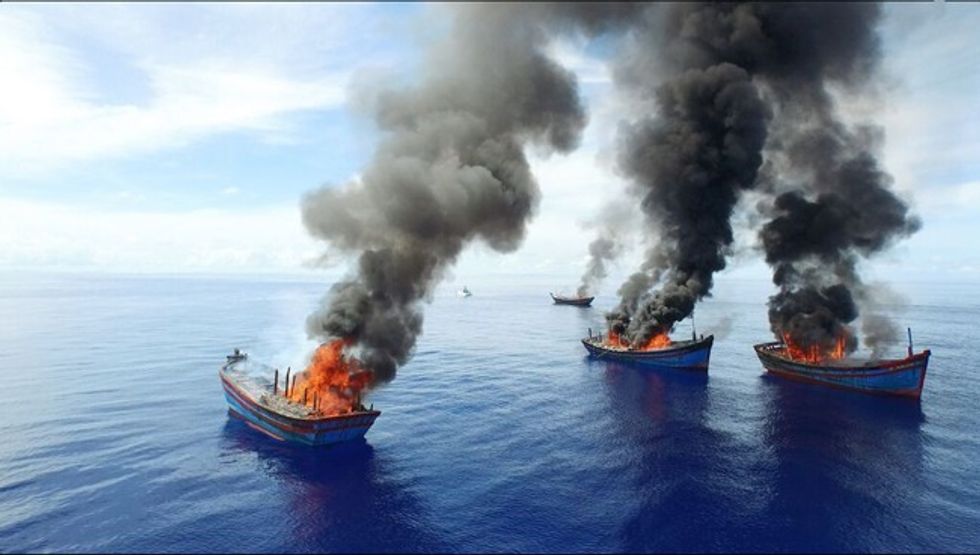 "We have a simple message for those who try to steal Palau's marine resources: We will not tolerate poachers in our ocean. Palau is working with our military, diplomacy, and NGO partners from around the world to get tough on illegal fishers and protect our food security," said President Tommy E. Remengesau Jr. "When the Palau National Marine Sanctuary becomes law, it will be even easier to deter, detect, and interdict pirate fishing. Palau is simply no longer an option when it comes to poaching. This message goes to the captain and crews of these vessels. Palau guarantees, you will return with nothing. Captains will be prosecuted and jailed. Boats will be burned. Nothing will be gained from poaching in Palau. From one fisherman to another, respect Palau."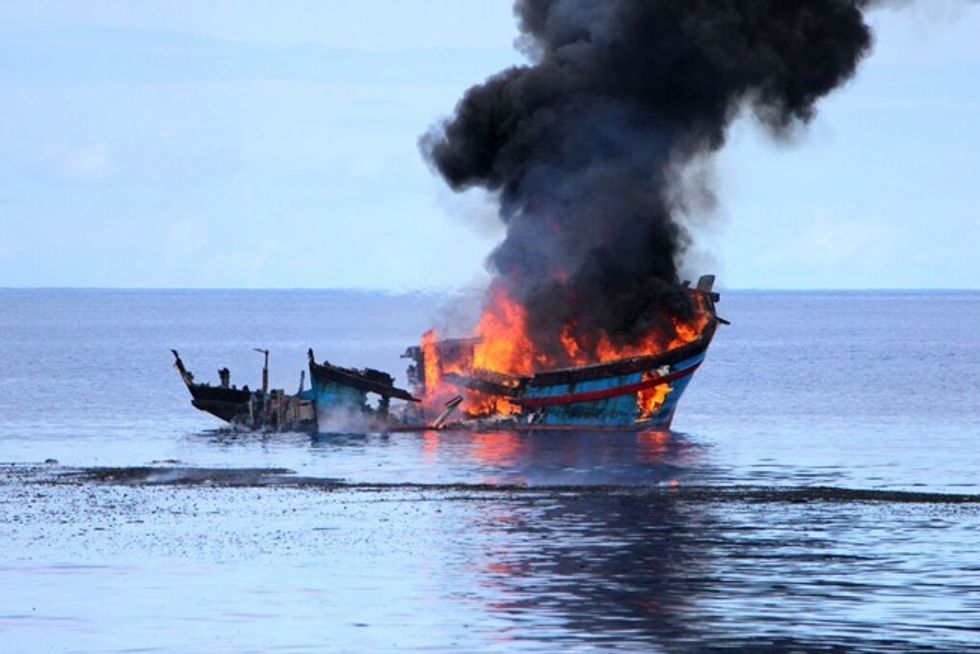 Last month, the Office of the President hosted a workshop with The Pew Charitable Trusts and Scripps Institution of Oceanography to develop a comprehensive enforcement plan for Palau. Maritime surveillance experts from the U.S., Australia, Japan and the Pacific Islands Forum Fisheries Agency participated in the three-day event to develop strict enforcement strategies for the proposed National Marine Sanctuary. The plan will also assist Palau in preparing for emerging environmental threats like typhoons, sea-level rise and drought.
"Illegal fishing is a major threat to Palau, given its location as a critical gateway to the Pacific," said Seth Horstmeyer of The Pew Charitable Trusts' Global Ocean Legacy program. "With a no-tolerance policy and growing enforcement capabilities, illegal fishing will be stopped in Palau."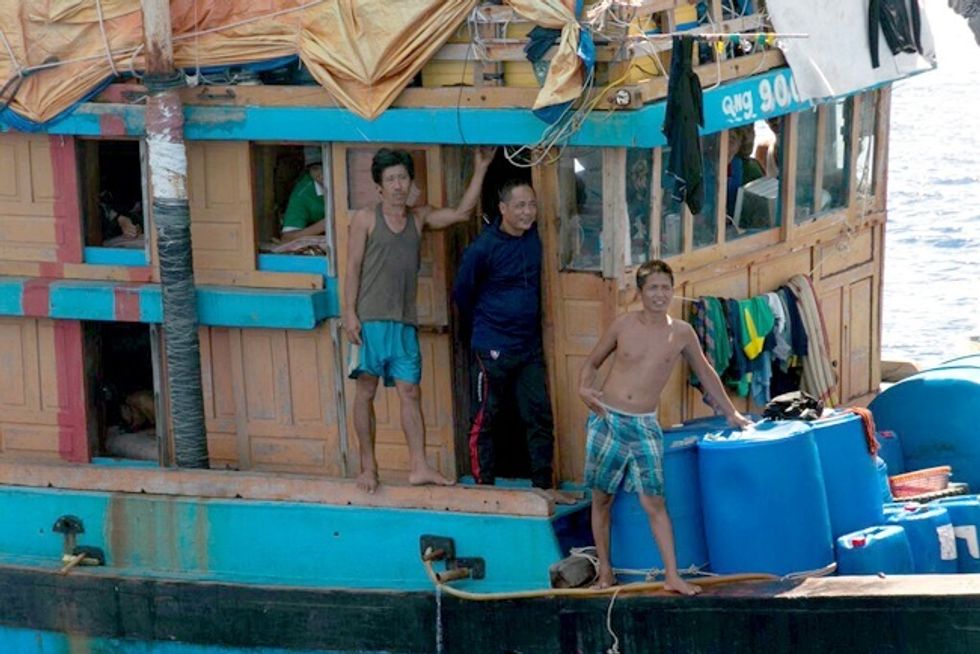 As the new enforcement strategy is implemented, Palau will continue to strengthen its response to illegal fishing regardless of scale. On Jan. 26, Palau Marine Law Enforcement, in partnership with Pew, used Automatic Identification System (AIS) tracking to successfully apprehend a Taiwanese longline vessel suspected of unauthorized fishing activity. The vessel was found with 304 shark carcasses and several hundred shark fins on board, and was required to pay a $100,000 fine. Penalties will become significantly higher and punishment more strict when the Palau National Marine Sanctuary is launched.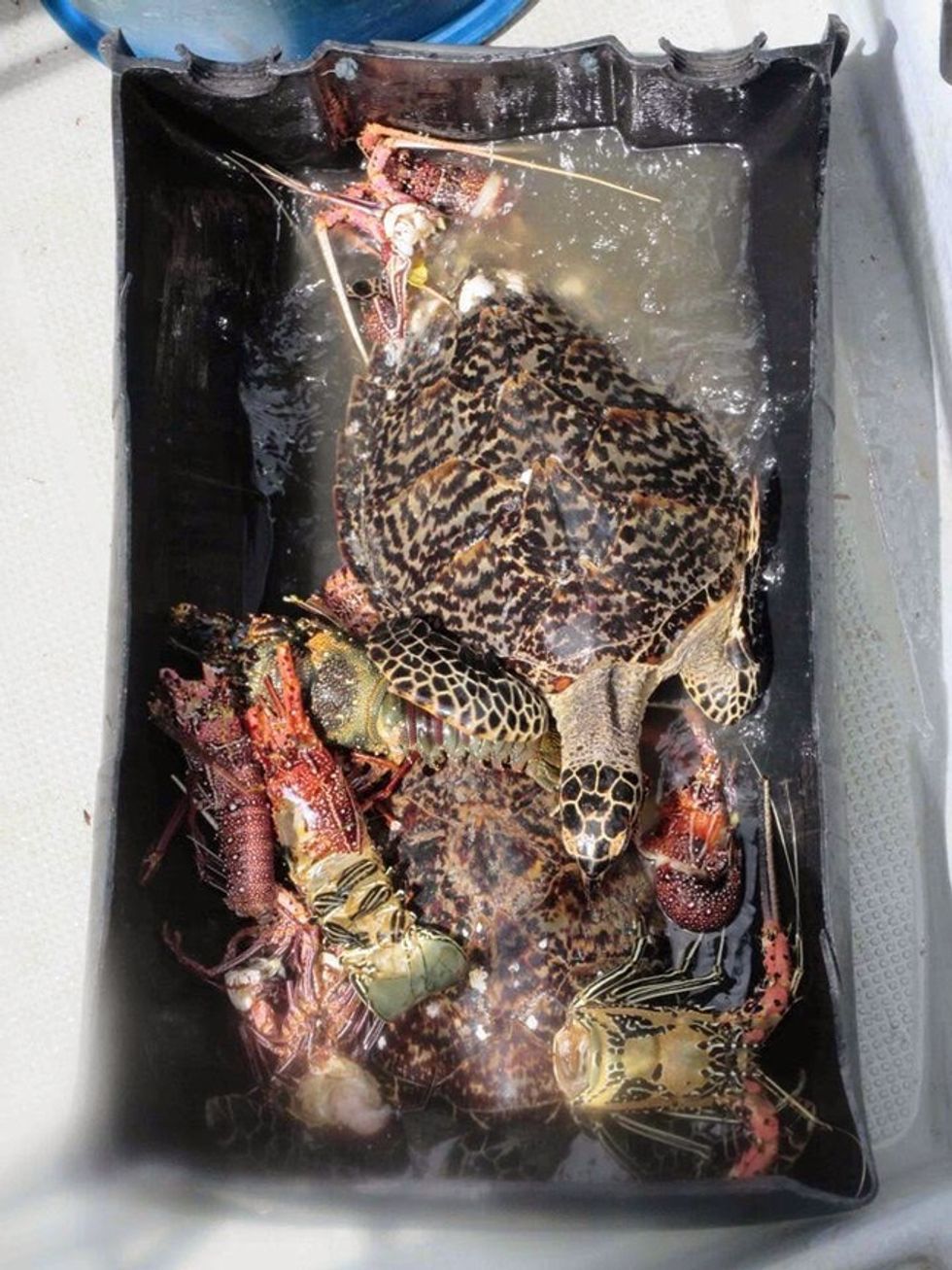 Worldwide, Pew estimates that illegal fishers steal up to 108,000 pounds of fish from the ocean every minute, which averages to approximately 1 in 5 fish caught in the wild. These activities threaten the health of the ocean, the livelihoods of legitimate fishers and food security for island nations.
YOU MIGHT ALSO LIKE
Thousands of Sea Lion Pups Are Washing Ashore and Dying Along the California Coast
Watch Live Cam of 14,000 Walruses Chillin' on Alaskan Beach
EcoWatch Daily Newsletter
Related Articles from EcoWatch