This website uses cookies to ensure you get the best experience while browsing it. By clicking 'Got It' you're accepting these terms.


The best of EcoWatch, right in your inbox. Sign up for our email newsletter!
Pacific Climate Warriors Celebrate Pope's Leadership on Climate Change at Papal Audience
Oct. 08, 2015 01:32PM EST
Climate
A group of climate activists from several small island nations in the Pacific, delivered their pleas yesterday to Pope Francis during the Papal Audience.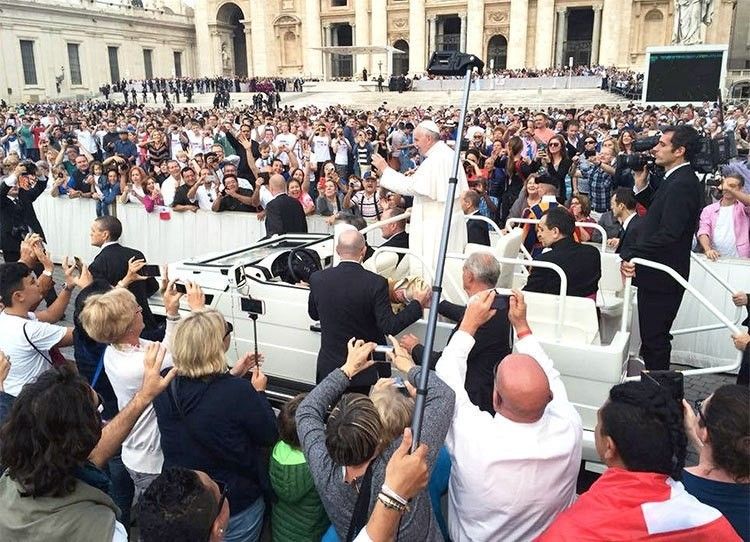 The Papal Audience allows pilgrims and visitors the chance to "see the Pope" and receive the Apostolic Blessing from the head of the Catholic Church. Photo credit: 350.org
"We have come from the Pacific Islands to celebrate the leadership of Pope Francis on climate change and to pray for the islands and the leaders that will decide our fate at COP21 in Paris," said Koreti Tiumalu, 350.org's Pacific coordinator.
"We brought mats from the islands made specifically for this journey which we used to pray on over the last three days in St. Peter's Square. We wanted to offer these mats from the Pacific as a symbol of our gratitude for the Pope's leadership and his encyclical—Laudato Si," she added.
"We wanted to offer these mats from the Pacific as a symbol of our gratitude for the Pope's leadership and his encyclical – Laudato Si." Photo credit: 350.org
The Papal Audience allows pilgrims and visitors the chance to "see the Pope" and receive the Apostolic Blessing from the head of the Catholic Church. The blessing also extends to loved ones that are suffering. In the case of the twelve Pacific Islanders present at the Papal Audience, the blessing extends to their loved ones at the frontlines of climate impacts in the Pacific.[1]
In his encyclical on the environment, Pope Francis has warned of an "unprecedented destruction of ecosystems" and "serious consequences for all of us" if humanity fails to act on climate change. The encyclical served to reinforce the ethical and economic shift we urgently need in order to prevent catastrophic climate change and tackle growing inequality. In doing so it gave further momentum and moral weight to the fast growing fossil fuel divestment movement. With the ear of 1.2 billion Catholics and the respect of Christians and non-Christians alike, Pope Francis is uniquely positioned to add both his voice and the unique moral power of his office to the divestment movement by divesting the Vatican.
"The opportunity to hand over the fine woven mat from Tonga, the traditionally made head piece from Tokelau and the handwritten message from the Pacific Climate Warriors was a moment I will always treasure," stated Siliveseteli Loloa from Tonga. "The first three guards refused to accept the gift, but by the fourth guard, the Pope signaled to him that it was okay—I will never forget that moment, it proves that anything can be possible," he added.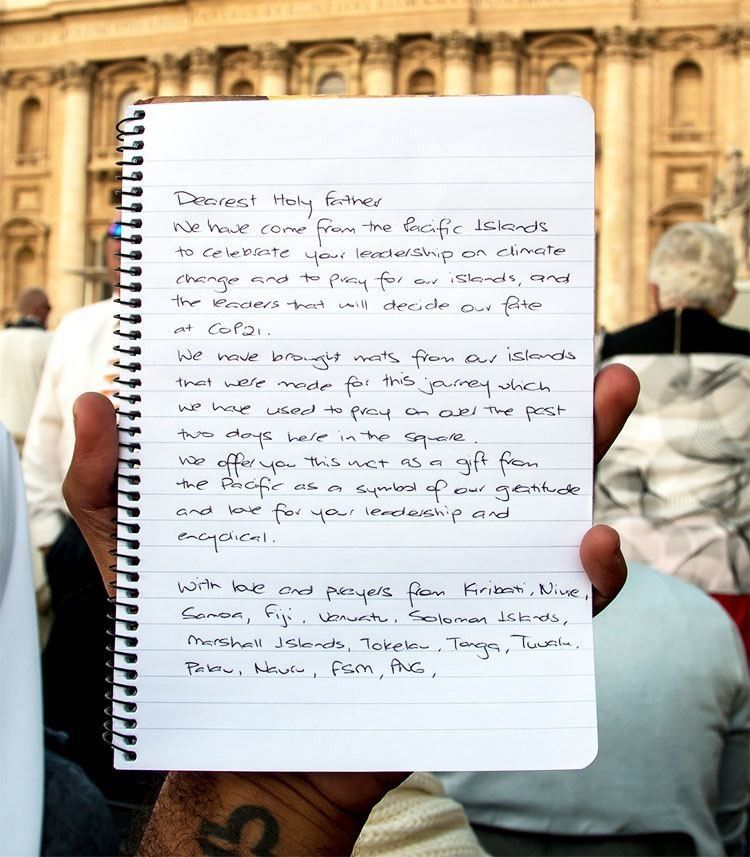 The Pacific Climate Warriors @350 Pacific delivered their pleas to Pope Francis. Photo credit: 350.org
The Pacific Climate Warriors, already in Europe to send a message to those investing in the climate crisis and raise the reality of climate impacts on their lives, have been at the Vatican for three days holding a prayer vigil for the Pacific region and leaders heading into the COP21 climate talks later this year in Paris.
"We prayed, fasted, shared stories, shed tears, laughed, sung songs and met so many wonderful people on this journey always keeping our island homes, families and this climate crisis we face at the center. We prayed for leaders around the world who will attend COP21 to go to Paris with the commitments needed to keep our islands above water," concluded Tiumalu.
350.org is working around the world in the lead up to the Paris climate talks to build momentum towards a fossil free world. Just last month, 350.org and the Divest-Invest coalition announced that institutions representing over $2.6 trillion in capital have now made some form of commitment to divest from fossil fuels. This November and December, 350.org will be working with allies to organize major mobilizations in Paris and across the planet to demand bold action to address the climate crisis.
[1] Pacific Island nations are some of the most vulnerable to the impacts of climate change. Due to the small sizes of the islands, low elevation and remote locations, many islands are already suffering due to global greenhouse gas emissions. The impacts vary from island to island, but include: Rising sea levels and increased number and severity of storm activity leading to inundation, storm surges, beach erosion and coral bleaching; rising saltwater tables impacting deep-rooted food crops such as coconut, cassava and taro, as well as infiltrating fresh water supplies; and drier climate conditions reducing the islands' already limited water resources to the point that they become insufficient to meet demand during increasing low-rainfall periods.
YOU MIGHT ALSO LIKE
World's Oceans Face Worst Coral Die-Off in History, Scientists Warn
Why Isn't Big Ag's Huge Contribution to Climate Change on the Agenda at COP21?
Jared Leto Takes You on a 360º Virtual Tour to See First-Hand Effects of Climate Change
EcoWatch Daily Newsletter
Pxhere
By Richard Denison
Readers of this blog know how concerned EDF is over the Trump EPA's approval of many dozens of new chemicals based on its mere "expectation" that workers across supply chains will always employ personal protective equipment (PPE) just because it is recommended in the manufacturer's non-binding safety data sheet (SDS).
By Grant Smith
From 2009 to 2012, Gregory Jaczko was chairman of the Nuclear Regulatory Commission, which approves nuclear power plant designs and sets safety standards for plants. But he now says that nuclear power is too dangerous and expensive — and not part of the answer to the climate crisis.
A lake in Rocky Mountain National Park. Brett Walton / Circle of Blue
By Brett Walton
When Greg Wetherbee sat in front of the microscope recently, he was looking for fragments of metals or coal, particles that might indicate the source of airborne nitrogen pollution in Rocky Mountain National Park. What caught his eye, though, were the plastics.
Gabriele Holtermann Gorden / Pacific Press / LightRocket / Getty Images
In a big victory for animals, Prada has announced that it's ending its use of fur! It joins Coach, Jean Paul Gaultier, Giorgio Armani, Versace, Ralph Lauren, Vivienne Westwood, Michael Kors, Donna Karan and many others PETA has pushed toward a ban.
This is a victory more than a decade in the making. PETA and our international affiliates have crashed Prada's catwalks with anti-fur signs, held eye-catching demonstrations all around the world, and sent the company loads of information about the fur industry. In 2018, actor and animal rights advocate Pamela Anderson sent a letter on PETA's behalf urging Miuccia Prada to commit to leaving fur out of all future collections, and the iconic designer has finally listened.
Amer Ghazzal / Barcroft Media / Getty Images
If people in three European countries want to fight the climate crisis, they need to chill out more.
That's the conclusion of a new study from think tank Autonomy, which found that Germany, the UK and Sweden all needed to drastically reduce their workweeks to fight climate change.
Amazon Employees for Climate Justice held a press conference after the annual shareholder meeting on May 22. Amazon Employees for Climate Justice
An artist's rendering of the recomposition facility. MOLT Studios
Washington became the first U.S. state to legalize human composting Tuesday, offering residents a more environmentally friendly way to dispose of their remains, AFP reported.
Mr.TinDC / Flickr / CC BY-ND 2.0
Many nutrients are essential for good health.